Abstract
Summary
We studied the Osteoporosis and You knowledge scale in 7749 participants enrolled in a clinical trial. Results confirmed its psychometric properties in a diverse audience. Baseline scores were associated with better recall of bone mineral density test results at follow-up; however, the scale was not responsive to knowledge change.
Introduction
The goal of this study was to confirm the measurement properties of the Osteoporosis and You (O&Y) knowledge scale using classic test theory methods in the 7749 men and women participating in the Patient Activation After DXA Result Notification (PAADRN) randomized controlled trial. We hypothesized a simple factor structure that would reflect the four-factor model previously published.
Methods
We conducted psychometric analyses which included item analysis, internal consistency reliability, construct validity using exploratory and confirmatory factor analysis (EFA and CFA), comparing knowledge levels across pre-specified groups, and responsiveness to change.
Results
PAADRN participants were predominantly college educated, White females with low bone density, and a moderate level of 10-year fracture risk. EFA revealed four domains closely matching those in two previous reports. While overall scale reliability was minimally acceptable at 0.68, the reliabilities of the domain subscales were unacceptably low (0.59, 0.64, 0.45, and 0.36 for the Biological, Lifestyle, Consequences, and Prevention and Treatment subscales). CFA revealed the data fit the hypothesized model reasonably well with the items loading on their expected latent variable. The scale was not responsive to change, but although not significant, improved knowledge indicated better DXA result recall at 12 and 52 weeks.
Conclusions
In the PAADRN population, the O&Y knowledge scale had psychometric properties similar to those previously reported. Over 12 and 52 weeks, participants did not demonstrate significant changes in knowledge, but those with higher knowledge at baseline were more likely to accurately recall their baseline DXA result.
Access options
Buy single article
Instant access to the full article PDF.
USD 39.95
Price excludes VAT (USA)
Tax calculation will be finalised during checkout.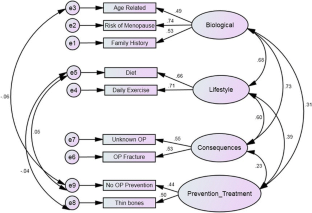 References
National Osteoporosis Foundation (2014) Debunking the myths

Office of the Surgeon General (2004) Bone health and osteoporosis: a report of the Surgeon General

U.S. Department of Health and Human Services Office of Disease Prevention and Health Promotion (2015) Arthritis, Osteoporosis, and Chronic Back Conditions http://wwwhealthypeoplegov/2020/topics-objectives/topic/Arthritis-Osteoporosis-and-Chronic-Back-Conditions/objectives Accessed April 8 2015

Laliberte MC, Perreault S, Jouini G, Shea BJ, Lalonde L (2011) Effectiveness of interventions to improve the detection and treatment of osteoporosis in primary care settings: a systematic review and meta-analysis. Osteoporosis international : a journal established as result of cooperation between the European Foundation for Osteoporosis and the National Osteoporosis Foundation of the USA 22:2743–2768

Simone MJ, Roberts DH, Irish JT, Neeman N, Schulze JE, Lipsitz LA, Schwartzstein R, Aronson MD, Tan ZS (2011) An educational intervention for providers to promote bone health in high-risk older patients. J Am Geriatr Soc 59:291–296

Werner P (2005) Knowledge about osteoporosis: assessment, correlates and outcomes. Osteoporosis international : a journal established as result of cooperation between the European Foundation for Osteoporosis and the National Osteoporosis Foundation of the USA 16:115–127

Yood RA, Mazor KM, Andrade SE, Emani S, Chan W, Kahler KH (2008) Patient decision to initiate therapy for osteoporosis: the influence of knowledge and beliefs. J Gen Intern Med 23:1815–1821

Rosenstock IM, Strecher VJ, Becker MH (1988) Social learning theory and the health belief model. Health Educ Q 15:175–183

Green CA, Perrin NA, Polen MR, Leo MC, Hibbard JH, Tusler M (2010) Development of the patient activation measure for mental health. Admin Pol Ment Health 37:327–333

Hibbard JH, Mahoney ER, Stockard J, Tusler M (2005) Development and testing of a short form of the patient activation measure. Health Serv Res 40:1918–1930

Hibbard JH, Stockard J, Mahoney ER, Tusler M (2004) Development of the patient activation measure (PAM): conceptualizing and measuring activation in patients and consumers. Health Serv Res 39:1005–1026

Gold DT, McClung B (2006) Approaches to patient education: emphasizing the long-term value of compliance and persistence. Am J Med 119:S32–S37

Ailinger RL, Harper DC, Lasus HA (1998) Bone up on osteoporosis. Development of the Facts on Osteoporosis Quiz. Orthop Nurs/Natl Assoc Orthop Nurses 17:66–73

Palacios S, Sanchez-Borrego R, Neyro JL, Quereda F, Vazquez F, Perez M, Perez M (2009) Knowledge and compliance from patients with postmenopausal osteoporosis treatment. Menopause Int 15:113–119

Nadler M, Alibhai S, Catton P, Catton C, Jones J (2014) The impact of bone mineral density testing, fracture assessment, and osteoporosis education in men treated by androgen deprivation for prostate cancer: a pilot study. Support Care Cancer : Off J Multinatl Assoc Supportive Care Cancer 22:2409–2415

Krebs P, Prochaska JO, Rossi JS (2010) A meta-analysis of computer-tailored interventions for health behavior change. Prev Med 51:214–221

Walker SN, Pullen CH, Hageman PA, Boeckner LS, Hertzog M, Oberdorfer MK, Rutledge MJ (2010) Maintenance of activity and eating change after a clinical trial of tailored newsletters with older rural women. Nurs Res 59:311–321

Winzenberg T, Oldenburg B, Frendin S, De Wit L, Riley M, Jones G (2006) The effect on behavior and bone mineral density of individualized bone mineral density feedback and educational interventions in premenopausal women: a randomized controlled trial [NCT00273260]. BMC Public Health 6:12

Brenneman SK, Blau EM, Chen Y, Abbott TA (2002) Validation of a patient questionnaire, 'osteoporosis and you', designed to assess osteoporosis related attitudes, knowledge and behavior. J Bone Miner Res 17:S466

Cadarette SM, Gignac MA, Beaton DE, Jaglal SB, Hawker GA (2007) Psychometric properties of the "osteoporosis and you" questionnaire: osteoporosis knowledge deficits among older community-dwelling women. Osteoporosis International : a Journal Established as result of cooperation between the European Foundation for Osteoporosis and the National Osteoporosis Foundation of the USA 18:981–989

Harris PA, Taylor R, Thielke R, Payne J, Gonzalez N, Conde JG (2009) Research electronic data capture (REDCap)—a metadata-driven methodology and workflow process for providing translational research informatics support. J Biomed Inform 42:377–381

Edmonds SW, Wolinsky FD, Christensen AJ, Lu X, Jones MP, Roblin DW, Saag KG, Cram P, Investigators P (2013) The PAADRN study: a design for a randomized controlled practical clinical trial to improve bone health. Contemp Clin Trials 34:90–100

Edmonds SW, Cram P, Lou Y, Jones MP, Roblin DW, Saag KG, Wright NC, Wolinsky FD (2016) Effects of a DXA result letter on satisfaction, quality of life, and osteoporosis knowledge: a randomized controlled trial. BMC Musculoskelet Disord 17:369

van Buuren S (2007) Multiple imputation of discrete and continuous data by fully conditional specification. Stat Methods Med Res 16:219–242

Hair JF, Jr., Black WC, Rabin BJ, Anderson RE (2010) Multivariate data analysis. Upper Saddle River, N.J.: Prentice Hall, Upper Saddle River, N.J

Harrington D (2008) Confirmatory factor analysis by Donna Harrington. In Oxford university P (ed). New York : Oxford University Press, New York

Tabachnick BG, Fidell LS (2007) Using multivariate statistics. Pearson/Allyn & Bacon,

Qi BB, Resnick B, Nahm ES (2014) Reliability and validity of the revised osteoporosis knowledge test. J Nurs Meas 22:342–356

Pande KC, de Takats D, Kanis JA, Edwards V, Slade P, McCloskey EV (2000) Development of a questionnaire (OPQ) to assess patient's knowledge about osteoporosis. Maturitas 37:75–81

Winzenberg TM, Oldenburg B, Frendin S, Jones G (2003) The design of a valid and reliable questionnaire to measure osteoporosis knowledge in women: the osteoporosis knowledge assessment tool (OKAT). BMC Musculoskelet Disord 4:17

Curry LC, Hogstel MO (2001) Risk status related to knowledge of osteoporosis in older women. J Women Aging 13:71–83

Curry LC, Hogstel MO, Davis GC, Frable PJ (2002) Population-based osteoporosis education for older women. Public Health Nurs (Boston, mass) 19:460–469

Giangregorio L, Dolovich L, Cranney A, Adili A, Debeer J, Papaioannou A, Thabane L, Adachi JD (2009) Osteoporosis risk perceptions among patients who have sustained a fragility fracture. Patient Educ Couns 74:213–220

Sedlak CA, Doheny MO, Jones SL (1998) Osteoporosis prevention in young women. Orthop Nurs 17:53–60

Sedlak CA, Doheny MO, Jones SL (2000) Osteoporosis education programs: changing knowledge and behaviors. Public health nursing (Boston, mass) 17:398-402

Blalock SJ, Currey SS, DeVellis RF, DeVellis BM, Giorgino KB, Anderson JJ, Dooley MA, Gold DT (2000) Effects of educational materials concerning osteoporosis on women's knowledge, beliefs, and behavior. American journal of health promotion : AJHP 14:161–169

Brecher LS, Pomerantz SC, Snyder BA, Janora DM, Klotzbach-Shimomura KM, Cavalieri TA (2002) Osteoporosis prevention project: a model multidisciplinary educational intervention. The Journal of the American Osteopathic Association 102:327–335

Piaseu N, Schepp K, Belza B (2002) Causal analysis of exercise and calcium intake behaviors for osteoporosis prevention among young women in Thailand. Health care for women international 23:364–376

Raab CA, Gregerson D, Shaw JM, Snow C (1999) Postmenopausal women take steps to reduce their osteoporosis risk. Women's health issues : official publication of the Jacobs Institute of Women's Health 9:211–218

Gaskin J (2016) Data screening. http://statwikikolobkreationscom Accessed (May 5 2016)

Weems GH, Onwuegbuzie AJ (2001) The impact of midpoint responses and reverse coding on survey data. Measurement & Evaluation in Counseling & Development (American Counseling Association) 34:166

Kim K, Horan M, Gendler P (1991) Osteoporosis knowledge test, osteoporosis health belief scale, and osteoporosis self-efficacy scale. Allendale, MI

Ungan M, Tumer M (2001) Turkish women's knowledge of osteoporosis. Fam Pract 18:199–203

Williams B, Cullen L, Barlow JH (2002) "I never realised how little I knew!": a pilot study of osteoporosis knowledge, beliefs, and behaviours. Health care for women international 23:344–350

Yu S, Huang YC (2003) Knowledge of, attitudes toward, and activity to prevent osteoporosis among middle-aged and elderly women. The journal of nursing research : JNR 11:65–72
Funding
This work was supported by R01 AG033035 (Cram/Wolinsky) from the NIA at NIH. Dr. Cram is supported by a K24 AR062133 award from NIAMS at the NIH. Dr. Saag is supported by a K24 AR052361 award from the NIAMS at the NIH.
Ethics declarations
Conflicts of interest
V Nguyen, S Edmonds, Y Lou, D Roblin, P Cram, and F Wolinsky have no conflicts of interest. K Saag has received grants from Amgen, Eli Lilly and Merck and has served as a paid consultant to Amgen, Eli Lilly, and Merck.
Role of the sponsor
The NIA and NIAMS had no roles in the design and conduct of the study; collection, management, analysis, and interpretation of data; preparation, review, or approval of the manuscript; or decision to submit the manuscript for publication.
About this article
Cite this article
Nguyen, V.T., Edmonds, S.W., Lou, Y. et al. Validity, reliability, and responsiveness to change of the "Osteoporosis and You" knowledge scale. Osteoporos Int 28, 3379–3388 (2017). https://doi.org/10.1007/s00198-017-4204-z
Received:

Accepted:

Published:

Issue Date:

DOI: https://doi.org/10.1007/s00198-017-4204-z
Keywords