Abstract
Summary
Camurati-Engelmann (CE) is a very rare disease affecting one in every million persons worldwide. It is characterized by an enlargement of long bones. We aimed to assess bone characteristics in three siblings with different tools. Even if there was an excess of bone density, quality seemed to be deteriorated.
Introduction
CE disease is a rare monogenic disorder affecting approximately one in every million persons worldwide. It is mainly characterized by a progressive hyperostosis of the periosteum and endosteum of the diaphysis of long bones. Limited data are available about bone characteristics in these patients. In three siblings with CE disease, we aimed to assess bone mineral density (BMD) and trabecular bone score (TBS) by dual-energy X-ray absorptiometry (DXA) and material characteristics at tissue level using bone impact reference point indentation.
Methods
Clinical data were collected and a general laboratory workup was performed. At the lumbar spine and hip, BMD and TBS were measured using DXA imaging. Bone material strength index (BMSi) was measured by bone impact microindentation using an Osteoprobe instrument.
Results
All three cases had densitometric values consistent with high bone mass (sum of Z-score at the lumbar spine and hip > 4). Hip BMD was extremely high in all three siblings at both total hip and femoral neck, while at the lumbar spine, two of them had normal values but the third again had very high BMD. TBS values were in the normal range. In contrast, BMSi measurements were at low or very low levels, compared with normal controls.
Conclusion
Despite strikingly increased BMD and normal microarchitecture, BMSi is affected in patients with CE. Microindentation could be an appropriate tool for assessing bone fragility in these patients. Bone disease in this group of patients requires further study to better understand the underlying regulatory mechanisms and their alterations.
Access options
Buy single article
Instant access to the full article PDF.
USD 39.95
Price includes VAT (USA)
Tax calculation will be finalised during checkout.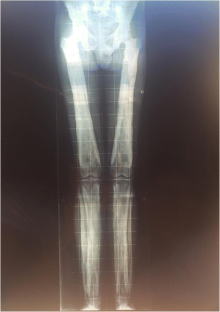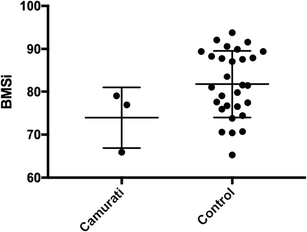 References
1.

Naveh Y, Kaftori JK, Alon U, Ben-David J, Berant M (1984) Progressive diaphyseal dysplasia: genetics and clinical and radiologic manifestations. Pediatrics 74(3):399–405

2.

Engelmann G (1929) Ein Fall von Osteopathia Hyperostotica (sclerotisans) multiplex infantilis. Fortschr Roentgenstr 39:1101–1106 

3.

Cockayne EA (1920) Case for diagnosis. Proc R Soc Med [Internet]. [cited 2016 May 24];13(Sect Study Dis Child):132–6. Available from: http://www.ncbi.nlm.nih.gov/pubmed/19981348

4.

Crisp AJ, Brenton DP (1982) Engelmann's disease of bone—a systemic disorder? Ann Rheum Dis [Internet]. [cited 2016 May 24];41(2):183–8. Available from: http://www.ncbi.nlm.nih.gov/pubmed/7073346

5.

Janssens K, Vanhoenacker F, Bonduelle M, Verbruggen L, Van Maldergem L, Ralston S et al (2006) Camurati-Engelmann disease: review of the clinical, radiological, and molecular data of 24 families and implications for diagnosis and treatment. J Med Genet 43(1):1–11

6.

Smith R, Walton RJ, Corner BD, Gordon IR (1977) Clinical and biochemical studies in Engelmann's disease (progressive diaphyseal dysplasia). Q J Med [Internet]. [cited 2016 May 24];46(182):273–94. Available from: http://www.ncbi.nlm.nih.gov/pubmed/866579

7.

Mundra V, Taxel P (2012) Camurati-Engelmann disease—a rare cause of bone pain. Conn Med [Internet]. [cited 2016 May 24];76(1):33–7. Available from: http://www.ncbi.nlm.nih.gov/pubmed/22372177

8.

Wallace SE, Wilcox WR (1993) Camurati-Engelmann disease [Internet]. GeneReviews(®). [cited 2016 May 24]. Available from: http://www.ncbi.nlm.nih.gov/pubmed/20301335

9.

Diez-Perez A, Güerri R, Nogues X, Cáceres E, Peña MJ, Mellibovsky L et al (2010) Microindentation for in vivo measurement of bone tissue mechanical properties in humans. J Bone Miner Res 25(8):1877–1885

10.

Hernandez MV, Peris P, Guanabens N, Alvarez L, Monegal A, Pons F et al (1997) Biochemical markers of bone turnover in Camurati-Engelmann disease: a report on four cases in one family. Calcif Tissue Int 61(1):48–51

11.

Silva BC, Leslie WD, Resch H, Lamy O, Lesnyak O, Binkley N et al (2014) Trabecular bone score: a noninvasive analytical method based upon the DXA image. J Bone Miner Res 29(3):518–530. https://doi.org/10.1002/jbmr.2176

12.

Diez-Perez A, Bouxsein ML, Eriksen EF, Khosla S, Nyman JS, Papapoulos S et al (2016) Technical note: recommendations for a standard procedure to assess cortical bone at the tissue-level in vivo using impact microindentation. Bone Rep 5:181–185. https://doi.org/10.1016/j.bonr.2016.07.004

13.

Kinoshita A, Fukumaki Y, Shirahama S, Miyahara A, Nishimura G, Haga N, Namba A, Ueda H, Hayashi H, Ikegawa S, Seidel J, Niikawa N, Yoshiura K (2004) TGFB1 mutations in four new families with Camurati-Engelmann disease: confirmation of independently arising LAP-domain-specific mutations. Am J Med Genet A 127A(1):104–107

14.

Little RD, Carulli JP, Del Mastro RG, Dupuis J, Osborne M, Folz C et al (2002) A mutation in the LDL receptor-related protein 5 gene results in the autosomal dominant high-bone-mass trait. Am J Hum Genet 70(1):11–19. https://doi.org/10.1086/338450

15.

Whyte MP (2005) Misinterpretation of osteodensitometry with high bone density: BMD Z > or = + 2.5 is not "normal". J Clin Densitom 8(1):1–6

16.

Whyte MP, Totty WG, Novack DV, Zhang X, Wenkert D, Mumm S (2011) Camurati-Engelmann disease: unique variant featuring a novel mutation in TGFbeta1 encoding transforming growth factor beta 1 and a missense change in TNFSF11 encoding RANK ligand. J Bone Miner Res 26(5):920–933. https://doi.org/10.1002/jbmr.283

17.

Van Hul W, Vanhoenacker F, Balemans W, Janssens K, De Schepper AM (2001) Molecular and radiological diagnosis of sclerosing bone dysplasias. Eur J Radiol 40(3):198–207

18.

Bondestam J, Mayranpaa MK, Ikegawa S, Marttinen E, Kroger H, Makitie O (2007) Bone biopsy and densitometry findings in a child with Camurati-Engelmann disease. Clin Rheumatol 26(10):1773–1777. https://doi.org/10.1007/s10067-006-0511-z

19.

Castro GR, Appenzeller S, Marques-Neto JF, Bertolo MB, Samara AM, Coimbra I (2005) Camurati-Engelmann disease: failure of response to bisphosphonates: report of two cases. Clin Rheumatol 24(4):398–401. https://doi.org/10.1007/s10067-004-1056-7

20.

Wallace SE, Lachman RS, Mekikian PB, Bui KK, Wilcox WR (2004) Marked phenotypic variability in progressive diaphyseal dysplasia (Camurati-Engelmann disease): report of a four-generation pedigree, identification of a mutation in TGFB1, and review. A J Med Genet 129 A:235–247
Acknowledgments
The authors would like to thank the valuable cooperation of the three affected individuals and the Asociación de Afectados por el Síndrome de Camurati Engelmann.
Ethics declarations
Informed consent was obtained from all individual participants included in the study. The Ethics Review Board at our institution approved the study protocol.
Conflicts of interest
A D-P owns shares of Active Life Sci, the manufacturer of Osteoprobe. Sabina Herrera, Raquel Soriano, Xavier Nogués, Robert Güerri-Fernandez, Daniel Grinberg, Natalia García-Giralt, Nuria Martínez-Gil, Santiago Castejón, Alba González-Lizarán, and Susana Balcells declare that they have no conflict of interest.
About this article
Cite this article
Herrera, S., Soriano, R., Nogués, X. et al. Discrepancy between bone density and bone material strength index in three siblings with Camurati-Engelmann disease. Osteoporos Int 28, 3489–3493 (2017). https://doi.org/10.1007/s00198-017-4198-6
Received:

Accepted:

Published:

Issue Date:
Keywords
Camurati-Engelmann

Microindentation

Progressive diaphyseal dysplasia

Rare bone disease