Abstract
Summary
According to existing literature, bone health in ballet dancers is controversial. We have verified that, compared to controls, young female and male vocational ballet dancers have lower bone mineral density (BMD) at both impact and non-impact sites, whereas female professional ballet dancers have lower BMD only at non-impact sites.
Introduction
The aims of this study were to (a) assess bone mineral density (BMD) in vocational (VBD) and professional (PBD) ballet dancers and (b) investigate its association with body mass (BM), fat mass (FM), lean mass (LM), maturation and menarche.
Methods
The total of 152 VBD (13 ± 2.3 years; 112 girls, 40 boys) and 96 controls (14 ± 2.1 years; 56 girls, 40 boys) and 184 PBD (28 ± 8.5 years; 129 females, 55 males) and 160 controls (27 ± 9.5 years; 110 female, 50 males) were assessed at the lumbar spine (LS), femoral neck (FN), forearm and total body by dual-energy X-ray absorptiometry. Maturation and menarche were assessed via questionnaires.
Results
VBD revealed lower unadjusted BMD at all anatomical sites compared to controls (p < 0.001); following adjustments for Tanner stage and gynaecological age, female VBD showed similar BMD values at impact sites. However, no factors were found to explain the lower adjusted BMD values in VBD (female and male) at the forearm (non-impact site), nor for the lower adjusted BMD values in male VBD at the FN. Compared to controls, female PBD showed higher unadjusted and adjusted BMD for potential associated factors at the FN (impact site) (p < 0.001) and lower adjusted at the forearm (p < 0.001). Male PBD did not reveal lower BMD than controls at any site.
Conclusions
Both females and males VBD have lower BMD at impact and non-impact sites compared to control, whereas this is only the case at non-impact site in female PBD. Maturation seems to explain the lower BMD at impact sites in female VBD.
Access options
Buy single article
Instant access to the full article PDF.
US$ 39.95
Tax calculation will be finalised during checkout.
Subscribe to journal
Immediate online access to all issues from 2019. Subscription will auto renew annually.
US$ 119
Tax calculation will be finalised during checkout.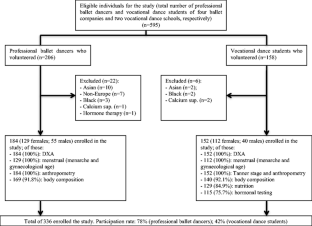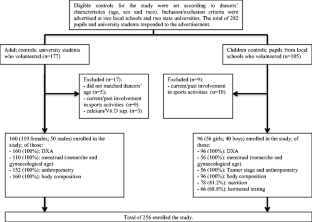 References
1.

Harvey N, Dennison E, Cooper C (2010) Osteoporosis: impact on health and economics. Nat Rev Rheumatol 6(2):99–105

2.

Barrett-Connor E (1995) The economic and human costs of osteoporotic fracture. Am J Med 98(suppl2A):S3–S8

3.

International Society for Clinical Densitometry. Updated 2013 official positions for adult and pediatric. http://www.iscd.org/documents/2014/02/2013-iscd-official-position-brochure.pdf (Accessed May 2, 2016).

4.

Nattiv A, Loucks AB, Manore MM et al (2007) American College of Sports Medicine position stand: the female athlete triad. Med Sci Sports Exerc 39(10):1867–1882

5.

World Health Organization (2004) WHO scientific group on the assessment of osteoporosis at primary health care level. WHO Summary Meeting Report. WHO, Brussels

6.

Scofield KL, Hecht S (2012) Bone health in endurance athletes: runners, cyclists, and swimmers. Curr Sports Med Rep 11(6):328–334

7.

Pollock N, Grogan C, Perry M, Pedlar C, Cooke K, Morrissey D et al (2010) Bone mineral density and other features of the female athlete triad in elite endurance runners. Int J Sport Nutr Exerc Metab 20:418–426

8.

Amorim T, Wyon M, Maia J et al (2015) Prevalence of low bone mineral density in female dancers. Sports Med 45:257–268

9.

Burckhardt P, Wynn E, Krieg MA et al (2011) The effects of nutrition, puberty and dancing on bone density in adolescent ballet dancers. J Dance Med 15(2):51–60

10.

Keay N, Fogelman I, Blake G (1997) Bone mineral density in professional female dancers. Br J Sports Med 31:143–147

11.

Dolyle-Lucas AF, Akers JD, Davy BM (2010) Energetic efficiency, menstrual irregularity, and bone mineral density in elite professional female ballet dancers. J Dance Med Sci 14(4):146–154

12.

Litchtenbelt WD, Fogelholm M, Otteenheijm R et al (1995) Physical activity, body composition and bone density in ballet dancers. Br J Nutr 74:439–451

13.

Khan KM, Green RM, Saul A et al (1996) Retired elite female ballet dancers and nonathletic controls have similar bone mineral density at weightbearing sites. J Bone Miner Res 11(10):1566–1574

14.

To W, Wong M (2011) Does oligomenorrhea/amenorrhea and underweight imply athlete female trial syndrome in young female dancers? Eur J Sport Sci 11(5):335–340

15.

Bachrach LK, Hastie T, Wang MC et al (1999) Bone mineral acquisition in healthy Asian, Hispanic, black, and Caucasian youth: a longitudinal study. J Clin Endocrinol Metab 84:4702–4712

16.

Cobb KL, Bachrach LK, Greendale G et al (2003) Disordered eating, menstrual irregularity and bone mineral density in female runners. Med Sci Sports Exerc 35:711–719

17.

Practice Committee of the American Society for Reproductive Medicine (2004) Current evaluation of amenorrhea. Fertil Steril 82:266–272

18.

Dimitriou L, Weiler R, Lloyd-Smith R, Turner A, Heath L, Nic J, Reid A (2014) Bone mineral density, rib pain and other features of the female athlete triad in elite light weight rowers. BMJ Open 4(2):1–9

19.

Crawford PB, Obarzaner E, Morrison J, Sabry ZI (1994) Comparative advantage of 3-day food records over 24-hour recall and 5-day food frequency validated by observation of 9- and 10-year-old girls. J Am Diet Assoc 94(6):626–630

20.

Duke PM, Litt IG, Gross RT (1980) Adolescent' self-assessment of sexual maturation. Pediatrics 66(6):918–920

21.

Pocock NA, Sambrook PN, Nguyen T et al (1992) Assessment of spinal and femoral bone density by dual X-ray absorptiometry: comparison of lunar and hologic instruments. J Bone Miner Res 7(9):1081–1084

22.

Hagiwara S, Engelke K, Yang S et al (1994) Dual X-ray absorptiometry forearm software: accuracy and intermachine relationship. J Bone Miner Res 9(9):1425–1427

23.

Fredericson M, Chew K, Ngo J, Cleek T, Kiratli J, Cobb K (2007) Regional bone mineral density in male athletes: a comparison of soccer players, runners and controls. Br J Sports Med 41(10):664–668

24.

Holroyd C, Cooper C, Dennison E (2008) Epidemiology of osteoporosis. Best Pract Res Clin Endocrinol Metab 22(5):671–685

25.

Guadalupe-Grau A, Fuentes T, Guerra B et al (2009) Exercise and bone mass in adults. Sports Med 39(6):439–468

26.

Greene DA, Naughton GA (2006) Adaptive skeletal responses to mechanical loading during adolescence. Sports Med 36(9):723–732

27.

Vainionpää A, Korpelainen R, Leppäluoto J, Jämsä T (2005) Effects of high-impact exercise on bone mineral density: a randomized controlled trial in premenopausal women. Osteoporosis Int 16(2):191–197

28.

Koutedakis Y, Sharp NC (2004) Thigh-muscles strength training, dance exercise, dynamometry, and anthropometry in professional ballerinas. J Strength Cond Res 18(4):714–718

29.

Twitchett T, Angioi M, Koutedakis Y et al (2009) Video analysis of classical ballet performance. J Dance Med Sci 13(4):124–128

30.

Bonewald LF (2011) The amazing osteocyte. J Bone Miner Res 26(2):229–238

31.

Bonewald LF, Johnson ML (2008) Osteocytes, mechanosensing and Wnt signaling. Bone 42:606–615

32.

Heinonen A, Sievänen H, Kannus P, Oja P, Pasanen M, Vuori I (2000) High-impact exercise and bones of growing girls: a 9-month controlled trial. Osteoporosis Int 11:1010–1017

33.

Koutedakis Y, Jamurtas AZ (2004) The dancer as a performing athlete: physiological considerations. Sports Med 34(10):651–661

34.

Bounjour J, Chevalley T (2014) Pubertal timing, bone acquisition, and risk of fracture throughout life. Endocr Rev 35(5):820–847

35.

Claessens ALM, Beunen GP, Nuyts MM et al (1987) Body structure, somatotype, maturation and motor performance of girls in ballet schooling. J. Sports Med 27:310–317

36.

Peel N (2014) Disorders of bone metabolism. Surgery 33(1):15–20

37.

Ma N, Gordon C (2012) Pediatric osteoporosis: where are we now. J Pediatr 161(6):983–990

38.

Hage RPE, Courteix D, Benhamou CL, Jacob C, Jaffré C (2009) Relative importance of lean and fat mass on bone mineral density in a group of adolescent girls and boys. Eur J Appl Physiol 105(5):759–764

39.

Ilich JZ, Kerstetter JE (2000) Nutrition in bone health revisited: a story beyond calcium. J Am Coll Nutr 19(6):715–737

40.

Eisman JA (1999) Genetics of osteoporosis. Endocr Rev 20(6):788–804

41.

Heaney RP, Abrams S, Dawson-Hughes B et al (2000) Peak bone mass. Osteoporosis Int 11:985–1009

42.

Ekegren CL, Quested R, Brodrick A (2014) Injuries in pre-professional ballet dancers: incidence, characteristics and consequences. J Sci Med Sport 17(3):271–275

43.

Allen N, Nevill AM, Brooks JH et al (2012) Ballet injuries: injury incidence and severity over 1 year. J Orthop Sports Phys Ther 42(9):780–790
Acknowledgements
This work was supported by the Portuguese Foundation for Science and Technology [PhD grant number SFRH/BD/88585/2012]. Thanks are expressed to the radiology services of the Beatriz Angelo Hospital. A very special thanks goes to all participants who volunteered.
Ethics declarations
Conflicts of interest
None.
About this article
Cite this article
Amorim, T., Koutedakis, Y., Nevill, A. et al. Bone mineral density in vocational and professional ballet dancers. Osteoporos Int 28, 2903–2912 (2017). https://doi.org/10.1007/s00198-017-4130-0
Received:

Accepted:

Published:

Issue Date:
Keywords
Associated factors

Ballerinas

Bone mass

Elite dance

Prevalence