Abstract
Summary
Many osteoporosis-related vertebral fractures are unappreciated but their detection is important as their presence increases future fracture risk. We found height loss is a useful tool in detecting patients with vertebral fractures, low bone mineral density, and vitamin D deficiency which may lead to improvements in patient care.
Introduction
This study aimed to determine if/how height loss can be used to identify patients with vertebral fractures, low bone mineral density, and vitamin D deficiency.
Methods
A hospital database search in which four patient groups including those with a diagnosis of osteoporosis-related vertebral fracture, osteoporosis, osteopenia, or vitamin D deficiency and a control group were evaluated for chart-documented height loss over an average 3 1/2 to 4-year time period. Data was retrieved from 66,021 patients (25,792 men and 40,229 women).
Results
A height loss of 1, 2, 3, and 4 cm had a sensitivity of 42, 32, 19, and 14% in detecting vertebral fractures, respectively. Positive likelihood ratios for detecting vertebral fractures were 1.73, 2.35, and 2.89 at 2, 3, and 4 cm of height loss, respectively. Height loss had lower sensitivities and positive likelihood ratios for detecting low bone mineral density and vitamin D deficiency compared to vertebral fractures. Specificity of 1, 2, 3, and 4 cm of height loss was 70, 82, 92, and 95%, respectively. The odds ratios for a patient who loses 1 cm of height being in one of the four diagnostic groups compared to a patient who loses no height was higher for younger and male patients.
Conclusions
This study demonstrated that prospective height loss is an effective tool to identify patients with vertebral fractures, low bone mineral density, and vitamin D deficiency although a lack of height loss does not rule out these diagnoses. If significant height loss is present, the high positive likelihood ratios support a further workup.
Access options
Buy single article
Instant access to the full article PDF.
US$ 39.95
Tax calculation will be finalised during checkout.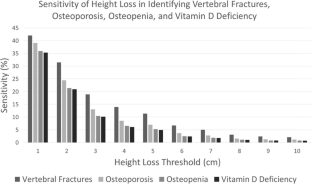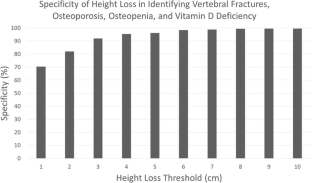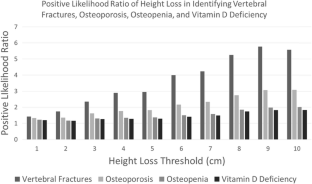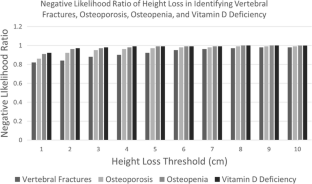 References
1.

Peter RS, Fromm E, Klenk J, Concin H, Nagel G (2014) Change in height, weight, and body mass index: longitudinal data from Austria. Am J Hum Biol 26(5):690–696

2.

Galbusera F, van Rijsbergen M, Ito K, Huyghe JM, Brayda-Bruno M, Wilke HJ (2014) Ageing and degenerative changes of the intervertebral disc and their impact on spinal flexibility. Eur Spine J 23(Suppl 3):S324–S332

3.

Greenspan SL, von Stetten E, Emond SK, Jones L, Parker RA (2001) Instant vertebral assessment: a noninvasive dual X-ray absorptiometry technique to avoid misclassification and clinical mismanagement of osteoporosis. J Clin Densitom 4(4):373–380

4.

Xu W, Perera S, Medich D et al (2011) Height loss, vertebral fractures, and the misclassification of osteoporosis. Bone 48(2):307–311

5.

Cosman F, de Beur SJ, LeBoff MS et al (2014) Clinician's guide to prevention and treatment of osteoporosis. Osteoporos Int 25(10):2359–2381

6.

Schousboe JT, Shepherd JA, Bilezikian JP, Baim S (2013) Executive summary of the 2013 International Society for Clinical Densitometry Position Development Conference on bone densitometry. J Clin Densitom 16(4):455–466

7.

Melton LJ 3rd, Atkinson EJ, Cooper C, O'Fallon WM, Riggs BL (1999) Vertebral fractures predict subsequent fractures. Osteoporos Int 10(3):214–221

8.

Kendler DL, Bauer DC, Davison KS et al (2016) Vertebral fractures: clinical importance and management. Am J Med 129(2):221.e221–221.e210

9.

Miller PD (2016) Clinical management of vertebral compression fractures. J Clin Densitom 19(1):97–101

10.

Marshall D, Johnell O, Wedel H (1996) Meta-analysis of how well measures of bone mineral density predict occurrence of osteoporotic fractures. BMJ 312(7041):1254–1259

11.

Maier GS, Seeger JB, Horas K, Roth KE, Kurth AA, Maus U (2015) The prevalence of vitamin D deficiency in patients with vertebral fragility fractures. Bone Joint J 97-b(1):89–93

12.

Youden WJ (1950) Index for rating diagnostic tests. Cancer 3(1):32–35

13.

Waterloo S, Ahmed LA, Center JR et al (2012) Prevalence of vertebral fractures in women and men in the population-based Tromso study. BMC Musculoskelet Disord 13:3

14.

McGee S (2002) Simplifying likelihood ratios. J Gen Intern Med 17(8):647–650

15.

Cummings SR, Melton LJ (2002) Epidemiology and outcomes of osteoporotic fractures. Lancet 359(9319):1761–1767

16.

Siminoski K, Warshawski RS, Jen H, Lee K (2006) The accuracy of historical height loss for the detection of vertebral fractures in postmenopausal women. Osteoporos Int 17(2):290–296

17.

Tobias JH, Hutchinson AP, Hunt LP et al (2007) Use of clinical risk factors to identify postmenopausal women with vertebral fractures. Osteoporos Int 18(1):35–43

18.

Jayawardene W, Lohrmann D, Youssef AA (2014) Discrepant body mass index: behaviors associated with height and weight misreporting among US adolescents from the National Youth Physical Activity and nutrition study. Child Obes 10(3):225–233

19.

Hsiao H, Weaver D, Hsiao J et al (2014) Comparison of measured and self-reported anthropometric information among firefighters: implications and applications. Ergonomics 57(12):1886–1897

20.

Yoon K, Jang SN, Chun H, Cho SI. Self-reported anthropometric information cannot vouch for the accurate assessment of obesity prevalence in populations of middle-aged and older Korean individuals. Arch Gerontol Geriatr 2014.

21.

Mikula AL, Hetzel SJ, Binkley N, Anderson PA. Clinical height measurements are unreliable: a call for improvement. Osteoporos Int 2016.

22.

Gunnes M, Lehmann EH, Mellstrom D, Johnell O (1996) The relationship between anthropometric measurements and fractures in women. Bone 19(4):407–413

23.

Moayyeri A, Luben RN, Bingham SA, Welch AA, Wareham NJ, Khaw KT (2008) Measured height loss predicts fractures in middle-aged and older men and women: the EPIC-Norfolk prospective population study. J Bone Miner Res 23(3):425–432

24.

Kaptoge S, Armbrecht G, Felsenberg D et al (2006) Whom to treat? The contribution of vertebral X-rays to risk-based algorithms for fracture prediction. Results from the European prospective osteoporosis study. Osteoporos Int 17(9):1369–1381
Ethics declarations
Conflicts of interest
None.
Electronic supplementary material
About this article
Cite this article
Mikula, A.L., Hetzel, S.J., Binkley, N. et al. Validity of height loss as a predictor for prevalent vertebral fractures, low bone mineral density, and vitamin D deficiency. Osteoporos Int 28, 1659–1665 (2017). https://doi.org/10.1007/s00198-017-3937-z
Received:

Accepted:

Published:

Issue Date:
Keywords
Bone mineral density

Height loss

Osteopenia

Osteoporosis

Vertebral fractures

Vitamin D deficiency