Abstract
Summary
Adherence to oral bisphosphonates is low. A screening strategy is proposed based on the response of biochemical markers of bone turnover after 3 months of therapy. If no change is observed, the clinician should reassess the adherence to the treatment and also other potential issues with the drug.
Introduction
Low adherence to oral bisphosphonates is a common problem that jeopardizes the efficacy of treatment of osteoporosis. No clear screening strategy for the assessment of compliance is widely accepted in these patients.
Methods
The International Osteoporosis Foundation and the European Calcified Tissue Society have convened a working group to propose a screening strategy to detect a lack of adherence to these drugs. The question to answer was whether the bone turnover markers (BTMs) PINP and CTX can be used to identify low adherence in patients with postmenopausal osteoporosis initiating oral bisphosphonates for osteoporosis. The findings of the TRIO study specifically address this question and were used as the basis for testing the hypothesis.
Results
Based on the findings of the TRIO study, specifically addressing this question, the working group recommends measuring PINP and CTX at baseline and 3 months after starting therapy to check for a decrease above the least significant change (decrease of more than 38% for PINP and 56% for CTX). Detection rate for the measurement of PINP is 84%, for CTX 87% and, if variation in at least one is considered when measuring both, the level of detection is 94.5%.
Conclusions
If a significant decrease is observed, the treatment can continue, but if no decrease occurs, the clinician should reassess to identify problems with the treatment, mainly low adherence.
This is a preview of subscription content, log in to check access.
Access options
Buy single article
Instant access to the full article PDF.
US$ 39.95
Price includes VAT for USA
Subscribe to journal
Immediate online access to all issues from 2019. Subscription will auto renew annually.
US$ 199
This is the net price. Taxes to be calculated in checkout.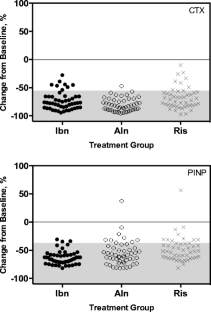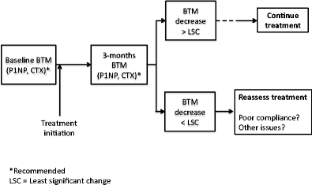 References
1.

Cramer JA, Gold DT, Silverman SL, Lewiecki EM (2007) A systematic review of persistence and compliance with bisphosphonates for osteoporosis. Osteoporos Int 18(8):1023–1031

2.

Kothawala P, Badamgarav E, Ryu S, Miller RM, Halbert RJ (2007) Systematic review and meta-analysis of real-world adherence to drug therapy for osteoporosis. Mayo Clin Proc 82(12):1493–1501

3.

Kanis JA, Reginster JY, Kaufman JM, Ringe JD, Adachi JD, Hiligsmann M et al (2012) A reappraisal of generic bisphosphonates in osteoporosis. Osteoporos Int 23(1):213–221

4.

Hiligsmann M, Rabenda V, Gathon HJ, Ethgen O, Reginster JY (2010) Potential clinical and economic impact of nonadherence with osteoporosis medications. Calcif Tissue Int 86(3):202–210

5.

Hiligsmann M, Salas M, Hughes DA, Manias E, Gwadry-Sridhar FH, Linck P et al (2013) Interventions to improve osteoporosis medication adherence and persistence: a systematic review and literature appraisal by the ISPOR Medication Adherence & Persistence Special Interest Group. Osteoporos Int 24(12):2907–2918

6.

Kanis JA, Cooper C, Hiligsmann M, Rabenda V, Reginster JY, Rizzoli R (2011) Partial adherence: a new perspective on health economic assessment in osteoporosis. Osteoporos Int 22(10):2565–2573

7.

Kanis JA, McCloskey EV, Johansson H, Cooper C, Rizzoli R, Reginster JY et al (2013) European guidance for the diagnosis and management of osteoporosis in postmenopausal women. Osteoporos Int 24(1):23–57

8.

Vasikaran S, Eastell R, Bruyere O, Foldes AJ, Garnero P, Griesmacher A et al (2011) Markers of bone turnover for the prediction of fracture risk and monitoring of osteoporosis treatment: a need for international reference standards. Osteoporos Int 22(2):391–420

9.

Diez-Perez A, Adachi JD, Agnusdei D, Bilezikian JP, Compston JE, Cummings SR et al (2012) Treatment failure in osteoporosis. Osteoporos Int 23(12):2769–2774

10.

Delmas PD, Vrijens B, Eastell R, Roux C, Pols HA, Ringe JD et al (2007) Effect of monitoring bone turnover markers on persistence with risedronate treatment of postmenopausal osteoporosis. J Clin Endocrinol Metab 92(4):1296–1304

11.

Naylor KE, Jacques RM, Paggiosi M, Gossiel F, Peel NF, McCloskey EV et al (2016) Response of bone turnover markers to three oral bisphosphonate therapies in postmenopausal osteoporosis: the TRIO study. Osteoporos Int 27(1):21–31

12.

Carbonell-Abella C, Pages-Castella A, Javaid MK, Nogues X, Farmer AJ, Cooper C et al (2015) Early (1-year) discontinuation of different anti-osteoporosis medications compared: a population-based cohort study. Calcif Tissue Int 97(6):535–541

13.

Paggiosi MA, Peel N, McCloskey E, Walsh JS, Eastell R (2014) Comparison of the effects of three oral bisphosphonate therapies on the peripheral skeleton in postmenopausal osteoporosis: the TRIO study. Osteoporos Int 25(12):2729–2741

14.

Wald NJ (2008) Guidance on terminology. J Med Screen 15(1):50

15.

Chavassieux P, Portero-Muzy N, Roux JP, Garnero P, Chapurlat R (2015) Are biochemical markers of bone turnover representative of bone histomorphometry in 370 postmenopausal women? J Clin Endocrinol Metab 100(12):4662–4668

16.

Mayranpaa MK, Tamminen IS, Kroger H, Makitie O (2011) Bone biopsy findings and correlation with clinical, radiological, and biochemical parameters in children with fractures. J Bone Miner Res 26(8):1748–1758

17.

Reid IR, Miller PD, Brown JP, Kendler DL, Fahrleitner-Pammer A, Valter I et al (2010) Effects of denosumab on bone histomorphometry: the FREEDOM and STAND studies. J Bone Miner Res 25(10):2256–2265

18.

Dobnig H, Sipos A, Jiang Y, Fahrleitner-Pammer A, Ste-Marie LG, Gallagher JC et al (2005) Early changes in biochemical markers of bone formation correlate with improvements in bone structure during teriparatide therapy. J Clin Endocrinol Metab 90(7):3970–3977

19.

Sebba AI, Bonnick SL, Kagan R, Thompson DE, Skalky CS, Chen E et al (2004) Response to therapy with once-weekly alendronate 70 mg compared to once-weekly risedronate 35 mg in the treatment of postmenopausal osteoporosis. Curr Med Res Opin 20(12):2031–2041

20.

Diez-Perez A, Olmos JM, Nogues X, Sosa M, Diaz-Curiel M, Perez-Castrillon JL et al (2012) Risk factors for prediction of inadequate response to antiresorptives. Journal of bone and mineral research: the official journal of the American Society for Bone and Mineral Research 27(4):817–824

21.

Fink E, Cormier C, Steinmetz P, Kindermans C, Le Bouc Y, Souberbielle JC (2000) Differences in the capacity of several biochemical bone markers to assess high bone turnover in early menopause and response to alendronate therapy. Osteoporos Int 11(4):295–303

22.

Hannon R, Blumsohn A, Naylor K, Eastell R (1998) Response of biochemical markers of bone turnover to hormone replacement therapy: impact of biological variability. J Bone Miner Res 13(7):1124–1133

23.

Rogers A, Glover SJ, Eastell R (2009) A randomised, double-blinded, placebo-controlled, trial to determine the individual response in bone turnover markers to lasofoxifene therapy. Bone 45(6):1044–1052

24.

Horne R, Chapman SC, Parham R, Freemantle N, Forbes A, Cooper V (2013) Understanding patients' adherence-related beliefs about medicines prescribed for long-term conditions: a meta-analytic review of the Necessity-Concerns Framework. PLoS One 8(12):e80633

25.

Eastell R, Vrijens B, Cahall DL, Ringe JD, Garnero P, Watts NB (2011) Bone turnover markers and bone mineral density response with risedronate therapy: relationship with fracture risk and patient adherence. J Bone Miner Res 26(7):1662–1669

26.

Garnero P, Borel O, Delmas PD (2001) Evaluation of a fully automated serum assay for C-terminal cross-linking telopeptide of type I collagen in osteoporosis. Clin Chem 47(4):694–702

27.

Garnero P, Vergnaud P, Hoyle N (2008) Evaluation of a fully automated serum assay for total N-terminal propeptide of type I collagen in postmenopausal osteoporosis. Clin Chem 54(1):188–196
Ethics declarations
Conflict of interest
A Diez-Perez is speaker or advisor for Amgen, Lilly, Merck, UCB, and Active Life Sci. Bo Abrahamsen reports current institutional research grants and contracts with Novartis and UCB, past institutional research contracts with Amgen, and NPS Pharmaceuticals. D. Agnusdei has a consultancy contract with Eli Lilly. Erik F Eriksen is a speaker and advisor for Amgen, Lilly, Merck, IDS, and Shire. Núria Guañabens is speaker or advisor for Amgen, Lilly, and Alexion Pharmaceuticals. Robert Josse is medical advisory board member and speaker honoraria and research grant: Merck, Amgen, Lilly. Daniel Prieto-Alhambra's research group has received unrestricted grants from AMGEN S.A. Jean-Yves Reginster has consulting fees or paid advisory boards in Servier, Novartis, Negma, Lilly, Wyeth, Amgen, GlaxoSmithKline, Roche, Merckle, Nycomed-Takeda, NPS, IBSA-Genevrier, Theramex, UCB, Asahi Kasei, Endocyte, and Radius Health, and also has lecture fees when speaking at the invitation of the commercial sponsors: Merck Sharp and Dohme, Lilly, Rottapharm, IBSA, Genevrier, Novartis, Servier, Roche, GlaxoSmithKline, Merckle, Teijin, Teva, Analis, Theramex, Nycomed, NovoNordisk, Ebewee Pharma, Zodiac, Danone, Will Pharma, Amgen, and PharmEvo. He has grant support from the industry as follows: Bristol Myers Squibb, Merck Sharp & Dohme, Rottapharm, Teva, Roche, Amgen, Lilly, Novartis, GlaxoSmithKline, Servier, Pfizer, Theramex, Danone, Organon, Therabel, Boehringer, Chiltern, and Galapagos. M. Carola Zillikens has received fee for speaking and advice from Amgen, Eli Lilly, and MSD. R. Eastell has consulting fees from Amgen, AstraZeneca, Chronos, GSK, Immunodiagnostic Systems, Fonterra Brands, Ono Pharma, Lilly, Bayer, Janssen Research, Alere, CL Biosystems, Teijin Pharm, D-Star, Roche Diagnostics, and Inverness Medical; grant support from Amgen, Alexion, Immunodiagnostic Systems, Roche, and AstraZeneca. Kim E Naylor, Maria Luisa Brandi, Cyrus Cooper, Elaine Dennison, Deborah Gold, Peyman Hadji, Mickael Hiligsmann, Robert Horne, John A Kanis, Barbara Obermayer-Pietsch, René Rizzoli, and Stuart Silverman have no conflict of interest.
About this article
Cite this article
Diez-Perez, A., Naylor, K.E., Abrahamsen, B. et al. International Osteoporosis Foundation and European Calcified Tissue Society Working Group. Recommendations for the screening of adherence to oral bisphosphonates. Osteoporos Int 28, 767–774 (2017). https://doi.org/10.1007/s00198-017-3906-6
Received:

Accepted:

Published:

Issue Date:
Keywords
Adherence

Bisphosphonates

Osteoporosis treatment

Position paper

Screening