Abstract
Summary
Pulse-echo ultrasonometry can be used as a pre-screen for hip osteoporosis before dual-energy x-ray absorptiometry (DXA), potentially allowing DXA to be avoided for the majority of post-menopausal women. Pulse-echo ultrasound measures of tibia cortical thickness are also associated with radiographically confirmed prior fractures, independent of femoral neck bone mineral density.
Introduction
To estimate how well a pulse-echo ultrasound device discriminates those who have from those who do not have hip osteoporosis (femoral neck bone mineral density [BMD] or total hip BMD T-score ≤ −2.5), and to estimate the association of pulse-echo ultrasound measures with prevalent (radiographically confirmed) clinical fractures.
Methods
Five hundred fifty-five post-menopausal women age 50 to 89 had femoral neck and total hip BMD measured by dual-energy x-ray absorptiometry (DXA), and pulse-echo ultrasound measures of distal radius, proximal tibia, distal tibia cortical thickness, and multi- and single-site density indices (DI). Using previously published threshold ultrasound values, we estimated the proportion of women who would avoid a follow-up DXA after pulse-echo ultrasonometry, and the sensitivity and specificity of this for the detection of hip osteoporosis. Logistic regression models were used to estimate the associations of pulse-echo ultrasound measures with radiographically confirmed clinical fractures within the prior 5 years.
Results
Using multi-site and single-site DI measures, follow-up DXA could be avoided for 73 and 69 % of individuals, respectively, while detecting hip osteoporosis with 80–82 % sensitivity and 81 % specificity. Radiographically confirmed prior fracture was associated with ultrasound measures of single-site DI (odds ratio (OR) 1.55, 95 % confidence interval (CI). 1.06 to 2.26) and proximal tibia cortical thickness (OR 1.47, 95 % CI 1.10 to 1.96), adjusted for age, body mass index, and femoral neck BMD.
Conclusions
Pulse-echo ultrasonometry can be used as an initial screening test for hip osteoporosis. Prospective studies of how well pulse-echo ultrasound measures predict subsequent clinical fractures are warranted.
Access options
Buy single article
Instant access to the full article PDF.
USD 39.95
Price excludes VAT (USA)
Tax calculation will be finalised during checkout.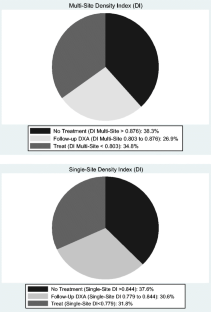 References
Blake GM, Chinn DJ, Steel SA, Patel R, Panayiotou E, Thorpe J, Fordham JN, National Osteoporosis Society Bone Densitometry F (2005) A list of device-specific thresholds for the clinical interpretation of peripheral x-ray absorptiometry examinations. Osteoporos Int 16:2149–2156

Patel R, Blake GM, Fordham JN, McCrea JD, Ryan PJ (2011) Peripheral X-ray absorptiometry in the management of osteoporosis.

Hans DB, Shepherd JA, Schwartz EN et al (2008) Peripheral dual-energy x-ray absorptiometry in the management of osteoporosis: the 2007 ISCD Official Positions. J Clin Densitom 11:188–206

Krieg MA, Barkmann R, Gonnelli S et al (2008) Quantitative ultrasound in the management of osteoporosis: the 2007 ISCD Official Positions. J Clin Densitom 11:163–187

Karjalainen J, Riekkinen O, Töyräs J, Kröger H, Jurvelin J (2008) Ultrasonic assessment of cortical bone thickness in vitro and in vivo. IEEE Trans Ultrason Ferroelec Freq Control 55:2191–2197

Karjalainen JP, Riekkinen O, Toyras J, Hakulinen M, Kroger H, Rikkonen T, Salovaara K, Jurvelin JS (2012) Multi-site bone ultrasound measurements in elderly women with and without previous hip fractures. Osteoporos Int 23:1287–1295

Karjalainen JP, Riekkinen O, Toyras J, Jurvelin JS, Kroger H (2016) New method for point-of-care osteoporosis screening and diagnostics. Osteoporos Int 27:971–977

Kanis JA, Oden A, Johansson H, Borgstrom F, Strom O, McCloskey E (2009) FRAX and its applications to clinical practice. Bone 44:734–743

Pritchard JM, Giangregorio LM, Ioannidis G, Papaioannou A, Adachi JD, Leslie WD (2012) Ankle fractures do not predict osteoporotic fractures in women with or without diabetes. Osteoporos Int 23:957–962

Stata C (2005) SUEST—Seemingly unrelated estimation. Stata Reference Manual. Stata Press, College Station, TX, pp 301–322

Steyerberg EW (2010) Clinical prediction models. A practical approach to development, validation, and updating. Springer Science + Business Media, New York, NY

Clowes JA, Eastell R, Peel NF (2005) The discriminative ability of peripheral and axial bone measurements to identify proximal femoral, vertebral, distal forearm and proximal humeral fractures: a case control study. Osteoporos Int 16:1794–1802

Cummings SR, Black DM, Nevitt MC, Browner W, Cauley J, Ensrud K, Genant HK, Palermo L, Scott J, Vogt TM (1993) Bone density at various sites for prediction of hip fractures. The Study of Osteoporotic Fractures Research Group. Lancet 341:72–75

McCloskey EV, Kanis JA, Oden A et al (2015) Predictive ability of heel quantitative ultrasound for incident fractures: an individual-level meta-analysis. Osteoporos Int 26:1979–1987
Ethics declarations
Conflicts of interest
This research study was conducted under grant support from Bone Index Finland, Ltd. Mr. Karjalainen and Riekkinen are owners of Bone Index Finland, Ltd. None of the three authors has any other conflicts of interest to disclose.
About this article
Cite this article
Schousboe, J.T., Riekkinen, O. & Karjalainen, J. Prediction of hip osteoporosis by DXA using a novel pulse-echo ultrasound device. Osteoporos Int 28, 85–93 (2017). https://doi.org/10.1007/s00198-016-3722-4
Received:

Accepted:

Published:

Issue Date:

DOI: https://doi.org/10.1007/s00198-016-3722-4
Keywords
Bone mineral density

Cortical thickness

Osteoporosis

Pulse-echo ultrasound

Quantitative ultrasound