Abstract
Summary
Breast-feeding affects bone metabolism and calcium homeostasis, and prolonged breast-feeding may influence the development of postmenopausal osteoporosis, particularly in highly susceptible populations. The study determined that breast-feeding may be a risk factor for postmenopausal osteoporosis, especially in people with low calcium intakes and vitamin D deficiencies.
Introduction
The purpose of this study was to determine whether breast-feeding is a risk factor in the development of postmenopausal osteoporosis, especially in highly susceptible population.
Methods
The study was performed using data from the 2010 to 2011 Korea National Health and Nutrition Examination Survey, and it included 1231 postmenopausal women who were aged between 45 and 70 years. Osteoporosis was defined using the World Health Organization's T-score criteria, namely, a T-score of ≤−2.5 at the femoral neck or the lumbar spine. The patients' ages, body mass indexes, daily calcium intakes, serum vitamin D levels, exercise levels, smoking histories, and reproductive factors relating to menarche, menopause, delivery, breast-feeding, hormone treatment, and oral contraceptive use were evaluated. Comparisons between the osteoporosis and non-osteoporosis groups were undertaken using Student's t test and the chi-square test, and logistic regression models were built.
Results
A significant increase in the risk of osteoporosis was apparent in postmenopausal women with prolonged breast-feeding histories (≥24 months) (model 1: odds ratio [OR] = 2.489; 95 % confidence interval [CI] = 1.111 to 5.578, p = 0.027; model 2: OR = 2.503; 95 % CI = 1.118 to 5.602, p = 0.026; model 3: OR = 2.825; 95 % CI = 1.056 to 7.56, p = 0.039), particularly in those with inadequate serum vitamin D levels and calcium intakes (<800 mg/day).
Conclusions
Breast-feeding seems to increase the risk of postmenopausal osteoporosis; however, its impact may not be definitive in women with sufficient vitamin D levels and calcium intakes. Therefore, sufficient calcium intakes and adequate vitamin D levels may be important to prevent osteoporosis in postmenopausal women that is derived from breast-feeding.
Access options
Buy single article
Instant access to the full article PDF.
USD 39.95
Price excludes VAT (USA)
Tax calculation will be finalised during checkout.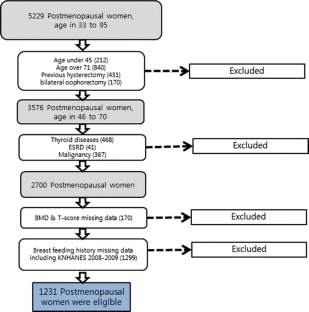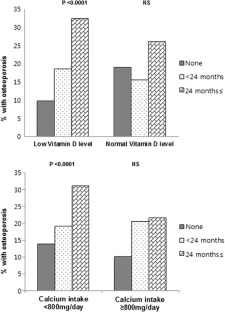 References
Nih Consensus Development Panel on Osteoporosis Prevention D, Therapy (2001) Osteoporosis prevention, diagnosis, and therapy. JAMA 285:785–795

Raisz LG (2005) Clinical practice. Screening for osteoporosis. N Engl J Med 353:164–171

Seeman E (2002) Pathogenesis of bone fragility in women and men. Lancet 359:1841–1850

Fox KM, Magaziner J, Sherwin R, Scott JC, Plato CC, Nevitt M et al (1993) Reproductive correlates of bone mass in elderly women. Study of osteoporotic fractures research group. J Bone Miner Res 8:901–908

Miglioli L, Costa-Paiva L, de Lourenco LS, Morais SS, Lopes de Lima MC, Pinto-Neto AM (2007) The association of pregnancy history with areal and volumetric bone mineral density in adolescence. Osteoporos Int 18:101–108

Tuppurainen M, Kroger H, Saarikoski S, Honkanen R, Alhava E (1995) The effect of gynecological risk factors on lumbar and femoral bone mineral density in peri- and postmenopausal women. Maturitas 21:137–145

Kalkwarf HJ, Specker BL (2002) Bone mineral changes during pregnancy and lactation. Endocrine 17:49–53

Grimes JP, Wimalawansa SJ (2003) Breastfeeding and postmenopausal osteoporosis. Curr Womens Health Rep 3:193–198

Dursun N, Akin S, Dursun E, Sade I, Korkusuz F (2006) Influence of duration of total breast-feeding on bone mineral density in a Turkish population: does the priority of risk factors differ from society to society? Osteoporos Int 17:651–655

Schnatz PF, Barker KG, Marakovits KA, O'Sullivan DM (2010) Effects of age at first pregnancy and breast-feeding on the development of postmenopausal osteoporosis. Menopause 17:1161–1166

Kovacs CS, Kronenberg HM (1997) Maternal-fetal calcium and bone metabolism during pregnancy, puerperium, and lactation. Endocr Rev 18:832–872

Yun BH, Choi YR, Choi YS, Cho S, Lee BS, Seo SK (2015) Age at first delivery and osteoporosis risk in Korean postmenopausal women: the 2008–2011 Korea National Health and Nutrition Examination Survey (KNHANES). PLoS One 10:e0123665

International Physical Activity Questionnaire (IPAQ) core group guidelines for data processing and alaysis of the physical activity questionnaire short and long forms

Holick MF (2007) Vitamin D deficiency. N Engl J Med 357:266–281

Dawson-Hughes B, Heaney RP, Holick MF, Lips P, Meunier PJ, Vieth R (2005) Estimates of optimal vitamin D status. Osteoporos Int 16:713–716

Kelly TL, Wilson KE, Heymsfield SB (2009) Dual energy x-ray absorptiometry body composition reference values from NHANES. PLoS One 4:e7038

Kovacs CS, Ralston SH (2015) Presentation and management of osteoporosis presenting in association with pregnancy or lactation. Osteoporos Int. doi:10.1007/s00198-015-3149-3

Hadji P, Ziller V, Kalder M, Gottschalk M, Hellmeyer L, Hars O et al (2002) Influence of pregnancy and breast-feeding on quantitative ultrasonometry of bone in postmenopausal women. Climacteric 5:277–285

Chantry CJ, Auinger P, Byrd RS (2004) Lactation among adolescent mothers and subsequent bone mineral density. Arch Pediatr Adolesc Med 158:650–656

Cinar N, Harmanci A, Yildiz BO, Bayraktar M (2014) Vitamin D status and seasonal changes in plasma concentrations of 25-hydroxyvitamin D in office workers in Ankara, Turkey. Eur J Intern Med 25:197–201

Lim SK, Kung AW, Sompongse S, Soontrapa S, Tsai KS (2008) Vitamin D inadequacy in postmenopausal women in Eastern Asia. Curr Med Res Opin 24:99–106

Kramer MS, Kakuma R (2002) Optimal duration of exclusive breastfeeding. Cochrane Database Syst Rev. doi:10.1002/14651858.CD003517.CD003517

Turck D, Vidailhet M, Bocquet A, Bresson JL, Briend A, Chouraqui JP et al (2013) Allaitement maternel : les bénéfices pour la santé de l'enfant et de sa mère. Arch Pediatr 20:S29–S48

Bolzetta F, Veronese N, De Rui M, Berton L, Carraro S, Pizzato S et al (2014) Duration of breastfeeding as a risk factor for vertebral fractures. Bone 68:41–45
Ethics declarations
The study was approved by the Yonsei University Health System Severance Hospital's Institutional Review Board (4-2015-0629).
Conflicts of interest
None.
About this article
Cite this article
Yun, B.H., Chon, S.J., Choi, Y.S. et al. The effect of prolonged breast-feeding on the development of postmenopausal osteoporosis in population with insufficient calcium intake and vitamin D level. Osteoporos Int 27, 2745–2753 (2016). https://doi.org/10.1007/s00198-016-3585-8
Received:

Accepted:

Published:

Issue Date:

DOI: https://doi.org/10.1007/s00198-016-3585-8
Keywords
Breast-feeding

Calcium intake

Menopause

Osteoporosis

Vitamin D deficiency