Abstract
Summary
Clinical performance and safety of two percutaneous vertebral cement augmentation (VA) procedures (SpineJack® and Kyphx Xpander® balloon) were compared in patients with osteoporotic compression fractures. Both techniques were safe, efficient, and led to a rapid and marked improvement in clinical signs; nevertheless, SpineJack showed better restoration of vertebral heights and angles, maintained over time.
Introduction
In patients with osteoporotic vertebral compression fractures (VCFs), both SpineJack® (SJ) and balloon kyphoplasty (BKP) led to a rapid and marked improvement in clinical signs. This pilot, monocentric, investigator-initiated, prospective study aimed to compare two percutaneous vertebral augmentation procedures in the painful osteoporotic VCF treatment.
Methods
Thirty patients were randomized to receive SJ (n = 15) or BKP (n = 15). Analgesic consumption, back pain intensity (visual analog scale (VAS)), and Oswestry Disability Index (ODI) scores were recorded preoperatively, at 5 days and 1, 3, 6, and 12 months post-surgery. Quality of life (EQ-VAS score) was evaluated at 1, 3, 6, and 12 months. Spine X-rays were taken 48 h prior to procedure and 5 days and 6 and 12 months after.
Results
SpineJack® led to a significantly shorter intervention period (23 vs 32 min; p < 0.001), a strong, rapid, and long-lasting decline in pain (94 vs 82 % at 12 months) and in functional disability (94 vs 90 % at 12 months), a greater and sustainable mean correction of anterior (12 ± 13 vs 0 ± 7 % for BKP, p = 0.003) and central height (12 ± 10 vs 2 ± 6 % for BKP, p = 0.001) at 12 months, and a larger restoration of the vertebral body angle still evident 12 months after implantation (−4.4° ± 5.8° vs 0.2° ± 3.0° for BKP; p = 0.012).
Conclusions
This pilot study showed that both techniques were safe and efficient for the osteoporotic VCF treatment. Radiological results indicate that the SpineJack® procedure has a higher potential for vertebral body height restoration and maintenance over time.
Access options
Buy single article
Instant access to the full article PDF.
USD 39.95
Price includes VAT (USA)
Tax calculation will be finalised during checkout.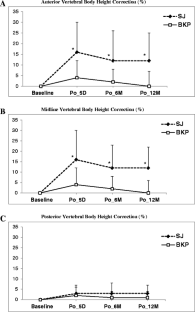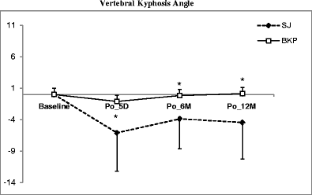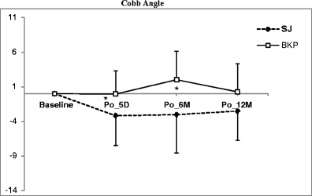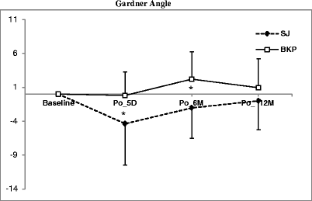 References
1.

Johnell O, Kanis JA (2006) An estimate of the worldwide prevalence and disability associated with osteoporotic fractures. Osteoporos Int 17:1726–1733

2.

Wardlaw D, Van Meirhaeghe J, Ranstam J, Bastian L, Boonen S (2012) Balloon kyphoplasty in patients with osteoporotic vertebral compression fractures. Expert Rev Med Devic 9:423–436

3.

Lindsay R, Burge RT, Strauss DM (2005) One year outcomes and costs following a vertebral fracture. Osteoporos Int 16:78–85

4.

Lau E, Ong K, Kurtz S, Schmier J, Edidin A (2008) Mortality following the diagnosis of a vertebral compression fracture in the Medicare population. J Bone Joint Surg Am 90:1479–1486

5.

Klazen CA, Verhaar HJ, Lohle PN, Lampmann LE, Juttmann JR, Schoemaker MC, van Everdingen KJ, Muller AF, Mali WP, de Vries J (2010) Clinical course of pain in acute osteoporotic vertebral compression fractures. J Vasc Interv Radiol 21:1405–1409

6.

Baxter D, Yeh J (2012). The use of polymethyl methacrylate (PMMA) in neurosurgery. In: Luigi Ambrosio, Elizabeth Tanner (ed) Biomaterials for Spinal Surgery, Woodhead Publishing in Materials, Woodhead Publishing Limited, p 380

7.

Papanastassiou ID, Filis A, Gerochristou MA, Vrionis FD (2014) Controversial issues in kyphoplasty and vertebroplasty in osteoporotic vertebral fractures. Biomed Res Int. doi:10.1155/2014/934206

8.

Edidin AA, Ong KL, Lau E, Kurtz SM (2012) Cost-effectiveness analysis of treatments for vertebral compression fractures. Appl Health Econ Health Policy 10:273–284

9.

Chen AT, Cohen DB, Skolasky RL (2013) Impact of nonoperative treatment, vertebroplasty, and kyphoplasty on survival and morbidity after vertebral compression fracture in the medicare population. J Bone Joint Surg Am 95:1729–1736

10.

Verlaan JJ, van De Kraats EB, Oner FC, Van Walsum T, Niessen WJ, Dhert WJA (2005) The reduction of endplate fractures during balloon kyphoplasty. Spine 30:1840–1845

11.

Voggenreiter G (2005) Balloon kyphoplasty is effective in deformity correction of osteoporotic vertebral compression fractures. Spine 30:2806–2812

12.

Lamy O, Uebelhart B, Aubry-Rozier B (2014) Risks and benefits of percutaneous vertebroplasty or kyphoplasty in the management of osteoporotic vertebral fractures. Osteoporos Int 25(3):807–19

13.

Krüger A, Baroud G, Noriega D, Figiel J, Dorschel C, Ruchholtz S, Oberkircher L (2013) Height restoration and maintenance after treating unstable osteoporotic vertebral compression fractures by cement augmentation is dependent on the cement volume used. Clin Biomech 28:725–730

14.

Krüger A, Oberkircher L, Figiel J, Floßdorf F, Bolzinger F, Noriega DC, Ruchholtz S (2015) Height restoration of osteoporotic vertebral compression fractures using different intravertebral reduction devices: a cadaveric study. Spine J 15:1092–1098

15.

Vogler D, Paillex R, Norberg M, de Goumoëns P, Cabri J (2008) Cross-cultural validation of the Oswestry disability index in French. Ann Readapt Med Phys 51:379–385

16.

Brooks R, Rabin R, Charro F (2003) The measurement and valuation of health status using EQ-5D: a European perspective. Evidence from the EuroQol BIOMED. Research programme. Kluwer academic publishers, Dordrecht

17.

Schulze M, Trautwein F, Vordemvenne T, Raschke M, Heuer F (2011) A method to perform spinal motion analysis from functional X-ray images. J Biomech 44:1740–1746

18.

Yeom JS, Kim WJ, Choy WS, Lee CK, Chang BS, Kang JW (2003) Leakage of cement in percutaneous transpedicular vertebroplasty for painful osteoporotic compression fractures. J Bone Joint Surg Brit :83–9

19.

Collins SL, Moore RA, McQuay HJ (1997) The visual analogue pain intensity scale: what is moderate pain in millimetres? Pain 72:95–97

20.

Lee JS, Hobden E, Stiell IG, Wells GA (2003) Clinically important change in the visual analog scale after adequate pain control. Acad Emerg Med 10:1128–1130

21.

Ostelo RW, Deyo RA, Stratford P, Waddell G, Croft P, Von Korff M, Bouter LM, de Vet HC (2008) Interpreting change scores for pain and functional status in low back pain: towards international consensus regarding minimal important change. Spine (Phila Pa 1976) 33:90–94

22.

Tutton SM, Pflugmacher R, Davidian M, Beall DP, Facchini FR, Garfin SR (2015) KAST Study: the Kiva® System as a vertebral augmentation treatment—a safety and effectiveness trial: a randomized, non-inferiority trial comparing the Kiva® system to balloon kyphoplasty in treatment of osteoporotic vertebral compression fractures. Spine (Phila Pa 1976) 40:865–875
Ethics declarations
Conflicts of interest
David César Noriega has received a speaker honorarium from Vexim and Medtronic. Rubén Hernández Ramajo: none. Israel Sánchez Lite: none. Borja Toribio: none. Raul Corredera: none. Francisco Ardura has received a speaker honorarium from Vexim. Antonio Krüger has received a speaker honorarium from Medtronic, Soteira, Biomed, DFine and Vexim.
About this article
Cite this article
Noriega, D.C., Ramajo, R.H., Lite, I.S. et al. Safety and clinical performance of kyphoplasty and SpineJack® procedures in the treatment of osteoporotic vertebral compression fractures: a pilot, monocentric, investigator-initiated study. Osteoporos Int 27, 2047–2055 (2016). https://doi.org/10.1007/s00198-016-3494-x
Received:

Accepted:

Published:

Issue Date:
Keywords
Back pain

Balloon kyphoplasty

Osteoporosis

SpineJack

Vertebral augmentation

Vertebral compression fracture