Abstract
Summary
This study showed that a negative correlation between duration of breastfeeding and bone mineral density (BMD) in the lumbar spine and prolonged breastfeeding is an independent risk for osteoporosis in postmenopausal women. The present study suggests that postmenopausal women with a history of prolonged breastfeeding require more careful screening for osteoporosis.
Introduction
Several studies suggest that breastfeeding and childbirth lead to maternal calcium loss and a decline in BMD. While the association between breastfeeding and BMD immediately after weaning is well-established, the effects of breastfeeding on postmenopausal women have been controversial. The aim of this study was to examine the effects of breastfeeding on bone mineral density (BMD) and the prevalence of osteoporosis in postmenopausal women.
Methods
The present study was a cross-sectional survey based on the Korea National Health and Nutrition Examination Survey (KNHANES) 2010 and 2011 data. The association between breastfeeding and BMD and osteoporosis was examined in 1222 postmenopausal women.
Results
The duration of breastfeeding and BMD in the lumbar spine showed a negative correlation. The association between duration of breastfeeding and BMD remained significant after adjustment for reproductive factors and other confounding factors (P = 0.008). However, the number of deliveries and age at the time of delivery did not correlate with BMD at any site after adjustment. Moreover, the prevalence of osteoporosis in postmenopausal women with a history of prolonged breastfeeding was significantly higher than that in women with a short history of breastfeeding (≥37 months, OR = 3.292; 95 % CI 1.485–7.299). The prevalence of lumbar spine fracture showed a significant increasing trend with the increase in the duration of breastfeeding.
Conclusion
Prolonged breastfeeding was significantly associated with low BMD in the lumbar spine and higher prevalence of osteoporosis. However, the number of deliveries or age at the time of childbirth did not influence BMD.
Access options
Buy single article
Instant access to the full article PDF.
USD 39.95
Price excludes VAT (USA)
Tax calculation will be finalised during checkout.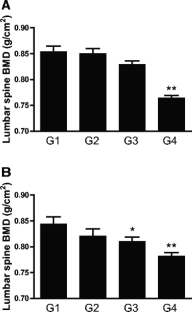 References
Raisz LG (2005) Pathogenesis of osteoporosis: concepts, conflicts, and prospects. J Clin Invest 115:3318–25

Prince RL, Smith M, Dick IM, Price RI, Webb PG, Henderson NK, Harris MM (1991) Prevention of postmenopausal osteoporosis. A comparative study of exercise, calcium supplementation, and hormone-replacement therapy. N Engl J Med 325:1189–95

Nordin BE (1997) Calcium and osteoporosis. Nutrition 13(7–8):664–86

Kim SW, Jeon JH, Choi YK, Lee WK, Hwang IR, Kim JG, Lee IK, Park KG (2015) Association of urinary sodium/creatinine ratio with bone mineral density in postmenopausal women: KNHANES 2008-2011. Endocrine

Gallagher JC, Riggs BL, Eisman J, Hamstra A, Arnaud SB, DeLuca HF (1979) Intestinal calcium absorption and serum vitamin D metabolites in normal subjects and osteoporotic patients: effect of age and dietary calcium. J Clin Invest 64:729–36

Ulrich U, Miller PB, Eyre DR, Chesnut CH 3rd, Schlebusch H, Soules MR (2003) Bone remodeling and bone mineral density during pregnancy. Arch Gynecol Obstet 268:309–16

Kovacs CS, Fuleihan GH (2006) Calcium and bone disorders during pregnancy and lactation. Endocrinol Metab Clin N Am 35:21–51

Oliveri B, Parisi MS, Zeni S, Mautalen C (2004) Mineral and bone mass changes during pregnancy and lactation. Nutrition 20(2):235–40

Prentice A (2000) Maternal calcium metabolism and bone mineral status. Am J Clin Nutr 71:1312s–6

Kovacs CS (2011) Calcium and bone metabolism disorders during pregnancy and lactation. Endocrinol Metab Clin N Am 40:795–826

Kalkwarf HJ (1999) Hormonal and dietary regulation of changes in bone density during lactation and after weaning in women. J Mammary Gland Biol Neoplasia 4:319–29

Holmberg-Marttila D, Sievanen H, Tuimala R (1999) Changes in bone mineral density during pregnancy and postpartum: prospective data on five women. Osteoporos Int 10:41–6

Lopez JM, Gonzalez G, Reyes V, Campino C, Diaz S (1996) Bone turnover and density in healthy women during breastfeeding and after weaning. Osteoporos Int 6:153–9

Karlsson MK, Ahlborg HG, Karlsson C (2005) Maternity and bone mineral density. Acta Orthop 76:2–13

Affinito P, Tommaselli GA, di Carlo C, Guida F, Nappi C (1996) Changes in bone mineral density and calcium metabolism in breastfeeding women: a one year follow-up study. J Clin Endocrinol Metabol 81:2314–8

Okyay DO, Okyay E, Dogan E, Kurtulmus S, Acet F, Taner CE (2013) Prolonged breast-feeding is an independent risk factor for postmenopausal osteoporosis. Maturitas 74:270–5

Bolzetta F, Veronese N, De Rui M et al (2014) Duration of breastfeeding as a risk factor for vertebral fractures. Bone 68:41–5

Wiklund PK, Xu L, Wang Q et al (2012) Lactation is associated with greater maternal bone size and bone strength later in life. Osteoporos Int 23:1939–45

Canal-Macias ML, Roncero-Martin R, Moran JM, Lavado-Garcia JM, Costa-Fernandez Mdel C, Pedrera-Zamorano JD (2013) Increased bone mineral density is associated with breastfeeding history in premenopausal Spanish women. Arch Med Sci 9:703–8

Henderson PH 3rd, Sowers M, Kutzko KE, Jannausch ML (2000) Bone mineral density in grand multiparous women with extended lactation. Am J Obstet Gynecol 182:1371–7

Demir B, Haberal A, Geyik P, Baskan B, Ozturkoglu E, Karacay O, Deveci S (2008) Identification of the risk factors for osteoporosis among postmenopausal women. Maturitas 60:253–6

Abrams SA (2003) Normal acquisition and loss of bone mass. Horm Res 60(Suppl 3):71–6

Schnatz PF, Barker KG, Marakovits KA, O'Sullivan DM (2010) Effects of age at first pregnancy and breast-feeding on the development of postmenopausal osteoporosis. Menopause 17:1161–6

Jahromi BN, Husseini Z (2008) Pregnancy outcome at maternal age 40 and older. Taiwan J Obstet Gynecol 47:318–21

Cho Y, Hummer RA, Choi YJ, Jung SW (2011) Late childbearing and changing risks of adverse birth outcomes in Korea. Matern Child Health J 15:431–7

Schoeller DA, Tylavsky FA, Baer DJ et al (2005) QDR 4500A dual-energy X-ray absorptiometer underestimates fat mass in comparison with criterion methods in adults. Am J Clin Nutr 81:1018–25

Kelly TL, Wilson KE, Heymsfield SB (2009) Dual energy X-Ray absorptiometry body composition reference values from NHANES. PLoS One 4:e7038

(1994) Assessment of fracture risk and its application to screening for postmenopausal osteoporosis. Report of a WHO Study Group. World Health Organization technical report series 843:1-129

Huo D, Lauderdale DS, Li L (2003) Influence of reproductive factors on hip fracture risk in Chinese women. Osteoporos Int 14:694–700

Hill DD, Cauley JA, Bunker CH, Baker CE, Patrick AL, Beckles GL, Wheeler VW, Zmuda JM (2008) Correlates of bone mineral density among postmenopausal women of African Caribbean ancestry: Tobago women's health study. Bone 43:156–61

Lenora J, Lekamwasam S, Karlsson MK (2009) Effects of multiparity and prolonged breast-feeding on maternal bone mineral density: a community-based cross-sectional study. BMC Womens Health 9:19

Kojima N, Douchi T, Kosha S, Nagata Y (2002) Cross-sectional study of the effects of parturition and lactation on bone mineral density later in life. Maturitas 41:203–9

Mori T, Ishii S, Greendale GA, Cauley JA, Ruppert K, Crandall CJ, Karlamangla AS (2015) Parity, lactation, bone strength, and 16-year fracture risk in adult women: findings from the Study of Women's Health Across the Nation (SWAN). Bone 73:160–6

Specker B, Binkley T (2005) High parity is associated with increased bone size and strength. Osteoporos Int 16:1969–74
Acknowledgments
We thank all participants for enthusiastically participating in this study.
Grant support
This work was supported by Biomedical Research Institute grant, Kyungpook National University Hospital (2014).
Conflicts of interest
None.
Additional information
I. R. Hwang and Y. K. Choi contributed equally to this work.
About this article
Cite this article
Hwang, I.R., Choi, Y.K., Lee, W.K. et al. Association between prolonged breastfeeding and bone mineral density and osteoporosis in postmenopausal women: KNHANES 2010-2011. Osteoporos Int 27, 257–265 (2016). https://doi.org/10.1007/s00198-015-3292-x
Received:

Accepted:

Published:

Issue Date:

DOI: https://doi.org/10.1007/s00198-015-3292-x
Keywords
Bone mineral density

Breastfeeding

Osteoporosis

Postmenopausal women