Abstract
Summary
This randomized and controlled study evaluated the effect of therapy with strontium ranelate on callus formation in wrist fractures and its incidence in wrist recovery. Radiographic healing, progression of clinical recovery, and callus quality with ultrasound were evaluated. No statistically significant benefit of therapy was found.
Introduction
Fracture prevention is the main goal of any therapy for osteoporosis. Various drugs used in osteoporosis treatment have the theoretical premises to promote fracture healing and osseointegration. In this study, the effect of strontium ranelate on callus formation in wrist fractures was evaluated and whether it could lead to clinically relevant modification of wrist recovery; having strontium ranelate osteoinductive properties, it could be used, if effective, as an adjunct in fracture healing for a faster and functionally better recovery and, at the same time, in starting proper therapy in osteoporotic patients with fragility fractures.
Methods
We considered only patients older than 60 years who had suffered wrist fracture and received nonoperative treatment with manual reduction of the fracture and cast for 35 days. Forty patients were included and randomly assigned to one of two groups: group A [patients treated with calcium (1200 mg/day) and vitamin D (800 IU/day)] and group B [patients treated with calcium (1200 mg/day) and vitamin D (800 IU/day) associated with strontium ranelate 2 g daily]. Radiographic healing was evaluated through the bone callus formation, cortical continuity, and density of the callus. A clinical evaluation using Castaing's criteria was carried out 2 and 3 months following the fracture together with an ultrasound study of callus density and vessels.
Results
A parametric analysis of the X-ray data, clinical evaluation, and ultrasonography results showed that there were no statistically significant differences in the two groups (p > 0.05 for all data).
Conclusion
In analyzing the data obtained, we concluded that strontium ranelate administered in acute phase did not improve nor accelerate wrist fracture healing in our population.
Access options
Buy single article
Instant access to the full article PDF.
USD 39.95
Price excludes VAT (USA)
Tax calculation will be finalised during checkout.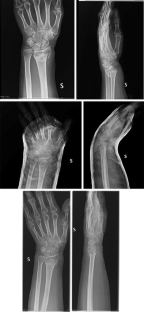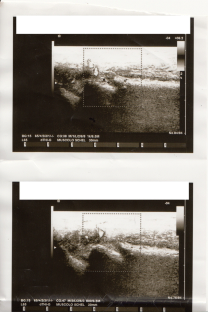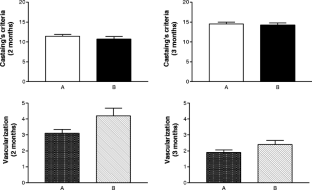 References
Nardone V, D'Asta F, Brandi ML (2014) Pharmacological management of osteogenesis. Clinics (Sao Paulo) 69:438–46

Zacchetti G, Dayer R, Rizzoli R, Ammann P (2014) Systemic treatment with strontium ranelate accelerates the filling of a bone defect and improves the material level properties of the healing bone. BioMed Research International. vol. 2014, Article ID 549785, 10 pages. doi: 10.1155/2014/549785

Marie PJ (2005) Strontium ranelate: a novel mode of action optimizing bone formation and resorption. Osteoporos Int 16:S7–S10

Vengerovskiĭ AI, Khlusov IA, Nechaev KA (2014) Molecular mechanisms of action of bisphosphonates and strontium ranelate. Eksp Klin Farmakol 77(9):43–6

Atkins GJ, Welldon KJ, Halbout P, Findlay DM (2009) Strontium ranelate treatment of human primary osteoblasts promotes an osteocyte-like phenotype while eliciting an osteoprotegerin response. Osteoporos Int 20:653–664

Rusch DS, Weiland AJ, Wolfe SW et al (2006) Current concepts in the treatment of distal radial fractures. In: Trauma Instructional Course Lectures AAOS., pp 43–55

Gosta F (1967) Fracture of the distal radius including sequelae—shoulder-hand-finger syndrome, disturbance in the distal radio-ulnar joint impairment of nerve function. A clinical and experimental study. Acta Orthop Scand

Friberg S, Lundstrom B (1976) Radiographic measurements of the radiocarpal joint in normal adults. Acta Radial Diagn 17:249

Castanig J (1964) Le Clubs Des Dix: Les Fractures récentes de l'extrémité enférieure du radius chez l'adulté. Rev Chir Orthop 50:581–596

Busillachi P, Rapaccini GL, et al: Ecografia Clinica. 2006, Idelson Ed. Cap 27, pp. 478-479, Vol. 1

Calliada F, Bottinelli O, Sala G (1993) Color Doppler differential diagnosis between normally and delayed healing bone fractures. Radiology; 189P (Suppl.1 al N.11), 209

Aspenberg P, Johansson T (2010) Teriparatide improves early callus formation in distal radial fractures, analysis of a subgroup of patients within a randomized trial. Acta Orthop 81(2):234–236

Einhorn TA, Kakar S, Little D (2009) Can we improve fixation and outcomes in the treatment of femoral neck fractures? The use of Pharmaceuticals. J Orth Trauma 23:413–421

Nota 79, Agenzia Italiana del Farmaco. GU 15 giugno 2011, n. 137 (http://www.agenziafarmaco.gov.it/it/content/nota-79).

Fitzpatrick LA et al (2011) Ronacaleret, a calcium-sensing receptor antagonist, has no significant effect on radial fracture healing time: results of a randomized, double-blinded, placebo-controlled phase II clinical trial. Bone. doi:10.1016/j.bone.2011.06.017

Riggs BL, Parfitt AM (2005) Drugs used to treat osteoporosis: the critical need for a uniform nomenclature based on their action in bone remodeling. J Bone Miner Res 20:177–184

Black DM, Bilezikian JP, Ensrud KE et al (2005) One year of alendronate after one year of parathyroid hormone (1-84) for osteoporosis. N Engl J Med 353:555–565

Goodship AE, Walker PC, McNally D, et al (1994) Use of biphosphonate (pamidronate) to modulate fracture repair in ovine bone. Ann Oncol. (5 suppl 7):553-555

Li C, Mori S, Li J et al (2001) Long-term effect of incadronate disodium (YM-175) on fracture healing of femoral shaft in growing rats. J Bone Miner Res 16:429–436

Li FY, et al (2007) Systemic treatment with strontium ranelate promotes tibial fractures healing in ovariectomized rats. Bone

Adami S et al (2004) Strontium ranelate reduces the risk of vertebral and non-vertebral fractures in Caucasian women with postmenopausal osteoporosis. Osteoporosis International 15(Supplement 1):S93–S94

Rizzoli R et al (2004) Patients at high risk of hip fracture benefit from treatment with strontium ranelate. Osteoporos Int 15(Supplement 1):S18

Cesareo R, Napolitano C, Iozzino M (2010) Strontium ranelate in postmenopausal osteoporosis treatment: a critical appraisal. Int J Womens Health 2:1–6

Zhu LL, Zaidi S, Peng Y, Zhou H et al (2007) Induction of a program gene expression during osteoblast differentiation with strontium ranelate. Biochem Biophys Res Commun 355:307–311

Bonnelye E, Chabadel A, Saltel F, Jurdic P (2008) Dual effect of strontium ranelate: stimulation of osteoblast differentiation and inhibition of osteoclast formation and resorption in vitro. Bone 42:129–138

Tarantino U, Celi M, Saturnino L et al (2010) Strontium ranelate and bone healing: report of two cases. Clin Cases Miner Bone Metab 7(1):65–68

Bocchi L, De Montisn GF, Maestri A (1958) Ricerche sperimentali sull'evoluzione del callo di frattura mediante lo studio arteriografico. Ateneo Parmense; I

Brownlow HC, Reed A, Simpson AH (2002) The vascularity of atrophic non-unions. Injury 33(2):145–50

Busillachi P, Rapaccini GL, et al (2006) Ecografia clinica. Idelson ed, Cap 27, pp. 478-79, Vol I.

Bolland MJ, Grey A (2014) A comparison of adverse event and fracture efficacy data for strontium ranelate in regulatory documents and the publication record. BMJ Open 4:e005787. doi:10.1136/bmjopen-2014-005787

Reid IR (2014) Efficacy, effectiveness and side effects of medications used to prevent fractures. J Intern Med. doi: 10.1111/joim.12339.
Conflicts of interest
None.
About this article
Cite this article
Scaglione, M., Fabbri, L., Casella, F. et al. Strontium ranelate as an adjuvant for fracture healing: clinical, radiological, and ultrasound findings in a randomized controlled study on wrist fractures. Osteoporos Int 27, 211–218 (2016). https://doi.org/10.1007/s00198-015-3266-z
Received:

Accepted:

Published:

Issue Date:

DOI: https://doi.org/10.1007/s00198-015-3266-z
Keyword
Healing adjuvant

Osteoporosis

Strontium ranelate

Ultrasound callus

Wrist fracture