Abstract
Summary
Fracture Liaison Services are the best model to prevent secondary fractures. The International Osteoporosis Foundation developed a Best Practice Framework to provide a quality benchmark. After a year of implementation, we confirmed that a single framework with set criteria is able to benchmark services across healthcare systems worldwide.
Introduction
Despite evidence for the clinical effectiveness of secondary fracture prevention, translation in the real-world setting remains disappointing. Where implemented, a wide variety of service models are used to deliver effective secondary fracture prevention. To support use of effective models of care across the globe, the International Osteoporosis Foundation's Capture the Fracture® programme developed a Best Practice Framework (BPF) tool of criteria and standards to provide a quality benchmark. We now report findings after the first 12 months of implementation.
Methods
A questionnaire for the BPF was created and made available to institutions on the Capture the Fracture website. Responses from institutions were used to assign gold, silver, bronze or black (insufficient) level of achievements mapped across five domains. Through an interactive process with the institution, a final score was determined and published on the Capture the Fracture website Fracture Liaison Service (FLS) map.
Results
Sixty hospitals across six continents submitted their questionnaires. The hospitals served populations from 20,000 to 15 million and were a mix of private and publicly funded. Each FLS managed 146 to 6200 fragility fracture patients per year with a total of 55,160 patients across all sites. Overall, 27 hospitals scored gold, 23 silver and 10 bronze. The pathway for the hip fracture patients had the highest proportion of gold grading while vertebral fracture the lowest.
Conclusion
In the first 12 months, we have successfully tested the BPF tool in a range of health settings across the globe. Initial findings confirm a significant heterogeneity in service provision and highlight the importance of a global approach to ensure high quality secondary fracture prevention services.
Access options
Buy single article
Instant access to the full article PDF.
US$ 39.95
Tax calculation will be finalised during checkout.
Subscribe to journal
Immediate online access to all issues from 2019. Subscription will auto renew annually.
US$ 119
Tax calculation will be finalised during checkout.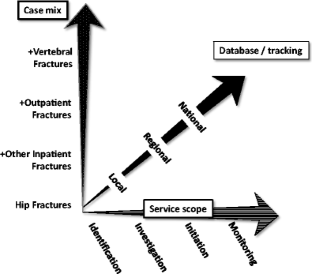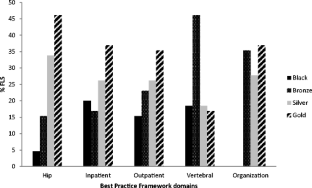 References
1.

Johnell O, Kanis JA (2006) An estimate of the worldwide prevalence and disability associated with osteoporotic fractures. Osteoporos Int 17(12):1726–1733

2.

Hernlund E (2013) Osteoporosis in the European Union: medical management, epidemiology and economic burden. A report prepared in collaboration with the International Osteoporosis Foundation (IOF) and the European Federation of Pharmaceutical Industry Associations (EFPIA). Arch Osteoporos 8(1–2):136

3.

Cummings SR, Melton LJ (2002) Epidemiology and outcomes of osteoporotic fractures. Lancet 359(9319):1761–1767

4.

Akesson K, Mitchell PJ (2012) Capture the fracture a global campaign to break the fragility fracture cycle. World Osteoporosis Day Report 2012 [Report] 2012; Available from: http://www.iofbonehealth.org/reports

5.

Marsh D et al (2011) Coordinator-based systems for secondary prevention in fragility fracture patients. Osteoporos Int 22(7):2051–2065

6.

Eisman JA et al (2012) Making the first fracture the last fracture: ASBMR task force report on secondary fracture prevention. J Bone Miner Res 27(10):2039–2046

7.

Ganda K et al (2013) Models of care for the secondary prevention of osteoporotic fractures: a systematic review and meta-analysis. Osteoporos Int 24(2):393–406

8.

Sale JE et al (2011) Systematic review on interventions to improve osteoporosis investigation and treatment in fragility fracture patients. Osteoporos Int 22(7):2067–2082

9.

Kanis JA et al (2013) SCOPE: a scorecard for osteoporosis in Europe. Arch Osteoporos 8(1–2):144

10.

Mithal A, Ebeling P, Kyer C (2013) The Asia-Pacific Regional Audit: epidemiology, costs & burden of osteoporosis in 2013. 2013; Report]. Available from: http://www.iofbonehealth.org/regional-audits

11.

Canada O (2014) Quality standards for fracture liaison services in Canada

12.

Zealand ON (2014) Fracture liaison services resource pack

13.

Adams J et al (2011) Vertebral fracture teaching program

14.

Lindley RI (2014) Hip fracture: the case for a funded national registry. Med J Aust 201(7):368–369

15.

Thorngren KG (2008) National registration of hip fractures. Acta Orthop 79(5):580–582

16.

Heikkinen T et al (2005) Evaluation of 238 consecutive patients with the extended data set of the Standardised Audit for Hip Fractures in Europe (SAHFE). Disabil Rehabil 27(18–19):1107–1115

17.

Currie CT, Hutchison JD (2005) Audit, guidelines and standards: clinical governance for hip fracture care in Scotland. Disabil Rehabil 27(18–19):1099–1105

18.

Fadda V et al (2014) Gastrointestinal and renal side effects of bisphosphonates: differentiating between no proof of difference and proof of no difference. J Endocrinol Invest

19.

Chang KH et al (2014) Increased risk of dementia in patients with osteoporosis: a population-based retrospective cohort analysis. Age (Dordr) 36(2):967–975

20.

Knopp-Sihota JA et al (2014) Dementia diagnosis and osteoporosis treatment propensity: a population-based nested case-control study. Geriatr Gerontol Int 14(1):121–129

21.

Gleason LJ et al (2012) Diagnosis and treatment of osteoporosis in high-risk patients prior to hip fracture. Geriatr Orthop Surg Rehabil 3(2):79–83

22.

Burch J et al (2014) Systematic review of the use of bone turnover markers for monitoring the response to osteoporosis treatment: the secondary prevention of fractures, and primary prevention of fractures in high-risk groups. Health Technol Assess 18(11):1–180

23.

Vasikaran S et al (2011) International osteoporosis foundation and international federation of clinical chemistry and laboratory medicine position on bone marker standards in osteoporosis. Clin Chem Lab Med 49(8):1271–1274

24.

Bell KJ et al (2009) Value of routine monitoring of bone mineral density after starting bisphosphonate treatment: secondary analysis of trial data. BMJ 338:b2266

25.

Hiligsmann M et al (2013) Interventions to improve osteoporosis medication adherence and persistence: a systematic review and literature appraisal by the ISPOR Medication Adherence & Persistence Special Interest Group. Osteoporos Int 24(12):2907–2918

26.

White HJ et al (2010) A systematic review assessing the effectiveness of interventions to improve persistence with anti-resorptive therapy in women at high risk of clinical fracture. Fam Pract 27(6):593–603

27.

Rietbrock S, Olson M, van Staa TP (2009) The potential effects on fracture outcomes of improvements in persistence and compliance with bisphosphonates. QJM 102(1):35–42
Acknowledgments
The authors would like to thank all the FLS applicants for taking part of the Capture the Fracture programme.
Conflicts of interest
None.
Additional information
K. Akesson and C. Cooper joint last authorship.
IOF Fracture Working Group: Brandi ML (Florence, Italy), Chandran M (Singapore, Singapore), Chevalley T (Geneva, Switzerland), Goemaere S (Gent, Belgium), Goldhahn J (Basel, Switzerland), Harvey NC (Southampton, UK), Hough S† (Cape Town, South Africa), Lewiecki EM (Albuquerque, USA), Lyritis G (Athens, Greece), Napoli N (Rome, Italy), Silverman S (Beverly Hills, USA), Sosa M (Las Palmas de Gran Canaria, Spain)
EXCO: Dawson-Hughes B (Boston, USA), Reginster JY (Liège, Belgium), Rizzoli R (Geneva, Switzerland)
Electronic supplementary material
Below is the link to the electronic supplementary material.
About this article
Cite this article
Javaid, M.K., Kyer, C., Mitchell, P.J. et al. Effective secondary fracture prevention: implementation of a global benchmarking of clinical quality using the IOF Capture the Fracture® Best Practice Framework tool. Osteoporos Int 26, 2573–2578 (2015). https://doi.org/10.1007/s00198-015-3192-0
Received:

Accepted:

Published:

Issue Date:
Keywords
Adherence

Best Practice Framework

Falls prevention

Fracture Liaison Service

Hip fracture

Osteoporosis

Secondary fracture prevention

Vertebral fracture