Abstract
Summary
In this study, we determined the cost-effectiveness of hip protector use compared with no hip protector on a geriatric ward in Germany. From both the societal and the statutory health insurance (SHI) perspectives, the cost-effectiveness ratios for the provision of hip protectors were below €12,000/quality-adjusted life year (QALY) even if unrelated costs in added life years were included.
Introduction
The aim of this study is to determine the cost-effectiveness of the provision of hip protectors compared with no hip protectors on a geriatric ward in Germany.
Methods
A lifetime decision-analytic Markov model was developed. Costs were measured from the societal and from the statutory health insurance (SHI) perspectives and comprised direct medical, non-medical and unrelated costs in additional life years gained. Health outcomes were measured in terms of quality-adjusted life years (QALYs). To reflect several levels of uncertainty, first- and second-order Monte Carlo simulation (MCS) approaches were applied.
Results
Hip protector use compared with no hip protector results in savings (costs, −5.1/QALYs, 0.003) for the societal perspective. For the SHI perspective, the incremental cost-effectiveness ratio was €4416 €/QALY (costs, +13.4). If unrelated costs in life years gained were included, the cost-effectiveness ratio increases to €9794/QALY for the societal perspective and to €11,426/QALY for the SHI perspective. In the MCS, for the societal perspective without unrelated costs, 47 % of simulations indicated hip protectors to be cost saving (i.e. lower costs and higher effects).
Conclusion
Although the gain in QALYs due to the provision of providing hip protectors to patients on geriatric wards is small, all scenarios showed acceptable cost-effectiveness ratios or even savings.
This is a preview of subscription content,
to check access.
Access this article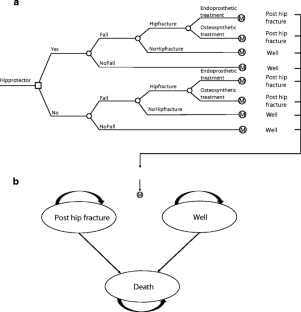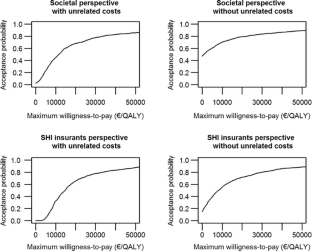 References
Abrahamsen B, van Staa T, Ariely R, Olson M, Cooper C (2009) Excess mortality following hip fracture: a systematic epidemiological review. Osteoporos Int 20(10):1633–1650

Magaziner J, Hawkes W, Hebel JR, Zimmerman SI, Fox KM, Dolan M, Felsenthal G, Kenzora J (2000) Recovery from hip fracture in eight areas of function. J Gerontol A Biol Sci Med Sci 55(9):M498–M507

Zethraeus N, Borgstrom F, Strom O, Kanis JA, Jonsson B (2007) Cost-effectiveness of the treatment and prevention of osteoporosis: a review of the literature and a reference model. Osteoporos Int 18(1):9–23

Icks A, Haastert B, Wildner M, Becker C, Meyer G (2008) Trend of hip fracture incidence in Germany 1995–2004: a population-based study. Osteoporos Int 19(8):1139–1145

Bleibler F, Konnopka A, Benzinger P, Rapp K, König HH (2013) The health burden and costs of incident fractures attributable to osteoporosis from 2010 to 2050 in Germany: a demographic simulation model. Osteoporos Int 24(3):835–847

Cumming RG, Klineberg RJ (1994) Case-control study of risk factors for hip fractures in the elderly. Am J Epidemiol 139(5):493–503

Schwendimann R, Buhler H, De Geest S, Milisen K (2008) Characteristics of hospital inpatient falls across clinical departments. Gerontology 54(6):342–348

Finsterwald M, Sidelnikov E, Orav EJ, Dawson-Hughes B, Theiler R, Egli A, Platz A, Simmen HP, Meier C, Grob D, Beck S, Stähelin HB, Bischoff-Ferrari HA (2014) Gender-specific hip fracture risk in community-dwelling and institutionalized seniors age 65 years and older. Osteoporos Int 25(1):167–176

Santesso N, Carrasco-Labra A, Brignardello-Petersen R (2014) Hip protectors for preventing hip fractures in older people. Cochrane Database Syst Rev 3

Meyer G, Wegscheider K, Kersten JF, Icks A, Muhlhauser I (2005) Increased use of hip protectors in nursing homes: economic analysis of a cluster randomized, controlled trial. J Am Geriatr Soc 53(12):2153–2158

Gandjour A, Weyler EJ (2008) Cost-effectiveness of preventing hip fractures by hip protectors in elderly institutionalized residents in Germany. Value Health 11(7):1088–1095

Stollenwerk B, Waldeyer R, Klein-Meding C, Müller D, Stock S (2014) Cost effectiveness of external hip protectors in the hospital setting: a modelling study. Nurs Econ 32(2):89–98

Statistisches Bundesamt (2014) Statistische Wochenberichte - Preise und Finanzen. https://www.destatis.de/DE/Publikationen/StatistischeWochenBerichte/WochenBerichte_Preise.pdf. Accessed 24 Oct 2014

R Development Core Team (2010) R: a language and environment for statistical computing. R Foundation for Statistical Computing, Vienna

Hendrich A, Nyhuis A, Kippenbrock T, Soja ME (1995) Hospital falls: development of a predictive model for clinical practice. Appl Nurs Res 8(3):129–139

Briggs A, Claxton KMS (2006) Decision modelling for health economic evaluation. Oxford University Press, London

Sonnenberg FA, Beck JR (1993) Markov models in medical decision making: a practical guide. Med Dec Making 13(4):322–338

von Renteln-Kruse W, Krause T (2004) Fall events in geriatric hospital in-patients. Results of prospective recording over a 3 year period. Z Gerontol Geriatr 37(1):9–14

Statistisches Bundesamt (2009) Fachserie 12 Reihe 6.2.2. Gesundheit: Diagnosedaten der Patienten und Patientinnen in Vorsorge- und Rehabilitationseinrichtungen: 2008. Wiesbaden

Rubenstein LZ, Josephson KR, Robbins AS (1994) Falls in the nursing home. Ann Intern Med 121(6):442–451

Bundesgeschäftsstelle Qualitätssicherung (2009) BQS-Bundesauswertung 2008: Hüftgelenknahe Femurfraktur: 2009. Düsseldorf

Johnston AT, Barnsdale L, Smith R, Duncan K, Hutchison JD (2010) Change in long-term mortality associated with fractures of the hip: evidence from the scottish hip fracture audit. J Bone Joint Surg (Br) 92(7):989–993

Becher K (2006) Klinischer Verlauf von Patienten mit Hüftfraktur. Institut für medizinische Informatik, Biometrie und Epidemiologie der Ruhr-Universität Bochum

Braithwaite RS, Col NF, Wong JB (2003) Estimating hip fracture morbidity, mortality and costs. J Am Geriatr Soc 51(3):364–370

Institute for Quality and Efficiency in Health Care (2009) General Methods for the Assessment of the Relation of Benefits to Costs : version 1.0. Cologne

Muller RT, Schurmann N (2001) Cost analysis of hip and knee prostheses as the basis for cost-benefit evaluation. Zentralbl Chir 126(1):55–61

Krauth C, Hessel F, Hansmeier T, Wasem J, Seitz R, Schweikert B (2005) Empirical standard costs for health economic evaluation in Germany—a proposal by the working group methods in health economic evaluation. Gesundheitswesen 67(10):736–746

Becker C, Rißmann U, Wendehorst R (2006) Sturzprophylaxe, Sturzgefährdung und Sturzverhütung in Heimen. Vincentz Network GmbH & Co KG

Pientka L, Friedrich C (1999) The costs of hip-fracture in Germany: a prospective evaluation. Z Gerontol Geriatr 32(5):326–332

Lauterbach KW, Stock SHB (2009) Gesundheitsökonomie. Lehrbuch für Mediziner und andere Gesundheitsberufe, 2nd edn. Hans Huber Verlag, Bern

Lauterbach KWLM, Stollenwerk B (2005) Effects of an all citizen's health insurance on contribution rates of Statutory Nursing Care Insurance. Gesundh Ökon Qual Manag 10(4):221–230

Mielck A, Vogelmann M, Schweikert B, Leidl R (2010) Health status of adults in Germany: results from a representative survey using the EuroQol 5D (EQ-5D). Gesundheitswesen 72(8–9):476–486

Peasgood T, Herrmann K, Kanis JA, Brazier JE (2009) An updated systematic review of Health State Utility Values for osteoporosis related conditions. Osteoporos Int 20(6):853–868

Cameron ID, Robinovitch S, Birge S, Kannus P, Khan K, Lauritzen J, Howland J, Evans S, Minns J, Laing A, Cripton P, Derler S, Plant D, Kiel DP (2010) Hip protectors: recommendations for conducting clinical trials—an international consensus statement (part II). Osteoporos Int 21(1):1–10

Segui-Gomez M, Keuffel E, Frick KD (2002) Cost and effectiveness of hip protectors among the elderly. Int J Technol Assess Health Care 18(1):55–66

Si L, Winzenberg TM, de Graaff B, Palmer AJ (2014) A systematic review and meta-analysis of utility-based quality of life for osteoporosis-related conditions. Osteoporos Int 25(8):1987–1997. doi:10.1007/s00198-014-2636-2

Institute for Quality and Efficiency in Health Care (2009) Working paper cost estimation: version 1.0. Cologne. https://www.iqwig.de/download/Working_Paper_Cost_Estimation.pdf. Accessed 24 Oct 2014

Groot Koerkamp B, Weinstein MC, Stijnen T, Heijenbrok-Kal MH, Hunink MG (2010) Uncertainty and patient heterogeneity in medical decision models. Med Dec Making 30(2):194–205

Müller D, Stracke C, Borsi L, Stock S, Stollenwerk B (2014) Cost-effectiveness of a multifactorial fracture prevention program for elderly people admitted to nursing homes. Eur J Health Econ

Meltzer D (1997) Accounting for future costs in medical cost-effectiveness analysis. Health Econ 16(40):217–221

Drummond MF (1986) Risky choices in medical decision making: a comment. Geneva Pap Risk Insur 11(40):217–221

van Schoor NM, Deville WL, Bouter LM, Lips P (2002) Acceptance and compliance with external hip protectors: a systematic review of the literature. Osteoporos Int 13(12):917–924. doi:10.1007/s001980200128

Nymark T, Lauritsen JM, Ovesen O, Rock ND, Jeune B (2006) Short time-frame from first to second hip fracture in the Funen County hip fracture study. Osteoporos Int 17(9):1353–1357

Sawka AM, Gafni A, Boulos P, Beattie K, Papaioannou A, Cranney A, Hanley DA, Adachi JD, Cheung A, Papadimitropoulos EA, Thabane L (2007) Could a policy of provision of hip protectors to elderly nursing home residents result in cost savings in acute hip fracture care? The case of Ontario, Canada. Osteoporos Int 18(6):819–827

Singh S, Sun H, Anis AH (2004) Cost-effectiveness of hip protectors in the prevention of osteoporosis related hip fractures in elderly nursing home residents. J Rheumatol 31(8):1607–1613

Statistisches Bundesamt (2012) Periodensterbetafeln für Deutschland: Allgemeine Sterbetafeln, abgekürzte Sterbetafeln und Sterbetafeln: 1871/1881 bis 2008/2010. https://www.destatis.de/DE/Publikationen/Thematisch/Bevoelkerung/Bevoelkerungsbewegung/PeriodensterbetafelnPDF_5126202.pdf. Accessed 24 Oct 2014

Statistisches Bundesamt (2011) Pflegestatistik 2009: Pflege im Rahmen der Pflegeversicherung. 4. Bericht: Ländervergleich Pflegeheime. https://www.destatis.de/DE/Publikationen/Thematisch/Gesundheit/Pflege/LaenderPflegeheime5224102099004.pdf. Accessed 24 Oct 2014

Institut für das Entgeltsystem im Krankenhaus (2010) Fallpauschalen-Katalog 2010. http://www.g-drg.de/cms/content/download/2367/15901/version/4/file/Fallpauschalenkatalog_2010_090930.pdf. Accessed 24 Oct 2014
Conflicts of interest
None.
Additional information
Björn Stollenwerk and Thomas Bartmus contributed equally to this work.
Electronic supplementary material
Below is the link to the electronic supplementary material.
Scatterplots of incremental costs and effects (cost-effectiveness plain) for: societal perspective with unrelated medical costs (top left); societal perspective without unrelated medical costs (top right); statutory health insurance (SHI) perspective with unrelated medical costs (bottom left); SHI perspective without unrelated medical costs (bottom right). QALYs, quality-adjusted life years (GIF 50 kb)
Appendix
Appendix
About this article
Cite this article
Stollenwerk, B., Bartmus, T., Klug, F. et al. Cost-effectiveness of hip protector use on a geriatric ward in Germany: a Markov model. Osteoporos Int 26, 1367–1379 (2015). https://doi.org/10.1007/s00198-014-3008-7
Received:

Accepted:

Published:

Issue Date:

DOI: https://doi.org/10.1007/s00198-014-3008-7
Keywords