Abstract
Summary
We compared the effects of oral alendronate, ibandronate and risedronate on the central and peripheral skeleton over 2 years. We report differences in effect on the central skeleton but not on the peripheral skeleton. Greater effects were observed for ibandronate (and alendronate) than risedronate at the spine but not the hip.
Introduction
Generally, comparative clinical trials of bisphosphonates have examined changes in bone within central skeletal regions. We have examined the effects of bisphosphonate treatment on the peripheral skeleton.
Methods
We conducted a 2-year, open-label, parallel randomised control trial of three orally administered bisphosphonates, at their licensed dose, to examine and compare their effects on the peripheral skeleton using multiple modes of measurement. We studied 172 postmenopausal women (53–84 years) who had either a bone mineral density (BMD) T-score of  ≤ −2.5 at the spine and/or total hip or  < −1.0 at either site plus a previous low trauma fracture. Participants were randomised to receive either (i) ibandronate 150 mg/month, (ii) alendronate 70 mg/week or (iii) risedronate 35 mg/week, plus calcium (1,200 mg/day) and vitamin D (800 IU/day), for 2 years. Premenopausal women (33–40 years, n = 226) were studied to monitor device stability.
Results
We measured central BMD of the lumbar spine, total hip, total body and forearm using dual-energy X-ray absorptiometry. We measured calcaneus BMD (using dual-energy X-ray absorptiometry plus laser), radius and tibia BMD (using peripheral quantitative computed tomography), finger BMD (using radiographic absorptiometry), and phalangeal and calcaneal ultrasound variables (using quantitative ultrasound). Mixed effects regression models were used to evaluate effects of time and treatment allocation on BMD change. By 2 years, there were significant increases (p < 0.05) in central BMD sites (lumbar spine, total hip). In the peripheral skeleton, only significant changes in calcaneus BMD, 33 % total radius BMD and quantitative ultrasound (QUS)-2 broadband ultrasound attenuation (BUA) were evident for women receiving oral bisphosphonates.
Conclusions
The increases in lumbar spine and total body BMD were greater with ibandronate and alendronate than with risedronate. Treatment effects on peripheral measurements did not differ between the three bisphosphonates.
Access options
Buy single article
Instant access to the full article PDF.
USD 39.95
Price includes VAT (USA)
Tax calculation will be finalised during checkout.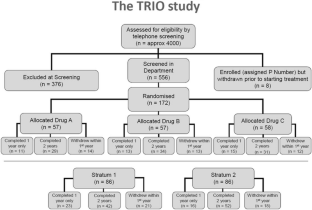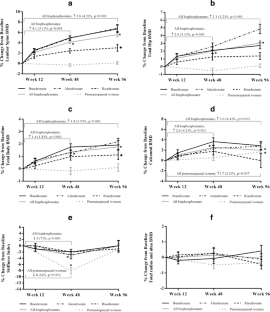 References
1.

Watts NB, Diab DL (2010) Long-term use of bisphosphonates in osteoporosis. J Clin Endocrinol Metab 95(4):1555–65

2.

Watson J, Wise L, Green J (2007) Prescribing of hormone therapy for menopause, tibolone, and bisphosphonates in women in the UK between 1991 and 2005. Eur J Clin Pharmacol 63(9):843–9

3.

Poole KE, Compston JE (2012) Bisphosphonates in the treatment of osteoporosis. BMJ 344:e3211

4.

Murad MH, Drake MT, Mullan RJ, Mauck KF, Stuart LM, Lane MA, Abu Elnour NO, Erwin PJ, Puhan MA, Li T, Montori VM (2012) Clinical review. Comparative effectiveness of drug treatments to prevent fragility fractures: a systematic review and network meta-analysis. J Clin Endocrinol Metab 97(6):1871–80

5.

Boonen S, Laan RF, Barton IP, Watts NB (2005) Effect of osteoporosis treatments on risk of non-vertebral fractures: review and meta-analysis of intention-to-treat studies. Osteoporos Int 16(10):1291–8

6.

Jansen JP, Bergman GJ, Huels J, Olson M (2011) The efficacy of bisphosphonates in the prevention of vertebral, hip, and nonvertebral-nonhip fractures in osteoporosis: a network meta-analysis. Semin Arthritis Rheum 40(4):275–84.e1-2

7.

Jiang G, Eastell R, Barrington NA, Ferrar L (2004) Comparison of methods for the visual identification of prevalent vertebral fracture in osteoporosis. Osteoporos Int 15(11):887–96

8.

Glüer CC, Eastell R, Reid DM, Felsenberg D, Roux C, Barkmann R, Timm W, Blenk T, Armbrecht G, Stewart A, Clowes J, Thomasius FE, Kolta S (2004) Association of five quantitative ultrasound devices and bone densitometry with osteoporotic vertebral fractures in a population-based sample: the OPUS Study. J Bone Miner Res 19(5):782–93

9.

Gonnelli S, Cepollaro C, Montagnani A, Martini S, Gennari L, Mangeri M, Gennari C (2002) Heel ultrasonography in monitoring alendronate therapy: a four-year longitudinal study. Osteoporos Int 13(5):415–21

10.

Gonnelli S, Cepollaro C, Montagnani A, Bruni D, Caffarelli C, Breschi M, Gennari L, Gennari C, Nuti R (2003) Alendronate treatment in men with primary osteoporosis: a three-year longitudinal study. Calcif Tissue Int 73(2):133–9

11.

Paggiosi MA, Clowes JA, Finigan J, Naylor KE, Peel NF, Eastell R (2010) Performance of quantitative ultrasound measurements of bone for monitoring raloxifene therapy. J Clin Densitom 13(4):441–50

12.

Krieg MA, Barkmann R, Gonnelli S, Stewart A, Bauer DC, Del Rio BL, Kaufman JJ, Lorenc R, Miller PD, Olszynski WP, Poiana C, Schott A-M, Lewiecki EM, Hans D (2008) Quantitative ultrasound in the management of osteoporosis: the 2007 ISCD Official Positions. J Clin Densitom 11(1):163–87

13.

Rosen CJ, Hochberg MC, Bonnick SL, McClung M, Miller P, Broy S, Kagan R, Chen E, Petruschke RA, Thompson DE, de Pappe AE, Fosamax Actonel Comparison Trial Investigators (2005) Treatment with once-weekly alendronate 70 mg compared with once-weekly risedronate 35 mg in women with postmenopausal osteoporosis: a randomized double-blind study. J Bone Miner Res 20(1):141–51

14.

Miller PD, Epstein S, Sedarati F, Reginster JY (2008) Once-monthly oral ibandronate compared with weekly oral alendronate in postmenopausal osteoporosis: results from the head-to-head MOTION study. Curr Med Res Opin 24(1):207–13

15.

Cummings SR, Karpf DB, Harris F, Genant HK, Ensrud K, LaCroix AZ, Black DM (2002) Improvement in spine bone density and reduction in risk of vertebral fractures during treatment with antiresorptive drugs. Am J Med 112(4):281–9

16.

Watts NB, Cooper C, Lindsay R, Eastell R, Manhart MD, Barton IP, van Staa TP, Adachi JD (2004) Relationship between changes in bone mineral density and vertebral fracture risk associated with risedronate: greater increases in bone mineral density do not relate to greater decreases in fracture risk. J Clin Densitom 7(3):255–61

17.

Miller PD, Delmas PD, Huss H, Patel KM, Schimmer RC, Adami S, Recker RR (2010) Increases in hip and spine bone mineral density are predictive for vertebral antifracture efficacy with ibandronate. Calcif Tissue Int 87(4):305–13

18.

Ravn P, Alexandersen P, Mollgaard A (1999) Bone densitometry: a new, highly responsive region of interest in the distal forearm to monitor the effect of osteoporosis treatment. Osteoporos Int 9(4):277–83

19.

Thiebaud D, Burckhardt P, Kriegbaum H, Huss H, Mulder H, Juttmann JR, Schoter KH (1997) Three monthly intravenous injections of ibandronate in the treatment of postmenopausal osteoporosis. Am J Med 103(4):298–307

20.

Liberman UA, Weiss SR, Broll J, Minne HW, Quan H, Bell NH, Rodriguez-Portales J, Downs RW Jr, Dequeker J, Favus M (1995) Effect of oral alendronate on bone mineral density and the incidence of fractures in postmenopausal osteoporosis. The Alendronate Phase III Osteoporosis Treatment Study Group. N Engl J Med 333(22):1437–43

21.

Ingle BM, Machado AB, Pereda CA, Eastell R (2005) Monitoring alendronate and estradiol therapy with quantitative ultrasound and bone mineral density. J Clin Densitom 8(3):278–86

22.

Guido NM, Elia C, Liuzzo CC, Mario C, De TF, Ruggiero G (2009) Quantitative ultrasound at the phalanges in monitoring alendronate therapy. Ultrasound Med Biol 35(1):8–13

23.

Roelofs AJ, Stewart CA, Sun S, Blazewska KM, Kashemirov BA, McKenna CE, Russell RG, Rogers MJ, Lundy MW, Ebetino FH, Coxon FP (2012) Influence of bone affinity on the skeletal distribution of fluorescently labeled bisphosphonates in vivo. J Bone Miner Res 27(4):835–47

24.

Nancollas GH, Tang R, Phipps RJ, Henneman Z, Gulde S, Wu W, Mangood A, Russell RG, Ebetino FH (2006) Novel insights into actions of bisphosphonates on bone: differences in interactions with hydroxyapatite. Bone 38(5):617–27

25.

Eastell R, Black DM, Boonen S, Adami S, Felsenberg D, Lippuner K, Cummings SR, Delmas PD, Palermo L, Mesenbrink P, Cauley JA, Pivotal Fracture Trial HORIZON (2009) Effect of once-yearly zoledronic acid five milligrams on fracture risk and change in femoral neck bone mineral density. J Clin Endocrinol Metab 94(9):3215–25

26.

Khosla S, Bilezikian JP, Dempster DW, Lewiecki EM, Miller PD, Neer RM, Recker RR, Shane E, Shoback D, Potts JT (2012) Benefits and risks of bisphosphonate therapy for osteoporosis. J Clin Endocrinol Metab 97(7):2272–82
Acknowledgments
This study was funded by Warner Chilcott. Professor Richard Eastell (Academic Unit of Bone Metabolism, The University of Sheffield) is a National Institute for Health Research (NIHR) Senior Investigator. The authors approved the manuscript for publication and vouch for the completeness and accuracy of the data. The funder was involved in the design, but not in the conduct, analysis or reporting of the study. We are grateful to Professor Robert E. Coleman (Academic Unit of Clinical Oncology, The University of Sheffield) and Professor Richard J. Ross (Academic Unit of Diabetes, The University of Sheffield) and Mike Bradburn (Clinical Trials Research Unit, School of Health and Related Research (ScHARR), The University of Sheffield) for acting as the data safety monitoring board, Neil Shephard (Clinical Trials Research Unit, School of Health and Related Research (ScHARR), The University of Sheffield) for conducting the statistical analyses according to the statistical analysis plan, Tim Chater and Saleema Rex (Clinical Trials Research Unit, School of Health and Related Research (ScHARR) for data management, all the staff of the Academic Unit of Bone Metabolism and all-out study participants.
Conflicts of interest
Dr Margaret Paggiosi has no disclosures; Dr Nicola Peel has received speaker's honoraria and funding/support to attend educational events from Warner-Chilcott, Lilly Servier, Prostraken, Merck and Roche; consultancy fees from Internis Pharma and lecture fees from Warner Chilcott, Lilly, GSK and Prostrakan; Professor Eugene McCloskey has received speaker's honoraria and/or research funding and/or advisory board funding from Warner-Chilcott, Merck, Amgen, GSK, Bayer, Consilient, Roche, Hologic, Lilly, Novartis, Pfizer, Servier and Wyeth; Dr Jennifer Walsh has received a donation of drug and placebo from Prostraken for a clinical trial and speaker fees from Lilly; and Professor Richard Eastell (relevant to this manuscript) has received grant funding from Warner-Chilcott and the National Institute for Health Research (NIHR) and has received consultancy funding from Warner-Chilcott and Merck.
Electronic supplementary material
Below is the link to the electronic supplementary material.
About this article
Cite this article
Paggiosi, M.A., Peel, N., McCloskey, E. et al. Comparison of the effects of three oral bisphosphonate therapies on the peripheral skeleton in postmenopausal osteoporosis: the TRIO study. Osteoporos Int 25, 2729–2741 (2014). https://doi.org/10.1007/s00198-014-2817-z
Received:

Accepted:

Published:

Issue Date:
Keywords
Densitometry

Oral bisphosphonates

Peripheral skeleton

Postmenopausal osteoporosis

Treatment effects

TRIO study