Abstract
Osteomalacia is a metabolic bone disorder characterized by impaired mineralization of bone matrix. Symptoms of osteomalacia can be confused with other conditions such as spondyloarthropathy, polymyalgia rheumatica, polymyositis, and fibromyalgia. In this case, we report a patient with axial osteomalacia who developed low back pain, morning stiffness, and "grade 3 sacroiliitis" in pelvis X-ray, leading to the misdiagnosis as seronegative spondyloarthropathy. Serum biochemical studies revealed low serum phosphorus, low 25-hydroxy vitamin D3, normal calcium, elevated parathyroid hormone, and alkaline phosphatase levels. Her symptoms were relieved with vitamin D and calcium therapy. The diagnosis of osteomalacia should be considered in case of sacroiliitis and spondylitis.
Access options
Buy single article
Instant access to the full article PDF.
USD 39.95
Price includes VAT (USA)
Tax calculation will be finalised during checkout.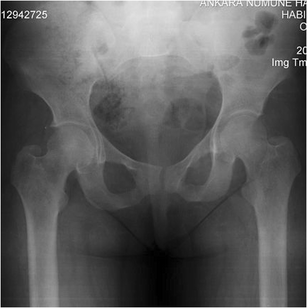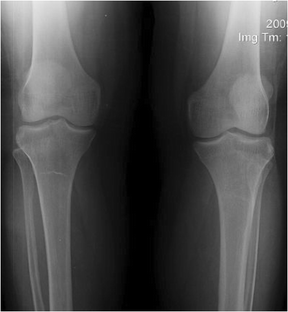 References
1.

Demirbilek H, Aydoğdu D, Ozön A (2012) Vitamin D-deficient rickets mimicking ankylosing spondylitis in an adolescent girl. Turk J Pediatr 54:177–179

2.

El Mahou S, Moineuse C, Navaux F, Cantagrel A, Mazieres B, Laroche M (2003) Osteomalacia and sacroiliitis. Joint Bone Spine 70:310–312

3.

Jacobson JA, Kalume-Brigido M (2006) Case 97: X-linked hypophosphatemic osteomalacia with insufficiency fracture. Radiology 240:607–610

4.

Gifre L, Peris P, Monegal A, Martinez de Osaba MJ, Alvarez L, Guañabens N (2011) Osteomalacia revisited: a report on 28 cases. Clin Rheumatol 30:639–645

5.

Bhan A, Rao AD, Rao DS (2010) Osteomalacia as a result of vitamin D deficiency. Endocrinol Metab Clin North Am 39:321–331

6.

Fok AW, Ng TP (2010) Osteomalacia: a case series of patients with atypical clinical orthopaedic presentations. Fok AW, Ng TP. Hong Kong Med J 16:476–479

7.

Thacher TD, Clarke BL (2011) Vitamin D insufficiency. Mayo Clin Proc 86:50–60

8.

Reginato AJ, Falasca GF, Pappu R, McKnight B, Agha A (1999) Musculoskeletal manifestations of osteomalacia: report of 26 cases and literature review. Semin Arthritis Rheum 28:287–304

9.

Akkus S, Tamer MN, Yorgancigil H (2001) A case of osteomalacia mimicking ankylosing spondylitis. Rheumatol Int 20:239–242

10.

Onur O, Celiker R, Cetin A, Alikaşifoğlu A, Uğur O, Başgöze O (1997) Hypophosphatemic rickets with sacroiliitis-like presentation in an adolescent. Scand J Rheumatol 26:332–335

11.

Gupta AD (2009) Sacroiliac joint pathologies in low back pain. J Back Musculoskelet Rehabil 22:91–97
Conflict of interest
None.
About this article
Cite this article
Garip, Y., Dedeoglu, M. & Bodur, H. Osteomalacia mimicking spondyloarthropathy: a case report. Osteoporos Int 25, 1983–1985 (2014). https://doi.org/10.1007/s00198-014-2716-3
Received:

Accepted:

Published:

Issue Date:
Keywords
Osteomalacia

Sacroiliitis

Spondyloarthritis

Vitamin D deficiency