Abstract
Summary
A hip fracture results in a lower quality of life and a cost of £30,000. In this study, one-leg standing time (OLST) had a negative linear relationship to the risk of a hip fracture. OLST could be a useful tool to assess the need for fracture-preventive interventions.
Introduction
A hip fracture immobilizes, restricts autonomy, shortens life expectancy, and results in a cost of £30,000 in the UK health care system. However, effective preventive treatments can be offered to high-risk individuals. Impaired postural balance is an important risk factor for hip fractures, and the aim of this study was to evaluate whether OLST can predict hip fractures in elderly women. FRAX is the most established fracture risk assessment tool worldwide and a secondary aim was to relate the predictive ability of OLST to that of FRAX in this population.
Methods
Three hundred fifty-one women aged between 69 and 79 years were timed standing on one leg up to 30 s with eyes open and assessed with FRAX. Fracture data was obtained from registers.
Results
The main outcome, a hip fracture, occurred in 40 of the 351 participants (11.4 %). The age-adjusted risk of a hip fracture was 5 % lower with 1 s longer OLST (Hazard ratio 0.95, 95 % CI 0.927–0.978). The relation between OLST and hip fracture risk was linear. Harrell's c was 0.60 for FRAX and 0.68 for OLST adjusted for age.
Conclusion
With 1 s longer OLST, the risk of a hip fracture decreased significantly by 5 %. This risk reduction was not explained by differences in the classic fracture risk factors included in FRAX. OLST had a predictive ability similar to FRAX. OLST is an easily performed balance test which may prove to be valuable in the assessment of hip fracture risk.
Access options
Buy single article
Instant access to the full article PDF.
USD 39.95
Price excludes VAT (USA)
Tax calculation will be finalised during checkout.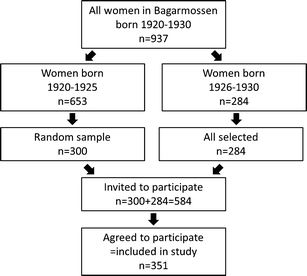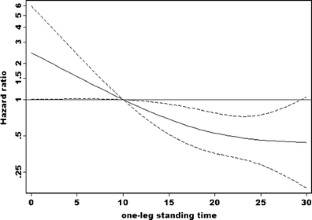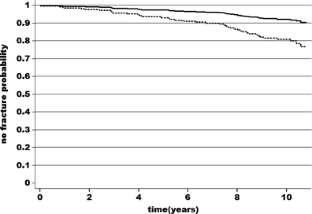 Abbreviations
AUC:

Area under curve

BMD:

Bone mineral density

BMI:

Body mass index

HR:

Hazard ratio

NICE:

National Institute for Health and Clinical Excellence

OLST:

One-leg standing time

PRIMOS:

Primary care and osteoporosis

ROC curve:

Receiving operating characteristic curve

WHO:

World Health Organization
References
Gronskag AB, Romundstad P, Forsmo S, Langhammer A, Schei B (2012) Excess mortality after hip fracture among elderly women in Norway. The HUNT study. Osteoporos Int 23(6):1807–1811. doi:10.1007/s00198-011-1811-y

NICE (2011) Hip fracture costing report, implementing NICE guidance.

McCloskey EV, Johansson H, Oden A, Austin M, Siris E, Wang A, Lewiecki EM, Lorenc R, Libanati C, Kanis JA (2012) Denosumab reduces the risk of osteoporotic fractures in postmenopausal women, particularly in those with moderate to high fracture risk as assessed with FRAX. J Bone Miner Res 27(7):1480–1486. doi:10.1002/jbmr.1606

Donaldson MG, Palermo L, Ensrud KE, Hochberg MC, Schousboe JT, Cummings SR (2012) Effect of alendronate for reducing fracture by FRAX score and femoral neck bone mineral density: the fracture intervention trial. J Bone Miner Res 27(8):1804–1810. doi:10.1002/jbmr.1625

Gallacher SJ, Dixon T (2010) Impact of treatments for postmenopausal osteoporosis (bisphosphonates, parathyroid hormone, strontium ranelate, and denosumab) on bone quality: a systematic review. Calcif Tissue Int 87(6):469–484. doi:10.1007/s00223-010-9420-x

Parkkari J, Kannus P, Palvanen M, Natri A, Vainio J, Aho H, Vuori I, Jarvinen M (1999) Majority of hip fractures occur as a result of a fall and impact on the greater trochanter of the femur: a prospective controlled hip fracture study with 206 consecutive patients. Calcif Tissue Int 65(3):183–187

de Kam D, Smulders E, Weerdesteyn V, Smits-Engelsman BCM (2009) Exercise interventions to reduce fall-related fractures and their risk factors in individuals with low bone density: a systematic review of randomized controlled trials. Osteoporos Int 20(12):2111–2125. doi:10.1007/s00198-009-0938-6

Korpelainen R, Keinanen-Kiukaanniemi S, Nieminen P, Heikkinen J, Vaananen K, Korpelainen J (2010) Long-term outcomes of exercise: follow-up of a randomized trial in older women with osteopenia. Arch Intern Med 170(17):1548–1556. doi:10.1001/archinternmed.2010.311

Kemmler W, Haberle L, von Stengel S (2013) Effects of exercise on fracture reduction in older adults: a systematic review and meta-analysis. Osteoporos Int 24(7):1937–1950. doi:10.1007/s00198-012-2248-7

Fabre JM, Ellis R, Kosma M, Wood RH (2010) Falls risk factors and a compendium of falls risk screening instruments. J Geriatr Phys Ther 33(4):184–197. doi:10.1097/JPT.0b013e3181ff2a24

Rubin KH, Friis-Holmberg T, Hermann AP, Abrahamsen B, Brixen K (2013) Risk assessment tools to identify women with increased risk of osteoporotic fracture: complexity or simplicity? A systematic review. J Bone Miner Res 28(8):1701–1717. doi:10.1002/jbmr.1956

Wagner H, Melhus H, Gedeborg R, Pedersen NL, Michaelsson K (2009) Simply ask them about their balance–future fracture risk in a nationwide cohort study of twins. Am J Epidemiol 169(2):143–149. doi:10.1093/aje/kwn379

NICE (2012) Osteoporosis: fragility fracture risk. National Institute for Health and Clinical Excellence. http://www.nice.org.uk/guidance/CG146.

Bolland MJ, Siu AT, Mason BH, Horne AM, Ames RW, Grey AB, Gamble GD, Reid IR (2011) Evaluation of the FRAX and Garvan fracture risk calculators in older women. J Bone Miner Res 26(2):420–427. doi:10.1002/jbmr.215

Cummins NM, Poku EK, Towler MR, O'Driscoll OM, Ralston SH (2011) Clinical risk factors for osteoporosis in Ireland and the UK: a comparison of FRAX and QFractureScores. Calcif Tissue Int 89(2):172–177. doi:10.1007/s00223-011-9504-2

Ensrud KE, Lui LY, Taylor BC, Schousboe JT, Donaldson MG, Fink HA, Cauley JA, Hillier TA, Browner WS, Cummings SR (2009) A comparison of prediction models for fractures in older women: is more better? Arch Intern Med 169(22):2087–2094. doi:10.1001/archinternmed.2009.404

Pluskiewicz W, Adamczyk P, Franek E, Leszczynski P, Sewerynek E, Wichrowska H, Napiorkowska L, Kostyk T, Stuss M, Stepien-Klos W, Golba KS, Drozdzowska B (2010) Ten-year probability of osteoporotic fracture in 2012 Polish women assessed by FRAX and nomogram by Nguyen et al.—Conformity between methods and their clinical utility. Bone 46(6):1661–1667. doi:10.1016/j.bone.2010.02.012

Sandhu SK, Nguyen ND, Center JR, Pocock NA, Eisman JA, Nguyen TV (2010) Prognosis of fracture: evaluation of predictive accuracy of the FRAX algorithm and Garvan nomogram. Osteoporos Int 21(5):863–871. doi:10.1007/s00198-009-1026-7

Sornay-Rendu E, Munoz F, Delmas PD, Chapurlat RD (2010) The FRAX tool in French women: how well does it describe the real incidence of fracture in the OFELY cohort? J Bone Miner Res 25(10):2101–2107. doi:10.1002/jbmr.106

Tanaka S, Yoshimura N, Kuroda T, Hosoi T, Saito M, Shiraki M (2010) The Fracture and Immobilization Score (FRISC) for risk assessment of osteoporotic fracture and immobilization in postmenopausal women—A joint analysis of the Nagano, Miyama, and Taiji Cohorts. Bone 47(6):1064–1070. doi:10.1016/j.bone.2010.08.019

FRAX homepage. (2012) WHO. http://www.shef.ac.uk/FRAX/index.jsp.

Michikawa T, Nishiwaki Y, Takebayashi T, Toyama Y (2009) One-leg standing test for elderly populations. J Orthop Sci 14(5):675–685. doi:10.1007/s00776-009-1371-6

Tinetti ME, Speechley M, Ginter SF (1988) Risk factors for falls among elderly persons living in the community. N Engl J Med 319(26):1701–1707. doi:10.1056/nejm198812293192604

Vellas BJ, Wayne SJ, Romero L, Baumgartner RN, Rubenstein LZ, Garry PJ (1997) One-leg balance is an important predictor of injurious falls in older persons. J Am Geriatr Soc 45(6):735–738

Wolinsky FD, Miller DK, Andresen EM, Malmstrom TK, Miller JP (2005) Reproducibility of physical performance and physiologic assessments. J Aging Health 17(2):111–124. doi:10.1177/0898264304272784

Giorgetti MM, Harris BA, Jette A (1998) Reliability of clinical balance outcome measures in the elderly. Physiother Res Int 3(4):274–283

Franchignoni F, Tesio L, Martino MT, Ricupero C (1998) Reliability of four simple, quantitative tests of balance and mobility in healthy elderly females. Aging (Milano) 10(1):26–31

Potvin AR, Syndulko K, Tourtellotte WW, Lemmon JA, Potvin JH (1980) Human neurologic function and the aging process. J Am Geriatr Soc 28(1):1–9

Nitz JC, Stock L, Khan A (2012) Health-related predictors of falls and fractures in women over 40. Osteoporos Int. doi:10.1007/s00198-012-2004-z

Karkkainen M, Rikkonen T, Kroger H, Sirola J, Tuppurainen M, Salovaara K, Arokoski J, Jurvelin J, Honkanen R, Alhava E (2008) Association between functional capacity tests and fractures: an eight-year prospective population-based cohort study. Osteoporos Int 19(8):1203–1210. doi:10.1007/s00198-008-0561-y

Salminen H, Saaf M, Johansson SE, Ringertz H, Strender LE (2006) Nutritional status, as determined by the Mini-Nutritional Assessment, and osteoporosis: a cross-sectional study of an elderly female population. Eur J Clin Nutr 60(4):486–493. doi:10.1038/sj.ejcn.1602341
Financial disclosure
This study was funded by research grants from Stockholm County Council and Centre for Family Medicine.
Conflicts of interest
None.
About this article
Cite this article
Lundin, H., Sääf, M., Strender, LE. et al. One-leg standing time and hip-fracture prediction. Osteoporos Int 25, 1305–1311 (2014). https://doi.org/10.1007/s00198-013-2593-1
Received:

Accepted:

Published:

Issue Date:

DOI: https://doi.org/10.1007/s00198-013-2593-1
Keywords