Abstract
Summary
Five years after completion of a randomised placebo-controlled trial of calcium supplements, there was no effect of calcium on total fracture incidence, a significant reduction in vertebral and forearm fractures and, in a subset, no effect on bone density. There was no increased risk of cardiovascular events after discontinuation of calcium.
Introduction
The Auckland calcium study was a 5-year randomised controlled trial of 1 g/day calcium citrate in 1,471 postmenopausal women. Calcium did not reduce total, vertebral or forearm fracture incidence, increased hip fracture incidence and had beneficial effects on bone mineral density (BMD). A secondary analysis raised concerns about the cardiovascular safety of calcium. The purpose of this study was to determine whether the effects of calcium on fracture incidence, BMD and cardiovascular endpoints persisted after supplement discontinuation.
Methods
Approximately 5-years post-trial, we collected information on the 1,408 participants alive at trial completion from the national databases of hospital admissions and deaths. We contacted 1,174 women by phone, and from these we obtained information on medical events and post-trial calcium use. We undertook BMD measurements at 10 years in a selected subset of 194 women who took study medication for 5 years in the original trial, and did not take bone-active medications post-trial.
Results
Over the 10-year period, there was no effect on total fracture (HR 0.90, 95 % CI 0.75–1.07) or hip fracture incidence (1.40, 0.89–2.21), but significant reductions in forearm (0.62, 0.43–0.89) and vertebral fractures (0.52, 0.32–0.85) in those assigned to calcium. There were no between-group differences in BMD at 10 years at any site. The adverse cardiovascular outcomes observed in the 5-year trial did not persist post-trial.
Conclusion
Calcium supplementation for 5 years had no effect on total fracture incidence at 10 years. The positive benefits on BMD and the adverse cardiovascular effects did not persist once supplements were stopped.
This is a preview of subscription content,
to check access.
Access this article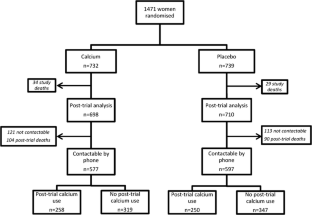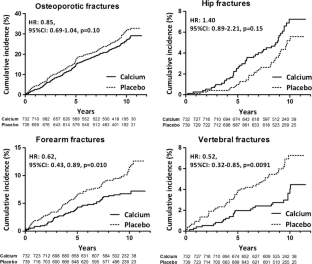 References
Tang BM, Eslick GD, Nowson C, Smith C, Bensoussan A (2007) Use of calcium or calcium in combination with vitamin D supplementation to prevent fractures and bone loss in people aged 50 years and older: a meta-analysis. Lancet 370:657–666

Seeman E (2010) Evidence that calcium supplements reduce fracture risk is lacking. Clin J Am Soc Nephrol 5(Suppl 1):S3–S11

Reid IR, Mason B, Horne A, Ames R, Reid HE, Bava U, Bolland MJ, Gamble GD (2006) Randomised controlled trial of calcium in healthy older women. Am J Med 119:777–785

Bolland MJ, Barber PA, Doughty RN, Mason B, Horne A, Ames R, Gamble GD, Grey A, Reid IR (2008) Vascular events in healthy older women receiving calcium supplementation: randomised controlled trial. BMJ 336:262–266

Bolland MJ, Avenell A, Baron JA, Grey A, MacLennan GS, Gamble GD, Reid IR (2010) Effect of calcium supplements on risk of myocardial infarction and cardiovascular events: meta-analysis. BMJ 341:c3691

Prince RL, Devine A, Dhaliwal SS, Dick IM (2006) Effects of calcium supplementation on clinical fracture and bone structure: results of a 5-year, double-blind, placebo-controlled trial in elderly women. Arch Int Med 166:869–875

Bischoff-Ferrari HA, Rees JR, Grau MV, Barry E, Gui J, Baron JA (2008) Effect of calcium supplementation on fracture risk: a double-blind randomised controlled trial. Am J Clin Nutr 87:1945–1951

Grant AM, Avenell A, Campbell MK, McDonald AM, MacLennan GS, McPherson GC, Anderson FH, Cooper C, Francis RM, Donaldson C, Gillespie WJ, Robinson CM, Torgerson DJ, Wallace WA (2005) Oral vitamin D3 and calcium for secondary prevention of low-trauma fractures in elderly people (Randomised Evaluation of Calcium Or vitamin D, RECORD): a randomised placebo-controlled trial. Lancet 365:1621–1628

Reid IR, Bolland MJ, Grey A (2008) Effect of calcium supplementation on hip fractures. Osteoporos Int 19:1119–1123

Bischoff-Ferrari HA, Dawson-Hughes B, Baron JA, Burckhardt P, Li R, Spiegelman D, Specker B, Orav JE, Wong JB, Staehelin HB, O'Reilly E, Kiel DP, Willett WC (2007) Calcium intake and hip fracture risk in men and women: a meta-analysis of prospective cohort studies and randomised controlled trials. Am J Clin Nutr 86:1780–1790

Avenell A, Gillespie WJ, Gillespie LD, O'Connell D 2009 Vitamin D and vitamin D analogues for preventing fractures associated with involutional and post-menopausal osteoporosis. Cochrane Database Syst Rev CD000227

Daly RM, Petrass N, Bass S, Nowson CA (2008) The skeletal benefits of calcium- and vitamin D3-fortified milk are sustained in older men after withdrawal of supplementation: an 18-month follow-up study. Am J Clin Nutr 87:771–777

Dawson-Hughes B, Harris SS, Krall EA, Dallal GE (2000) Effect of withdrawal of calcium and vitamin D supplements on bone mass in elderly men and women. Am J Clin Nutr 72:745–750

Bolland MJ, Grey A, Avenell A, Gamble GD, Reid IR (2011) Calcium supplements with or without vitamin D and risk of cardiovascular events: reanalysis of the Women's Health Initiative limited access dataset and meta-analysis. BMJ 342:d2040

Lewis JR, Calver J, Zhu K, Flicker L, Prince RL (2011) Calcium supplementation and the risks of atherosclerotic vascular disease in older women: results of a 5-year RCT and a 4.5-year follow-up. J Bone Miner Res 26:35–41

Avenell A, MacLennan GS, Jenkinson DJ, McPherson GC, McDonald AM, Pant PR, Grant AM, Campbell MK, Anderson FH, Cooper C, Francis RM, Gillespie WJ, Robinson CM, Torgerson DJ, Wallace WA (2012) Long-term follow-up for mortality and cancer in a randomised placebo-controlled trial of vitamin D3 and/or calcium (RECORD trial). J Clin Endocrinol Metab 97:614–622
Conflicts of interest
None.
Funding
This study was funded by the Health Research Council of New Zealand, Greenlane Research Education Fund of New Zealand, Francis and Phyllis Thornell Shore Memorial Scholarship and the Estate of Grace EM Kay Orakau Heart Research Scholarship Trust of New Zealand.
About this article
Cite this article
Radford, L.T., Bolland, M.J., Mason, B. et al. The Auckland calcium study: 5-year post-trial follow-up. Osteoporos Int 25, 297–304 (2014). https://doi.org/10.1007/s00198-013-2526-z
Received:

Accepted:

Published:

Issue Date:

DOI: https://doi.org/10.1007/s00198-013-2526-z
Keywords