Abstract
Summary
The incidence of the most common fracture types in Iceland is reported based on individual data from the Reykjavik Study 1967–2008. Time trend is reported for the major osteoporotic fractures (MOS) 1989–2008.
Introduction
This study aims to assess the incidence of all fractures in Iceland, with emphasis on the rate of hip fractures, and compare the incidence with other populations as well as examine the secular changes.
Methods
Individuals from the prospective population-based cohort Reykjavik Study were examined between 1967 and 2008 (follow-up 26.5 years), which consisted of 9,116 men and 9,756 women born in 1907–1935, with age range 31–81 years. First fracture incidence was estimated using life table methods with age as the timescale.
Results
Fracture rate increased proportionally with age between the sexes for vertebral and proximal humerus but disproportionally for hip and distal forearm fractures. The ratio of first fracture incidence between the sexes varied considerably by site: 2.65 for hip fractures and the highest for distal forearm fractures at 4.83. By the age of 75, 36.7 % of women and 21 % of men had sustained a fracture, taking into account competing risk of death. The incidence of hip fractures was similar to results previously published from USA, Sweden, Norway, and Scotland. The incidence of MOS fractures in both sexes decreased over the last decade, except hip fractures in men, which remained unchanged, as reflected in the women/men ratio for the hip, which changed from 2.6 to 1.7.
Conclusion
This study adds information to scarce knowledge on the relative fracture incidence of different fractures. The incidence of MOS fractures increased in the latter part of the last century in both sexes and declined during the last decade, less dramatically for men. This information is important for planning health resources.
Access options
Buy single article
Instant access to the full article PDF.
US$ 39.95
Tax calculation will be finalised during checkout.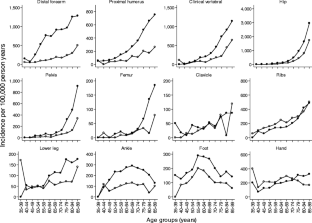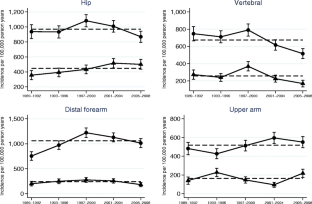 References
1.

Johnell O, Kanis JA (2004) An estimate of the worldwide prevalence, mortality and disability associated with hip fracture. Osteoporos Int 15:897–902

2.

Johnell O, Kanis JA (2006) An estimate of the worldwide prevalence and disability associated with osteoporotic fractures. Osteoporos Int 17:1726–1733

3.

Ström O, Borgström F, Kanis JA, Compston J, Cooper C, McCloskey EV, Jönsson B (2011) Osteoporosis: burden, health care provision and opportunities in the EU. A report prepared in collaboration with the International Osteoporosis Foundation (IOF) and the European Federation of Pharmaceutical Industry Associations (EFPIA). Arch Osteoporos 6:59–155

4.

Melton LJ 3rd, Crowson CS, O'Fallon WM (1999) Fracture incidence in Olmsted County, Minnesota: comparison of urban with rural rates and changes in urban rates over time. Osteoporos Int 9:29–37

5.

Kanis JA, Johnell O, Oden A, Sernbo I, Redlund-Johnell I, Dawson A et al (2000) Long-term risk of osteoporotic fracture in Malmö. Osteoporos Int 11:669–674

6.

van Staa TP, Dennison EM, Leufkens HG, Cooper C (2001) Epidemiology of fractures in England and Wales. Bone 29:517–522

7.

Donaldson LJ, Reckless IP, Scholes S, Mindell JS, Shelton NJ (2008) The epidemiology of fractures in England. J Epidemiol Community Health 62:174–180

8.

Kanis JA, Oden A, McCloskey EV, Johansson H, Wahl DA, Cooper C et al (2012) A systematic review of hip fracture incidence and probability of fracture worldwide. Osteoporos Int 23:2239–2256

9.

World Health Organization (1994) Assessment of fracture risk and its application to screening for postmenopausal osteoporosis. http://www.who.int/reproductivehealth/publications/ageing/9241208430/en/index.html Accessed 26 July 2012

10.

Delmas PD, Marin F, Marcus R, Misurski DA, Mitlak BH (2007) Beyond hip: importance of other nonspinal fractures. Am J Med 120:381–387

11.

Robertsson GO, Jonsson GT, Sigurjonsson K (1990) Epidemiology of distal radius fractures in Iceland in 1985. Acta Orthop Scand 61:457–459

12.

Schwartz AV, Kelsey JL, Maggi S, Tuttleman M, Ho SC, Jonsson PV et al (1999) International variation in the incidence of hip fractures: cross-national project on osteoporosis for the World Health Organization Program for Research on Aging. Osteoporos Int 9:242–253

13.

Jonsson BY, Siggeirsdottir K, Mogensen B, Sigvaldason H, Sigursson G (2004) Fracture rate in a population-based sample of men in Reykjavik. Acta Orthop Scand 75:195–200

14.

Bjornsson OJ, Davidsson D, Olafsson H, Olafsson O, Sigfusson N, Thorsteinsson Th (1979) Report XVIII. Health survey in the Reykjavik area—men. Stages I–III, 1967–1968, 1970–1971 and 1974–1975. Participants, invitation, response etc. The Icelandic Heart Association, Reykjavik, Iceland

15.

Bjornsson G, Bjornsson OJ, Davidsson D, Kristjansson B Th, Olafsson O, Sigfusson N, Thorsteinsson Th (1982) Report abc XXIV. Health survey in the Reykjavik area—women. Stages I–III, 1968–1969, 1971–1972 and 1976–1978. Participants, invitation, response etc. The Icelandic Heart Association, Reykjavik, Iceland

16.

World Health Organization (2012) International statistical classification of diseases and related health problems, 10th revision. http://www.who.int/classifications/icd/en/ Accessed April 15

17.

Siggeirsdottir K, Aspelund T, Sigurdsson G, Mogensen B, Chang M, Jonsdottir B et al (2007) Inaccuracy in self-report of fractures may underestimate association with health outcomes when compared with medical record based fracture registry. Eur J Epidemiol 22:631–639

18.

Beiser A, D'Agostino RB Sr, Seshadri S, Sullivan LM, Wolf PA (2000) Computing estimates of incidence, including lifetime risk: Alzheimer's disease in the Framingham Study. The Practical Incidence Estimators (PIE) macro. Stat Med 19:1495–1522

19.

Gooley TA, Leisenring W, Crowley J, Storer BE (1999) Estimation of failure probabilities in the presence of competing risks: new representations of old estimators. Stat Med 18:695–706

20.

Iceland S (2008) Population. Statistical series (Hagtídindi). Reykjavik, Iceland

21.

Ettinger B, Black DM, Dawson-Hughes B, Pressman AR, Melton LJ 3rd (2010) Updated fracture incidence rates for the US version of FRAX. Osteoporos Int 21:25–33

22.

Gronskag AB, Forsmo S, Romundstad P, Langhammer A, Schei B (2010) Incidence and seasonal variation in hip fracture incidence among elderly women in Norway. The HUNT Study. Bone 46:1294–1298

23.

Singer BR, McLauchlan GJ, Robinson CM, Christie (1998) Epidemiology of fractures in 15,000 adults: the influence of age and gender. J Bone Joint Surg Br 80:243–248

24.

Cooper C, Cole ZA, Holroyd CR, Earl SC, Harvey NC, Dennison EM et al (2011) Secular trends in the incidence of hip and other osteoporotic fractures. Osteoporos Int 22:1277–1288

25.

Lofthus CM, Osnes EK, Falch JA, Kaastad TS, Kristiansen IS, Nordsletten L et al (2001) Epidemiology of hip fractures in Oslo, Norway. Bone 29:413–418

26.

Jonsson B, Gärdsell P, Johnell O, Redlund-Johnell I, Sernbo I (1992) Differences in fracture pattern between an urban and a rural population: a comparative population-based study in southern Sweden. Osteoporos Int 2:269–273

27.

Bjorgul K, Reikeras O (2007) Incidence of hip fracture in southeastern Norway: a study of 1,730 cervical and trochanteric fractures. Int Orthop 31:665–669

28.

Lofman O, Berglund K, Larsson L, Toss G (2002) Changes in hip fracture epidemiology: redistribution between ages, genders and fracture types. Osteoporos Int 13:18–25

29.

Olafsdottir E, Aspelund T, Torfadottir JE, Steingrimsdottir L, Sigurdsson G, Thorsson B et al (2012) Early life residency associated with the risk of developing type 2 diabetes—the population-based Reykjavik Study. Laeknabladid 98:639–644

30.

Joakimsen RM, Fonnebo V, Sogaard AJ, Tollan A, Stormer J, Magnus JH (2001) The Tromso study: registration of fractures, how good are self-reports, a computerized radiographic register and a discharge register? Osteoporos Int 12:1001–1005
Acknowledgments
We are grateful to Olafur Grimur Bjornsson, M.D., Ph.D., and David Vilmundarson for helpful comments on the manuscript and to the staff of the Icelandic Heart Association Research Institute for their contribution.
Funding
This study was funded by Hjartavernd (The Icelandic Heart Association) and Althingi (The Icelandic Parliament).
Conflicts of interest
None.
Electronic supplementary material
Below is the link to the electronic supplementary material.
About this article
Cite this article
Siggeirsdottir, K., Aspelund, T., Jonsson, B.Y. et al. Epidemiology of fractures in Iceland and secular trends in major osteoporotic fractures 1989–2008. Osteoporos Int 25, 211–219 (2014). https://doi.org/10.1007/s00198-013-2422-6
Received:

Accepted:

Published:

Issue Date:
Keywords
Epidemiology

Fracture incidence

Major osteoporotic fractures

Secular changes

The Reykjavik Study