Abstract
Summary
A picture of hyperparathyroidism secondary to increased urinary calcium excretion was found in 116 patients with primary aldosteronism (PA), compared with 110 essential hypertensives. After medical or surgical treatment in 40 PA patients, parathyroid hormone (PTH) levels were significantly reduced and bone mineral density (BMD) significantly increased at the lumbar spine, femoral neck, and total hip.
Introduction
Recent studies have shown that aldosterone induces urinary calcium excretion leading to a reduction of calcemia with consequent secondary hyperparathyroidism and BMD loss. In patients with PA, this picture of hyperparathyroidism is significantly improved by treatment with adrenal surgery or with mineralocorticoid receptor antagonists. On these premises, the aim of the present study was to evaluate calcium and phosphate metabolism parameters in PA patients, compared with patients with essential hypertension (EH) and the effect of treatment of aldosterone excess on bone health in PA patients.
Methods
We studied 226 patients: 116 with PA (46 with an aldosterone-producing adenoma and 70 with bilateral adrenal hyperplasia) and 110 patients with EH. In 40 patients with PA, we evaluated biochemical parameters and bone mass, using the dual-energy X-ray absorptiometry, at baseline and after a mean follow-up of 24 months from treatment.
Results
In PA patients, compared with EH, PTH levels and urinary calcium excretion significantly increased while serum calcium significantly decreased with comparable vitamin D levels. At follow-up in PA patients, PTH levels were significantly reduced compared with basal evaluation, despite similar vitamin D amounts. At follow-up, we observed a significant improvement of the Z-score at the lumbar spine, femoral neck, and at total hip sites.
Conclusions
Our results support previous data showing secondary hyperparathyroidism in PA patients, which is reversible after treatment. Moreover, this targeted treatment appears to be able to determine a significant improvement of BMD both at the spine and hip sites.
This is a preview of subscription content, log in to check access.
Access options
Buy single article
Instant access to the full article PDF.
US$ 39.95
Price includes VAT for USA
Subscribe to journal
Immediate online access to all issues from 2019. Subscription will auto renew annually.
US$ 199
This is the net price. Taxes to be calculated in checkout.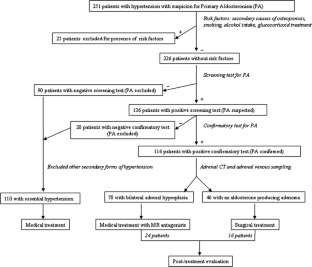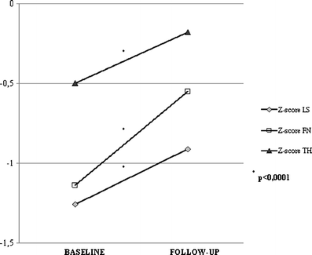 References
1.

Stowasser M (2009) Update in primary aldosteronism. J Clin Endocrinol Metab 94(10):3623–3630

2.

Hagstrom E, Hellman P, Larsson TE, Ingelsson E, Berglund L, Sundström J, Melhus H, Held C, Lind L, Michaëlsson K, Arnlöv J (2009) Plasma parathyroid hormone and the risk of cardiovascular mortality in the community. Circulation 119(21):2765–2771

3.

Pilz S, Tomaschitz A, Drechsler C, Ritz E, Boehm BO, Grammer TB, März W (2010) Parathyroid hormone level is associated with mortality and cardiovascular events in patients undergoing coronary angiography. Eur Heart J 31(13):1591–1598

4.

Peter H, Law PH, Sun Y, Bhattacharya SK, Chhokar VS, Weber KT (2005) Diuretics and bone loss in rats with aldosteronism. J Am Coll Cardiol 46(1):142–146

5.

Chhokar VS, Sun Y, Bhattacharya SK, Ahokas RA, Myers LK, Xing Z, Smith RA, Gerling IC, Weber KT (2005) Hyperparathyroidism and the calcium paradox of aldosteronism. Circulation 111(7):871–878

6.

Pilz S, Kienreich K, Drechsler C, Ritz E, Fahrleitner-Pammer A, Gaksch M, Meinitzer A, März W, Pieber TR, Tomaschitz A (2012) Hyperparathyroidism in patients with primary aldosteronism: cross-sectional and interventional data from the GECOH study. J Clin Endocrinol Metab 97(1):E75–E79

7.

Rossi GP, Ragazzo F, Seccia TM et al (2012) Hyperparathyroidism can be useful in the identification of primary aldosteronism due to aldosterone-producing adenoma Aug ;60(2):431–6

8.

Maniero C, Fassina A, Seccia TM, Toniato A, Iacobone M, Plebani M, De Caro R, Calò LA, Pessina AC, Rossi GP (2012) Mild hyperparathyroidism: a novel surgically correctable feature of primary aldosteronism. J Hypertens 30(2):390–395

9.

Salcuni AS, Palmieri S, Carnevale V, Morelli V, Battista C, Guarnieri V, Guglielmi G, Desina G, Eller-Vainicher C, Beck-Peccoz P, Scillitani A, Chiodini I (2012) Bone involvement in aldosteronism. J Bone Miner Res 27(10):2217–2222

10.

Giacchetti G, Ronconi V, Lucarelli G, Boscaro M, Mantero F (2006) Analysis of screening and confirmatory tests in the diagnosis of primary aldosteronism: need for a standardized protocol. J Hypertens 24(4):737–745

11.

Funder JW, Carey RM, Fardella C, Gomez-Sanchez CE, Mantero F, Stowasser M, Young WF Jr, Montori VM (2008) Case detection, diagnosis, and treatment of patients with primary aldosteronism: an Endocrine Society Clinical Practice Guideline. J Clin Endocrinol Metab 93(9):3266–3281

12.

Monticone S, Satoh F, Giacchetti G, Viola A, Morimoto R, Kudo M, Iwakura Y, Ono Y, Turchi F, Paci E, Veglio F, Boscaro M, Rainey W, Ito S, Mulatero P (2012) Effect of adrenocorticotropic hormone stimulation during adrenal vein sampling in primary aldosteronism. Hypertension 59(4):840–846

13.

Rossi GP, Sacchetto A, Chiesura-Corona M, De Toni R, Gallina M, Feltrin GP, Pessina AC (2001) Identification of the etiology of primary aldosteronism with adrenal vein sampling in patients with equivocal computed tomography and magnetic resonance findings: results in 104 consecutive cases. J Clin Endocrinol Metab 86:1083–1090

14.

Pedrazzoni M, Girasole G, Bertoldo F, Bianchi G, Cepollaro C, Del Puente A, Giannini S, Gonnelli S, Maggio D, Marcocci C, Minisola S, Palummeri E, Rossini M, Sartori L, Sinigaglia L (2003) Definition of a population specific DXA reference standard in Italian women: the Densitometric Italian Normative Study (DINS). Osteoporos Int 14(12):978–982

15.

Carnevale V, Pipino M, Antonacci M, Checchia C, D'Alessandro V, Errico M, Greco A, Varriale A (2005) Prevalence of hypercalcemia in hospitalised patients: effects of "correction" for serum albumin values. J Endocrinol Invest 28(5):RC15–RC17

16.

Kamalov G, Bhattacharya SK, Weber KT (2010) Congestive heart failure: where homeostasis begets dyshomeostasis. J Cardiovasc Pharmacol 56(3):320–328

17.

Gupta M, Cheung CL, Hsu YH, Demissie S, Cupples LA, Kiel DP, Karasik D (2011) Identification of homogeneous genetic architecture of multiple genetically correlated traits by block clustering of genome-wide associations. J Bone Miner Res 26(6):1261–1271

18.

Beavan S, Horner A, Bord S, Ireland D, Compston J (2001) Colocalization of glucocorticoid and mineralocorticoid receptors in human bone. J Bone Miner Res 16(8):1496–1504

19.

Batista MC, Mendonça BB, Kater CE, Arnhold IJ, Rocha A, Nicolau W, Bloise W (1986) Spironolactone-reversible rickets associated with 11 beta-hydroxysteroid dehydrogenase deficiency syndrome. J Pediatr 109(6):989–993

20.

Agarwal MK, Mirshahi F, Mirshahi M, Bracq S, Chentoufi J, Hott M, Jullienne A, Marie PJ (1996) Evidence for receptor-mediated mineralocorticoid action in rat osteoblastic cells. Am J Physiol 270:C1088–C1095

21.

Farquharson CA, Struthers AD (2000) Spironolactone increases nitric oxide bioactivity, improves endothelial vasodilator dysfunction, and suppresses vascular angiotensin I/angiotensin II conversion in patients with chronic heart failure. Circulation 101:594–597

22.

Zhang YB, Zhong ZM, Hou G, Jiang H, Chen JT (2011) Involvement of oxidative stress in age-related bone loss. Surg Res 169(1):e37–e42

23.

Maniero C, Fassina A, Guzzardo V, Lenzini L, Amadori G, Pelizzo MR, Gomez-Sanchez C, Rossi GP (2011) Primary hyperparathyroidism with concurrent primary aldosteronism. Hypertension 58(3):341–346
Acknowledgment
This work was in part supported by a MIUR grant (PRIN, protocol 201098WFZ2, Prof. Marco Boscaro).
Conflicts of interest
None.
Additional information
Letizia Ceccoli and Vanessa Ronconi equally contributed to the study and must be considered as first co-authors.
About this article
Cite this article
Ceccoli, L., Ronconi, V., Giovannini, L. et al. Bone health and aldosterone excess. Osteoporos Int 24, 2801–2807 (2013). https://doi.org/10.1007/s00198-013-2399-1
Received:

Accepted:

Published:

Issue Date:
Keywords
Adrenal glands

Bone mass

Bone turnover markers

Hyperaldosteronism

PTH