Abstract
Summary
The quality of life during the first 4 months after fracture was estimated in 2,808 fractured patients from 11 countries. Analysis showed that there were significant differences in the quality of life (QoL) loss between countries. Other factors such as QoL prior fracture and hospitalisation also had a significant impact on the QoL loss.
Introduction
The International Costs and Utilities Related to Osteoporotic Fractures Study (ICUROS) was initiated in 2007 with the objective of estimating costs and quality of life related to fractures in several countries worldwide. The ICUROS is ongoing and enrols patients in 11 countries (Australia, Austria, Estonia, France, Italy, Lithuania, Mexico, Russia, Spain, UK and the USA). The objective of this paper is to outline the study design of ICUROS and present results regarding the QoL (measured using the EQ-5D) during the first 4 months after fracture based on the patients that have been thus far enrolled ICUROS.
Methods
ICUROS uses a prospective study design where data (costs and quality of life) are collected in four phases over 18 months after fracture. All countries use the same core case report forms. Quality of life was collected using the EQ-5D instrument and a time trade-off questionnaire.
Results
The total sample for the analysis was 2,808 patients (1,273 hip, 987 distal forearm and 548 vertebral fracture). For all fracture types and countries, the QoL was reduced significantly after fracture compared to pre-fracture QoL. A regression analysis showed that there were significant differences in the QoL loss between countries. Also, a higher level of QoL prior to the fracture significantly increased the QoL loss and patients who were hospitalised for their fracture also had a significantly higher loss compared to those who were not.
Conclusions
The findings in this study indicate that there appear to be important variations in the QoL decrements related to fracture between countries.
This is a preview of subscription content, log in to check access.
Access options
Buy single article
Instant access to the full article PDF.
US$ 39.95
Price includes VAT for USA
Subscribe to journal
Immediate online access to all issues from 2019. Subscription will auto renew annually.
US$ 199
This is the net price. Taxes to be calculated in checkout.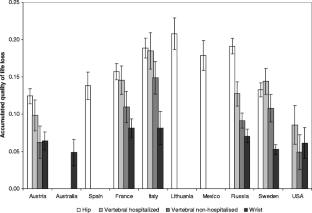 Notes
1.

Quality of Life and Epidemiology Working Group: Jonathan Adachi, Frederik Borgström, Patricia Clark, Cyrus Cooper (co-chair), Manuel Diaz Curiel, Hans Peter Dimai, Mickaël Hiligsmann, John Kanis (co-chair), Edith Lau, Paul Lips, Mickael Lewiecki, Roman Lorenc, Eugene McCloskey, Sergio Ortolani, Alexandra Papaioannou, Stuart Silverman and Pawel Szulc
Reference
1.

Johnell O, Kanis JA (2004) An estimate of the worldwide prevalence, mortality and disability associated with hip fracture. Osteoporos Int 15:897–902

2.

Doherty DA, Sanders KM, Kotowicz MA, Prince RL (2001) Lifetime and five-year age-specific risks of first and subsequent osteoporotic fractures in postmenopausal women. Osteoporos Int 12:16–23

3.

Johnell O, Kanis J (2005) Epidemiology of osteoporotic fractures. Osteoporos Int 16(Suppl 2):S3–S7

4.

Kanis JA, Johnell O, Oden A, Sembo I, Redlund-Johnell I, Dawson A, de Laet C, Jonsson B (2000) Long-term risk of osteoporotic fracture in Malmo. Osteoporos Int 11:669–74

5.

Melton LJ III, Chrischilles EA, Cooper C, Lane AW, Riggs BL (1992) Perspective. How many women have osteoporosis? J Bone Miner Res 7:1005–10

6.

van Staa TP, Dennison EM, Leufkens HG, Cooper C (2001) Epidemiology of fractures in England and Wales. Bone 29:517–22

7.

Ström O, Borgstrom F, Kanis J, Compston J, Cooper C, McCloskey EV, Jönsson B (2011) Osteoporosis: burden, health care provision and opportunities in the EU. Arch Osteoporos 6(1–2):59–155

8.

Ström O, Borgstrom F, Zethraeus N, Johnell O, Lidgren L, Ponzer S, Svensson O, Abdon P, Ornstein E, Ceder L, Thorngren KG, Sernbo I, Jonsson B (2008) Long-term cost and effect on quality of life of osteoporosis-related fractures in Sweden. Acta Orthop 79:269–80

9.

Borgstrom F, Zethraeus N, Johnell O, Lidgren L, Ponzer S, Svensson O, Abdon P, Ornstein E, Lunsjo K, Thorngren KG, Sernbo I, Rehnberg C, Jonsson B (2006) Costs and quality of life associated with osteoporosis-related fractures in Sweden. Osteoporos Int 17:637–50

10.

Dolan P (1997) Modeling valuations for EuroQol health states. Med Care 35:1095–108

11.

Walters SJ (2009) Quality of life outcomes in clinical trials and health-care evaluation: a practical guide to analysis and interpretation. Wiley, Chichester

12.

Brazier JE, Green C, Kanis JA (2002) A systematic review of health state utility values for osteoporosis-related conditions. Osteoporos Int 13:768–76

13.

Brenneman SK, Barrett-Connor E, Sajjan S, Markson LE, Siris ES (2006) Impact of recent fracture on health-related quality of life in postmenopausal women. J Bone Miner Res 21:809–16

14.

Gabriel SE, Kneeland TS, Melton LJ III, Moncur MM, Ettinger B, Tosteson AN (1999) Health-related quality of life in economic evaluations for osteoporosis: whose values should we use? Med Decis Making 19:141–48

15.

Oleksik A, Lips P, Dawson A, Minshall ME, Shen W, Cooper C, Kanis J (2000) Health-related quality of life in postmenopausal women with low BMD with or without prevalent vertebral fractures. J Bone Miner Res 15:1384–92

16.

Peasgood T, Herrmann K, Kanis JA, Brazier JE (2009) An updated systematic review of Health State Utility Values for osteoporosis related conditions. Osteoporos Int 20:853–68

17.

Salaffi F, Cimmino MA, Malavolta N, Carotti M, Di ML, Scendoni P, Grassi W (2007) The burden of prevalent fractures on health-related quality of life in postmenopausal women with osteoporosis: the IMOF study. J Rheumatol 34:1551–60

18.

Tidermark J, Zethraeus N, Svensson O, Tornkvist H, Ponzer S (2002) Quality of life related to fracture displacement among elderly patients with femoral neck fractures treated with internal fixation. J Orthop Trauma 16:34–38

19.

Tosteson AN, Gabriel SE, Grove MR, Moncur MM, Kneeland TS, Melton LJ III (2001) Impact of hip and vertebral fractures on quality-adjusted life years. Osteoporos Int 12:1042–49

20.

Zethraeus N, Borgström F, Johnell O, Kanis J, Jönsson B (2002) Costs and quality of life associated with osteoporosis related fractures—results from a Swedish survey. Working Paper Series in Economics and Finance, no. 512

21.

Hagino H, Nakamura T, Fujiwara S, Oeki M, Okano T, Teshima R (2009) Sequential change in quality of life for patients with incident clinical fractures: a prospective study. Osteoporos Int 20:695–702

22.

Szende A, Oppe M, Devlin N (2007) EQ-5D value sets: inventory, comparative review and user guide. Springer, Dordrecht

23.

Fryback DG, Dunham NC, Palta M, Hanmer J, Buechner J, Cherepanov D, Herrington SA, Hays RD, Kaplan RM, Ganiats TG, Feeny D, Kind P (2007) US norms for six generic health-related quality-of-life indexes from the National Health Measurement study. Med Care 45:1162–70

24.

Knies S, Evers SM, Candel MJ, Severens JL, Ament AJ (2009) Utilities of the EQ-5D: transferable or not? PharmacoEconomics 27:767–79

25.

Hiligsmann M, Ethgen O, Richy F, Reginster JY (2008) Utility values associated with osteoporotic fracture: a systematic review of the literature. Calcif Tissue Int 82:288–92

26.

Boonen S, Singer AJ (2008) Osteoporosis management: impact of fracture type on cost and quality of life in patients at risk for fracture I. Curr Med Res Opin 24:1781–88

27.

Suzuki N, Ogikubo O, Hansson T (2010) Previous vertebral compression fractures add to the deterioration of the disability and quality of life after an acute compression fracture. Eur Spine J 19:567–74

28.

Cockerill W, Lunt M, Silman AJ, Cooper C, Lips P, Bhalla AK, Cannata JB, Eastell R, Felsenberg D, Gennari C, Johnell O, Kanis JA, Kiss C, Masaryk P, Naves M, Poor G, Raspe H, Reid DM, Reeve J, Stepan J, Todd C, Woolf AD, O'Neill TW (2004) Health-related quality of life and radiographic vertebral fracture. Osteoporos Int 15:113–19

29.

Zethraeus N, Stromberg L, Jonsson B, Svensson O, Ohlen G (1997) The cost of a hip fracture. Estimates for 1,709 patients in Sweden. Acta Orthop Scand 68:13–17

30.

Zethraeus N, Gerdtham UG (1998) Estimating the costs of hip fracture and potential savings. Int J Technol Assess Health Care 14:255–67

31.

Gruber-Baldini AL, Zimmerman S, Morrison RS, Grattan LM, Hebel JR, Dolan MM, Hawkes W, Magaziner J (2003) Cognitive impairment in hip fracture patients: timing of detection and longitudinal follow-up. J Am Geriatr Soc 51:1227–36

32.

Givens JL, Sanft TB, Marcantonio ER (2008) Functional recovery after hip fracture: the combined effects of depressive symptoms, cognitive impairment, and delirium. J Am Geriatr Soc 56:1075–79

33.

Adunsky A, Levy R, Heim M, Mizrahi E, Arad M (2003) The unfavorable nature of preoperative delirium in elderly hip fractured patients. Arch Gerontol Geriatr 36:67–74

34.

Holmes J, House A (2000) Psychiatric illness in hip fracture. Age Ageing 29:537–46

35.

Formiga F, Lopez-Soto A, Duaso E, Ruiz D, Chivite D, Perez-Castejon JM, Navarro M, Pujol R (2007) Differences in the characteristics of elderly patients suffering from hip fracture due to falls according to place of residence. J Am Med Dir Assoc 8:533–37
Acknowledgments
We are grateful to the Quality of Life and Epidemiology Working GroupFootnote 1 of the Committee of Scientific Advisors for the International Osteoporosis Foundation under whose supervision this study was undertaken. The ICUROS is sponsored by Amgen, Eli Lilly, Medtronic (formerly Kyphon), Novartis, Sanofi-Aventis, Servier and Wyeth. In Australia, the study is supported by project grant no. 628422 from the National Health and Medical Research Council. In Austria, the study is sponsored by Central Association of Austrian Social Security Institution (Hauptverband der österreichischen Sozialversicherungsträger), Austrian Society for Bone and Mineral Research (AuSBMR), Merck Sharp & Dohme, Servier GmbH, Medtronic (formerly Kyphon) GmbH, Amgen GmbH, Novartis GmbH, Nycomed GmbH, Roche GmbH, Sanofi-Aventis GmbH and Daiichi-Sankyo GmbH. In Mexico, the study was supported by CONACyT grant number El 2008-01-87106, and we are grateful to Gabriela Chico Master Student Mexico City, Fernando Carlos MHE Mexico City. In Lithuania, the work was supported by National Osteoporosis Center and gratitude is extended to Maryte Garliene for skilful technical assistance. In the Russia, the following team members provided valuable contributions to the study: Dr. Natalia Toroptsova, Dr. Oxana Nikitinskaya, Dr. Olga Dobrovolskaya (Institute of Rheumatology, RAMS, Moscow), Prof. Larissa Menshikova, Dr. Julia Varavko (Medical Institute of Postgraduate Training, Irkutsk), Prof. Olga Ershova, Dr. Ksenia Belova (Yaroslavl State Medical Academy, Yaroslavl), Dr. Alexander Solodovnikov, Dr. Ksenia Usenko (Ural State Medical Academy, Yekaterinburg), Prof. Georgij Golubev, Dr. Vyacheslav Grebenshikov (Rostov-on-Don State Medical University, Rostov-on-Don), Prof. Eugenij Zotkin, Dr. Irina Zubkova (North-West Federal Medical University, Saint-Petersburg), Prof. Alexander Kochish, Dr. Sergej Ivanov (Vreden Institute of Traumatology and Orthopedics, Saint-Petersburg) and Dr. Radik Nurligayanov (City Clinical Hospital # 21, Ufa). In the USA, Amgen Inc., Ingenix Pharmaceutical Services, Eli Lilly and Company, Medtronic Spine LLC and Wyeth Pharmaceuticals Inc. sponsored the study. Hoffmann La Roche and Amgen provided support. In Estonia the study was supported by Estonian Science Foundation grant # 9368.
Conflicts of interest
None.
About this article
Cite this article
Borgström, F., Lekander, I., Ivergård, M. et al. The International Costs and Utilities Related to Osteoporotic Fractures Study (ICUROS)—quality of life during the first 4 months after fracture. Osteoporos Int 24, 811–823 (2013). https://doi.org/10.1007/s00198-012-2240-2
Received:

Accepted:

Published:

Issue Date:
Keywords
Costs

Fracture

Osteoporosis

Quality of life