Abstract
The incidence of osteoporotic fractures increases exponentially in later life, in parallel with the progression of frailty and the risk of dying. Several pharmacologic therapies are now available that reduce the risk of fragility fractures. Data from observational studies report that osteoporotic fractures are associated with an increased risk of dying, particularly in the first few years after an event, and that, in osteoporotic populations, bisphosphonate therapy is associated with a reduced risk of death. Data emerging from randomised controlled trials suggest that drugs which significantly reduce fracture risk might also prolong survival in osteoporotic populations. Further research into the nature, magnitude and mechanisms of the effects of osteoporosis treatments on mortality is required, but in the interim, clinicians and their patients should consider the available data in their deliberations about the use of these medications.
Access options
Buy single article
Instant access to the full article PDF.
USD 39.95
Price includes VAT (USA)
Tax calculation will be finalised during checkout.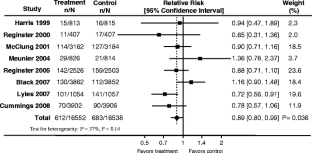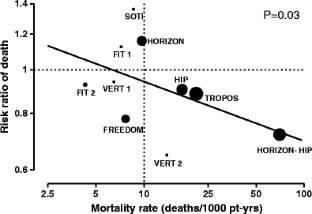 References
1.

Cummings SR, Melton LJ (2002) Epidemiology and outcomes of osteoporotic fractures. Lancet 359:1761–1767

2.

Abrahamsen B, van Staa T, Ariely R, Olson M, Cooper C (2009) Excess mortality following hip fracture: a systematic epidemiological review. Osteoporos Int 20:1633–1650

3.

Lyles KW, Colon-Emeric CS, Magaziner JS et al (2007) Zoledronic acid and clinical fractures and mortality after hip fracture. N Engl J Med 357:1799–1809

4.

Black DM, Delmas PD, Eastell R et al (2007) Once-yearly zoledronic acid for treatment of postmenopausal osteoporosis. N Engl J Med 356:1809–1822

5.

Browner WS, Seeley DG, Cummings SR, Vogt TM (1991) Non-trauma mortality in elderly women with low bone mineral density. Lancet 338:355–358

6.

Browner WS, Pressman AR, Nevitt MC, Cummings SR (1996) Mortality following fractures in older women: the Study of Osteoporotic Fractures. Arch Intern Med 156:1521–1525

7.

Center JR, Nguyen TV, Schneider D, Sambrook PN, Eisman JA (1999) Mortality after all major types of osteoporotic fracture in men and women: an observational study. Lancet 353:878–882

8.

Bliuc D, Nguyen ND, Milch VE, Nguyen TV, Eisman JA, Center JR (2009) Mortality risk associated with low-trauma osteoporotic fracture and subsequent fracture in men and women. JAMA 209:513–521

9.

Empana J-P, Dargent-Molina P, Breart G (2004) Effect of hip fracture on mortality in elderly women: the EPIDOS prospective study. J Am Geriatr Soc 52:685–690

10.

Ioannidis G, Papaioannou A, Hopman WM et al (2009) Relation between fractures and mortality: results from the Canadian Multicentre Osteoporosis Study. Can Med Assoc J 181:265–271

11.

Ismail AA, O'Neill TW, Cooper C et al (1998) Mortality associated with vertebral deformity in men and women: results from the European Prospective Osteoporosis Study (EPOS). Osteoporos Int 8:291–297

12.

Johnell O, Kanis JA, Odén A, Sernbo I, Redlund-Johnell I, Petterson C, Laet CD, Jönsson B (2004) Mortality after osteoporotic fractures. Osteoporos Int 15:38

13.

Cauley JA, Thompson DE, Ensrud KC, Scott JC, Black D (2000) Risk of mortality following clinical fractures. Osteoporos Int 11:556–561

14.

Ziade N, Jougla E, Coste J (2010) Population-level impact of osteoporotic fractures on mortality and trends over time: a nationwide analysis of vital statistics for France, 1968–2004. Am J Epidemiol 172:942–951

15.

LeBlanc ES, Hillier TA, Pedula KL et al (2011) Hip fracture and increased short-term but not long-term mortality in healthy older women. Arch Intern Med 171:1831–1837

16.

Kanis J, Oden A, Johnell O, De Laet C, Jonsson B, Oglesby AK (2003) The components of excess mortality after hip fracture. Bone 32:468–473

17.

Center JR, Bliuc D, Nguyen ND, Nguyen TV, Eisman JA (2011) Osteoporosis medication and reduced mortality risk in elderly women and men. J Clin Endocrinol Metab 96:1006–1014

18.

Beaupre LA, Morrish DW, Hanley DA, Maksymowych WP, Bell NR, Juby AG, Majumdar SR (2011) Oral bisphosphonates are associated with reduced mortality after hip fracture. Osteoporos Int 22:983–991

19.

Sambrook PN, Cameron ID, Chen JS, March LM, Simpson JM, Cumming RG, Seibel MJ (2011) Oral bisphosphonates are associated with reduced mortality in frail older people: a prospective five-year study. Osteoporos Int 22:2551–2556

20.

Bondo L, Eiken P, Abrahamsen B (2012) Analysis of the association between bisphosphonate treatment survival in Danish hip fracture patients—a nationwide register-based open cohort study. Osteoporos Int. doi:10.1007/s00198-012-2024-8

21.

Cree MW, Juby AG, Carriere KC (2003) Mortality and morbidity associated with osteoporosis drug treatment following hip fracture. Osteoporos Int 14:722

22.

Bolland MJ, Grey AB, Gamble GD, Reid IR (2010) Effect of osteoporosis treatment on mortality: a meta-analysis. J Clin Endocrinol Metab 95:1174–1181

23.

Colon-Emeric CS, Mesenbrink P, Lyles KW, Pieper CF, Boonen S, Delmas P, Eriksen EF, Magaziner J (2010) Potential mediators of the mortality reduction with zoledronic acid after hip fracture. J Bone Miner Res 25:91–97

24.

Cummings SR, Martin JS, McClung MR et al (2009) Denosumab for prevention of fractures in postmenopausal women with osteoporosis. N Engl J Med 361:756–765

25.

Ural AU, Avcu F, Ozturk K (2008) Bisphosphonates may retrieve endothelial function in vascular diseases similar to statins' effects. Eur J Hematol 81:77–78

26.

Conti L, Casetti R, Cardone M, Varano B, Martino A, Belardelli F, Poccia F, Gessani S (2005) Reciprocal activating interaction between dendritic cells and pamidronate-stimulated gammadelta T cells: role of CD86 and inflammatory cytokines. J Immunol 174:252–260

27.

Maksymowych W (2002) Bisphosphonates: anti-inflammatory properties. Curr Med Chem 1:15–28
Acknowledgments
Grant support from the Health Research Council of New Zealand. Dr Bolland is the recipient of a Hercus Fellowship from the Health Research Council of New Zealand.
Conflicts of interest
None.
About this article
Cite this article
Grey, A., Bolland, M.J. The effect of treatments for osteoporosis on mortality. Osteoporos Int 24, 1–6 (2013). https://doi.org/10.1007/s00198-012-2176-6
Received:

Accepted:

Published:

Issue Date:
Keywords
Fracture

Mortality

Osteoporosis

Treatment