Abstract
Summary
We measured urinary N-telopeptide of type I collagen (U-NTX) to monitor response to bisphosphonates for osteoporosis. Decrease in U-NTX was associated with increase in spine bone density. A lesser response in U-NTX was more likely in those with secondary osteoporosis or with poor compliance. U-NTX may be a useful early indicator of treatment non-compliance or secondary osteoporosis.
Introduction
This study aims to determine the utility of the bone resorption marker, U-NTX, in the clinical setting, to monitor the response to bisphosphonate therapy (alendronate and risedronate) for osteoporosis.
Methods
A retrospective evaluation of data collected as part of the bone turnover marker monitoring service in the Metabolic Bone Centre, Sheffield, UK. Treatment compliance, underlying causes of osteoporosis, change in U-NTX/creatinine (Cr) at 4 months and change in spine and hip bone mineral density (BMD) by dual-energy X-ray absorptiometry were recorded. Treatment response was defined as either a change in U-NTX/Cr greater than a pre-defined least significant change (LSC) of 54 % or to within the lower half of a pre-defined pre-menopausal reference interval (≤30 nM BCE/mmol Cr).
Results
A greater decrease in U-NTX/Cr at 4 months was associated with a greater increase in spine BMD at 18 months (r = −0.33; P < 0.0001, Pearson's correlation). The mean U-NTX/Cr at 4 months was higher in patients with secondary osteoporosis compared with those with primary osteoporosis (P < 0.01, ANOVA). A lesser response in U-NTX/Cr increased the likelihood of secondary osteoporosis or poor treatment compliance (P = 0.04, Fisher's exact test). A lack of response in U-NTX/Cr to within the lower half of the reference interval was a better indicator of secondary osteoporosis and treatment non-compliance than a change in U-NTX/Cr greater than LSC.
Conclusions
Treatment monitoring using U-NTX/Cr has a place in clinical practice for the early identification of non-compliance or presence of secondary osteoporosis.
Access options
Buy single article
Instant access to the full article PDF.
USD 39.95
Price excludes VAT (USA)
Tax calculation will be finalised during checkout.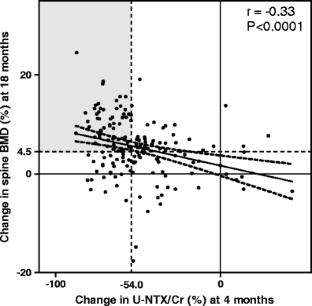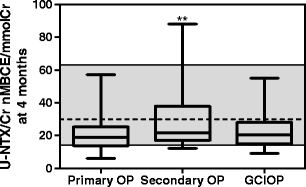 References
Eastell R (2003) Bone turnover markers: their place in the investigation of osteoporosis. In: Orwoll E, Bliziotes M (eds) Oteoporosis. Pathophysiology and clinical management. Contemporary endocrinology. Humana, Totowa, pp 185–197

Seibel MJ (2006) Biochemical markers of bone turnover part II: clinical applications in the management of osteoporosis. Clin Biochem Rev 27:123–138

Clowes JA, Peel NF, Eastell R (2004) The impact of monitoring on adherence and persistence with antiresorptive treatment for postmenopausal osteoporosis: a randomized controlled trial. J Clin Endocrinol Metab 89(3):1117–1123

Braga de Castro Machado A, Hannon R, Hannon R, Eastell R (1999) Monitoring alendronate therapy for osteoporosis. J Bone Miner Res 14(4):602–608. doi:10.1359/jbmr.1999.14.4.602

Rogers A, Glover SJ, Eastell R (2009) A randomised, double-blinded, placebo-controlled, trial to determine the individual response in bone turnover markers to lasofoxifene therapy. Bone 45(6):1044–1052. doi:10.1016/j.bone.2009.07.089

Delmas PD, Eastell R, Garnero P, Seibel MJ, Stepan J (2000) The use of biochemical markers of bone turnover in osteoporosis. Osteoporos Int 11:2–17

Henriksen DB, Alexandersen P, Bjarnason NH, Vilsboll T, Hartmann B, Henriksen EE, Byrjalsen I, Krarup T, Holst JJ, Christiansen C (2003) Role of gastrointestinal hormones in postprandial reduction of bone resorption. J Bone Miner Res 18(12):2180–2189. doi:10.1359/jbmr.2003.18.12.2180

Glover SJ, Garnero P, Naylor K, Rogers A, Eastell R (2008) Establishing a reference range for bone turnover markers in young, healthy women. Bone 42(4):623–630. doi:10.1016/j.bone.2007.12.218

Kelman A, Lane NE (2005) The management of secondary osteoporosis. Best Pract Res Clin Rheumatol 19(6):1021–1037. doi:10.1016/j.berh.2005.06.005

Kaufman JM, Goemaere S (2008) Osteoporosis in men. Best Pract Res Clin Rheumatol 22(5):787–812. doi:10.1016/j.beem.2008.09.005

Kok C, Sambrook PN (2009) Secondary osteoporosis in patients with an osteoporotic fracture. Best Pract Res Clin Rheumatol 23(6):769–779. doi:10.1016/j.berh.2009.09.006

Clowes JA, Peel NFA, Blumsohn A, Gossiel E, Eastell R (2004) Can multiple measurements or pooled measurements reduce within subject variability? J Bone Miner Res 19(10):S375–S375

Patel R, Blake GM, Rymer J, Fogelman I (2000) Long-term precision of DXA scanning assessed over seven years in forty postmenopausal women. Osteoporos Int 1:68–75

Sebba AI, Bonnick SL, Kagan R, Thompson DE, Skalky CS, Chen E, de Papp AE, Fosamax Actonel Comparison Trial i (2004) Response to therapy with once-weekly alendronate 70 mg compared to once-weekly risedronate 35 mg in the treatment of postmenopausal osteoporosis. Curr Med Res Opin 20(12):2031–2041

Eekman DA, Bultink IEM, Heijboer AC, Dijkmans BAC, Lems WF (2011) Bone turnover is adequately suppressed in osteoporotic patients treated with bisphosphonates in daily practice. BMC Musculoskelet Disord 12:167. doi:10.1186/1471-2474-12-167

Greenspan SL, Beck TJ, Resnick NM, Bhattacharya R, Parker RA (2005) Effect of hormone replacement, alendronate, or combination therapy on hip structural geometry: a 3-year, double-blind, placebo-controlled clinical trial. J Bone Miner Res 20(9):1525–1532. doi:10.1359/JBMR.050508

Lewiecki EM (2010) Management of skeletal health in patients with asymptomatic primary hyperparathyroidism. J Clin Densitom 13(4):324–334. doi:10.1016/j.jocd.2010.06.004

Khan AA, Bilezikian JP, Kung AW, Ahmed MM, Dubois SJ, Ho AY, Schussheim D, Rubin MR, Shaikh AM, Silverberg SJ, Standish TI, Syed Z, Syed ZA (2004) Alendronate in primary hyperparathyroidism: a double-blind, randomized, placebo-controlled trial. J Clin Endocrinol Metab 89(7):3319–3325. doi:10.1210/jc.2003-030908
Acknowledgements
IB was assisted by the clinical staff at the Metabolic Bone Centre and research support staff at the NIHR Musculoskeletal Biomedical Research Unit, Sheffield. IB's studentship was funded by Inverness Medical, UK. This work was supported by the NIHR-funded Sheffield Musculoskeletal Biomedical Research Unit. Authors would like to acknowledge the assistance of the Editorial Board of the Musculoskeletal Biomedical Research Unit for preparing and reviewing the manuscript. The views expressed in this publication are those of the authors and not necessarily those of the NHS, the NIHR or the Department of Health.
Conflicts of interest
None.
About this article
Cite this article
Baxter, I., Rogers, A., Eastell, R. et al. Evaluation of urinary N-telopeptide of type I collagen measurements in the management of osteoporosis in clinical practice. Osteoporos Int 24, 941–947 (2013). https://doi.org/10.1007/s00198-012-2097-4
Received:

Accepted:

Published:

Issue Date:

DOI: https://doi.org/10.1007/s00198-012-2097-4
Keywords