Abstract
Summary
The relationship between surgical timing and hip fracture mortality is unknown in the context of developing countries where large delays to surgery are common. We observed that delay from fracture to hospital admission is associated with decreased survival after a hip fracture.
Introduction
To examine the relationship between the time interval from fracture to surgery as well as its subcomponents (time from fracture to hospital admission and time from admission to surgery) and hip fracture survival.
Methods
The medical records of all patients aged 60 years and older admitted to a public university hospital in the city of Rio de Janeiro with a primary diagnosis of hip fracture between 1995 and 2000 were reviewed. Survival to hospital discharge and at 1 year were examined.
Results
Among 343 patients included in the study, there were 18 (5.3%) in-hospital deaths, and 297 (86.6%) patients remained alive 1 year after surgery. Very long delays from the time of fracture to hospital admission (mean 3 days) and from hospital admission to surgery (mean 13 days) were identified. Increased time from fracture to hospital admission was associated with reduced survival to hospital discharge (hazard ratio [HR] 1.09, 95% CI 1.03–1.15, p = 0.005) and reduced survival at 1 year after surgery (HR 1.07, 95% CI 1.03–1.10, p < 0.001). The interval of time from hospital admission to surgery was not associated with reduced survival to hospital discharge (HR 1.03, 95% CI 0.96–1.10, p = 0.379) or at 1 year after surgery (HR 1.03, 95% CI 0.99–1.07, p = 0.185).
Conclusions
If the association estimated in our study is causal, our results provide evidence that some hip fracture-related deaths could be prevented by improved patient access to appropriate and timely hospital care in the context of a developing country.
Access options
Buy single article
Instant access to the full article PDF.
USD 39.95
Price excludes VAT (USA)
Tax calculation will be finalised during checkout.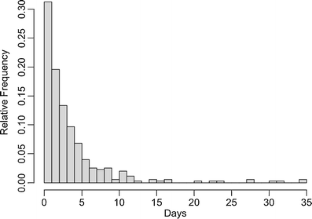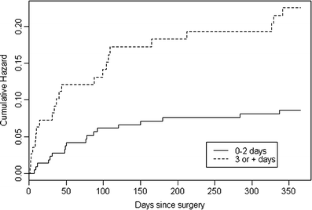 References
Johnell O, Kanis JA (2005) Epidemiology of osteoporotic fractures. Osteoporos Int 16(Suppl 2):S3–S7

Cummings SR, Melton LJ (2002) Epidemiology and outcomes of osteoporotic fractures. Lancet 359(9319):1761–1767

Hiligsmann M, Bruyere O, Ethgen O, Gathon HJ, Reginster JY (2008) Lifetime absolute risk of hip and other osteoporotic fracture in Belgian women. Bone 43(6):991–994

Haentjens P, Magaziner J, Colon-Emeric CS, Vanderschueren D, Milisen K, Velkeniers B, Boonen S (2010) Meta-analysis: excess mortality after hip fracture among older women and men. Ann Intern Med 152(6):380–390

Vidan MT, Sanchez E, Gracia Y, Maranon E, Vaquero J, Serra JA (2011) Causes and effects of surgical delay in patients with hip fracture: a cohort study. Ann Intern Med 155(4):226–233

Majumdar SR, Beaupre LA, Johnston DW, Dick DA, Cinats JG, Jiang HX (2006) Lack of association between mortality and timing of surgical fixation in elderly patients with hip fracture: results of a retrospective population-based cohort study. Med Care 44(6):552–559

Novack V, Jotkowitz A, Etzion O, Porath A (2007) Does delay in surgery after hip fracture lead to worse outcomes? A multicenter survey. Int J Qual Health Care 19(3):170–176

Shiga T, Wajima Z, Ohe Y (2008) Is operative delay associated with increased mortality of hip fracture patients? Systematic review, meta-analysis, and meta-regression. Can J Anaesth 55(3):146–154

Kahn SK, Kalra S, Khanna A, Thiruvengada MM, Parker MJ (2009) Timing of surgery for hip fractures: a systematic review of 52 published studies involving 291,413 patients. Injury 40(7):692–697

Leung F, Lau TW, Kwan K, Chow SP, Kung AWC (2010) Does timing of surgery matter in fragility hip fractures? Osteoporos Int 21(Suppl 4):S529–S534

Vidal EI, Moreira-Filho DC, Coeli CM, Camargo KR, Fukushima FB, Blais R (2009) Hip fracture in the elderly: does counting time from fracture to surgery or from hospital admission to surgery matter when studying in-hospital mortality? Osteoporos Int 20(5):723–729

Gullberg B, Johnell O, Kanis JA (1997) World-wide projections for hip fracture. Osteoporos Int 7(5):407–413

Computerised record linkage: compared with traditional patient follow-up methods in clinical trials and illustrated in a prospective epidemiological study. West of Scotland Coronary Prevention Study Group. J Clin Epidemiol. 1995;48(12):1441–52.

Jaro M (1995) Probabilistic linkage of large public health data files. Stat Med 14(5–7):491–498

Vidal EI, Coeli CM, Pinheiro RS, Camargo KR (2006) Mortality within 1 year after hip fracture surgical repair in the elderly according to postoperative period: a probabilistic record linkage study in Brazil. Osteoporos Int 17(10):1569–1576

Shannon HS, Jamieson E, Walsh C, Julian JA, Fair ME, Buffet A (1989) Comparison of individual follow-up and computerized record linkage using the Canadian Mortality Data Base. Can J Public Health 80(1):54–57

Coutinho ES, Coeli CM (2006) Accuracy of the probabilistic record linkage methodology to ascertain deaths in survival studies. Cad Saude Publica 22(10):2249–2252

Camargo KR Jr, Coeli CM (2000) Reclink: an application for database linkage implementing the probabilistic record linkage method. Cad Saude Publica 16(2):439–447

Charlson ME, Pompei P, Ales KL, MacKenzie CR (1987) A new method of classifying prognostic comorbidity in longitudinal studies: development and validation. J Chronic Dis 40(5):373–383

Grambsch P, Therneau T (1994) Proportional hazards tests and diagnostics based on weighted residuals. Biometrika 81(3):515–526

R Development Core Team (2009) R: a language and environment for statistical computing. R Foundation for Statistical Computing, Vienna, Austria

Orosz GM, Hannan EL, Magaziner J, Koval K, Gilbert M, Aufses A, Straus E, Vespe E, Siu AL (2002) Hip fracture in the older patient: reasons for delay in hospitalization and timing of surgical repair. J Am Geriatr Soc 50(8):1336–1340

Hefley FG, Nelson CL, Puskarich-May CL (1996) Effect of delayed admission to the hospital on the preoperative prevalence of deep-vein thrombosis associated with fractures about the hip. J Bone Joint Surg Am 78(4):581–583

Grimes JP, Gregory PM, Noveck H, Butler MS, Carson JL (2002) The effects of time-to-surgery on mortality and morbidity in patients following hip fracture. Am J Med 112(9):702–709

Beaupre LA, Jones CA, Saunders LD, Johnston DW, Buckingham J, Majumdar SR (2005) Best practices for elderly hip fracture patients. A systematic overview of the evidence. J Gen Intern Med 20(11):1019–1025

Orosz GM, Magaziner J, Hannan EL et al (2004) Association of timing of surgery for hip fracture and patient outcomes. Jama 291(14):1738–1743

Bhandari M, Tornetta P, Ellis T, Audige L, Sprague S, Kuo JC, Swiontkowski MF (2004) Hierarchy of evidence: differences in results between non-randomized studies and randomized trials in patients with femoral neck fractures. Arch Orthop Trauma Surg 124(1):10–16

McGuire K, Bernstein J, Polsky D, Silber J (2004) Delays until surgery after hip fracture increases mortality. Clin Orthop Rel Res 428:294–301

Zuckerman JD, Skovron ML, Koval KJ, Aharonoff G, Frankel VH (1995) Postoperative complications and mortality associated with operative delay in older patients who have a fracture of the hip. J Bone Joint Surg Am 77(10):1551–1556
Acknowledgments
This study was supported by a research grant from the Brazilian National Council for Scientific and Technological Development (CNPq). The funding source did not play any role with respect to the design and conduct of the study; collection, management, analysis, and interpretation of the data; and preparation, review, or approval of the manuscript.
Conflicts of interest
None.
About this article
Cite this article
Vidal, E.I.O., Moreira-Filho, D.C., Pinheiro, R.S. et al. Delay from fracture to hospital admission: a new risk factor for hip fracture mortality?. Osteoporos Int 23, 2847–2853 (2012). https://doi.org/10.1007/s00198-012-1917-x
Received:

Accepted:

Published:

Issue Date:

DOI: https://doi.org/10.1007/s00198-012-1917-x
Keywords
Aged

Brazil

Developing countries

Hip fractures

Mortality

Risk factors