Abstract
Summary
A snapshot of current evidence from 6 randomised controlled trials for the effects of short bouts of high-impact exercises in 256 women via meta-analysis reveals that ample osteogenic response could be realised at the femoral neck and trochanter of premenopausal women with rest-inserted bouts of few mechanical bone loading cycles.
Introduction
Exercise is an important means of improving bone health and preventing osteoporosis. Brief bouts of simple exercises may be useful for aiding lifestyle compliance to physical activity. This study aimed to review the evidence on the effect of brief, high-impact exercise on bone health among premenopausal women.
Methods
A structured and comprehensive search of databases was undertaken along with hand searching of key journals and reference lists to locate relevant studies published and unpublished up to January 2011. Six randomised controlled trials met predetermined inclusion criteria. Brief high-impact exercises (<30 min) were examined for their effect on bone mineral density (BMD) among premenopausal women. Trial quality was assessed using the Effective Public Health Practice Project quality assessment tool. Study outcomes for analysis, absolute change (grams per square centimetre) or relative change (in percent) in BMD at femoral neck, trochanter and lumbar spine were compared by calculating standardised mean difference (SMD) using fixed- and random effects models.
Results
Quality of included trials varied from medium to high on a scale of 1 to 3. Brief bouts of exercise led to significant increases in femoral neck BMD (SMD = 0.64, 95% confidence interval (CI) = 0.38, 0.90, overall effect Z value = 4.84, p = 0.001); a modest increase in trochanteric BMD (SMD = 0.36, 95% CI = 0.10, 0.61, Z value = 2.08, p = 0.04) and no increase in spinal BMD (SMD = 0.04, 95% CI = −0.23, 0.31, Z value = 0.26, p = 0.79).
Conclusion
Based on the meta-analysis, brief high-impact exercise improves BMD at the hip but not at the lumbar spine. Effectiveness of this form of exercise as a lifestyle physical activity for prevention of osteoporosis should be explored in larger populations.
This is a preview of subscription content, log in to check access.
Access options
Buy single article
Instant access to the full article PDF.
US$ 39.95
Price includes VAT for USA
Subscribe to journal
Immediate online access to all issues from 2019. Subscription will auto renew annually.
US$ 199
This is the net price. Taxes to be calculated in checkout.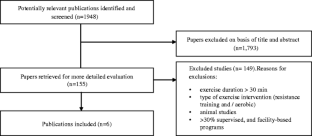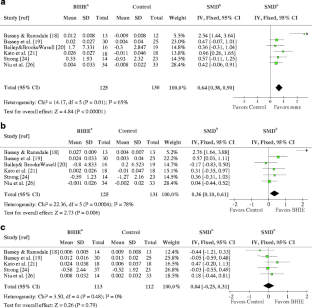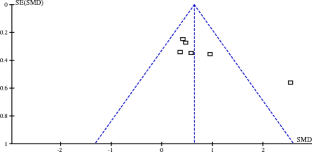 References
1.

Hardman AE, Stensel DJ (2009) Physical activity and health: the evidence explained. Taylor Francis Ltd, London

2.

Dolan SH, Williams DP, Ainsworth BE, Shaw JM (2006) Development and reproducibility of the Bone Loading History Questionnaire. Med Sci Sports Exerc 38(6):1121–1131. doi:10.1249/01.mss.0000222841.96885.a8

3.

Kohrt WM, Bloomfield SA, Little KD, Nelson ME, Yingling VR (2004) American College of Sports Medicine Position Stand: physical activity and bone health. Med Sci Sports Exerc 36(11):1985–1996. doi:10.1249/01.MSS.0000142662.21767.58

4.

Clark J (2003) Women too busy to exercise. BMJ 326:467. doi:10.1136/bmj.326.7387.467

5.

National Osteoporosis Society (2010) Key facts and figures. Available at http://www.nos.org.uk/NetCommunity/Page.aspx?pid=328. Accessed 13 May 2010

6.

World Health Organization (2009) Global health risks report: mortality and burden of disease attributable to selected major risks. WHO, Geneva

7.

Wolff I, van Croonenborg JJ, Kemper HC, Kostense PJ, Twisk JW (1999) The effect of exercise training programs on bone mass: a meta-analysis of published controlled trials in pre- and postmenopausal women. Osteoporos Int 9:1–12. doi:10.1007/s001980050109

8.

Wallace BA, Cumming RG (2000) Systematic review of randomized trials of the effect of exercise on bone mass in pre- and postmenopausal women. Calcif Tissue Int 67:10–18. doi:10.1007/s00223001089

9.

Kelley GA, Kelley KS (2004) Efficacy of resistance exercise on lumbar spine and femoral neck bone mineral density of premenopausal women: a meta-analysis of individual patient data. J Womens Health (Larchmt) 13:293–300. doi:10.1089/154099904323016455

10.

Martyn-St James M, Carroll S (2006) Progressive high-intensity resistance training and bone mineral density changes among premenopausal women: evidence of discordant site-specific skeletal effects. Sports Med 36(8):683–704. doi:0112-1642/06/0008-0683

11.

Snow-Harter C, Bouxsein ML, Lewis BT, Carter DR, Marcus R (1992) Effects of resistance and endurance exercise on bone mineral status of young women: a randomized exercise intervention trial. J Bone Miner Res 7:761–769. doi:10.1002/jbmr.5650070706

12.

Lohman T, Going S, Pamenter R, Hall M, Boyden T, Houtkooper L, Ritenbaugh C, Bare L, Hill A, Aickin M (1995) Effects of resistance training on regional and total bone mineral density in premenopausal women. J Bone Miner Res 10:1015–1024. doi:10.1002/jbmr.5650100705

13.

Friedlander AL, Genant HK, Sadowsky S, Byl NN, Gluer CC (1995) A two-year program of aerobics and weight training enhances BMD of young women. J Bone Miner Res 10:574–585. doi:10.1002/jbmr.5650100410

14.

Heinonen A, Kannus P, Sievänen H, Oja P, Pasanen M, Rinne M, Uusi-Rasi K, Vuori I (1996) Randomised controlled trial of effect of high impact exercise on selected risk factors for osteoporotic fractures. Lancet 348:1343–1347. doi:10.1016/S0140-6736(96)04214-6

15.

Rubin CT, Lanyon LE (1984) Regulation of bone formation by applied dynamic loads. J Bone Joint Surg Am 66:397–402

16.

Rubin CT, Lanyon LE (1985) Regulation of bone mass by mechanical strain magnitude. Calcif Tissue Int 37:411–417

17.

Umemura Y, Ishiko T, Yamauchi T, Kurono M, Mashiko S (1997) Five jumps per day increase bone mass and breaking force in rats. J Bone Miner Res 12:1480–1485. doi:10.1359/jbmr.1997.12.9.1480

18.

Bassey EJ, Ramsdale SJ (1994) Increase in femoral bone density in young women following high-impact exercise. Osteoporos Int 4(2):72–75

19.

Bassey EJ, Rothwell MC, Littlewood JJ, Pye DW (1998) Pre-and postmenopausal women have different bone mineral density responses to the same high-impact exercise. J Bone Miner Res 13(112):1805–1813. doi:10.1359/jbmr.1998.13.12.1805

20.

Bailey CA, Brooke-Wavell K (2010) Optimum frequency of exercise for bone health: randomised controlled trial of a high-impact unilateral intervention. Bone 46:1043–1049. doi:10.1016/j.bone.2009.12.001

21.

Kato T, Terashima T, Yamashita T, Hatanaka Y, Honda A, Umemura Y (2006) Effect of low-repetition jump training on bone mineral density in young women. J Appl Physiol 100(3):839–843. doi:10.1152/japplphysiol.00666.2005

22.

Effective Public Health Practice Project (2010) Quality assessment tool for quantitative studies. Available at http://www.ephpp.ca/PDF/Quality%20Assessment%20Tool_2010_2.pdf. Accessed 20 November 2010

23.

Review Manager (RevMan) Version 5.1. Computer program (2011) The Nordic Cochrane Centre, Cochrane Collaboration, Copenhagen

24.

Strong JE (2004) Effects of different jumping programs on hip and spine bone mineral density in pre-menopausal women. Dissertation, Brigham Young University, Utah

25.

Witzke KA (2009) Dose-dependent effects and feasibility of a home-based jumping program for bone health in women. Med Sci Sports Exerc 41(5):289. doi:10.1249/01.MSS.0000355432.86381.ac

26.

Niu K, Ahola R, Guo H, Korpelainen R, Uchimaru J, Vainionpa A, Sato K, Sakai A, Salo S, Kishimoto K, Itoi E, Komatsu S, Jamsa T, Nagatomi R (2010) Effect of office-based brief high-impact exercise on bone mineral density in healthy premenopausal women: the Sendai Bone Health Concept Study. J Bone Miner Metab 28:568–577. doi:10.1007/s00774-010-0163-6

27.

Cummings SR, Black DM, Nevitt MC (1993) Bone density at various sites for prediction of hip fractures. Lancet 341:72–75. doi:10.1016/0140-6736(93)92555-8

28.

Vainionpää A, Korpelainen R, Sievänen H, Vihriälä E, Leppäluoto J, Jämsä T (2007) Effect of impact exercise and its intensity on bone geometry at weight-bearing tibia and femur. Bone 40(3):604–611. doi:10.1016/j.bone.2006.10.005

29.

Coventry E, O'Connor KM, Hart BA, Earl JE, Ebersole KT (2006) The effect of lower extremity fatigue on shock attenuation during single-leg landing. Clin Biomech 21(10):1090–1097. doi:10.1016/j.clinbiomech.2006.07.004

30.

Kontulainen S, Heinonen A, Kannus P, Pasanen M, Sievanen H, Vuori I (2004) Former exercisers of an 18-month intervention display residual aBMD benefits compared with control women 3.5 years post-intervention: a follow-up of a randomized controlled high-impact trial. Osteoporos Int 15:248–251. doi:10.1007/s00198-003-1559-0

31.

Kahn K, McKay H, Kannus P, Bailey D, Wark J, Bennell K (2001) Physical activity and bone health. Human Kinetics, Illinois

32.

Nikander R, Sievänen H, Heinonen A, Daly RM, Uusi-Rasi K, Kannus P (2010) Targeted exercise against osteoporosis: a systematic review and meta-analysis for optimising bone strength throughout life. BMC Med 21(8):47. doi:10.1186/1741-7015-8-47

33.

Imaz I, Zegarra P, González-Enríquez J, Rubio B, Alcazar R, Amate J (2010) Poor bisphosphonate adherence for treatment of osteoporosis increases fracture risk: systematic review and meta-analysis. Osteoporos Int 21:1943–1951. doi:10.1007/s00198-009-1134-4

34.

Cramer JA, Gold D, Silverman S, Lewiecki EM (2007) A systematic review of persistence and compliance with bisphosphonates for osteoporosis. Osteoporos Int 18:1023–1031. doi:10.1007/s00198-006-0322-8

35.

Dalsky GP, Stocke KS, Ehsani AA, Slatopolsky F, Lee WC, Birge SJ (1988) Weight-bearing exercise training and lumbar bone mineral content (BMC) in postmenopausal women. Ann Intern Med 108:824–828

36.

Pisters MF, Veenhof C, van Meeteren NLU, Ostelo RW, de Bakker DH, Schellevis FG, Dekker J (2007) Long-term effectiveness of exercise therapy in patients with osteoarthritis of hip or knee: a systematic review. Arthritis Rheum 57:1245–1253. doi:10.1002/art.23009

37.

Winters KM, Snow CM (2000) Detraining reverses positive effects of exercise on the musculoskeletal system in premenopausal women. J Bone Miner Res 15:2495–2503. doi:10.1359/jbmr.2000.15.12.2495

38.

Blair SN, Kohl HW III, Gordon NF (1992) Physical activity and health: a lifestyle approach. Med Exerc Nutr Health 1:54–57

39.

Blair SN, Brownell KD, Hager DL, Marlatt GA, O'Neil PM, Rhodes SK, St. Jeor S, Wolfe BL (1996) Exercise and physical activity. In: Blair SN (ed) The lifestyle counselor's guide for weight control. American Health Pub. Co., Dallas, pp 262–319

40.

Turner CH, Robling AG (2003) Designing exercise regimens to increase bone strength. Exerc Sport Sci Rev 31:45–50

41.

Robling AG, Burr DB, Turner CH (2000) Partitioning a daily mechanical stimulus into discrete loading bouts improves the osteogenic response to loading. J Bone Miner Res 15:1596–1602. doi:10.1359/jbmr.2000.15.8.1596

42.

Srinivasan S, Weimer DA, Agans SC, Bain SD, Gross TS (2002) Low-magnitude mechanical loading becomes osteogenic when rest is inserted between each load cycle. J Bone Miner Res 17:1613–1620. doi:10.1359/jbmr.2002.17.9.1613

43.

Donahue SW, Donahue HJ, Jacobs CR (2003) Osteoblastic cells have refractory periods for fluid-flow-induced intracellular calcium oscillations for short bouts of flow and display multiple low-magnitude oscillations during long-term flow. J Biomech 36:35–43. doi:10.1016/S0021-9290(02)00318-4

44.

Donahue SW, Jacobs CR, Donahue HJ (2001) Flow-induced calcium oscillations in rat osteoblasts are age, loading frequency, and shear stress dependent. Am J Physiol Cell Physiol 281:C1635–C1641

45.

Lanyon LE (1987) Functional strain in bone tissue as an objective and controlling stimulus for adaptive bone remodelling. J Biomech 20:1083–1093. doi:10.1016/0021-9290(87)90026-1

46.

Srinivasan S, Weimer DA, Liu CC, Bain S, Gross TS (2004) The osteogenic potential of rest-inserted loading In: LaMothe JM, Zernicke RF Rest insertion combined with high-frequency loading enhances osteogenesis. J Appl Physiol 96:1788–1793. doi:10.1152/japplphysiol.01145.2003
Acknowledgements
The guidance of Professor Nachiappan Chockalingam in the conduct of this study is graciously appreciated.
Conflicts of interest
None.
Appendix 1. Search strategy
Appendix 1. Search strategy
Databases searched: MEDLINE/PubMed, EMBASE, Web of Science, SportDiscus, Cochrane controlled trials register, ProQuest and CINAHL.
1.

exercis*.ti,ab

2.

exp EXERCISE/

3.

(high AND impact AND exercise).af

4.

(brief AND exercise).ti,ab

5.

1 OR 2 OR 3 OR 4

6.

(bone AND m*).ti,ab

7.

BONE DENSITY/

8.

6 OR 7

9.

5 AND 8

10.

9 [Limit to: (Gender Female)]

11.

9 [Limit to: (Gender Female) and (Age Groups Adults)]
Search format was repeated for all the databases.
About this article
Cite this article
Babatunde, O.O., Forsyth, J.J. & Gidlow, C.J. A meta-analysis of brief high-impact exercises for enhancing bone health in premenopausal women. Osteoporos Int 23, 109–119 (2012). https://doi.org/10.1007/s00198-011-1801-0
Received:

Accepted:

Published:

Issue Date:
Keywords
BMD

High-impact exercise

Lifestyle physical activity

Meta-analysis