Abstract
Summary
The association between lactation and bone size and strength was studied in 145 women 16 to 20 years after their last parturition. Longer cumulative duration of lactation was associated with larger bone size and strength later in life.
Introduction
Pregnancy and lactation have no permanent negative effect on maternal bone mineral density but may positively affect bone structure in the long term. We hypothesized that long lactation promotes periosteal bone apposition and hence increasing maternal bone strength.
Methods
Body composition, bone area, bone mineral content, and areal bone mineral density of whole body and left proximal femur were assessed using DXA, and cross-sectional area and volumetric bone mineral density of the left tibia shaft were measured by pQCT in 145 women (mean age 48 years, range 36–60 years) 16 to 20 years after their last parturition. Hip (HSI) and tibia strength indexes (TBSI) were calculated. Medical history and lifestyle factors including breastfeeding patterns and durations were collected via a self-administered questionnaire. Weight change during each pregnancy was collected from personal maternity tracking records.
Results
Sixteen to 20 years after the last parturition, women who had breastfed in total more than 33 months in their life, regardless of the number of children, had greater bone strength estimates of the hip (HSI = 1.92 vs. 1.61) and the tibia (TBSI = 5,507 vs. 4,705) owing to their greater bone size than mothers who had breastfed less than 12 months (p < 0.05 for all). The differences in bone strength estimates were independent of body height and weight, menopause status, use of hormone replacement therapy, and present leisure time physical activity level.
Conclusion
Breastfeeding is beneficial to maternal bone strength in the long run.
This is a preview of subscription content, log in to check access.
Access options
Buy single article
Instant access to the full article PDF.
US$ 39.95
Price includes VAT for USA
Subscribe to journal
Immediate online access to all issues from 2019. Subscription will auto renew annually.
US$ 199
This is the net price. Taxes to be calculated in checkout.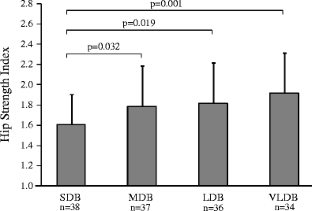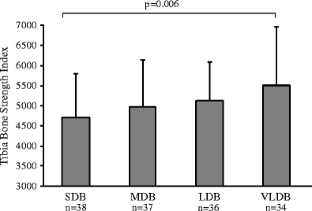 References
1.

Kalkwarf HJ, Specker BL (2002) Bone mineral changes during pregnancy and lactation. Endocrine 17:49–53

2.

Kalkwarf HJ (1999) Hormonal and dietary regulation of changes in bone density during lactation and after weaning in women. J Mammary Gland Biol Neoplasia 4:319–329

3.

Karlsson C, Obrant KJ, Karlsson M (2001) Pregnancy and lactation confer reversible bone loss in humans. Osteoporos Int 12:828–834

4.

Melton LJ 3rd, Bryant SC, Wahner HW, O'Fallon WM, Malkasian GD, Judd HL, Riggs BL (1993) Influence of breastfeeding and other reproductive factors on bone mass later in life. Osteoporos Int 3:76–83

5.

Feldblum PJ, Zhang J, Rich LE, Fortney JA, Talmage RV (1992) Lactation history and bone mineral density among perimenopausal women. Epidemiology 3:527–531

6.

Aloia JF, Vaswani AN, Yeh JK, Ross P, Ellis K, Cohn SH (1983) Determinants of bone mass in postmenopausal women. Arch Intern Med 143:1700–1704

7.

Hansen MA, Overgaard K, Riis BJ, Christiansen C (1991) Potential risk factors for development of postmenopausal osteoporosis—examined over a 12-year period. Osteoporos Int 1:95–102

8.

Lissner L, Bengtsson C, Hansson T (1991) Bone mineral content in relation to lactation history in pre- and postmenopausal women. Calcif Tissue Int 48:319–325

9.

Wardlaw GM, Pike AM (1986) The effect of lactation on peak adult shaft and ultra-distal forearm bone mass in women. Am J Clin Nutr 44:283–286

10.

Henderson PH 3rd, Sowers M, Kutzko KE, Jannausch ML (2000) Bone mineral density in grand multiparous women with extended lactation. Am J Obstet Gynecol 182:1371–1377

11.

Koetting CA, Wardlaw GM (1988) Wrist, spine, and hip bone density in women with variable histories of lactation. Am J Clin Nutr 48:1479–1481

12.

Walker AR, Richardson B, Walker F (1972) The influence of numerous pregnancies and lactations on bone dimensions in South African Bantu and Caucasian mothers. Clin Sci 42:189–196

13.

Kritz-Silverstein D, Barrett-Connor E, Hollenbach KA (1992) Pregnancy and lactation as determinants of bone mineral density in postmenopausal women. Am J Epidemiol 136:1052–1059

14.

Karlsson MK, Ahlborg HG, Karlsson C (2005) Female reproductive history and the skeleton—a review. BJOG 112:851–856

15.

Karlsson MK, Ahlborg HG, Karlsson C (2005) Maternity and bone mineral density. Acta Orthop 76:2–13

16.

Michaelsson K, Baron JA, Farahmand BY, Ljunghall S (2001) Influence of parity and lactation on hip fracture risk. Am J Epidemiol 153:1166–1172

17.

Hillier TA, Rizzo JH, Pedula KL, Stone KL, Cauley JA, Bauer DC, Cummings SR (2003) Nulliparity and fracture risk in older women: the study of osteoporotic fractures. J Bone Miner Res 18:893–899

18.

Cumming RG, Klineberg RJ (1993) Breastfeeding and other reproductive factors and the risk of hip fractures in elderly women. Int J Epidemiol 22:684–691

19.

Cheng S, Lyytikainen A, Kroger H, Lamberg-Allardt C, Alen M, Koistinen A, Wang QJ, Suuriniemi M, Suominen H, Mahonen A, Nicholson PH, Ivaska KK, Korpela R, Ohlsson C, Vaananen KH, Tylavsky F (2005) Effects of calcium, dairy product, and vitamin D supplementation on bone mass accrual and body composition in 10–12-y-old girls: a 2-y randomized trial. Am J Clin Nutr 82:1115–1126, quiz 1147–1118

20.

Cheng S, Volgyi E, Tylavsky FA, Lyytikainen A, Tormakangas T, Xu L, Cheng SM, Kroger H, Alen M, Kujala UM (2009) Trait-specific tracking and determinants of body composition: a 7-year follow-up study of pubertal growth in girls. BMC Med 7:5

21.

Xu L, Nicholson P, Wang QJ, Wang Q, Alen M, Cheng S (2010) Fat mass accumulation compromises bone adaptation to load in finnish women—a cross-sectional study spanning three generations. J Bone Miner Res 25(11):2341–2349

22.

Lyytikainen A, Lamberg-Allardt C, Kannas L, Cheng S (2005) Food consumption and nutrient intakes with a special focus on milk product consumption in early pubertal girls in Central Finland. Public Health Nutr 8:284–289

23.

Beck TJ, Ruff CB, Warden KE, Scott WW Jr, Rao GU (1990) Predicting femoral neck strength from bone mineral data. A structural approach. Invest Radiol 25:6–18

24.

Beck TJ, Stone KL, Oreskovic TL, Hochberg MC, Nevitt MC, Genant HK, Cummings SR (2001) Effects of current and discontinued estrogen replacement therapy on hip structural geometry: the study of osteoporotic fractures. J Bone Miner Res 16:2103–2110

25.

Faulkner KG, Wacker WK, Barden HS, Simonelli C, Burke PK, Ragi S, Del Rio L (2006) Femur strength index predicts hip fracture independent of bone density and hip axis length. Osteoporos Int 17:593–599

26.

Volgyi E, Tylavsky FA, Xu L, Lu J, Wang Q, Alen M, Cheng S (2010) Bone and body segment lengthening and widening: a 7-year follow-up study in pubertal girls. Bone 47:773–782

27.

Kontulainen SA, Johnston JD, Liu D, Leung C, Oxland TR, McKay HA (2008) Strength indices from pQCT imaging predict up to 85% of variance in bone failure properties at tibial epiphysis and diaphysis. J Musculoskelet Neuronal Interact 8:401–409

28.

Siu WS, Qin L, Leung KS (2003) pQCT bone strength index may serve as a better predictor than bone mineral density for long bone breaking strength. J Bone Miner Metab 21:316–322

29.

Black AJ, Topping J, Durham B, Farquharson RG, Fraser WD (2000) A detailed assessment of alterations in bone turnover, calcium homeostasis, and bone density in normal pregnancy. J Bone Miner Res 15:557–563

30.

Ulrich U, Miller PB, Eyre DR, Chesnut CH 3rd, Schlebusch H, Soules MR (2003) Bone remodeling and bone mineral density during pregnancy. Arch Gynecol Obstet 268:309–316

31.

Leopold SS, Boskey AL, Doty SB, Gertner JM, Peterson MG, Torzilli PA (1995) Diminished material properties and altered bone structure in rat femora during pregnancy. J Orthop Res 13:41–49

32.

Zeni SN, Di Gregorio S, Mautalen C (1999) Bone mass changes during pregnancy and lactation in the rat. Bone 25:681–685

33.

van der Meulen MC, Jepsen KJ, Mikic B (2001) Understanding bone strength: size isn't everything. Bone 29:101–104

34.

Vico L, Vanacker JM (2010) Sex hormones and their receptors in bone homeostasis: insights from genetically modified mouse models. Osteoporos Int 21:365–372

35.

Vanderschueren D, Venken K, Ophoff J, Bouillon R, Boonen S (2006) Clinical review: Sex steroids and the periosteum—reconsidering the roles of androgens and estrogens in periosteal expansion. J Clin Endocrinol Metab 91:378–382

36.

Kim BT, Mosekilde L, Duan Y, Zhang XZ, Tornvig L, Thomsen JS, Seeman E (2003) The structural and hormonal basis of sex differences in peak appendicular bone strength in rats. J Bone Miner Res 18:150–155

37.

Ahlborg HG, Johnell O, Turner CH, Rannevik G, Karlsson MK (2003) Bone loss and bone size after menopause. N Engl J Med 349:327–334

38.

Augustine RA, Ladyman SR, Grattan DR (2008) From feeding one to feeding many: hormone-induced changes in bodyweight homeostasis during pregnancy. J Physiol 586:387–397

39.

Miller SC, Bowman BM (2004) Rapid improvements in cortical bone dynamics and structure after lactation in established breeder rats. Anat Rec A Discov Mol Cell Evol Biol 276:143–149

40.

Specker B, Binkley T (2005) High parity is associated with increased bone size and strength. Osteoporos Int 16:1969–1974

41.

Laskey MA, Price RI, Khoo BC, Prentice A (2011) Proximal femur structural geometry changes during and following lactation. Bone 48:755–759

42.

Li R, Scanlon KS, Serdula MK (2005) The validity and reliability of maternal recall of breastfeeding practice. Nutr Rev 63:103–110

43.

Kark JD, Troya G, Friedlander Y, Slater PE, Stein Y (1984) Validity of maternal reporting of breast feeding history and the association with blood lipids in 17 year olds in Jerusalem. J Epidemiol Community Health 38:218–225
Acknowledgments
This study was financially supported by the Academy of Finland, Ministry of Education of Finland and University of Jyväskylä.
Conflicts of interest
None.
About this article
Cite this article
Wiklund, P.K., Xu, L., Wang, Q. et al. Lactation is associated with greater maternal bone size and bone strength later in life. Osteoporos Int 23, 1939–1945 (2012). https://doi.org/10.1007/s00198-011-1790-z
Received:

Accepted:

Published:

Issue Date:
Keywords
Bone size

Bone strength index

Breastfeeding

Lactation

Women