Abstract
Summary
The association between serum osteocalcin levels and metabolic syndrome (MS) in Korean individuals was investigated. Serum osteocalcin levels are significantly lower in subjects with MS than in those without the disease, regardless of glucose metabolism.
Introduction
Osteocalcin was recently shown to affect energy metabolism. In the present study, we investigated the possible association between serum osteocalcin concentrations and MS.
Methods
A cross-sectional community-based survey was conducted. Serum osteocalcin, type 1 collagen C-telopeptide (CTX) and total alkaline phosphatase (ALP) concentrations were determined in 567 subjects. MS was defined according to NCEP-ATP III criteria.
Results
Serum osteocalcin concentrations were significantly lower in subjects with MS than those without MS in postmenopausal women (18.923 ± 7.685 vs 22.513 ± 7.344 ng/ml, P < 0.001) and marginally lower in subjects with MS than those without MS in men (14.550 ± 5.090 vs 16.125 ± 4.749 ng/ml, P = 0.086) after adjustment for age and BMI. Further controlling with CTX or ALP did not affect this association in postmenopausal women; however, controlling with osteocalcin abolished the association between CTX and MS. Significant differences in serum osteocalcin levels by MS status were noted in subjects with normal glucose tolerance as well as those with abnormal glucose tolerance (P = 0.032 and P < 0.001, respectively). Compared with subjects with the highest quartile of osteocalcin, those in the lower quartile groups (Q1–Q3) had significantly increased risks of MS (ORs = 5.18, CIs = 1.15–23.42) in men. In postmenopausal women, the ORs for MS were significantly higher in the lowest quartile than in the highest quartile (ORs = 5.25, CIs = 2.42–11.36).
Conclusions
These findings suggest that osteocalcin is associated with MS, independently of glucose metabolism.
Access options
Buy single article
Instant access to the full article PDF.
USD 39.95
Price excludes VAT (USA)
Tax calculation will be finalised during checkout.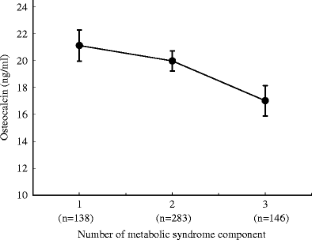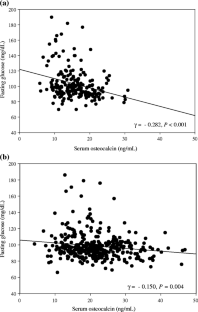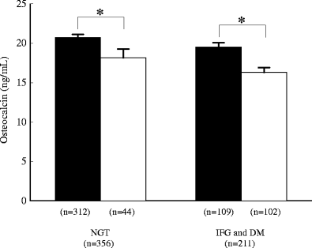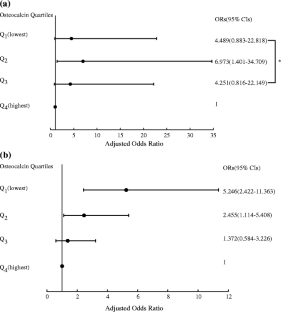 References
Lee NK, Sowa H, Hinoi E et al (2007) Endocrine regulation of energy metabolism by the skeleton. Cell 130:456–469

Ferron M, Hinoi E, Karsenty G, Ducy P (2008) Osteocalcin differentially regulates beta cell and adipocyte gene expression and affects the development of metabolic diseases in wild-type mice. Proc Natl Acad Sci USA 105:5266–5270

Zhou M, Ma X, Li H et al (2009) Serum osteocalcin concentrations in relation to glucose and lipid metabolism in Chinese individuals. Eur J Endocrinol 161:723–729

Pittas AG, Harris SS, Eliades M, Stark P, Dawson-Hughes B (2009) Association between serum osteocalcin and markers of metabolic phenotype. J Clin Endocrinol Metab 94:827–832

Kindblom JM, Ohlsson C, Ljunggren O et al (2009) Plasma osteocalcin is inversely related to fat mass and plasma glucose in elderly Swedish men. J Bone Miner Res 24:785–791

Kanazawa I, Yamaguchi T, Yamamoto M et al (2009) Serum osteocalcin level is associated with glucose metabolism and atherosclerosis parameters in type 2 diabetes mellitus. J Clin Endocrinol Metab 94:45–49

Fernandez-Real JM, Izquierdo M, Ortega F et al (2009) The relationship of serum osteocalcin concentration to insulin secretion, sensitivity, and disposal with hypocaloric diet and resistance training. J Clin Endocrinol Metab 94:237–245

Im JA, Yu BP, Jeon JY, Kim SH (2008) Relationship between osteocalcin and glucose metabolism in postmenopausal women. Clin Chim Acta 396:66–69

Alberti KG, Eckel RH, Grundy SM et al (2009) Harmonizing the metabolic syndrome: a joint interim statement of the International Diabetes Federation Task Force on Epidemiology and Prevention; National Heart, Lung, and Blood Institute; American Heart Association; World Heart Federation; International Atherosclerosis Society; and International Association for the Study of Obesity. Circulation 120:1640–1645

Chen H, Montagnani M, Funahashi T, Shimomura I, Quon MJ (2003) Adiponectin stimulates production of nitric oxide in vascular endothelial cells. J Biol Chem 278:45021–45026

Arita Y, Kihara S, Ouchi N et al (2002) Adipocyte-derived plasma protein adiponectin acts as a platelet-derived growth factor-BB-binding protein and regulates growth factor-induced common postreceptor signal in vascular smooth muscle cell. Circulation 105:2893–2898

Wang JH, Lee CJ, Lee CC, Chen YC, Lee RP, Hsu BG (2010) Fasting adiponectin is inversely correlated with metabolic syndrome in patients with coronary artery disease. Intern Med 49:739–747

Adam FM, Nara MG, Adam JM (2006) Fasting insulin, adiponectin, hs-CRP levels, and the components of metabolic syndrome. Acta Med Indones 38:179–184

American Diabetes Association (2009) Diagnosis and classification of diabetes mellitus. Diabetes Care 32(1):S62–S67

Grundy SM, Cleeman JI, Daniels SR et al (2005) Diagnosis and management of the metabolic syndrome: an American heart association/national heart, lung, and blood institute scientific statement. Circulation 112:2735–2752

IOTF (2000) The Asia-Pacific perspective: redefining obesity and its treatment. WHO West Pacific Region, Sydney

Saleem U, Mosley TH, Kullo IJ (2010) Serum osteocalcin is associated with measures of insulin resistance, adipokine levels, and the presence of metabolic syndrome. Arterioscler Thromb Vasc Biol 30:1474–1478

Yeap B, Chubb SA, Flicker L et al (2010) Reduced serum total osteocalcin is associated with metabolic syndrome in older men via waist circumference, hyperglycemia and triglyceride levels. Eur J Endocrinol 163:265–272

Kim HY, Choe JW, Kim HK et al (2010) Negative association between metabolic syndrome and bone mineral density in Koreans, especially in men. Calcif Tissue Int 86:350–358

von Muhlen D, Safii S, Jassal SK, Svartberg J, Barrett-Connor E (2007) Associations between the metabolic syndrome and bone health in older men and women: the Rancho Bernardo Study. Osteoporos Int 18:1337–1344

Shea MK, Gundberg CM, Meigs JB, Dallal GE, Saltzman E, Yoshida M, Jacques PF, Booth SL (2009) Gamma-carboxylation of osteocalcin and insulin resistance in older men and women. Am J Clin Nutr 90:1230–1235

Hwang YC, Jeong IK, Ahn KJ, Chung HY (2009) The uncarboxylated form of osteocalcin is associated with improved glucose tolerance and enhanced beta-cell function in middle-aged male subjects. Diabetes Metab Res Rev 25:768–772

Kanazawa I, Yamaguchi T, Yamauchi M, Yamamoto M, Kurioka S, Yano S, Sugimoto T (2010) Serum undercarboxylated osteocalcin was inversely associated with plasma glucose level and fat mass in type 2 diabetes mellitus. Osteoporosis Int (In press)

Minisola S, Pacitti MT, Ombricolo E et al (1998) Bone turnover and its relationship with bone mineral density in pre and postmenopausal women with or without fractures. Maturitas 29:265–270

Weaver CM, Peacock M, Martin BR et al (1997) Quantification of biochemical markers of bone turnover by kinetic measures of bone formation and resorption in young healthy females. J Bone Miner Res 12:1714–1720

Takahashi M, Kushida K, Hoshino H, Miura M, Ohishi T, Inoue T (1997) Comparison of bone and total alkaline phosphatase activity on bone turnover during menopause and in patients with established osteoporosis. Clin Endocrinol 47:177–183
Acknowledgements
This work was supported by a grant from the Korea Health 21 Research & Development Project of the Ministry of Health & Welfare, Republic of Korea (Project No.: A010252).
Conflicts of interest
None.
About this article
Cite this article
Bae, S.J., Choe, J.W., Chung, Y. et al. The association between serum osteocalcin levels and metabolic syndrome in Koreans. Osteoporos Int 22, 2837–2846 (2011). https://doi.org/10.1007/s00198-010-1504-y
Received:

Accepted:

Published:

Issue Date:

DOI: https://doi.org/10.1007/s00198-010-1504-y
Keywords