Abstract
Summary
Metacarpal thickness (T), width (W), length (L) and medullary diameter (M) were measured in 3,121 X-rays from 231 healthy Caucasian children aged 3 to 19 years and analysed for bone age, age, height, weight and gender-related characteristics, showing highly differentiated growth patterns with prepubertal dips. Reference data for the four metacarpal measures are presented.
Introduction
The aim of the study was to create and explore a reference database for metacarpal T, W, L and M in children.
Methods
Three thousand one hundred twenty-one left-hand X-rays (1,661 from boys) from 231 healthy Caucasian subjects (119 boys) aged 3 to 19 years were analysed by BoneXpert, a programme for automatic analysis of hand X-rays and bone age (BA; in years).
Results
In boys, growth of T, W and L shows a prepubertal decrease from BA 7 to 13 and then accelerates again. In girls, the same is seen only for T starting from BA 8 to 11, whereas W and L grow at a declining rate. M shows steady growth until BA 10.5 in girls and BA 13.5 in boys and then grows smaller in both. W is greater in boys from BA 6 onwards, while L is greater in girls from BA 9 to 13 and T from BA 11 to 14. BA is reflected best by L until start of puberty and by T and L thereafter.
Conclusion
T, W, L and M show highly differentiated growth patterns. These reference data provide a basis for further research into skeletal development and the management of hormone therapies in children.
Access options
Buy single article
Instant access to the full article PDF.
US$ 39.95
Tax calculation will be finalised during checkout.
Subscribe to journal
Immediate online access to all issues from 2019. Subscription will auto renew annually.
US$ 119
Tax calculation will be finalised during checkout.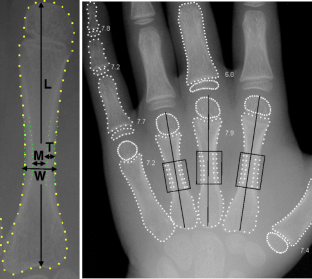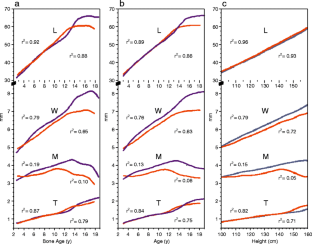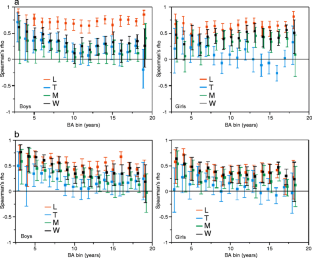 References
1.

Boettcher J, Pfeil A, Rosholm A, Petrovitch A, Seidl BE, Malich A et al (2005) Digital X-ray radiogrammetry combined with semiautomated analysis of joint space widths as a new diagnostic approach in rheumatoid arthritis: a cross-sectional and longitudinal study. Arthritis Rheum 52:3850–3859

2.

Mentzel HJ, Blume J, Boettcher J, Lehmann G, Tuchscherer D, Pfeil A et al (2006) The potential of digital X-ray radiogrammetry (DXR) in the assessment of osteopenia in children with chronic inflammatory bowel disease. Pediatr Radiol 36:415–420

3.

van Rijn RR, Boot A, Wittenberg R, van der Sluis IM, van den Heuvel-Eibrink M, Lequin MH et al (2006) Direct X-ray radiogrammetry versus dual-energy X-ray absorptiometry: assessment of bone density in children treated for acute lymphoblastic leukaemia and growth hormone deficiency. Pediatr Radiol 36:227–232

4.

Thodberg HH, van Rijn RR, Tanaka T, Martin DD, Kreiborg S (2009) A paediatric bone index derived by automated radiogrammetry. Osteoporos Int 21:1391–1400. doi:10.1007/s00198-009-1085-9

5.

Bonnard GD (1968) Cortical thickness and diaphysial diameter of the metacarpal bones from the age of three months to eleven years. Helv Paediatr Acta 23:445–463

6.

Prader A, Largo RH, Molinari L, Issler C (1989) Physical growth of Swiss children from birth to 20 years of age. First Zurich Longitudinal Study of growth and development. Helv Paediatr Acta Suppl 52:1–125

7.

Gasser T, Kneip A, Binding A, Prader A, Molinari L (1991) The dynamics of linear growth in distance, velocity and acceleration. Ann Hum Biol 18:187–205

8.

Garn SM (1970) The earlier gain and the later loss of cortical bone in nutritional perspective. Thomas, Springfield

9.

Martin DD, Deusch D, Schweizer R, Binder G, Thodberg HH, Ranke MB (2009) Clinical application of automated Greulich–Pyle bone age determination in children with short stature. Pediatr Radiol 39:598–607

10.

Thodberg HH, Kreiborg S, Juul A, Pedersen KD (2009) The BoneXpert method for automated determination of skeletal maturity. IEEE Trans Med Imaging 28:52–66

11.

Thodberg HH (2009) An automated method for determination of bone age. J Clin Endocrinol Metab 94:2239–2244

12.

van Rijn RR, Lequin MH, Thodberg HH (2009) Automatic determination of Greulich and Pyle bone age in healthy Dutch children. Pediatr Radiol 39:591–597

13.

Martin DD, Sato K, Sato M, Thodberg HH, Tanaka T (2010) Validation of a new method for automated determination of bone age in Japanese children. Horm Res Paediatr 74:15–22

14.

Martin DD, Neuhof J, Jenni OG, Ranke MB, Thodberg HH (2010) Automatic determination of left- and right-hand bone age in the First Zurich Longitudinal Study. Horm Res Paediatr 74:50–55

15.

Thodberg HH, Jenni OG, Ranke MB, Martin DD (2010) Validation of bone age methods through prediction of final adult height. Horm Res Paediatr 73:398–404

16.

Thodberg HH, Olafsdottir H (2003) Adding curvature to minimum description length shape models. British Machine Vision Conference 5, pp 14–16

17.

Rosholm A, Hyldstrup L, Baeksgaard L, Grunkin M, Thodberg HH (2001) Estimation of bone mineral density by digital X-ray radiogrammetry: theoretical background and clinical testing. Osteoporos Int 12:961–969

18.

Seeman E (2001) Sexual dimorphism in skeletal size, density, and strength. J Clin Endocrinol Metab 86:4576–4584

19.

Frost HM, Schonau E (2000) The"muscle-bone unit" in children and adolescents: a 2000 overview. J Pediatr Endocrinol Metab 13:571–590

20.

Martin DD, Heckmann C, Walter C, Ranke MB, Thodberg HH, Binder G (2010) Differentiation of growth hormone effects on metacarpal bone and bone age in children with growth hormone deficiency. Osteoporos Int (in press)
Acknowledgements
Julia Neuhof is thanked for her excellent work in scanning the ZLS X-ray films, Novo Nordisk for lending the Scanner, and Elisabeth Kaelin, Jon Caflisch and Luciano Molinari for the data and X-ray management of the ZLS.
Conflicts of interest
Hans Henrik Thodberg is the owner of Visiana, which holds and markets the BoneXpert medical device for automated determination of bone age. The other authors have no conflict of interest.
About this article
Cite this article
Martin, D.D., Heckmann, C., Jenni, O.G. et al. Metacarpal thickness, width, length and medullary diameter in children—reference curves from the First Zürich Longitudinal Study. Osteoporos Int 22, 1525–1536 (2011). https://doi.org/10.1007/s00198-010-1389-9
Received:

Accepted:

Published:

Issue Date:
Keywords
Child

Metacarpal dimensions

Radiogrammetry

Reference values

Skeletal growth