Abstract
Summary
To date, no intervention studies have been published demonstrating the effect of the antioxidant lycopene on bone. Postmenopausal women supplemented with lycopene had significantly increased antioxidant capacity and decreased oxidative stress and the bone resorption marker N-telopeptide (NTx). Lycopene decreases bone resorption markers and may reduce the risk of osteoporosis.
Introduction
We have previously shown in vitro and in vivo that lycopene from tomato is associated with a protective effect on bone, but lycopene intervention studies have not been reported. Our aim was to carry out a randomized controlled intervention study to determine whether lycopene would act as an antioxidant to decrease oxidative stress parameters, resulting in decreased bone turnover markers, thus reducing the risk of osteoporosis in postmenopausal women.
Methods
Sixty postmenopausal women, 50–60 years old, were recruited. Following a 1-month washout without lycopene consumption, participants consumed either (N = 15/group): (1) regular tomato juice, (2) lycopene-rich tomato juice, (3) tomato Lyc-O-Mato® lycopene capsules, or (4) placebo capsules, twice daily for total lycopene intakes of 30, 70, 30, and 0 mg/day respectively for 4 months. Serum collected after the washout, 2 and 4 months of supplementation, was assayed for cross-linked aminoterminal N-telopeptide, carotenoid content, total antioxidant capacity (TAC), lipid, and protein oxidation.
Results
Participants who consumed juice or lycopene capsules were analyzed in one group designated "LYCOPENE-supplemented". Repeated measures ANOVA showed that LYCOPENE-supplementation for 4 months significantly increased serum lycopene compared to placebo (p < 0.001). LYCOPENE-supplementation for 4 months resulted in significantly increased TAC (p < 0.05) and decreased lipid peroxidation (p < 0.001), protein oxidation (p < 0.001), and NTx (p < 0.001). These decreases in lipid peroxidation, protein oxidation, and NTx were significantly different from the corresponding changes resulting from placebo supplementation (p < 0.05, p < 0.005, and p < 0.02, respectively).
Conclusions
Our findings suggest that the antioxidant lycopene is beneficial in reducing oxidative stress parameters and the bone resorption marker NTx.
This is a preview of subscription content, log in to check access.
Access options
Buy single article
Instant access to the full article PDF.
US$ 39.95
Tax calculation will be finalised during checkout.
Subscribe to journal
Immediate online access to all issues from 2019. Subscription will auto renew annually.
US$ 119
Tax calculation will be finalised during checkout.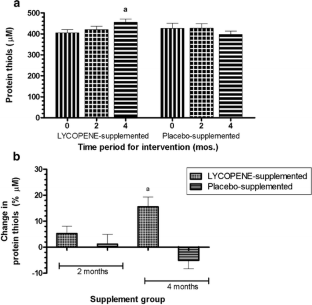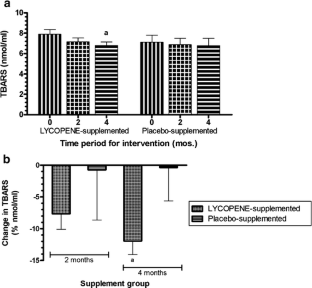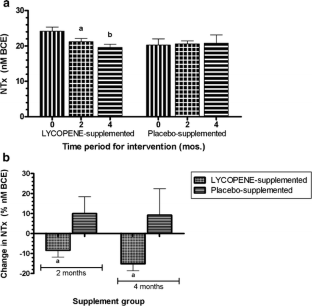 References
1.

NIH consensus development panel on osteoporosis prevention d. and therapy (2001) osteoporosis prevention, diagnosis, and therapy. JAMA 285:785–795.

2.

Brown JP, Josse RG (2002) 2002 clinical practice guidelines for the diagnosis and management of osteoporosis in Canada. CMAJ 167:S1–S34.

3.

Genuis SJ, Schwalfenberg GK (2007) Picking a bone with contemporary osteoporosis management: nutrient strategies to enhance skeletal integrity. Clin Nutr 26:193–207.

4.

New SA, Robins SP, Campbell MK, Martin JC, Garton MJ, Bolton-Smith C, Grubb DA, Lee SJ, Reid DM (2000) Dietary influences on bone mass and bone metabolism, further evidence of a positive link between fruit and vegetable consumption and bone health? Am J Clin Nutr 71:142–151.

5.

Wolf RL, Cauley JA, Pettinger M, Jackson R, Lacroix A, Leboff MS, Lewis CE, Nevitt MC, Simon JA, Wactawski-Wende J (2005) Lack of relation between vitamin and mineral antioxidants and bone mineral density: results from the women's health initiative. Am J Clin Nutr 82:581–588.

6.

Basu S, Michaelsson K, Olofsson H, Johansson S, Melhus H (2001) Association between oxidative stress and bone mineral density. Biochem Biophys Res Commun 288:275–279.

7.

Garrett IR, Boyce BF, Oreffo RO, Bonewald L, Poser J, Mundy GR (1990) Oxygen-derived free radicals stimulate osteoclastic bone resorption in rodent bone in vitro and in vivo. J Clin Invest 85:632–639.

8.

Lean JM, Jagger CJ, Kirstein B, Fuller K, Chambers TJ (2005) Hydrogen peroxide is essential for estrogen-deficiency bone loss and osteoclast formation. Endocrinology 146:728–735.

9.

Mody N, Parhami F, Sarafian TA, Demer LL (2001) Oxidative stress modulates osteoblastic differentiation of vascular and bone cells. Free Radic Biol Med 31:509–519.

10.

Park BG, Yoo CI, Kim HT, Kwon CH, Kim YK (2005) Role of mitogen-activated protein kinases in hydrogen peroxide-induced cell death in osteoblastic cells. Toxicology 215:115–125.

11.

Prasad G, Dhillon MS, Khullar M, Nagi ON (2003) Evaluation of oxidative stress after fractures: a preliminary study. Acta Orthop Belg 69:546–551.

12.

Maggio D, Barabani M, Pierandrei M, Polidori CM, Catani M, Mecocci P, Senin U, Pacifici R, Cherubini A (2003) Marked decrease in plasma antioxidants in aged osteoporotic women: results of a cross-sectional study. J Clin Endocrinol Metab 88:1523–1527.

13.

Di Mascio P, Kaiser S, Sies H (1989) Lycopene as the most efficient biological carotenoid singlet oxygen quencher. Arch Biochem Biophys 274:532–538.

14.

Rao AV, Rao LG (2007) Carotenoids and human health. Pharmacol Res 55:207–216.

15.

Rao LG, Mackinnon ES, Josse RG, Murray TM, Strauss A, Rao AV (2007) Lycopene consumption decreases oxidative stress and bone resorption markers in postmenopausal women. Osteoporos Int 18:109–115.

16.

Sahni S, Hannan MT, Blumberg J, Cupples LA, Kiel DP, Tucker KL (2009) inverse association of carotenoid intakes with 4-y change in bone mineral density in elderly men and women: the Framingham osteoporosis study. Am J Clin Nutr 89:416–424.

17.

Sahni S, Hannan MT, Blumberg J, Cupples LA, Kiel DP, Tucker KL (2009) Protective effect of total carotenoid and lycopene intake on the risk of hip fracture: a 17-year follow-up from the Framingham osteoporosis study. J Bone Miner Res 24(6):1086–1094.

18.

Yang Z, Zhang Z, Penniston KL, Binkley N, Tanumihardjo SA (2008) Serum carotenoid concentrations in postmenopausal women from the United States with and without osteoporosis. Int J Vitam Nutr Res 78:105–111.

19.

Kim L, Rao AV, Rao LG (2003) Lycopene II—effect on osteoblasts: the carotenoid lycopene stimulates cell proliferation and alkaline phosphatase activity of SaOS-2 cells. J Med Food 6:79–86.

20.

Park CK, Ishimi Y, Ohmura M, Yamaguchi M, Ikegami S (1997) Vitamin A and carotenoids stimulate differentiation of mouse osteoblastic cells. J Nutr Sci and Vitaminol 43:281–296.

21.

Rao LG, Krishnadev N, Banasikowska K, Rao AV (2003) Lycopene I—effect of osteoclasts: lycopene inhibits basal and parathyroid hormone-stimulated osteoclast formation and mineral resorption mediated by reactive oxygen species in rat bone marrow cultures. J Med Food 6:69–78.

22.

Rao AV, Waseem Z, Agarwal S (1998) Lycopene content of tomatoes and tomato products and their contribution to dietary lycopene. Food Research International 31:737–741.

23.

Stahl W, Schwarz W, Sundquist AR, Sies H (1992) cis-trans isomers of lycopene and beta-carotene in human serum and tissues. Arch Biochem Biophys 294:173–177.

24.

Re R, Pellegrini N, Proteggente A, Pannala A, Yang M, Rice-Evans C (1999) Antioxidant activity applying an improved ABTS radical cation decolorization assay. Free Radic Biol Med 26:1231–1237.

25.

Hu ML (1994) Measurement of protein thiol groups and glutathione in plasma. Methods Enzymol 233:380–385.

26.

Draper HH, Squires EJ, Mahmoodi H, Wu J, Agarwal S, Hadley MA (1993) Comparative evaluation of thiobarbituric acid methods for the determination of malondialdehyde in biological materials. Free Radic Biol Med 15:353–363.

27.

Aebi HE (1983) Catalase. Verlag Chemie, Weinheim.

28.

Misra HP, Fridovich I (1972) The role of superoxide anion in the auto-oxidation of epinephrine and a simple assay for superoxide dismutase. J. Biol. Chem. 247:3170–3175.

29.

Pleban PA, Munyani A, Beachum J (1982) Determination of selenium concentration and glutathione peroxidase activity in plasma and erythrocytes. Clin Chem 28:311–316.

30.

Cohn W, Thurmann P, Tenter U, Aebischer C, Schierle J, Schalch W (2004) Comparative multiple dose plasma kinetics of lycopene administered in tomato juice, tomato soup or lycopene tablets. Eur J Nutr 43:304–312.

31.

Boileau TW, Boileau AC, Erdman JW, Jr (2002) Bioavailability of all-trans and cis-isomers of lycopene. Exp Biol Med (Maywood) 227:914–919.

32.

Devaraj S, Mathur S, Basu A, Aung HH, Vasu VT, Meyers S, Jialal I (2008) A dose-response study on the effects of purified lycopene supplementation on biomarkers of oxidative stress. J Am Coll Nutr 27:267–273.

33.

Diwadkar-Navsariwala V, Novotny JA, Gustin DM, Sosman JA, Rodvold KA, Crowell JA, Stacewicz-Sapuntzakis M, Bowen PE (2003) A physiological pharmacokinetic model describing the disposition of lycopene in healthy men. J Lipid Res 44:1927–1939.

34.

Paetau I, Khachik F, Brown ED, Beecher GR, Kramer TR, Chittams J, Clevidence BA (1998) Chronic ingestion of lycopene-rich tomato juice or lycopene supplements significantly increases plasma concentrations of lycopene and related tomato carotenoids in humans. Am J Clin Nutr 68:1187–1195.

35.

Khachik F, Carvalho L, Bernstein PS, Muir GJ, Zhao DY, Katz NB (2002) Chemistry, distribution, and metabolism of tomato carotenoids and their impact on human health. Exp Biol Med Maywood 227:845–851.

36.

Bose KS, Agrawal BK (2007) Effect of lycopene from tomatoes (cooked) on plasma antioxidant enzymes, lipid peroxidation rate and lipid profile in grade-I hypertension. Ann Nutr Metab 51:477–481.

37.

Zhang J, Munger RG, West NA, Cutler DR, Wengreen HJ, Corcoran C.D (2006) Antioxidant intake and risk of osteoporotic hip fracture in utah: an effect modified by smoking status. Am J Epidemiol 163:9–17.

38.

Sugiura M, Nakamura M, Ogawa K, Ikoma Y, Ando F, Yano M (2008) Bone mineral density in post-menopausal female subjects is associated with serum antioxidant carotenoids. Osteoporos Int 19:211–219.

39.

Feskanich D, Singh V, Willett WC, Colditz GA (2002) Vitamin A intake and hip fractures among postmenopausal women. JAMA 287:47–54.

40.

Zhao X, Aldini G, Johnson EJ, Rasmussen H, Kraemer K, Woolf H, Musaeus N, Krinsky NI, Russell RM, Yeum K-J (2006) Modification of lymphocyte DNA damage by carotenoid supplementation in postmenopausal women. Am J Clin Nutr 83:163–169.

41.

Heinrich U, Gartner C, Wiebusch M, Eichler O, Sies H, Tronnier H, Stahl W (2003) Supplementation with beta-carotene or a similar amount of mixed carotenoids protects humans from UV-induced erythema. J Nutr 133:98–101.

42.

Collins AR, Olmedilla B, Southon S, Granado F, Duthie SJ (1998) Serum carotenoids and oxidative DNA damage in human lymphocytes. Carcinogenesis 19:2159–2162.

43.

U.S. Department of Agriculture ARS (2009) USDA National Nutrient Database for Standard Reference, Release 21. Nutrient Lists. Carotenoid (µg) Content of Selected Foods per Common Measure, sorted by nutrient content. In United States Department of Agriculture.

44.

Canene-Adams K, Campbell JK, Zaripheh S, Jeffery EH, Erdman JW, Jr (2005) The tomato as a functional food. J Nutr 135:1226–1230.

45.

Tyssandier V, Feillet-Coudray C, Caris-Veyrat C, Guilland J-C, Coudray C, Bureau S, Reich M, Amiot-Carlin M-J, Bouteloup-Demange C, Boirie Y, Borel P (2004) effect of tomato product consumption on the plasma status of antioxidant microconstituents and on the plasma total antioxidant capacity in healthy subjects. J Am Coll Nutr 23:148–156.

46.

Rao AV (2004) Processed tomato products as a source of dietary lycopene: bioavailability and antioxidant properties. Can J Diet Pract Res 65:161–165.

47.

Matos HR, Mascio PD, Medeiros MH (2000) Protective effect of lycopene on lipid peroxidation and oxidative DNA damage in cell culture. Arch Biochem Biophys 383:56–59.

48.

Bhuvaneswari V, Velmurugan B, Abraham SK, Nagini S (2004) Tomato and garlic by gavage modulate 7, 12-dimethylbenz[a]anthracene-induced genotoxicity and oxidative stress in mice. Braz J Med Biol Res 37:1029–1034.

49.

O'Neill ME, Carroll Y, Corridan B, Olmedilla F, Granado F, Blanco I, Van de Berg H, Hininger IA, Rousell AM, Chopra M, Southon S, Thurnham DI (2001) A European carotenoid database to assess carotenoid intakes and its use in a five-country comparative study. Br J Nutr 85:499–507.

50.

Sellmeyer DE, Schloetter M, Sebastian A (2002) Potassium citrate prevents increased urine calcium excretion and bone resorption induced by a high sodium chloride diet. J Clin Endocrinol Metab 87:2008–2012.

51.

Camacho PM, Lopez NA (2008) Use of biochemical markers of bone turnover in the management of postmenopausal osteoporosis. Clin Chem Lab Med 46:1345–1357.

52.

Seeman E, Delmas PD (2006) Bone quality—the material and structural basis of bone strength and fragility. N Engl J Med 354:2250–2261.

53.

Meunier PJ, Jenvrin C, Munoz F, de la Gueronniere V, Garnero P, Menz M (2005) Consumption of a high calcium mineral water lowers biochemical indices of bone remodeling in postmenopausal women with low calcium intake. Osteoporos Int 16:1203–1209.

54.

Palacios S, Castelo-Branco C, Cifuentes I, von Helde S, Baro L, Tapia-Ruano C, Menendez C, Rueda C (2005) Changes in bone turnover markers after calcium-enriched milk supplementation in healthy postmenopausal women: a randomized, double-blind, prospective clinical trial. Menopause 12:63–68.

55.

Eastell R, Hannon RA (2008) Biomarkers of bone health and osteoporosis risk. Proc Nutr Soc 67:157–162.

56.

Greenspan SL, Parker RA, Ferguson L, Rsen HN, Maitland-Ramsey L, Karpf DB (1998) Early changes in biochemical markers of bone turnover predict the long-term response to alendronate therapy in representative elderly women: a randomized clinical trial. J Bone Miner Res 13:1431–1438.

57.

Stepan JJ, Vokrouhlicka J (1999) Comparison of biochemical markers of bone remodelling in the assessment of the effects of alendronate on bone in postmenopausal osteoporosis. Clin Chim Acta 288:121–135.

58.

Greenspan SL, Rosen HN, Parker RA (2000) Early changes in serum N-telopeptide and C-telopeptide cross-linked collagen type 1 predict long-term response to alendronate therapy in elderly women. J Clin Endocrinol Metab 85:3537–3540.

59.

Maggio D, Polidori MC, Barabani M, Tufi A, Ruggiero C, Cecchetti R, Aisa MC, Stahl W, Cherubini A (2006) Low levels of carotenoids and retinol in involutional osteoporosis. Bone 38:244–248.
Acknowledgments
Funding is shared by the Canadian Institutes of Health Research (CIHR) and the Research and Development Departments of Genuine Health Inc., the H.J. Heinz Co, Millenium Biologix Inc. (Canada), Kagome Co. (Japan), and LycoRed, Ltd. Israel. We especially thank Dr. Z. Liu for processing the extracted carotenoid samples and determining the carotenoid content using the HPLC software. We gratefully acknowledge: Amy Strauss, Dr. C Derzko, and Karl BruckMueller, for allowing us access to their list of patients who had signed consent forms indicating interest in studies related to bone health. A special thank you to the following students for their assistance with participant recruitment: A. Dias, T. Huang, M. Maksimowski, M. Simms, and K. Zarudny, and S. Ho for assistance with the dietary analysis.
Conflicts of interest
None.
About this article
Cite this article
Mackinnon, E.S., Rao, A.V., Josse, R.G. et al. Supplementation with the antioxidant lycopene significantly decreases oxidative stress parameters and the bone resorption marker N-telopeptide of type I collagen in postmenopausal women. Osteoporos Int 22, 1091–1101 (2011). https://doi.org/10.1007/s00198-010-1308-0
Received:

Accepted:

Published:

Issue Date:
Keywords
Antioxidant

Bone resorption

Lycopene

Osteoporosis

Oxidative stress