Abstract
Summary
This study evaluates the efficacy of low doses of pamidronate after renal transplantation to prevent bone loss in osteopenic patients. Results show that pamidronate is safe and significantly reduced spinal bone loss when administered immediately after renal transplantation.
Introduction
The purpose of this work is to evaluate the efficacy of two intravenous infusions of pamidronate in the immediate post-transplant period in a renal transplant (RT) population.
Methods
In this 12-month, randomized, double-blind, multicenter trial, 39 kidney recipients with diagnosed osteopenia received two doses of 30 mg of disodium pamidronate (n = 24) or placebo (n = 15), at surgery and 3 months post-RT. All patients received calcium and vitamin D. Bone density of the lumbar spine and total femur was measured by dual-energy X-ray absorptiometry (DXA) and X-rays were performed at RT, 6 and 12 months post-RT. Biochemical and hormonal determinations were performed before and after treatment.
Results
Pamidronate significantly reduced spinal bone loss, but no significant benefit was found for the incidence of fractures. Elevated baseline intact parathyroid hormone (iPTH) and bone remodeling markers returned to normal levels 3 months post-RT. However, normal procollagen type I N propeptide (PINP) concentrations were only maintained in the pamidronate group. After RT, a comparable graft function was observed in both groups according to creatinine values, 25-hydroxyvitamin-D (25-OH-D) levels were improved, and serum calcium levels normalized after a transient fall during the first 3 months.
Conclusion
A low dose of pamidronate prevents bone loss in osteopenic patients when administered immediately after RT.
Access options
Buy single article
Instant access to the full article PDF.
USD 39.95
Price excludes VAT (USA)
Tax calculation will be finalised during checkout.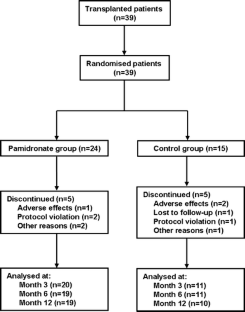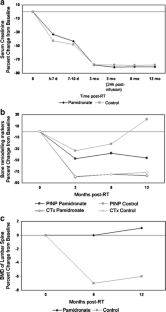 References
Lukert BP, Raisz LG (1990) Corticosteroid-induced osteoporosis: pathogenesis and management. Ann Intern Med 112:352–364

Fan SL, Almond MK, Ball E, Evans K, Cunningham J (2000) Pamidronate therapy as prevention of bone loss following renal transplantation. Kidney Int 57:684–690

Coco M, Glicklich D, Faugere MC et al (2003) Prevention of bone loss in renal transplant recipients: a prospective, randomized trial of intravenous pamidronate. J Am Soc Nephrol 14:2669–2676

Rodan GA, Fleisch HA (1996) Bisphosphonates: mechanisms of action. J Clin Invest 97:2692–2696

Shane E, Addesso V, Namerow PB et al (2004) Alendronate versus calcitriol for the prevention of bone loss after cardiac transplantation. N Engl J Med 350:767–776

Bianda T, Linka A, Junga G et al (2000) Prevention of osteoporosis in heart transplant recipients: a comparison of calcitriol with calcitonin and pamidronate. Calcif Tissue Int 67:116–121

K/DOQI (2002) Clinical practice guidelines for chronic kidney disease evaluation, classification, and stratification. Am J Kidney Dis 39:S1–S266

European best practice guidelines for renal transplantation (2002) Section IV: long-term management of the transplant recipient. Nephrol Dial Transplant 17(Suppl 4):20–21

Walsh SB, Altmann P, Pattison J et al (2009) Effect of pamidronate on bone loss after kidney transplantation: a randomized trial. Am J Kidney Dis 53:856–865

Aris RM, Lester GE, Renner JB et al (2000) Efficacy of pamidronate for osteoporosis in patients with cystic fibrosis following lung transplantation. Am J Respir Crit Care Med 162:941–946

Ninkovik M, Skingle SJ, Bearcroft PW, Bishop N, Alexander GJ, Compston JE (2000) Incidence of vertebral fractures in the first three months after orthopic liver transplantation. Eur J Gastroenterol Hepatol 12:931–935

Grotz W, Nagel C, Poeschel D et al (2001) Effect of ibandronate on bone loss and renal function after kidney transplantation. J Am Soc Nephrol 12:1530–1537

Haas M, Leko-Mohr Z, Roschger P et al (2003) Zoledronic acid to prevent bone loss in the first 6 months after renal transplantation. Kidney Int 63:1130–1136

Schwartz C, Mitterbauer C, Heinze G, Woloszczuk W, Haas M, Oberbauer R (2004) Nonsustained effect of short-term bisphosphonate therapy on bone turnover three years after renal transplantation. Kidney Int 65:304–309

Shane E, Rodino MA, McMahon DJ et al (1998) Prevention of bone loss after heart transplantation with antiresorptive therapy: a pilot study. J Heart Lung Transplant 17:1089–1096

Reeves HL, Francis RM, Manas DM, Hudson M, Day CP (1998) Intravenous bisphosphonate prevents symptomatic osteoporosis vertebral collapse in patients after liver transplantation. Liver Transplant Surg 4:404–409

Palmer SC, McGregor DO, Strippoli GF (2007) Interventions for preventing bone disease in kidney transplant recipients. Cochrane Database Syst Rev 3:CD005015
Acknowledgments
The authors acknowledge the financial support of Novartis Transplantation and Immunology (Spain). We are also grateful to Infociencia Clinical Research S.L. for their assessment in the statistical analysis.
Conflicts of interest
None.
Additional information
This study was registered in the Cochrane Renal Group ID number CRG100800151.
About this article
Cite this article
Torregrosa, JV., Fuster, D., Monegal, A. et al. Efficacy of low doses of pamidronate in osteopenic patients administered in the early post-renal transplant. Osteoporos Int 22, 281–287 (2011). https://doi.org/10.1007/s00198-010-1197-2
Received:

Accepted:

Published:

Issue Date:

DOI: https://doi.org/10.1007/s00198-010-1197-2
Keywords