Abstract
Summary
Low calcium intake hampers bone mineral acquisition in adolescent girls. This study explores dietary calcium sources and nutrients possibly associated with vertebral mass. Milk intake is not influenced by genetic variants of the lactase gene and is positively associated with serum IGF-1 and with lumbar vertebrae mineral content and density.
Introduction
Low calcium intake hampers bone mineral acquisition during adolescence. We identified calcium sources and nutrients possibly associated with lumbar bone mineralization and calcium metabolism in adolescent girls and evaluated the possible influence of a genetic polymorphic trait associated with adult-type hypolactasia.
Methods
Lumbar bone mineral content (BMC), bone mineral density (BMD), and area, circulating IGF-1, markers of bone metabolism, and −13910 LCT (lactase gene) polymorphism; and intakes of milk, dairy products, calcium, phosphorus, magnesium, proteins, and energy were evaluated in 192 healthy adolescent girls.
Results
After menarche, BMC, BMD, serum IGF-1, and serum PTH were tightly associated with milk consumption, but not with other calcium sources. All four parameters were also associated with phosphorus, magnesium, protein, and energy from milk, but not from other sources. Girls with milk intakes below 55 mL/day have significantly lower BMD, BMC, and IGF-1 and higher PTH compared to girls consuming over 260 mL/day. Neither BMC, BMD, calcium intakes, nor milk consumption were associated with −13910 LCT polymorphism.
Conclusions
Milk consumption, preferably to other calcium sources, is associated with lumbar BMC and BMD in postmenarcheal girls. Aside from being a major source of calcium, milk provides phosphates, magnesium, proteins, and as yet unidentified nutrients likely to favor bone health.
This is a preview of subscription content, log in to check access.
Access options
Buy single article
Instant access to the full article PDF.
US$ 39.95
Price includes VAT for USA
Subscribe to journal
Immediate online access to all issues from 2019. Subscription will auto renew annually.
US$ 199
This is the net price. Taxes to be calculated in checkout.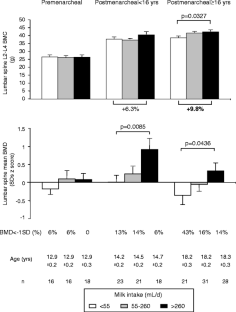 References
1.

Sabatier JP, Guaydier-Souquières G, Laroche D et al (1996) Bone mineral acquisition during adolescence and early adulthood: a study in 574 healthy females 10–24 years of age. Osteoporos Int 6:141–148

2.

Weinsier RL, Krumdieck CL (2000) Dairy foods and bone health: examination of the evidence. Am J Clin Nutr 72:681–689

3.

Lanou AJ, Berkow SE, Barnard ND (2005) Calcium, dairy products, and bone health in children and young adults: a reevaluation of the evidence. Pediatrics 115:736–743

4.

Heaney RP (2000) Calcium, dairy products and osteoporosis. J Am Coll Nutr 19:83S–99S

5.

Fenton TR, Hanley DA (2006) Calcium, dairy products, and bone health in children and young adults: an inaccurate conclusion. Pediatrics 117(1):259–260 (Jan)

6.

Cadogan J, Eastell R, Jones N, Barker ME (1997) Milk intake and bone mineral acquisition in adolescent girls: randomised, controlled intervention trial. BMJ 315:1255–1260

7.

Chan GM, Hoffman K, McMurry M (1995) Effects of dairy products on bone and body composition in pubertal girls. J Pediatr 12:551–556

8.

Baran D, Sorensen A, Grimes J, Lew R, Karellas A, Johnson B, Roche J (1990) Dietary modification with dairy products for preventing vertebral bone loss in premenopausal women: a three-year prospective study. J Clin Endocrinol Metab 70:264–270

9.

Kristinsson JO, Valdimarsson O, Steingrimsdottir L, Sigurdsson G (1994) Relation between calcium intake, grip strength and bone mineral density in the forearms of girls aged 13 and 15. J Intern Med 236:385–390

10.

Fehily AM, Coles RJ, Evans WD, Elwood PC (1992) Factors affecting bone density in young adults. Am J Clin Nutr 56:579–586

11.

Petridou E, Karpathios T, Dessypris N, Simou E, Trichopoulos D (1997) The role of dairy products and non alcoholic beverages in bone fractures among school age children. Scand J Soc Med 25:119–125

12.

Du XQ, Greenfield H, Fraser DR, Ge KY, Liu ZH, He W (2000) Milk consumption and bone mineral content in Chinese adolescent girls. Bone 30:521–528

13.

Merrilees MJ, Smart EJ, Gilchrist NL et al (2000) Effects of diary food supplements on bone mineral density in teenage girls. Eur J Nutr 39:256–262

14.

Matkovic V, Landoll JD, Badenhop-Stevens NE, Ha EY, Crncevic-Orlic Z, Li B, Goel P (2004) Nutrition influences skeletal development from childhood to adulthood: a study of hip, spine, and forearm in adolescent females. J Nutr 13(sup):701–705

15.

Cheng S, Lyytikäinen A, Kröger H et al (2005) Effects of calcium, dairy product, and vitamin D supplementation on bone mass accrual and body composition in 10–12-y-old girls: a 2-y randomized trial. Am J Clin Nutr 82:1115–1126 (quiz 1147–1148)

16.

Napoli N, Thompson J, Civitelli R, Armamento-Villareal RC (2007) Effects of dietary calcium compared with calcium supplements on estrogen metabolism and bone mineral density. Am J Clin Nutr 85:1428–1433

17.

Bersaglieri T, Sabeti PC, Patterson N et al (2004) Genetic signatures of strong recent positive selection at the lactase gene. Am J Hum Genet 74:1111–1120

18.

Rasinperä H, Savilahti N, Enattah NS et al (2004) A genetic test which can be used to diagnose adult-type hypolactasia in children. Gut 53:1571–1576

19.

Lehtimaki T, Hemminki J, Rontu R et al (2006) The effects of adult-type hypolactasia on body height growth and dietary calcium intake from childhood into young adulthood: a 21-year follow-up study—the Cardiovascular Risk in Young Finns Study. Pediatrics 118:1553–1559

20.

Carter GD, Carter CR, Gunter E, Jones J, Jones G, Makin HL, Sufi S (2004) Measurement of Vitamin D metabolites: an international perspective on methodology and clinical interpretation. J Steroid Biochem Mol Biol 89–90:467–471

21.

Chevalley T, Bonjour JP, Ferrari S, Hans D, Rizzoli R (2005) Skeletal site selectivity in the effects of calcium supplementation on areal bone mineral density gain: a randomized, double-blind, placebo-controlled trial in prepubertal boys. J Clin Endocrinol Metab 90:3342–3349

22.

Nowson CA, Green RM, Hopper JL et al (1997) A co-twin study of the effect of calcium supplementation on bone density during adolescence. Osteoporos Int 7:219–225

23.

Lloyd T, Martel JK, Rollings N et al (1996) The effect of calcium supplementation and Tanner stage on bone density, content and area in teenage women. Osteoporos Int 6(4):276–283

24.

Stear SJ, Prentice A, Jones SC, Cole TJ (2003) Effect of a calcium and exercise intervention on the bone mineral status of 16–18-y-old adolescent girls. Am J Clin Nutr 77:985–992

25.

Rozen GS, Rennert G, Dodiuk-Gad RP et al (2003) Calcium supplementation provides an extended window of opportunity for bone mass accretion after menarche. Am J Clin Nutr 78:993–998

26.

Hirota T, Nara M, Ohguri M, Manago E, Hirota K (1992) Effect of diet and lifestyle on bone mass in Asian young women. Am J Clin Nutr 55:1168–1173

27.

Finkenstedt G, Skrabal F, Gasser RW, Braunsteiner H (1986) Lactose absorption, milk consumption, and fasting blood glucose concentrations in women with idiopathic osteoporosis. Br Med J (Clin Res Ed) 18:161–162

28.

Guéguen L, Pointillart A (2000) The bioavailability of dietary calcium. J Am Coll Nutr 19(2 Suppl):119S–136S

29.

Heaney RP (2006) Absorbability and utility of calcium in mineral waters. Am J Clin Nutr 84:371–374

30.

Uenishi K, Ishida H, Toba Y, Aoe S, Itabashi A, Takada Y (2007) Milk basic protein increases bone mineral density and improves bone metabolism in healthy young women. Osteoporos Int 18:385–390

31.

Onda K, Sato A, Yamaguchi M, Matsuki N, Ono K, Wada Y (2006) Parathyroid hormone-related protein (PTHrP) and Ca levels in the milk of lactating cows. J Vet Med Sci 68:709–713

32.

Malekinejad H, Scherpenisse P, Bergwerff AA (2006) Naturally occurring estrogens in processed milk and in raw milk (from gestated cows). J Agric Food Chem 54:9785–9791

33.

Kehoe SI, Jayarao BM, Heinrichs AJ (2000) A survey of bovine colostrum composition and colostrum management practices on Pennsylvania dairy farms. J Dairy Sci 90:4108–4116

34.

Cornish J, Palmano K, Callon KE et al (2006) Lactoferrin and bone; structure-activity relationships. Biochem Cell Biol 84:297–302

35.

Rich-Edwards JW, Ganmaa D, Pollak MN et al (2007) Milk consumption and the prepubertal somatotropic axis. Nutr J 6:28

36.

Budek AZ, Hoppe C, Michaelsen KF, Bügel S, Mølgaard C (2007) Associations of total, dairy, and meat protein with markers for bone turnover in healthy, prepubertal boys. J Nutr 137:930–934

37.

Hoppe C, Mølgaard C, Juul A, Michaelsen KF (2004) High intakes of skimmed milk, but not meat, increase serum IGF-I and IGFBP-3 in eight-year-old boys. Eur J Clin Nutr 58:1211–1216

38.

Budek AZ, Hoppe C, Ingstrup H, Michaelsen KF, Bügel S, Mølgaard C (2007) Dietary protein intake and bone mineral content in adolescents-The Copenhagen Cohort Study. Osteoporos Int 18:1661–1667

39.

Norat T Dossus L, Rinaldi S et al (2007) Diet, serum insulin-like growth factor-I and IGF-binding protein-3 in European women. Eur J Clin Nutr 61:91–98

40.

Ma J, Giovannucci E, Pollak M et al (2001) Milk intake, circulating levels of insulin-like growth factor-I, and risk of colorectal cancer in men. J Natl Cancer Inst 93:1330–1336

41.

Patel MB, Arden NK, Masterson LM et al (2005) Investigating the role of the growth hormone-insulin-like growth factor (GH-IGF) axis as a determinant of male bone mineral density (BMD). Bone 37:833–841

42.

Niu T, Rosen CJ (2005) The insulin-like growth factor-I gene and osteoporosis: a critical appraisal. Gene 361:38–56

43.

Khosla S, Melton LJ 3rd, Achenbach SJ, Oberg AL, Riggs BL (2006) Hormonal and biochemical determinants of trabecular microstructure at the ultradistal radius in women and men. J Clin Endocrinol Metab 91:885–891

44.

Renehan AG, Zwahlen M, Minder C, O'Dwyer ST, Shalet SM, Egger M (2004) Insulin-like growth factor (IGF)-I, IGF binding protein-3, and cancer risk: systematic review and meta-regression analysis. Lancet 363:1346–1353

45.

Rogers I, Emmett P, Gunnell D, Dunger D, Holly J, ALSPAC Study Team (2006) Milk as a food for growth? The insulin-like growth factors link. Public Health Nutr 9:359–368
Acknowledgments
Supported in part by a research grant from the Société Française de Nutrition (S.F.N.).
Conflicts of interest
None.
About this article
Cite this article
Esterle, L., Sabatier, J., Guillon-Metz, F. et al. Milk, rather than other foods, is associated with vertebral bone mass and circulating IGF-1 in female adolescents. Osteoporos Int 20, 567 (2009). https://doi.org/10.1007/s00198-008-0708-x
Received:

Accepted:

Published:
Keywords
Adolescence

Calcium sources

Hypolactasia

IGF-1

Milk

Vertebral bone mass