Abstract
Summary
Exercise may affect osteopenic women at risk of falls and fractures. A workstation approach to exercise was evaluated in a randomised study of 98 women. The intervention group improved in measures of balance, strength and bone density. This study supports a preventative exercise approach that aims to reduce risk factors for fractures and falls, in women already at risk, through balance training and weight-bearing activity.
Introduction
The objective of this study was to determine the effects of a workstation balance training and weight-bearing exercise program on balance, strength and bone mineral density (BMD) in osteopenic women. A single-blinded randomised controlled trial (RCT) was undertaken for 20 weeks with measurements at baseline and completion.
Materials and methods
Ninety-eight (98) community-dwelling osteopenic women aged 41–78 years were recruited through the North Brisbane electoral roll. Subjects were randomised via computer-generated random numbers lists into either a control (receiving no intervention), or exercise group (two one-hour exercise sessions per week for 20 weeks with a trained physiotherapist). Assessments at baseline and post-intervention included balance testing (five measures), strength testing (quadriceps, hip adductors / abductors / external rotators and trunk extensors), and DXA scans (proximal femur and lumbar spine). Baseline assessment showed no significant differences between groups for all demographics and measures except for subjects taking osteoporosis medication. The percentage differences between pre- and post-intervention measurements were examined for group effect by ANOVA using an intention-to-treat protocol.
Results
Ninety-eight women (mean age 62.01 years, SD 8.9 years) enrolled in the study. The mean number of classes attended for the 42 participants in the exercise group who completed the program was 28.2 of a possible 40 classes (71%). At the completion of the trial the intervention group showed markedly significant better performances in balance (unilateral and bilateral stance sway measures, lateral reach, timed up and go and step test) (p < 0.05) with strong positive training effects reflecting improvements of between 10% to 71%. Similarly there were gains in strength of the hip muscles (abductors, adductors, and external rotators), quadriceps and trunk extensors with training effects between 9% and 23%.
Conclusions
Specific workstation exercises can significantly improve balance and strength in osteopenic women. This type of training may also positively influence bone density although further study is required with intervention over a longer period. A preventative exercise program may reduce the risk of falls and fractures in osteopenic women already at risk.
Access options
Buy single article
Instant access to the full article PDF.
USD 39.95
Price excludes VAT (USA)
Tax calculation will be finalised during checkout.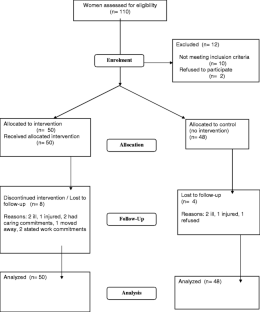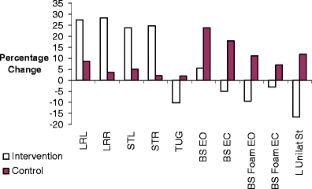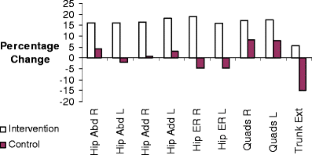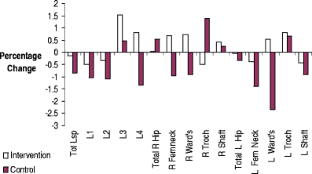 References
Lips P (1997) Epidemiology and predictors of fractures associated with osteoporosis. Am J Med 103(2A):3S–11S

Kannus P, Niemi S, Parkkari J, Palvanen M, Heinonen A, Sievanen H, Jarvinen T, Khan K, Jarvinen M (2002) Why is the age-standardised incidence of low-trauma fractures rising in many elderly populations? J Bone Miner Res 17:1363–1367

Center JR, Nguyen TV, Schneider D, Sambrook PN, Eisman JA (1999) Mortality after all major types of osteoporotic fracture in men and women: an observational study. Lancet 353:878–882

Marshall D, Johnell O, Wedel H (1996) Meta-analysis of how well measures of bone mineral density predict occurrence of osteoporotic fractures. BMJ 312:1254–1259

Kanis JA (1994) Assessment of fracture risk and its application to screening for postmenopausal osteoporosis: synopsis of a WHO report. WHO Study Group. Osteoporos Int 4:368–381

Nguyen TV, Center JR, Eisman JA (2004) Osteoporosis: underrated, underdiagnosed and undertreated. MJA 180:S18–S22

Stel VS, Pluijm SMF, Deeg DJH, Smit JH, Bouter LM, Lips P (2004) Functional limitations and poor physical performance as independent risk factors for self-reported fractures in older persons. Osteoporos Int 15:742–750

Nguyen T, Sambrook P, Kelly P, Jones G, Lord S, Freund J, Eisman J (1993) Prediction of osteoporotic fractures by postural instability and bone density. BMJ 307:1111–1115

Salter RB (1970) Textbook of disorders and injuries of the musculoskeletal system, 1st edn. Baltimore: Williams & Wilkins

Wallace BA and Cumming RG (2000) Systematic review of randomised Trials of the effect of exercise on bone mass in pre- and postmenopausal women. Calcif Tissue Int 67:10–18

Bonaiuti D, Shea B, Lovine R, Negrini S, Robinson V, Kemper HC, Wells G, Tugwell P, Cranney A (2004) Exercise for preventing and treating osteoporosis in postmenopausal women (Cochrane Review). In: The Cochrane Library, Issue 1. Chichester, UK: Wiley

Chan K, Qin L, Lau M, Woo J, Au S, Choy W, Lee K, Lee S (2004) A randomised prospective study of the effects of Tai Chi Chun exercise on bone mineral density in postmenopausal women. Arch Phys Med Rehabil 85:717–722

Kelley GA, Kelley KS, Tran ZV (2001) Resistance training and bone mineral density in women: a meta-analysis of controlled trials. Am J Phys Med Rehab 80(1) 65–77

Nitz JC, Low Choy N (2004) The efficacy of a specific balance-strategy training programme for preventing falls among older people: a pilot randomised controlled trial. Age and Ageing 33:52–58

Liu-Ambrose T, Khan KM, Eng JJ, Janssen PA, Lord SR, McKay HA (2004) Resistance and agility training reduce fall risk in women aged 75 to 85 with low bone mass: a 6-month randomised, controlled trial. JAGS 52:657–665

Richardson CA, Snijders CJ, Hides JA, Damen L, Pas MS, Storm J (2002) The relation between the transversus abdominis muscles, sacroiliac joint mechanics, and low back pain. Spine 27(4):399–405, Feb 15

Hirvensalo, M, Rantenan T, Heikkinen E (2000) Mobility difficulties and physical activity as predictors of mortality and loss of independence in the community-living older population. J Am Geriatr Soc 48:493–498

Podsiadlo D, Richardson S (1991) The timed "up & go": a test of basic functional mobility for frail elderly persons. J Am Geriatr Soc 39(2):142–148, Feb

Hill K, Bernhardt J, McGann A, Maltese D, Berkovits D (1996) A new test of dynamic standing balance for stroke patients: reliability and comparison with healthy elderly. Physiother Canada 48:257–262

Brauer S, Burns Y, Galley P (1999) Lateral reach: a clinical measure of medio-lateral postural stability. Physiother Res Int 4(2):81–88

Roy MAG, Doherty TJ (2004) Reliability of hand-held dynamometry in assessment of knee extensor strength after hip fracture. Am J Phys Med Rehabil 83:813–818

Ford-Smith CD, Wyman JF, Elswick RK Jr, Fernandez MS (2001) Reliability of stationary dynamometer muscle strength testing in community-dwelling older adults. Arch Phys Med Rehabil 82:1128–1132

Wang C, Olson SL, Protas EJ (2002) Test-retest strength reliability: hand-held dynamometry in community-dwelling elderly fallers. Arch Phys Med Rehabil 83:811–815

Reed RL, Den Hartog R, Yochum K, Pearlmutter L, Ruttinger AC, Mooradian AD (1993) A comparison of hand-held isometric strength measurement with isokinetic muscle strength measurement in the elderly. J Am Geriatr Soc 41:53–56

Isles RC, Low Choy NL, Steer M, Nitz JC (2004) Normal Values of balance tests in women aged 20–80. JAGS 52:1367–1372

Low Choy NL, Brauer SG, Nitz JC (2003) Changes in postural stability in women aged 20 to 80 years. J Geront Med Sci 85:M825–M830

Nitz JC, Low Choy NL, Isles RC (2003) Medial-lateral postural stability and balance in community dwelling women over 40 years of age. Clinical Rehabilitation 17(7):765–767

Hollis S, Campbell F (1999) What is meant by an intention to treat analysis? Survey of published randomised controlled trials BMJ 319:670–674

Wolff I, van Croonenborg JJ, Kemper HCG, Kostense PJ, Twisk JWR (1999) The effect of exercise training programs on bone mass: a meta-analysis of published controlled trials in pre- and post-menopausal women. Osteoporos Int 9:1–12

Lord SR, Ward JA, Williams P, Zivanovic E (1996) The effects of a community exercise program on fracture risk factors in older women. Osteoporosis Int 6:361–367

Ledin T, Kronhed A, Moller C (1991) Effects of balance training in elderly evaluated by clinical tests and dynamic posturography. J Vestib Res 1:129–138

Latham N, Anderson C, Bennett D, Stretton C (2004) Progressive resistance strength training for physical disability in older people (Cochrane Review). In: The Cochrane Library, Issue 2. Chichester, UK: Wiley

Reed RL, Den Hartog R, Yochum K, Pearlmutter L, Ruttinger AC, Mooradian AD (1993) A comparison of hand-held isometric strength measurement with isokinetic muscle strength measurement in the elderly. J Am Geriatr Soc 41(1):53–56

JT Lin, JM Lane (2004) Osteoporosis A Review. Clin Orthop 425:126–134
Acknowledgements
The authors would like to acknowledge the work of the physiotherapists who assisted in running the exercise classes (Jill Boughen, Ros Aspinall, Emma Taylor and Jane Clarke). We also gratefully acknowledge the research assistance of Anitra Taylor and Marie Steer.
Conflict of interest statement
All authors have no conflict of interest.
Additional information
This research was enabled through a grant provided by the Commonwealth Government of Australia, National Arthritis and Musculoskeletal Conditions Improvements scheme (NAMCIG) 2003 (Nitz, Brauer, O'Neill, Wong).
About this article
Cite this article
Hourigan, S.R., Nitz, J.C., Brauer, S.G. et al. Positive effects of exercise on falls and fracture risk in osteopenic women. Osteoporos Int 19, 1077–1086 (2008). https://doi.org/10.1007/s00198-007-0541-7
Received:

Accepted:

Published:

Issue Date:

DOI: https://doi.org/10.1007/s00198-007-0541-7
Keywords
Balance

Bone mineral density

Exercise

Osteopenia

Strength