Abstract
Summary
A simple, appealing, physical activity program can be prescribed to reduce the risk of falls in sedentary, postmenopausal, independent-living, Caucasian women. Foot stamping, progressively loaded squats, and in-line dancing positively influence proximal femoral bone mineral density, lower extremity strength, and static and dynamic balance.
Introduction
Foot stamping, squats exercises, and in-line dancing together create a suitable activity program for sedentary, independent-living older women.
Methods
Forty-five postmenopausal women not taking medications for bone health were randomly assigned to one of three groups. All groups attended one line dance class per week. Two groups additionally performed progressively loaded squats five times per week. One group also performed four foot stamps, twice daily, five times per week. Broadband ultrasound attenuation (BUA), proximal femur (PF) and lumbar spine (LS) bone mineral density (BMD), squats number, and balance variables were measured.
Results
There were no differences within or between groups in baseline and follow-up BUA, PF or LS BMD; however, a strong stamp compliance effect was apparent for BUA (r = 0.73) and PF BMD (r = 0.79). Number of squats (p < 0.01) and single leg stance time (p < 0.01) increased, while timed up and go time decreased (p < 0.01) for all participants.
Conclusions
Line dancing, particularly in concert with regular squats and foot stamping, is a simple and appealing strategy that may be employed to reduce lower extremity bone loss, and improve lower limb muscle strength and balance, in independent living, otherwise healthy, postmenopausal Caucasian women.
Access options
Buy single article
Instant access to the full article PDF.
USD 39.95
Price excludes VAT (USA)
Tax calculation will be finalised during checkout.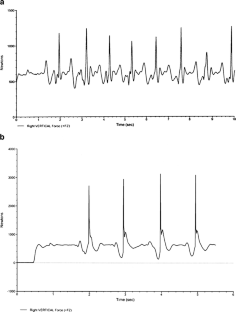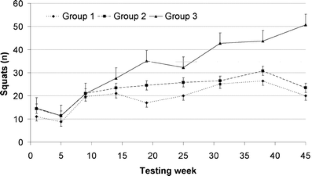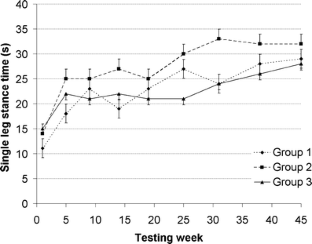 References
Wainwright SA, Marshall LM, Ensrud KE et al (2005) Hip fracture in women without osteoporosis. J Clin Endocrinol Metab 90:2787–2793

North American Menopause Society (2002) Management of postmenopausal osteoporosis: position statement of the North American Menopause Society. Menopause 9:84–101

Rubin CT, Lanyon LE (1984) Regulation of bone formation by applied dynamic loads. J Bone Joint Surg 66:397–402

Cavanaugh DJ, Cann CE (1988) Brisk walking does not stop bone loss in postmenopausal women. Bone 9:201–204

Turner CH, Owan I, Takano Y (1995) Mechanotransduction in bone-Role of strain rate. Am J Physiol-Endocrin M 32:E438–E442

Lanyon LE (1996) Using functional loading to influence bone mass and architecture: objectives, mechanisms, and relationship with estrogen of the mechanically adaptive process in bone. Bone 18:37S–43S

Hans D, Genton L, Drezner MK et al (2002) Monitored impact loading of the hip: initial testing of a home-use device. Calcified Tissue Int 71:112–120

Bassey EJ, Ramsdale SJ (1995) Weight-bearing exercise and ground reaction forces: a 12-month randomized controlled trial of effects on bone mineral density in healthy postmenopausal women. Bone 16:469–476

Kerr D, Morton A, Dick I et al (1996) Exercise effects on bone mass in postmenopausal women are site-specific and load-dependent. J Bone Miner Res 11:218–225

Hurley BF, Roth SM (2000) Strength training in the elderly: effects on risk factors for age-related diseases. Sports Med 30:249–268

Cussler EC, Lohman TG, Going SB et al (2003) Weight lifted in strength training predicts bone change in postmenopausal women. Med Sci Sports Exerc 35:10–17

Judge JO, Lindsey C, Underwood M et al (1993) Balance improvements in older women: effects of exercise training. Phys Ther 73:254–262

Shaw JM, Snow CM (1998) Weighted vest exercise improves indices of fall risk in older women. J Gerontol A Biol Sci Med Sci 53:53–58

Shigematsu R, Chang M, Yabushita N et al (2002) Dance-based aerobic exercise may improve indices of falling risk in older women. Age Ageing 31:261–266

Cummings SR, Bates D, Black DM (2002) Clinical use of bone densitometry: scientific review. JAMA 288:1889–1897

Liebenson C (2003) Safe squatting procedures. Journal of Bodywork and Movement Therapies 7:228–229

Nowson CA, Green G, Guest CS et al (1995) Limitations of dietary calcium assessment in female twins of different ages Ares-Seronon Symposia Publications

Podsiadlo D, Richardson S (1991) The timed "Up & Go": a test of basic functional mobility for frail elderly persons. Am Geriatr Soc 39:142–148

Jamsa T, Vainionpaa A, Korpelainen R et al (2006) Effect of daily physical activity on proximal femur. Clinical Biomechanics 21:1–7

Korpelainen R, Keinanen-Kiukaanniemi S, Heikkinen J et al (2005) Effect of impact exercise on bone mineral density in elderly women with low BMD: a population-based randomized controlled 30-month intervention. Osteoporosis Int

Winters-Stone KM, Snow CM (2003) Musculoskeletal response to exercise is greatest in women with low initial values. Med Sci Sports Exerc 35:1691–1696

Bassey EJ, Littlewood JJ, Taylor SJ (1997) Relations between compressive axial forces in an instrumented massive femoral implant, ground reaction forces, and integrated electromyographs from vastus lateralis during various 'osteogenic' exercises. J Biomech 30:213–223

Nikander R, Sievanen H, Heinonen A et al (2005) Femoral neck structure in adult female athletes subjected to different loading modalities. J Bone Min Res 20:520–528

Seeman E, Delmas PD (2006) Bone quality-the material and structural basis of bone strength and fragility. N Engl J Med 354:2250–2261

Forwood MR (2001) Mechanical effects on the skeleton: are there clinical implications? Osteoporos Int 12:77–83

van den Bogert AJ, Pavol MJ, Grabiner MD (2002) Response time is more important than walking speed for the ability of older adults to avoid a fall after a trip. J Biomech 35:199–205

Gillespie LD, Gillespie WJ, Robertson MC et al (2001) Interventions for preventing falls in elderly people. Cochrane Database Syst Rev 3:CD000340

Rogers MW, Johnson ME, Martinez KM et al (2003) Step training improves the speed of voluntary step initiation in aging. J Gerontol A Biol Sci Med Sci 58:46–51

Turner CH, Robling AG (2003) Designing exercise regimens to increase bone strength. Exerc Sport Sci Rev 31:45–50

Mayoux-Benhamou MA, Roux C, Perraud A et al (2005) Predictors of compliance with a home-based exercise program added to usual medical care in preventing postmenopausal osteoporosis: an 18-month prospective study. Osteoporos Int 16:325–331

van der Bij AK, Laurant MG, Wensing M (2002) Effectiveness of physical activity interventions for older adults: a review. Am J Prev Med 22:120–133
About this article
Cite this article
Young, C.M., Weeks, B.K. & Beck, B.R. Simple, novel physical activity maintains proximal femur bone mineral density, and improves muscle strength and balance in sedentary, postmenopausal Caucasian women. Osteoporos Int 18, 1379–1387 (2007). https://doi.org/10.1007/s00198-007-0400-6
Received:

Accepted:

Published:

Issue Date:

DOI: https://doi.org/10.1007/s00198-007-0400-6
Keywords
Foot stamps

Hip fracture risk

Linedance

Osteoporosis

Squats