Abstract
Summary
This study showed that combination of strength, balance, agility and jumping training prevented functional decline and bone fragility in home-dwelling elderly women. The finding supports the idea that it is possible to maintain good physical functioning by multi-component exercise program and thus postpone the age-related functional problems.
Introduction
This 1-year randomized, controlled exercise intervention trial assessed the effects of two different training programs and their combination on physical functioning and bone in home-dwelling elderly women.
Methods
One hundred and forty-nine healthy women aged 70–78 years were randomly assigned into: group 1—resistance training (RES), group 2—balance-jumping training (BAL), group 3—combination of resistance and balance-jumping training (COMB), and group 4—controls (CON). Self-rated physical functioning, leg extensor force, dynamic balance, and bone mass and structure were measured.
Results
Self-rated physical functioning improved in the COMB group, but was reduced in the CON group; the mean inter-group difference was 10% (95% CI: 0–22%). Mean increase in the leg extensor force was higher in the RES (14%; 4–25%) and COMB (13%; 3–25%) compared with the CON groups. Dynamic balance improved in the BAL (6%; 1–11%) and in the COMB (8%; 3–12%) groups. There were no inter-group differences in BMC at the proximal femur. In those COMB women who trained at least twice a week, the tibial shaft structure weakened 2% (0–4%) less than those in the CON group.
Conclusions
Strength, balance, agility, and jumping training (especially in combination) prevented functional decline in home-dwelling elderly women. In addition, positive effects seen in the structure of the loaded tibia indicated that exercise may also play a role in preventing bone fragility.
Access options
Buy single article
Instant access to the full article PDF.
USD 39.95
Price excludes VAT (USA)
Tax calculation will be finalised during checkout.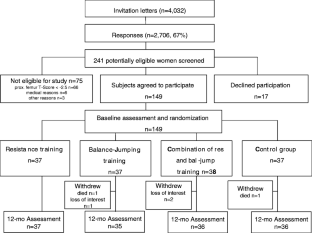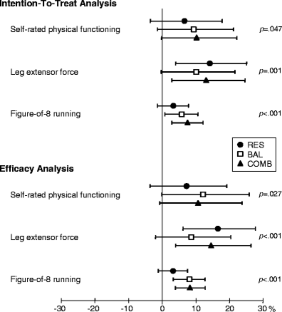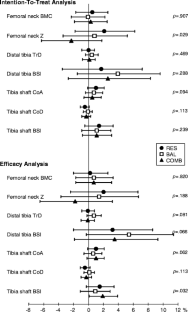 References
Kempler P (1992) The use of formal and informal home care by the disabled elderly. Health Serv Res 27:421–451

Gill TM, Allore HG, Holford TR, Guo Z (2004) Hospitalization, restricted activity, and the development of disability among older persons. JAMA 292:2115–2124

Myers AH, Young Y, Langlois JA (1996) Prevention of falls in the elderly. Bone 18:87S–101S

Carter ND, Kannus P, Khan KM (2001) Exercise in the prevention of falls in older people: a systematic literature review examining the rationale and evidence. Sports Med 31:427–436

Tinetti ME (2003) Preventing falls in elderly persons. N Engl J Med 348:42–49

Cummings SR, Nevitt MC, Browner WS, Stone K et al (1995) Risk factors for hip fracture in white women. Study of Osteoporotic Fractures Research Group. N Engl J Med 332:814–815

Chang JT, Morton SC, Rubenstein LZ et al (2004) Interventions for the prevention of falls in older adults: systematic review and meta-analysis of randomized clinical trials. BMJ 328:680

Gillespie LD, Gillespie WJ, Robertson MC, Lamb SE, Cumming RG, Rowe BH (2003) Interventions for preventing falls in elderly people. The Cochrane Database of Systematic Reviews, Issue 4

Bonaiuti D, Shea B, Iovine R et al (2002) Exercise for preventing and treating osteoporosis in postmenopausal women. The Cochrane Database of Systematic Reviews, Issue 2

Gill TM, Baker DI, Gottschalk M, Peduzzi PN, Allore H, Byers A (2002) A program to prevent functional decline in physically frail, elderly persons who live at home. N Engl J Med 347:1068–1074

Binder EF, Schechtman KB, Ehsani AA et al (2002) Effects of exercise training on frailty in community-dwelling older adults: results of a randomized, controlled trial. J Am Geriatr Soc 50:1921–1928

Liu-Ambrose T, Khan KM, Eng JJ et al (2004) Resistance and agility training reduce fall risk in women aged 75 to 85 with low bone mass: a 6-month randomized, controlled trial. J Am Geriatr Soc 52:657–665

Ainsworth BE, Hashell WL, Whitt MC et al (2000) Compendium of physical activities: an update of activity codes and MET intensities. Med Sci Sports Exerc 32(9):S498–S516

Carter ND, Khan KM, McKay HA, Petit MA et al (2002) Community-based exercise program reduces risk factors for falls in 65- to 75-year old women with osteoporosis: randomized controlled trial. CMAJ 167:997–1004

Uusi-Rasi K, Kannus P, Cheng S et al (2003) Effect of alendronate and exercise on bone and physical performance of postmenopausal women: a randomized controlled trial. Bone 33:132–143

Heinonen A, Sievänen H, Viitasalo J, Pasanen M, Oja P, Vuori I (1994) Reproducibility of computer measurement of maximal isometric strength and electromyography in sedentary middle-aged women. Eur J Appl Physiol 348:1343–1347

Hays RD, Donald Sherbourne C, Mazel RM (1993) The RAND 36-item Health Survey 1.0. Health Econ 2:217–227

Aalto AM, Aro AR, Teperi J (1999) Rand-36 as a measure of health-related quality of life. Reliability, construct validity and reference values in the Finnish general population. (In Finnish with an English summary) Research Reports, The National Research and Development Center for Welfare and Health (STAKES), Helsinki, Finland, vol 101

Sievänen H, Kannus P, Nieminen V, Heinonen A, Oja P, Vuori I (1996) Estimation of various mechanical characteristics of human bones using dual energy x-ray absorptiometry: methodology and precision. Bone 18:17S–27S

Beck TJ, Looker AC, Ruff CB, Sievänen H, Wahner HW (2000) Structural trends in the aging femoral neck and proximal shaft: analysis of the Third National Health and Nutrition Examination Survey dual-energy X-ray absorptiometry data. J Bone Miner Res 15:2297–2304

Nikander R, Sievänen H, Heinonen A, Kannus P (2005) Femoral neck structure in adult female athletes subjected to different loading modalities. J Bone Miner Res 20:520–528

Sievänen H, Koskue V, Rauhio A, Kannus P, Heinonen A, Vuori I (1998) Peripheral quantitative computed tomography in human long bones: evaluation of in vitro and in vivo precision. J Bone Miner Res 13:871–882

Karinkanta S, Heinonen A, Sievänen H, Uusi-Rasi K, Kannus P (2005) Factors predicting dynamic balance and quality of life in home-dwelling elderly women. Gerontology 51:116–121

Wolfson L, Whipple R, Derby C et al (1996) Balance and strength training in older adults: intervention gains and Tai Chi maintenance. J Am Geriatr Soc 44:498–506

Nelson ME, Fiatarone MA, Morganti CM, Trice I, Greenberg RA, Evans WJ (1994) Effects of high-intensity strength training on multiple risk factors for osteoporotic fractures: a randomized controlled trial. JAMA 272:1909–1914

Nelson ME, Layne JE, Bernstein MJ et al (2004) The effects of multidimensional home-based exercise on functional performance in elderly people. J Gerontol A Biol Sci Med Sci 59A:154–160

Capodaglio P, Capodaglio EM, Ferri A, Scaglioni G, Marchi A, Saibene F (2005) Muscle function and physical functioning improves more in community-dwelling older women with a mixed-strength training programme. Age Ageing 34:141–147

Latham N, Anderson C, Bennett D, Stretton C (2003) Progressive resistance strength training for physical disability in older people. The Cochrane Database of Systematic Reviews, Issue 1

De Vreede PL, Samson MM, van Meeteeren NLU, Duursma SA, Verhaar HJ (2005) Functional-task exercise versus resistance strength exercise to improve daily function in older women: a randomized, controlled trial. J Am Geriatr Soc 53:2–10

Lord SR, Castell S, Corcoran J et al (2003) The effect of group exercise on physical functioning and falls in frail older people living in retirement villages: a randomized, controlled trial. J Am Geriatr Soc 51:1685–1692

Sherrington C, Lord SR, Finch CP (2004) Physical activity interventions to prevent falls among older people: update the evidence. J Sci Med Sport 7(Suppl 1):43–51

Day L, Fildes B, Gordon I, Fitzharris M, Flammer H, Lord S (2002) Randomized factorial trial of falls prevention among older people living in their own homes. BMJ 325:128

Welsh L, Rutherford OM (1996) Hip bone mineral density is improved by high-impact aerobic exercise in postmenopausal women and men over 50 years. Eur J Appl Physiol 74:511–517

Kohrt W, Ensani A, Birge S (1997) Effects of exercise involving predominantly either joint-reaction or ground-reaction forces in bone mineral density in older women. J Bone Miner Res 12:1253–1261

Lord S, Ward J, Williams P, Zivanofic E (1996) The effects of a community exercise program on fracture risk factors in older women. Osteoporos Int 6:361–367

Kerr D, Ackland T, Maslen B, Norton A, Prince R (2001) Resistance training over 2 years increases bone mass in calcium-replete postmenopausal women. J Bone Miner Res 16:175–181

Villareal DT, Steger-May K, Schechtman KB et al (2004) Effects of exercise training on bone mineral density in frail older women and men: a randomized controlled trial. Age Ageing 33:309–312

Kaptoge S, Dalzell N, Jakes RW et al (2003) Hip section modulus, a measure of bending resistance, is more strongly related to reported physical activity than BMD. Osteoporos Int 14:941–949

Liu-Ambrose TY, Khan KM, Eng JJ, Heinonen A, McKay HA (2004) Both resistance and agility training increase cortical bone density in 75- to 85-year-old women with low bone mass: a 6-month randomized controlled trial. J Clin Densitom 7:390–398
Acknowledgements
We thank the staff and all the study participants for taking part in this trial, and the Atletico training center for allowing free participation in the training. We also thank Ritva Nupponen, PhD, for her assistance in analyzing self-rated physical functioning. This study was supported by the Academy of Finland, the Finnish Ministry of Education, and the Medical Research Fund of the Tampere University Hospital.
About this article
Cite this article
Karinkanta, S., Heinonen, A., Sievänen, H. et al. A multi-component exercise regimen to prevent functional decline and bone fragility in home-dwelling elderly women: randomized, controlled trial. Osteoporos Int 18, 453–462 (2007). https://doi.org/10.1007/s00198-006-0256-1
Received:

Accepted:

Published:

Issue Date:

DOI: https://doi.org/10.1007/s00198-006-0256-1
Keywords