Abstract
Introduction
Epidemiological observations suggest that sunlight exposure is an important determinant of hip fracture risk. The aim of this ecological study was to examine the relationship between latitude and hip fracture probability.
Methods
Hip fracture incidence and mortality were obtained from literature searches and 10-year hip fracture probability computed from fracture and death hazards.
Results
There was a significant association between latitude and 10-year hip fracture probability. For each 10° change in latitude from the equator (e.g., from Paris to Stockholm), fracture probability increased by 0.3% in men, by 0.8% in women and by 0.6% in men and women combined. There was also a significant association between economic prosperity and hip fracture risk as judged by gross domestic product (GDP)/capita or the use of mobile phones/capita. A US $10,000 higher GDP/capita was associated with a 1.3% increase in hip fracture probability. The association between latitude and hip fracture probability persisted after adjusting for indices of economic prosperity.
Conclusions
These findings provide support for an important role of sunlight exposure in the global variation of hip fracture risk. In addition, there is a need to identify the factors related to socioeconomic prosperity that may provide mechanisms for the variation in hip fracture probability worldwide.
Access options
Buy single article
Instant access to the full article PDF.
US$ 39.95
Tax calculation will be finalised during checkout.
Subscribe to journal
Immediate online access to all issues from 2019. Subscription will auto renew annually.
US$ 119
Tax calculation will be finalised during checkout.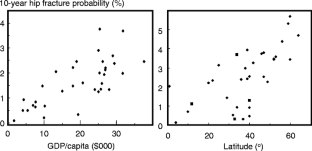 References
1.

Johnell O (1997) The socioeconomic burden of fractures: today and in the 21st century. Am J Med 103:20S–26S

2.

Johnell O, Kanis JA (2004) An estimate of the worldwide prevalence, mortality and disability associated with hip fracture. Osteoporos Int 15:897–902

3.

Gullberg B, Johnell O, Kanis JA (1997) Worldwide projections for hip fracture. Osteoporos Int 7:407–413

4.

Cooper C, Campion G, Melton LJ III (1992) Hip fractures in the elderly: a worldwide projection. Osteoporos Int 2:285–289

5.

Bacon WF, Muggi S, Looker A, Harris T, Nair CR, Giacom J, Honkinen R, Ho SC, Peffers KA, Torring O, Gass R, Gonzalez N (1996) International comparison of hip fracture rates in 1988–1989. Osteoporos Int 6:69–75

6.

Elffors L, Allander E, Kanis JA, Gullberg B, Johnell O, Dequeker J, Dilzen G, Gennari C, Lopez Vaz AA, Lyritis G, Mazzuoli GF, Miravet L, Passeri M, Peres Cano R, Rapado A, Ribot C (1994) The variable incidence of hip fracture in Southern Europe. The MEDOS Study. Osteoporos Int 4:253–263

7.

Johnell O, Gullberg B, Kanis JA, Allander E, Elffors L, Dequeker J, Dilsen G, Gennari C, Lopex Vaz A, Lyritis G et al (1995) Risk factors for hip fracture in European women: the MEDOS Study. J Bone Miner Res 10:1802–1815

8.

Johnell O, Oden A, Rosengren B, Mellstrom D, Kanis J (2002) National variations in hip fracture rate in Sweden depends on latitude and season-a cohort study of 26 million observation years. Osteoporosis Int Suppl 8:014

9.

Holick MF (2004) Vitamin D: importance in the prevention of cancer, type 1 diabetes, heart disease, and osteoporosis. Am J Clin Nutr 79:362–371

10.

Silverman SL, Zingmond D (2005) Socioeconomic status is a significant predictor of hip fracture rates in California 1996 to 2000. J Bone Miner Res 20(Suppl 1):SA311

11.

Kanis JA, Johnell O, De Laet C, Jönsson B, Odén A, Ogelsby AK (2002) International variations in hip fracture probabilities: implications for risk assessment. J Bone Miner Res 17:1237–1244

12.

Borgstrom F, Johnell O, Kanis JA, Rehnberg C (2006) At what hip fracture risk is it cost-effective to treat? International intervention thresholds for the treatment of osteoporosis. Osteoporosis Int, submitted Jan 2006

13.

Moayyeri A, Naghavi M, Larijani B et al (2005) Epidemiology of fall-related fractures in Iranian population. Exp Clin Endocrinol Diabetes (in press)

14.

El Maghraoui A, Koumba BA, Jroundi L, Achemalal L, Bezza A, Tazi MA (2005) Epidemiology of hip fractures in 2002 in Rabat, Morocco. Osteoporos Int 16:597–602

15.

Clark P, Lavielle P, Franco-Marina F, Ramirez E, Salmeron J, Kanis JA, Cummings SR (2005) Incidence rates and lifetime risk of hip fractures in Mexicans over 50 years of age: a population-based study. Osteoporos Int 16:2025–2030

16.

Zebaze RM, Seeman E (2003) Epidemiology of hip and wrist fractures in Cameroon, Africa. Osteoporos Int 14:301–305

17.

Kanis JA, Johnell O, Oden A, Sernbo I, Redlund-Johnell I, Dawson A, De Laet C, Jonsson B (2000) Long-term risk of osteoporotic fracture in Malmo. Osteoporos Int 11:669–674

18.

Central Intelligence Agency (2005) World factbook. http://www.cia.gov/cia/publications/factbook

19.

Khaw KT, Sneyd MJ, Compston J (1992) Bone density, parathyroid hormone and 25-hydroxyvitamin D concentrations in middle aged women. BMJ 305:273–277

20.

Lips P, Netelenbos JC, Jonsen MJ, van Ginkel FC, Althuis AL, van Schaik CL, van der Vijgh WJ, Vermeiden JP, van der Meer C (1982) Histomorphometric profile and vitamin D status in patients with femoral neck fracture. Metab Bone Dis Rel Res 4:85–93

21.

McKenna MJ, Freaney R, Meade A, Muldowney FP (1985) Hypovitaminosis D and elevated serum alkaline phosphatase in elderly Irish people. Am J Clin Nutr 41:101–109

22.

Chapuy MC, Arlot ME, Duboeuf F, Brun J, Crouzet B, Arnaud S, Delmas PD, Meunier PJ (1992) Vitamin D3 and calcium to prevent hip fractures in the elderly women. N Engl J Med 327:1637–1642

23.

Lips P, Shimizu H, Chandler J, Turpin J, Maalouf G, Lippuner K, Rizzoli R (2005) Global prevalence of vitamin D inadequacy among community dwelling women with osteoporosis. Bone 36(Suppl):S460

24.

Dawson-Hughes B, Harris S, Krall E, Dallal G (1977) Effect of calcium and vitamin supplementation on bone density in men and women 65 years of age and older. N Engl J Med 337:670–676

25.

Trivedi D, Doll R, Khaw KT (2003) Effect of four monthly oral vitamin D (cholecalciferol) supplementation on fractures and mortality in men and women: randomised double blind controlled trial. BMJ 326:469–475

26.

Ranstam J, Kanis JA (1995) Influence of age and body mass on the effects of vitamin D on hip fracture risks. Osteoporos Int 5:450–454

27.

Feskanich D, Willett W, Colditz G (2003) Calcium, vitamin D, milk consumption, and hip fracture: a prospective study among postmenopausal women. Am J Clin Nutr 77:504–511

28.

Avenell A, Gillespie WJ, Gillespie LD, O'Connell DL (2005) Vitamin D and vitamin D analogues for preventing fractures associated with involutional and postmenopausal osteoporosis. Cochrane database Syst Rev 3:CD000227, Jul 20

29.

World Health Organization (2004) Changing history. The World Health Report 2004. WHO, Geneva

30.

Droomers M, Westert GP (2004) Do lower socioeconomic groups use more health services, because they suffer from more illnesses? Eur J Public Health 14:311–313

31.

Adler NE, Ostrove JM (1999) Socioeconomic status and health: what we know and what we don't. Ann N Y Acad Sci 896:3–15

32.

Smits J, Keij-Deerenberg I, Wesfert G (2005) Effects of socio-economic status on mortality: separating the nearby from the farther away. Health Econ 14:595–608

33.

Johnell O, Kanis JA (2004) An estimate of the worldwide prevalence, disability and mortality associated with hip fracture. Osteoporos Int 15:897–902
Acknowledgements
This study was supported by a grant from the International Osteoporosis Foundation.
About this article
Cite this article
Johnell, O., Borgstrom, F., Jonsson, B. et al. Latitude, socioeconomic prosperity, mobile phones and hip fracture risk. Osteoporos Int 18, 333–337 (2007). https://doi.org/10.1007/s00198-006-0245-4
Received:

Accepted:

Published:

Issue Date:
Keywords
Hip fracture

Latitude

Mobile phones

Socioeconomic prosperity