Abstract
Introduction
In Germany, accurate data on the prevalence and treatment of osteoporosis, as well as the cost of this illness, are not available. The aim of this study is to give a valid estimation of these items for the year 2003.
Methods
Routine data from a German sickness fund covering 1.5 million beneficiaries and billing data for outpatient visits were used to obtain estimates of prevalence for osteoporosis. Claims data for patients with osteoporosis (M80, M81) or an osteoporosis-related fracture diagnosis (S22, S32, S42, S52, S72, S82) or treatment with anti-osteoporosis drugs were examined. Costs were calculated from the perspective of the German health insurance system and the German nursing care insurance system, respectively. Only direct costs of osteoporosis were considered.
Results
In 2003, 7.8 million Germans (6.5 million women) were affected by osteoporosis. Of them, 4.3% experienced at least one clinical fracture. Only 21.7% were treated with an anti-osteoporosis drug. The total direct costs attributable to osteoporosis amounted to €5.4 billion.
Conclusion
This study confirms that osteoporosis is underdiagnosed, undertreated and imposes a considerable economic burden on the health system in Germany. Effective strategies for the prevention and management of this disease are needed.
Access options
Buy single article
Instant access to the full article PDF.
USD 39.95
Price includes VAT (USA)
Tax calculation will be finalised during checkout.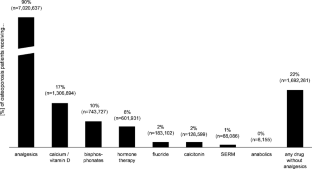 Notes
1.

Patients with an encounter due to Morbus Paget (ICD10: M88) and/or hypercalcaemia (ICD10: E83.5*) and/or tumour induced osteoporosis (ICD10: M90.7*) were excluded from the analysis.
References
1.

[No authors listed] (1993) Consensus Development Conference on Osteoporosis. Hong Kong, April 1–2, 1993. Am J Med 95(5A):1S–78S

2.

Melton LJ (1988) Osteoporosis: etiology, diagnosis and management. In: Riggs BL, Melton LJ (eds) Epidemiology of fractures. Raven Press, New York, pp 133–154

3.

Looker AC, Orwoll ES, Johnston CC Jr, Lindsay RL, Wahner HW, Dunn WL, Calvo MS, Harris TB, Heyse SP (1997) Prevalence of low femoral bone density in older U.S. adults from NHANES III. J Bone Miner Res 12(11):1761–1768

4.

Kanis JA, Johnell O, Oden A, Jonsson B, De Laet C, Dawson A (2000) Risk of hip fracture according to the World Health Organization criteria for osteopenia and osteoporosis. Bone 27(5):585–590

5.

Ballard PA, Purdie DW, Langton CM, Steel SA, Mussurakis S (1998) Prevalence of osteoporosis and related risk factors in UK women in the seventh decade: osteoporosis case finding by clinical referral criteria or predictive model? Osteoporos Int 8(6):535–539

6.

O'Neill TW, Felsenberg D, Varlow J, Cooper C, Kanis JA, Silman AJ (1996) The prevalence of vertebral deformity in european men and women: the European Vertebral Osteoporosis Study. J Bone Miner Res 11(7):1010–1018

7.

DAGO (1998) Die Empfehlungen der Deutschen Arbeitsgemeinschaft Osteoporose. Klin Pharmakol Aktuell 9:47–53

8.

Dewitz HD (2004) Osteoporose—Diagnostik, Prävention und Therapie. KV-Blatt 11

9.

Melton LJ 3rd, Thamer M, Ray NF, Chan JK, Chesnut CH 3rd, Einhorn TA, Johnston CC, Raisz LG, Silverman SL, Siris ES (1997) Fractures attributable to osteoporosis: report from the National Osteoporosis Foundation. J Bone Miner Res 12(1):16–23

10.

Kanis JA, Delmas P, Burckhardt P, Cooper C, Torgerson D (1997) Guidelines for diagnosis and management of osteoporosis. The European Foundation for Osteoporosis and Bone Disease. Osteoporos Int 7(4):390–406

11.

Lippuner K, von Overbeck J, Perrelet R, Bosshard H, Jaeger P (1997) Incidence and direct medical costs of hospitalizations due to osteoporotic fractures in Switzerland. Osteoporos Int 7(5):414–425

12.

Glaeske G, Jahnsen K (2005) GEK—Arzneiverordnungsreport. Asgard Verlag, St. Augustin, Germany

13.

Brecht JG, Schädlich PK (2000) Burden of illness imposed by osteoporosis in Germany. Eur J Health Econom 1(1):26–32

14.

Rote Liste Service GmbH (2003) Rote Liste WinR. Arzneimittelverzeichnis für Deutschland. Editio Cantor Verlag, Aulendorf/Württ

15.

DVO (2003) Osteoporose bei Frauen nach der Menopause und im höheren Lebensalter. Prophylaxe, Diagnose, Therapie—Empfehlungen des Dachverbandes der deutschsprachigen osteologischen Fachgesellschaften

16.

AkdÄ H (2003) Therapieempfehlungen der Arzneimittelkommission der deutschen Ärzteschaft: Osteoporose. Arzneiverordnung in der Praxis

17.

Centers for Disease Control and Prevention (CDC) (1998) Osteoporosis among estrogen-deficient women—United States 1988–1994. Morb Mortal Wkly Rep 47(45):969–973

18.

Oberender PO, Fritschi DA (2003) Disease Management und Osteoporose: Versorgungsmängel bei einer relevanten Frauenkrankheit. Dtsch Ärztebl 100(25A):1728–1733

19.

Castel H, Bonneh DY, Sherf M, Liel Y (2001) Awareness of osteoporosis and compliance with management guidelines in patients with newly diagnosed low-impact fractures. Osteoporos Int 12(7):559–564

20.

Freedman KB, Kaplan FS, Bilker WB, Strom BL, Lowe RA (2000) Treatment of osteoporosis: are physicians missing an opportunity? J Bone Joint Surg Am 82-A(8):1063–1070

21.

IPSOS-SRL (2000) How fragile is her future? Osteoporosis Research in Partnership with International Osteoporosis Foundation (IOF)

22.

Watts NB, Harris ST, Genant HK, Wasnich RD, Miller PD, Jackson RD, Licata AA, Ross P, Woodson GC 3rd, Yanover MJ (1990) Intermittent cyclical etidronate treatment of postmenopausal osteoporosis. N Engl J Med 323(2):73–79

23.

Liberman UA, Weiss SR, Broll J, Minne HW, Quan H, Bell NH, Rodriguez-Portales J, Downs RW Jr, Dequeker J, Favus M (1995) Effect of oral alendronate on bone mineral density and the incidence of fractures in postmenopausal osteoporosis. The Alendronate Phase III Osteoporosis Treatment Study Group. N Engl J Med 333(22):1437–1443

24.

Cummings SR, Black DM, Thompson DE, Applegate WB, Barrett-Connor E, Musliner TA, Palermo L, Prineas R, Rubin SM, Scott JC, Vogt T, Wallace R, Yates AJ, LaCroix AZ (1998) Effect of alendronate on risk of fracture in women with low bone density but without vertebral fractures: results from the Fracture Intervention Trial. JAMA 280(24):2077–2082

25.

Harris ST, Watts NB, Genant HK, McKeever CD, Hangartner T, Keller M, Chesnut CH 3rd, Brown J, Eriksen EF, Hoseyni MS, Axelrod DW, Miller PD (1999) Effects of risedronate treatment on vertebral and nonvertebral fractures in women with postmenopausal osteoporosis: a randomized controlled trial. Vertebral Efficacy With Risedronate Therapy (VERT) Study Group. JAMA 282(14):1344–1352

26.

Reginster J, Minne HW, Sorensen OH, Hooper M, Roux C, Brandi ML, Lund B, Ethgen D, Pack S, Roumagnac I, Eastell R (2000) Randomized trial of the effects of risedronate on vertebral fractures in women with established postmenopausal osteoporosis. Vertebral Efficacy with Risedronate Therapy (VERT) Study Group. Osteoporos Int 11(1):83–91

27.

McClung MR, Geusens P, Miller PD, Zippel H, Bensen WG, Roux C, Adami S, Fogelman I, Diamond T, Eastell R, Meunier PJ, Reginster JY (2001) Effect of risedronate on the risk of hip fracture in elderly women. Hip Intervention Program Study Group. N Engl J Med 344(5):333–340

28.

Dietrich ES, Jopp R, Schreier U, Gilge R, Bartmann P, Berthold H (2005) Drug expenditures resulting from the implementation of clinical practice guideline in Germany. Gesundh ökon Qual manag 10(1):35–43

29.

Krappweis J, Rentsch A, Schwarz UI, Krobot KJ, Kirch W (1999) Outpatient costs of osteoporosis in a national health insurance population. Clin Ther 21(11):2001–2014

30.

Gotte S, Dittmar K (2001) Epidemiology and costs of osteoporosis (in German). Orthopade 30(7):402–404

31.

Bestehorn K, Zink A, Dreher R (2002) Drug therapy in postmenopausal osteoporosis. An analysis of healty service delivery (in German). Z Arztl Fortbild Qualitatssich 96(10):699–704

32.

Gehlbach SH, Fournier M, Bigelow C (2002) Recognition of osteoporosis by primary care physicians. Am J Public Health 92(2):271–273

33.

Rossouw JE, Anderson GL, Prentice RL, LaCroix AZ, Kooperberg C, Stefanick ML, Jackson RD, Beresford SA, Howard BV, Johnson KC, Kotchen JM, Ockene J (2002) Risks and benefits of estrogen plus progestin in healthy postmenopausal women: principal results From the Women's Health Initiative randomized controlled trial. JAMA 288(3):321–333

34.

Kanis JA, Dawson A, Oden A, Johnell O, de Laet C, Jonsson B (2001) Cost-effectiveness of preventing hip fracture in the general female population. Osteoporos Int 12(5):356–361

35.

Iglesias CP, Torgerson DJ, Bearne A, Bose U (2002) The cost utility of bisphosphonate treatment in established osteoporosis. QJM 95(5):305–311

36.

Trombetti A, Herrmann F, Hoffmeyer P, Schurch MA, Bonjour JP, Rizzoli R (2002) Survival and potential years of life lost after hip fracture in men and age-matched women. Osteoporos Int 13(9):731–737
Acknowledgement
This study was supported by an unrestricted grant from Hoffmann-LaRoche and GlaxoSmithKline.
About this article
Cite this article
Häussler, B., Gothe, H., Göl, D. et al. Epidemiology, treatment and costs of osteoporosis in Germany—the BoneEVA Study. Osteoporos Int 18, 77–84 (2007). https://doi.org/10.1007/s00198-006-0206-y
Received:

Accepted:

Published:

Issue Date:
Keywords
Bisphosphonates

Costs

Germany

Osteoporosis

Prevalence