Abstract
Introduction
Osteoporosis is associated with increased risk for fracture. However, most postmenopausal women have bone mineral density (BMD) within the normal or osteopenic range. The aim of this study was to determine the proportion of the population burden of fragility fractures arising from women at modest risk for fracture.
Methods
We measured baseline BMD in a population-based random sample of 616 postmenopausal women aged 60–94 years and followed these individuals for a median of 5.6 years (IQR 3.9–6.5) to determine the incidence of fractures according to age, BMD and the presence of a prior fracture.
Results
Based on WHO criteria, 37.6% of the women had normal total hip BMD, 48.0% had osteopenia and 14.5% had osteoporosis. The incidence of fracture during follow-up was highest in women with osteoporosis, but only 26.9% of all fractures arose from this group; 73.1% occurred in women without osteoporosis (56.5% in women with osteopenia, 16.6% in women with normal BMD). Decreasing BMD, increasing age and prior fracture contributed independently to increased fracture risk; in a multivariate model, the relative risk for fracture increased 65% for each SD decrease in BMD (RR=1.65, 95%CI 1.32–2.05), increased 3% for every year of age (RR=1.03, 95%CI 1.01–1.06) and doubled with prevalent fracture (RR=2.01, 95% CI 1.40–2.88). A prevalent fracture increased the risk for fractures such that women with osteopenia and prevalent fracture had the same, if not greater, risk as women with osteoporosis alone.
Conclusions
Reducing the population burden of fractures requires attention to women with osteopenia, as well as osteoporosis, because over half of the fragility fractures in the population arise in these individuals, and women with osteopenia plus a prevalent fracture have the same fracture risk as women with osteoporosis.
Access options
Buy single article
Instant access to the full article PDF.
USD 39.95
Price includes VAT (USA)
Tax calculation will be finalised during checkout.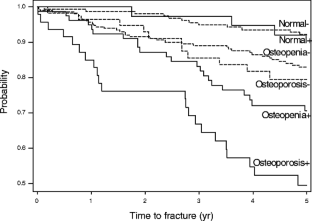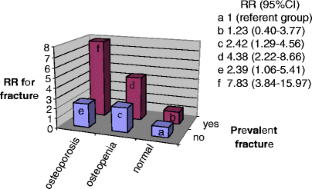 References
1.

Kanis JA, Johnell O, Oden A, Sernbo I, Redlund-Johnell I, Dawson A, De Laet C, Jonsson B (2000) Long-term risk of osteoporotic fracture in Malmo. Osteoporos Int 11:669–674

2.

World Health Organization Study Group (1994) Assessment of fracture risk and its application to screening for postmenopausal osteoporosis. Technical Report Series 843. World Health Organization, Geneva

3.

Siris ES, Miller PD, Barrett-Connor E, Faulkner KG, Wehren LE, Abbott TA, Berger ML, Santora AC, Sherwood LM (2001) Identification and fracture outcomes of undiagnosed low bone mineral density in postmenopausal women: results from the National Osteoporosis Risk Assessment. JAMA 286:2815–2822

4.

Marshall D, Johnell O, Wedel H (1996) Meta-analysis of how well measures of bone mineral density predict occurrence of osteoporotic fractures. BMJ 312:1254–1259

5.

Siris ES, Chen YT, Abbott TA, Barrett-Connor E, Miller PD, Wehren LE, Berger ML (2004) Bone mineral density thresholds for pharmacological intervention to prevent fractures. Arch Intern Med 164:1108–1112

6.

Wainwright SA, Marshall LM, Ensrud KE, Cauley JA, Black DM, Hillier TA, Hochberg MC, Vogt MT, Orwoll ES (2005) Hip fracture in women without osteoporosis. J Clin Endocrinol Metab 90:2787–2793

7.

Looker AC, Orwoll ES, Johnston CC Jr, Lindsay RL, Wahner HW, Dunn WL, Calvo MS, Harris TB, Heyse SP (1997) Prevalence of low femoral bone density in older U.S. adults from NHANES III. J Bone Miner Res 12:1761–1768

8.

Henry MJ, Pasco JA, Seeman E, Nicholson GC, Sanders KM, Kotowicz MA (2001) Assessment of fracture risk: value of random population-based samples-the Geelong Osteoporosis Study. J Clin Densitom 4:283–289

9.

Henry MJ, Pasco JA, Nicholson GC, Seeman E, Kotowicz MA (2000) Prevalence of osteoporosis in Australian women: Geelong Osteoporosis Study. J Clin Densitom 3:261–268

10.

Ross K (1984) The development of the 1984 indicator of socio-economic disadvantage. Deakin University, Geelong, Australia

11.

Mazess RB, Barden H (1999) Bone density of the spine and femur in adult white females. Calcif Tissue Int 65:91–99

12.

Henry MJ, Pasco JA, Pocock NA, Nicholson GC, Kotowicz MA (2004) Reference ranges for bone densitometers adopted Australia-wide: geelong osteoporosis study. Australas Radiol 48:473–475

13.

Pasco JA, Henry MJ, Gaudry TM, Nicholson GC, Kotowicz MA (1999) Identification of incident fractures: the Geelong Osteoporosis Study. Aust N Z J Med 29:203–206

14.

Sanders KM, Pasco JA, Ugoni AM, Nicholson GC, Seeman E, Martin TJ, Skoric B, Panahi S, Kotowicz MA (1998) The exclusion of high trauma fractures may underestimate the prevalence of bone fragility fractures in the community: the Geelong Osteoporosis Study. J Bone Miner Res 13:1337–1342

15.

Cummings SR, Nevitt MC, Browner WS, Stone K, Fox KM, Ensrud KE, Cauley J, Black D, Vogt TM (1995) Risk factors for hip fracture in white women. Study of Osteoporotic Fractures Research Group. N Engl J Med 332:767–773

16.

Garnero P, Hausherr E, Chapuy MC (1996) Markers of bone resorption predict hip fracture in elderly women: the EPIDOS Prospective Study. J Bone Miner Res 11:1531–1538

17.

Anonymous (1998) Physicians' guide to prevention and treatment of osteoporosis. National Osteoporosis Foundation, Washington, DC, pp 1–38

18.

Kanis JA, Johnell O, Oden A, Dawson A, De Laet C, Jonsson B (2001) Ten year probabilities of osteoporotic fractures according to BMD and diagnostic thresholds. Osteoporos Int 12:989–995

19.

Ross PD (1996) Osteoporosis. Frequency, consequences, and risk factors. Arch Intern Med 156:1399–1411

20.

Henry MJ, Pasco JA, Sanders KM, Nicholson GC, Kotowicz MA (2006) Fracture risk score (FRISK Score). Radiology (in press)

21.

Pasco JA, Henry MJ, Kotowicz MA, Sanders KM, Seeman E, Pasco JR, Schneider HG, Nicholson GC (2004) Seasonal periodicity of serum vitamin D and parathyroid hormone, bone resorption, and fractures: the Geelong Osteoporosis Study. J Bone Miner Res 19:752–758

22.

Trivedi DP, Doll R, Khaw KT (2003) Effect of four monthly oral vitamin D3 (cholecalciferol) supplementation on fractures and mortality in men and women living in the community: randomised double blind controlled trial. BMJ 326:469–473

23.

Larsen ER, Mosekilde L, Foldspang A (2004) Vitamin D and calcium supplementation prevents osteoporotic fractures in elderly community dwelling residents: a pragmatic population-based 3-year intervention study. J Bone Miner Res 19:370–378
Acknowledgements
The study was funded by grants from the Victorian Health Promotion Foundation and the Geelong Region Medical Research Foundation.
About this article
Cite this article
Pasco, J.A., Seeman, E., Henry, M.J. et al. The population burden of fractures originates in women with osteopenia, not osteoporosis. Osteoporos Int 17, 1404–1409 (2006). https://doi.org/10.1007/s00198-006-0135-9
Received:

Accepted:

Published:

Issue Date:
Keywords
Bone mineral density

Epidemiology

Fracture risk

Osteoporosis

Population study