Abstract
Introduction
Consumption of coffee and tea, and total intake of caffeine has been claimed to be associated with osteoporotic fracture risk. However, results of earlier studies lack consistency.
Methods
We examined this relation in a cohort of 31,527 Swedish women aged 40-76 years at baseline in 1988. The consumption of coffee, caffeinated tea and the intake of caffeine were estimated from a self-administered food frequency questionnaire (FFQ). Multivariate-adjusted hazards ratios (HRs) of fractures with 95% confidence intervals (95% CIs) were estimated by Cox proportional hazards models.
Results
During a mean follow-up of 10.3 years, we observed 3,279 cases with osteoporotic fractures. The highest (>330 mg/day) compared with the lowest (<200 mg/day) quintile of caffeine intake was associated with a modestly increased risk of fracture: HR 1.20 (95% CI: 1.07–1.35). A high coffee consumption significantly increased the risk of fracture (p for trend 0.002), whereas tea drinking was not associated with risk. The increased risk of fracture with both a high caffeine intake and coffee consumption was confined to women with a low calcium intake (<700 mg/day): HR 1.33 (95% CI: 1.07–1.65) with ≥4 cups (600 ml)/day of coffee compared to <1 cup (150 ml)/day. The same comparison but risk estimated for women with a high propensity for fractures (≥2 fracture types) revealed a HR of 1.88 (95% CI: 1.17–3.00).
Conclusions
In conclusion, our results indicate that a daily intake of 330 mg of caffeine, equivalent to 4 cups (600 ml) of coffee, or more may be associated with a modestly increased risk of osteoporotic fractures, especially in women with a low intake of calcium.
Access options
Buy single article
Instant access to the full article PDF.
USD 39.95
Price excludes VAT (USA)
Tax calculation will be finalised during checkout.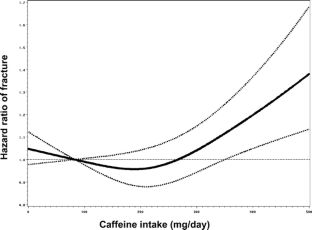 References
Chrischilles E, Shireman T, Wallace R (1994) Costs and health effects of osteoporotic fractures. Bone 15:377–386

Riggs BL, Melton LJ 3rd (1992) The prevention and treatment of osteoporosis. N Engl J Med 327:620–627

Center JR, Nguyen TV, Schneider D, Sambrook PN, Eisman JA (1999) Mortality after all major types of osteoporotic fracture in men and women: an observational study. Lancet 353:878–882

Cummings SR, Kelsey JL, Nevitt MC, O'Dowd KJ (1985) Epidemiology of osteoporosis and osteoporotic fractures. Epidemiol Rev 7:178–208

Cooper C, Melton L (1992) Epidemiology of osteoporosis and osteoporotic fractures. Trends Endocrinol Metab 3:224–229

Cumming RG, Nevitt MC, Cummings SR (1997) Epidemiology of hip fractures. Epidemiol Rev 19:244–257

Massey LK, Opryszek MS (1990) No effects of adaptation to dietary caffeine on calcium excretion in young women. Nutr Res 10:741–747

Barger-Lux MJ, Heaney RP (1995) Caffeine and the calcium economy revisited. Osteoporos Int 5:97–102

Harris SS, Dawson-Hughes B (1994) Caffeine and bone loss in healthy postmenopausal women. Am J Clin Nutr 60:573–578

Holbrook TL, Barrett-Connor E, Wingard DL (1988) Dietary calcium and risk of hip fracture: 14-year prospective population study. Lancet 2:1046–1049

Fujiwara S, Kasagi F, Yamada M, Kodama K (1997) Risk factors for hip fracture in a Japanese cohort. J Bone Miner Res 12:998–1004

Hansen SA, Folsom AR, Kushi LH, Sellers TA (2000) Association of fractures with caffeine and alcohol in postmenopausal women: the Iowa Women's Health Study. Public Health Nutr 3:253–261

Huopio J, Kroger H, Honkanen R, Saarikoski S, Alhava E (2000) Risk factors for perimenopausal fractures: a prospective study. Osteoporos Int 11:219–227

Kreiger N, Gross A, Hunter G (1992) Dietary factors and fracture in postmenopausal women: a case-control study. Int J Epidemiol 21:953–958

Nieves JW, Grisso JA, Kelsey JL (1992) A case-control study of hip fracture: evaluation of selected dietary variables and teenage physical activity. Osteoporos Int 2:122–127

Cumming RG, Klineberg RJ (1994) Case-control study of risk factors for hip fractures in the elderly. Am J Epidemiol 139:493–503

Johnell O, Gullberg B, Kanis JA, Allander E, Elffors L, Dequeker J, Dilsen G, Gennari C, Lopes Vaz A, Lyritis G et al (1995) Risk factors for hip fracture in European women: the MEDOS Study. Mediterranean Osteoporosis Study. J Bone Miner Res 10:1802–1815

Michaelsson K, Holmberg L, Mallmin H, Sorensen S, Wolk A, Bergstrom R, Ljunghall S (1995) Diet and hip fracture risk: a case-control study. Study Group of the Multiple Risk Survey on Swedish Women for Eating Assessment. Int J Epidemiol 24:771–782

Tavani A, Negri E, La Vecchia C (1995) Coffee intake and risk of hip fracture in women in northern Italy. Prev Med 24:396–400

Kanis J, Johnell O, Gullberg B, Allander E, Elffors L, Ranstam J, Dequeker J, Dilsen G, Gennari C, Vaz AL, Lyritis G, Mazzuoli G, Miravet L, Passeri M, Perez Cano R, Rapado A, Ribot C (1999) Risk factors for hip fracture in men from southern Europe: the MEDOS study. Mediterranean Osteoporosis Study. Osteoporos Int 9:45–54

Hernandez-Avila M, Colditz GA, Stampfer MJ, Rosner B, Speizer FE, Willett WC (1991) Caffeine, moderate alcohol intake, and risk of fractures of the hip and forearm in middle-aged women. Am J Clin Nutr 54:157–163

Kiel DP, Felson DT, Hannan MT, Anderson JJ, Wilson PW (1990) Caffeine and the risk of hip fracture: the Framingham Study. Am J Epidemiol 132:675–684

Cummings SR, Nevitt MC, Browner WS, Stone K, Fox KM, Ensrud KE, Cauley J, Black D, Vogt TM (1995) Risk factors for hip fracture in white women. Study of Osteoporotic Fractures Research Group. N Engl J Med 332:767–773

Meyer HE, Pedersen JI, Loken EB, Tverdal A (1997) Dietary factors and the incidence of hip fracture in middle-aged Norwegians. A prospective study. Am J Epidemiol 145:117–123

Barrett-Connor E, Chang JC, Edelstein SL (1994) Coffee-associated osteoporosis offset by daily milk consumption. The Rancho Bernardo Study. JAMA 271:280–283

Hegarty VM, May HM, Khaw KT (2000) Tea drinking and bone mineral density in older women. Am J Clin Nutr 71:1003–1007

Wu CH, Yang YC, Yao WJ, Lu FH, Wu JS, Chang CJ (2002) Epidemiological evidence of increased bone mineral density in habitual tea drinkers. Arch Intern Med 162:1001–1006

Chen Z, Pettinger MB, Ritenbaugh C, LaCroix AZ, Robbins J, Caan BJ, Barad DH, Hakim IA (2003) Habitual tea consumption and risk of osteoporosis: a prospective study in the women's health initiative observational cohort. Am J Epidemiol 158:772–781

European Coffee Federation (2004) European Coffee Report

Bergström L KE, Hagman U, Ericsson HB, Bruce Å (1991) The food composition database KOST: the National Food Administrations's information system for nutritive values of food. Vår Föda 43:439–447

Seeley DG, Browner WS, Nevitt MC, Genant HK, Scott JC, Cummings SR (1991) Which fractures are associated with low appendicular bone mass in elderly women? The Study of Osteoporotic Fractures Research Group. Ann Intern Med 115:837–842

Naessen T, Parker R, Persson I, Zack M, Adami HO (1989) Time trends in incidence rates of first hip fracture in the Uppsala Health Care Region, Sweden, 1965–1983. Am J Epidemiol 130:289–299

Michaelsson K, Baron JA, Farahmand BY, Johnell O, Magnusson C, Persson PG, Persson I, Ljunghall S (1998) Hormone replacement therapy and risk of hip fracture: population based case-control study. The Swedish Hip Fracture Study Group. BMJ 316:1858–1863

Sanders KM, Pasco JA, Ugoni AM, Nicholson GC, Seeman E, Martin TJ, Skoric B, Panahi S, Kotowicz MA (1998) The exclusion of high trauma fractures may underestimate the prevalence of bone fragility fractures in the community: the Geelong Osteoporosis Study. J Bone Miner Res 13:1337–1342

Heinzl H, Kaider A (1997) Gaining more flexibility in Cox proportional hazards regression models with cubic spline functions. Comput Methods Programs Biomed 54:201–208

Holbrook TL, Barrett-Connor E (1991) Calcium intake: covariates and confounders. Am J Clin Nutr 53:741–744

Elmazar MM, McElhatton PR, Sullivan FM (1982) Studies on the teratogenic effects of different oral preparations of caffeine in mice. Toxicology 23:57–71

Nakamoto T, Shaye R (1984) Effects of caffeine on the growth of mandible and long bone in protein-energy malnourished newborn rats. Proc Soc Exp Biol Med 177:55–61

Glajchen N, Ismail F, Epstein S, Jowell PS, Fallon M (1988) The effect of chronic caffeine administration on serum markers of bone mineral metabolism and bone histomorphometry in the rat. Calcif Tissue Int 43:277–280

Bergman EA, Newbrey JW, Massey LK (1988) Caffeine does not cause in vitro calcium loss from neonatal mouse calvaria. Calcif Tissue Int 43:281–283

Wink CS, Rossowska MJ, Nakamoto T (1996) Effects of caffeine on bone cells and bone development in fast-growing rats. Anat Rec 246:30–38

Huang TH, Yang RS, Hsieh SS, Liu SH (2002) Effects of caffeine and exercise on the development of bone: a densitometric and histomorphometric study in young Wistar rats. Bone 30:293–299

Yeh JK, Aloia JF (1986) Differential effect of caffeine administration on calcium and vitamin D metabolism in young and adult rats. J Bone Miner Res 1:251–258

Whiting SJ, Whitney HL (1987) Effect of dietary caffeine and theophylline on urinary calcium excretion in the adult rat. J Nutr 117:1224–1228

Heaney RP (1982) Nutritional factors and estrogen in age-related bone loss. Clin Invest Med 5:147–155

Massey LK, Wise KJ (1984) The effect of dietary caffeine on urinary excretion of calcium, magnesium, sodium and potassium in healthy young females. Nutr Res 4:43–50

Massey LK, Hollingbery PW (1988) Acute effects of dietary caffeine and sucrose on urinary mineral excretion of healthy adolescents. Nutr Res 8:1005–1012

Bergman EA, Massey LK, Wise KJ, Sherrard DJ (1990) Effects of dietary caffeine on renal handling of minerals in adult women. Life Sci 47:557–564

Kynast-Gales SA, Massey LK (1994) Effect of caffeine on circadian excretion of urinary calcium and magnesium. J Am Coll Nutr 13:467–472

Barger-Lux MJ, Heaney RP, Stegman MR (1990) Effects of moderate caffeine intake on the calcium economy of premenopausal women. Am J Clin Nutr 52:722–725

Heaney RP, Recker RR (1994) Determinants of endogenous fecal calcium in healthy women. J Bone Miner Res 9:1621–1627

Heaney RP (2002) Effects of caffeine on bone and the calcium economy. Food Chem Toxicol 40:1263–1270

Rapuri PB, Gallagher JC, Kinyamu HK, Ryschon KL (2001) Caffeine intake increases the rate of bone loss in elderly women and interacts with vitamin D receptor genotypes. Am J Clin Nutr 74:694–700

Newby PK, Weismayer C, Akesson A, Tucker KL, Wolk A (2006) Long-term stability of food patterns identified by use of factor analysis among Swedish women. J Nutr 136:626–633

Willett W, Stampfer MJ (1986) Total energy intake: implications for epidemiologic analyses. Am J Epidemiol 124:17–27
Acknowledgement
This study was supported by grants from the Swedish Research Council.
About this article
Cite this article
Hallström, H., Wolk, A., Glynn, A. et al. Coffee, tea and caffeine consumption in relation to osteoporotic fracture risk in a cohort of Swedish women. Osteoporos Int 17, 1055–1064 (2006). https://doi.org/10.1007/s00198-006-0109-y
Received:

Accepted:

Published:

Issue Date:

DOI: https://doi.org/10.1007/s00198-006-0109-y
Keywords
Caffeine

Coffee

Cohort study

Fracture

Tea