Abstract
Introduction
Vitamin D insufficiency is common, however within individuals, not all manifest the biochemical effects of PTH excess. This further extends to patients with established osteoporosis. The mechanism underlying the blunted PTH response is unclear but may be related to magnesium (Mg) deficiency. The aims of this study were to compare in patients with established osteoporosis and differing degrees of vitamin D and PTH status : (1) the presence of Mg deficiency using the standard Mg loading test (2) evaluate the effects of Mg loading on the calcium-PTH endocrine axis (3) determine the effects of oral, short term Mg supplementation on the calcium-PTH endocrine axis and bone turnover.
Methods
30 patients (10 women in 3 groups) were evaluated prospectively measuring calcium, PTH, Mg retention (Mg loading test), dietary nutrient intake (calcium, vitamin D, Mg) and bone turnover markers (serum CTX & P1CP). Multivariate analysis controlling for potential confounding baseline variable was undertaken for the measured outcomes.
Results
All subjects, within the low vitamin D and low PTH group following the magnesium loading test had evidence of Mg depletion [mean(SD) retention 70.3%(12.5)] and showed an increase in calcium 0.06(0.01) mmol/l [95% CI 0.03, 0.09, p=0.007], together with a rise in PTH 13.3 ng/l (4.5) [95% CI 3.2, 23.4, p=0.016] compared to baseline. Following oral supplementation bone turnover increased: CTX 0.16 (0.06) mcg/l [95%CI 0.01, 0.32 p=0.047]; P1CP 13.1 (5.7) mcg/l [95% CI 0.29, 26.6 p=0.049]. In subjects with a low vitamin D and raised PTH mean retention was 55.9%(14.8) and in the vitamin replete group 36.1%(14.4), with little change in both acute markers of calcium homeostasis and bone turnover markers following both the loading test and oral supplementation.
Conclusions
This study confirms that in patients with established osteoporosis, there is also a distinct group with a low vitamin D and a blunted PTH level and that Mg deficiency (as measured by the Mg loading test) is an important contributing factor.
Access options
Buy single article
Instant access to the full article PDF.
US$ 39.95
Tax calculation will be finalised during checkout.
Subscribe to journal
Immediate online access to all issues from 2019. Subscription will auto renew annually.
US$ 119
Tax calculation will be finalised during checkout.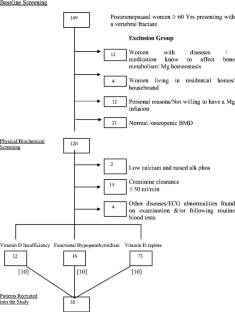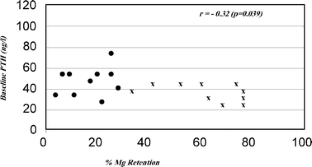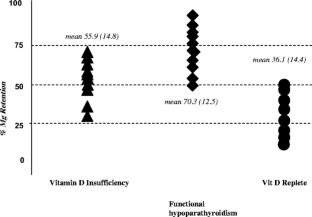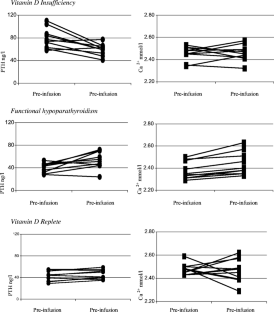 References
1.

Guillemant J, Taupin P, Le HT, Taright N, Allemanandou A, Pérès G, Guillemant S (1999) Vitamin D status during puberty in French health male adolescents. Osteop Int 10:222–225

2.

Chapuy MC, Preziosi P, Maamer M, Arnaud S, Galan P, Hereberg S, Meunier PJ (1997) Prevalence of vitamin D insufficiency in an adult normal population. Osteop Int 7:439–443

3.

Melin AL, Wilske J, Ringertz H, Sääf M (2000) Vitamin D status, parathyroid function and femoral bone density in an elderly Swedish population living at home. Aging Clin Exp Res 11:200–207

4.

Serhan E, Newton P, Ali HA, Walford S, Singh BM (1999) Prevalence of hypovitaminosis D in Indo-Asian patients attending a rheumatology clinic. Bone 5:609–611

5.

Bettica P, Bevilacqua M, Vago T, Norbiato (1999) High prevalence of hypovitaminosis D among free-living postmenopausal women referred to an osteoporosis outpatient clinic in Northern Italy for initial screening. Osteop Int 9:226–229

6.

Aguado P, del Campo MT, Garcés MV, González-Casaús ML, Bernad M, Gijón-Baños J et al (2000) Low vitamin D levels in outpatient postmenopausal women from a rheumatology clinic in Madrid, Spain: their relationship with bone mineral density. Osteop Int 11:739–744

7.

Parfitt AM, Gallagher JC, Heaney RP, Johnston CC, Neer R, Whedon GD (1982) Vitamin D and bone health. Am J Clin Nutr 36:1014–1031

8.

Krall EA, Sahyoun N, Tannenbaum S, Dallal GE, Dawson Hughes B (1989) Effect of vitamin D intake on seasonal variation in parathyroid hormone secretion in post menopausal women. N Eng J Med 321:1777–1783

9.

Gloth III MF, Gundberg CM, Hollis BW, Haddad Jr JG, Tobin JD (1995) Vitamin D deficiency in homebound elderly persons. JAMA 274:1683–1686

10.

Malabanan A, Veronikis IE, Holick FM (1998) Refining vitamin D insufficiency. Lancet 351:805–806

11.

Sahota O, Masud T, San P, Hosking DJ (1999) Vitamin D insufficiency increases bone turnover markers and enhances bone loss at the hips in patients with established osteoporosis. Clin Endocrinol 51:217–221

12.

Lamberg-Allardt C, von Knorring J, Slatis P, Holmstrom T (1988) Vitamin D status and concentrations of serum vitamin D metabolites and osteocalcin in elderly patients with femoral neck fracture: a follow-up study. Eur J Clin Nutr 43:355–361

13.

LeBoff MS, Kohlmeier L, Hurwitz S, Franklin J, Wright J, Glowacki J (1999) Occult vitamin D deficiency in post menopausal US women with acute hip fracture. JAMA 281:1505–1511

14.

Rao DS Perspective on assessment of vitamin D nutrition (1999) J Clin Densitometry 2:457–464

15.

Rao DS, Kleerekoper M, Rogers M, Frame B, Parfitt A (1984) Is gastrectomy a risk factor for osteoporosis? In: Christiansen C (ed) Osteoporosis. Glostrup Hospital, Denmark 775–777

16.

Parfitt AM, Podenphant J, Villanueva AR, Frame B (1985) Metabolic bone disease with and without osteomalacia after intestinal bypass surgery: a bone histomorphometric study. Bone 6:211–220

17.

Sahota O, Gaynor K, Harwood RH, Hosking DJ (2001) Hypovitaminosis D and functional hypoparathyroidism. The NoNOF (Nottingham Neck of Femur) Study. Age Ageing 6:467–472

18.

Sahota O, Mundey MK, San P, Godber IM, Lawson N, Hosking DJ (2004) The relationship between vitamin D & parathyroid hormone: Calcium homeostasis, bone turnover and bone mineral density in postmenopausal women with established osteoporosis. Bone 35:312–319

19.

Rude RK, Oldham SB, Singer FR (1986) Functional hypoparathyroidism and parathyroid hormone end-organ resistance in human Mg deficiency. Clin Endocrinol 5:209–224

20.

Francis RM, Peacock M, Barkworth SA (1984) Renal impairment and its effects on calcium metabolism in elderly women. Age Ageing 13:14–20

21.

Cockcroft DW, Gault MH (1976) Prediction of creatinine clearance from serum creatinine. Nephron 16:31–41

22.

Ryzen E, Elbaum N, Singer FR, Rude RK (1985) Parental Mg tolerance testing in the evaluation of Mg deficiency. Magnesium 4:137–147

23.

Rude RK, Bethune JE, Singer FR (1980) Renal tubular maximum for magnesium in normal, hyperparathyroid and hypoparathyroid man. J Clin Endocrinol Metab 51:1425–1431

24.

Cohen L, Laor A, Kitzes R (1983) Magnesium malabsorption in postmenopausal osteoporosis. Magnesium 2:271–274

25.

Reginster JY, Strause L, Deroisy R, Lecart MP, Saltman P, Franchimont P (1989) Preliminary report of decreased serum magnesium in postmenopausal osteoporosis. Magnesium 8:106–109

26.

Siener R, Hesse A (1995) Influence of a mixed and a vegetarian diet on urinary Mg excretion and concentration. B J Nutr 54:553–559

27.

Rude RK, Olerich K (1996) Magnesium deficiency: possible role in osteoporosis associated with gluten-sensitive enteropathy. Osteop Int 6:453–461

28.

Anast CS, Winnacker JL, Forte LR, Burns TW (1986) Impaired release of parathyroid hormone in Mg deficiency. J Clin Endocrinol Metab 42:707–717

29.

Zajac JD (2000) Regulation of parathyroid function. Bone 27:7S

30.

Eskiyurt N, Akt S, Aydogan A, Aksac B, Sen N, Akyuz G, Oncel A (2000) The evaluation of the effects of calcium, magnesium and vitamin D derivatives on bone density and biochemical markers of bone turnover in cases of postmenopausal osteoporosis. Osteop Int 3(S62):23

31.

Rude RK, Oldham SB, Sharp CF Jr, Singer FR (1978) Parathyroid hormone secretion in Mg deficiency. J Clin Endo Metab 47:800–806

32.

Medalle R, Waterhouse C, Hahn TJ (1986) Vitamin D resistance in Mg deficiency. Am J Clin Nutr 29:854–858

33.

Bjarnasson HN, Christiansen C (2000) Early response in biochemical markers predicts long-term response in bone mass during hormone replacement therapy in early postmenopausal women. Bone 26:561–569

34.

Garnero P, Sornay-Rendu E, Claustrat B, Delmas (2000) PD Biochemical makers of bone turnover, endogenous hormones and the risk of fractures in postmenopausal women. J Bone Miner Res 15:1526–1536
Acknowledgements
The authors are grateful to the research nurses in the Metabolic Unit for their help in collating data. We are also grateful to Isabel Fowler in the Department of Clinical Chemistry for her support in preparing/analysing some of the biochemical samples, and Vincent Crosby for his advice on undertaking the Mg studies.
Additional information
Funding Sources This work was supported by a Research and Development (R & D ) grant, Nottingham City Hospital and an educational grant from Lambert's Pharmaceuticals Ltd.
An erratum to this article can be found at http://dx.doi.org/10.1007/s00198-006-0219-6
About this article
Cite this article
Sahota, O., Mundey, M.K., San, P. et al. Vitamin D insufficiency and the blunted PTH response in established osteoporosis: the role of magnesium deficiency. Osteoporos Int 17, 1013–1021 (2006). https://doi.org/10.1007/s00198-006-0084-3
Received:

Accepted:

Published:

Issue Date:
Keywords
Functional hypoparathyroidism

Magnesium

Osteoporosis

Secondary hyperparathyroidism

Vitamin D