Abstract
Green tea has been reported to possess antioxidant, antitumorigenic, and antibacterial qualities that regulate the endocrine system. Previous epidemiological studies found that the bone mineral density (BMD) of postmenopausal women with a habit of tea drinking was higher than that of women without habitual tea consumption. However, the effects of green tea catechins on osteogenic function have rarely been investigated. In this study, we tested (-)-epigallocatechin-3-gallate (EGCG), one of the green tea catechins, on cell proliferation, the mRNA expressions of relevant osteogenic markers, alkaline phosphatase (ALP) activity and mineralization. In a murine bone marrow mesenchymal stem cell line, D1, the mRNA expressions of core binding factors a1 (Cbfa1/Runx2), osterix, osteocalcin, ALP increased after 48 h of EGCG treatment. ALP activity was also significantly augmented upon EGCG treatment for 4 days, 7 days and 14 days. Furthermore, mineralizations assayed by Alizarin Red S and von Kossa stain were enhanced after EGCG treatment for 2–4 weeks in D1 cell cultures. However, a 24-h treatment of EGCG inhibited thymidine incorporation of D1 cells. These results demonstrated that long-term treatment of EGCG increases the expressions of osteogenic genes, elevates ALP activity and eventually stimulates mineralization, in spite of its inhibitory effect on proliferation. This finding suggests that the stimulatory effects of EGCG on osteogenesis of mesenchymal stem cells may be one of the mechanisms that allow tea drinkers to possess higher BMD.
Access options
Buy single article
Instant access to the full article PDF.
US$ 39.95
Tax calculation will be finalised during checkout.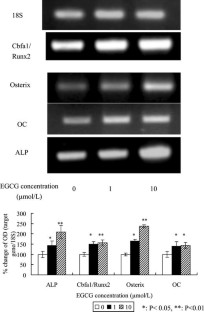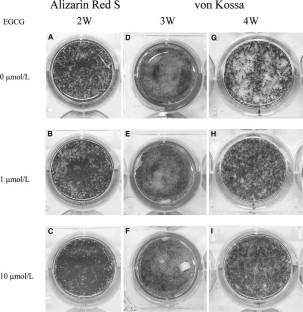 References
1.

Liao S, Kao YH, Hiipakka RA (2001) Green tea: biochemical and biological basis for health benefits. Vitam Horm 62:1–94

2.

Yang CS, Yang GY, Chung JY et al (2001) Tea and tea polyphenols in cancer prevention. Adv Exp Med Biol 492:39–53

3.

Liao S, Umekita Y, Guo J et al (1995) Growth inhibition and regression of human prostate and breast tumors in athymic mice by tea epigallocatechin gallate. Cancer Lett 96:239–243

4.

Yang CS, Lee MJ, Chen L (1999) Human salivary tea catechin levels and catechin esterase activities: implication in human cancer prevention studies. Cancer Epidemiol Biomarkers Prev 8:83–89

5.

Kao YH, Hiipakka RA, Liao S (2000) Modulation of obesity by a green tea catechin. Am J Clin Nutr 72:1232–1234

6.

Katiyar SK, Elmets CA (2001) Green tea polyphenolic antioxidants and skin photoprotection (Review). Int J Oncol 18:1307–1313

7.

Kondo K, Kurihara M, Fukuhara K (2001) Mechanism of antioxidant effect of catechins. Methods Enzymol 335:203–217

8.

Kanis J, Johnell O, Gullberg B et al (1999) Risk factors for hip fracture in men from southern Europe: the MEDOS study. Mediterranean Osteoporosis Study. Osteoporos Int 9:45–54

9.

Johnell O, Gullberg B, Kanis JA et al (1995) Risk factors for hip fracture in European women: the MEDOS Study. Mediterranean Osteoporosis Study. J Bone Miner Res 10:1802–1815

10.

Hegarty VM, May HM, Khaw KT (2000) Tea drinking and bone mineral density in older women. Am J Clin Nutr 71:1003–1007

11.

Chen CH, Ho ML, Chang JK et al (2003) Green tea catechins enhance the expression of osteoprotegerin(OPG) in pluripotent stem cells. J Orthop Surg Taiwan 20:178–183

12.

Dahir GA, Cui Q, Anderson P et al (2000) Pluripotential mesenchymal cells repopulate bone marrow and retain osteogenic properties. Clin Orthop S134–145

13.

Hoover PA, Webber CE, Beaumont LF et al (1996) Postmenopausal bone mineral density: relationship to calcium intake, calcium absorption, residual estrogen, body composition, and physical activity. Can J Physiol Pharmacol 74:911–917

14.

Chen Z, Pettinger MB, Ritenbaugh C et al (2003) Habitual tea consumption and risk of osteoporosis: a prospective study in the women's health initiative observational cohort. Am J Epidemiol 158:772–781

15.

Wu CH, Yang YC, Yao WJ et al (2002) Epidemiological evidence of increased bone mineral density in habitual tea drinkers. Arch Intern Med 162:1001–1006

16.

Karsenty G, Ducy P, Starbuck M et al (1999) Cbfa1 as a regulator of osteoblast differentiation and function. Bone 25:107–108

17.

Ducy P, Karsenty G (1995) Two distinct osteoblast-specific cis-acting elements control expression of a mouse osteocalcin gene. Mol Cell Biol 15:1858–1869

18.

Nakashima K, Zhou X, Kunkel G et al (2002) The novel zinc finger-containing transcription factor osterix is required for osteoblast differentiation and bone formation. Cell 108:17–29

19.

Unno T, Kondo K, Itakura H et al (1996) Analysis of (-)-epigallocatechin gallate in human serum obtained after ingesting green tea. Biosci Biotechnol Biochem 60:2066–2068

20.

van het Hof KH, Wiseman SA, Yang CS et al (1999) Plasma and lipoprotein levels of tea catechins following repeated tea consumption. Proc Soc Exp Biol Med 220:203–209
Acknowledgement
We appreciate the help of Prof. Shutsung Liao, Department of Biochemistry and Molecular Biology, University of Chicago, USA, who provided the green tea catechins. We thank Shun-Cheng Wu and Yi-Jen Chen for helping the experiment process. This study was support by National Science Council Taiwan grant NSC93–2314-B-037–026
About this article
Cite this article
Chen, CH., Ho, ML., Chang, JK. et al. Green tea catechin enhances osteogenesis in a bone marrow mesenchymal stem cell line. Osteoporos Int 16, 2039–2045 (2005). https://doi.org/10.1007/s00198-005-1995-0
Received:

Accepted:

Published:

Issue Date:
Keywords
Catechin

EGCG

Mesenchymal stem cell

Osteogenesis