Abstract
Osteoporotic vertebral fractures generally result in an increased kyphotic angle, which in turn may lead to disturbances in pulmonary function. The objective of the present study was to evaluate pulmonary function and quality of life in a group of osteoporotic patients. Fifteen women with osteoporosis and thoracic vertebral fractures (group 1), 20 women with osteoporosis without vertebral fracture (group 2) and 20 control women (group 3) were submitted to spirometry using a Vitatrace-130 SL spirometer and to an SF-36 quality of life questionnaire. Women with osteoporosis and vertebral fractures showed an increased kyphotic angle (median=60°) and decreased forced vital capacity (group 1 vs. group 2, P =0.020; group 1 vs. group 3, P =0.039) and forced expiratory volume in 1 s (group 1 vs. group 2, P =0.008; group 1 vs. group 3, P =0.014) when compared with women without vertebral fractures or osteoporosis. A negative correlation was observed between thoracic kyphosis and the predicted value of expiratory forced volume in 1 s ( r =−0.713, P =0.003). No differences in the quality of life were detected between the three groups studied. We conclude that women with thoracic vertebral fractures have an increased kyphotic angle and present a decrease in lung volume.
This is a preview of subscription content, log in to check access.
Access options
Buy single article
Instant access to the full article PDF.
US$ 39.95
Price includes VAT for USA
Subscribe to journal
Immediate online access to all issues from 2019. Subscription will auto renew annually.
US$ 199
This is the net price. Taxes to be calculated in checkout.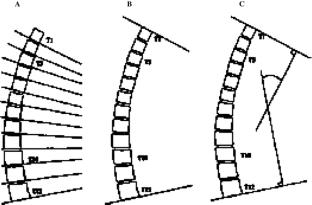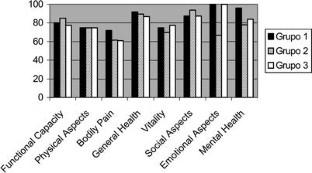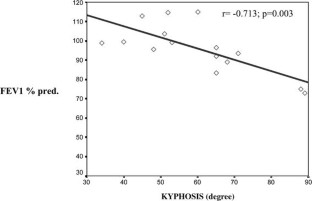 References
1.

Consensus Development Conference (1991) Prophylaxis and treatment of osteoporosis. Am J Med 90:107–110

2.

Sambrook PN, Dequeker J, Rasp HH (1998) Metabolic bone diseases: Osteoporosis. In: Klippel JH, Dieppe PA (eds) Rheumatology, 2nd edn. Mosby, London, pp 8.36.1–8.36.9

3.

Cook DJ, Guyatt GH, Adachi JD, et al (1993) Quality of life issues in women with vertebral fractures due to osteoporosis. Arthritis Rheum 36:750–756

4.

Leidig-Bruckner G, Minne HW, Schlaich GW, et al (1997) Clinical grading of spinal osteoporosis: quality of life components and spinal deformity in women with chronic low back pain and women with vertebral osteoporosis. J Bone Miner Res 12:663–675

5.

Schlaich C, Minne HW, Bruckner T, et al (1998) Reduced pulmonary function in patients with spinal osteoporotic fractures. Osteoporos Int 8:261–267

6.

Culham GE, Hilda AIJ, Cheryl EK (1994) Thoracic kyphosis, rib mobility, and lung volumes in normal women and women with osteoporosis. Spine 19:1250–1255

7.

Rosenberg AE (1996) Sistema esquelético e tumores de partes moles. In: Cotran RS, Kumar V, Robbins SL (eds) Patologia estrutural e funcional, 5th edn. Guanabara Koogan S.A., Rio de Janeiro, pp 1099–1102

8.

De Smet AA, Robinson RG, Johnson BE, Lukert BP (1988) Spinal compression fractures in osteoporotic women: patterns and relationship to hyperkyphosis. Radiology 166:497–450

9.

Leech JA, Dulberg C, Kellie S, Pattee L, Gay J (1990) Relationship of lung function to severity of osteoporosis in women. Am Rev Respir Dis 141:68–71

10.

Cortet B, Houvenagel E, Puisieux F, Roches E, Garnier P, Bernard D (1999) Spinal curvatures and quality of life in women with fractures secondary to osteoporosis. Spine 24:192–195

11.

Hall SE, Criddle RA, Comito TL, Prince RL (1999) A case-control study of quality of life and functional impairment in women with long-standing vertebral osteoporotic fracture. Osteoporos Int 9:508–515

12.

Finkelstein R, Fraser RS, Ghezzo H, Cosio MG (1995) Alveolar inflammation and its relation to emphysema in smokers. Am J Respir Crit Care Med 152:1666–1672

13.

Peña VS, Miravitlles M, Gabriel R, et al (2000) Geographic variations in prevalence and underdiagnosis of COPD: results of the IBERPOC multicentre epidemiological study. Chest 118:981–989

14.

Ciconelli RM, Ferraz MB, Santos W, et al. (1999) Tradução para língua portuguesa e validação do questionário genérico de avaliação de qualidade de vida SF-36 (Brasil SF-36). Rev Bras Reumatol 39:143–150

15.

Huskisson EC, Jones J, Scott PJ (1976) Application of visual annal scales to the measurement of functional capacity. Rheumatol Rehabil 15:185–187

16.

World Health Organization (1998) Assessment of fracture and its application to screening for postmenopausal osteoporosis. Report of WHO study group. WHO, Geneva, Technical Report Series no. 843

17.

Melton LJ, Egan KS, O'Fallon WM, Riggs BL (1998) Influence of fracture criteria on the outcome of a randomized trial of therapy. Osteoporos Int 8:184–191

18.

An HS, Humphreys SC, Balderston RA (1999) Juvenile kyphosis. In: Herkowitz HN, Grafin SR, Balderston RA, Eismont FS, Bell GR, Wiesel SW, Rothman S (eds) The spine, 4th edn. WB Saunders, Philadelphia, p 408

19.

Harrison DE, Cailliet R, Harrison DD, Janik TJ, Holland B (2001) Reliability of centroid, Cobb, and Harrison posterior tangent methods. Spine 26:E227–E234

20.

American Thoracic Society (1987) Standartization of spirometry. Am Rev Respir Dis 136:1285–1298

21.

Neder JA, Andreoni S, Castelo-Filho A, Nery LE (1999) Reference values for lung function testes. I. Static volumes. Braz J Med Biol Res 32:703–717

22.

Siegel S (1981) Estatística não paramétrica. McGraw-Hill, São Paulo

23.

Siegel S (1975) Estatística não-paramética (para as ciências do comportamento). McGraw-Hill, São Paulo

24.

Wirhed, R (1997) Athletic ability and the anatomy of motion, 2nd edn. Elsevier, St Louis

25.

Pauwels RA, Buist AS, Calverly PM, Jenkins CR, Hurd SS (2001) Global strategy for the diagnosis, management, and prevention of chronic obstructive pulmonary disease. NHLBI/WHO Global Initiative for Chronic Obstructive Lung Disease (GOLD) Workshop summary. Am J Respir Crit Care Med 163:1256–1256

26.

Feltelius N, Hedenström H, Hillerdal G, Hällgren R (1986) Pulmonary involvement in ankylosing spondilitis. Ann Rheum Dis 45:736–740

27.

Grimby G, Fugl-Meyer AR, Blomstrand A (1974) Partitioning of contributions of rib cage and abdomen to ventilation in ankylosing spondilitis. Thorax 29:179–184

28.

Kafer ER (1975) Idiopathic scoliosis: mechanical properties of the respiratory system and the respiratory response to carbon dioxide. J Clin Invest 55:1153–1163

29.

Stewart RM, Ridyard JB, Pearson JD (1976) Regional lung function in ankylosing spondilitis. Thorax 31:433–437

30.

Vanderchueren D, Decramer M, Van Den Daele, P, Dequeker J (1989) Pulmonary function and maximal transrespiratory pressures in ankylosing spondilitis. Ann Rheum Dis 48:632–635

31.

Weber BM, Smith JP, Briscoe WA, Friedman AS, King TKC (1975) Pulmonary function in asymptomatic adolescents with idiopathic scoliosis. Am Rev Resp Dis 111:389–397

32.

Ross PD, Ettnger B, Davis JW, Melton LJ, Wasnich RD (1991) Evaluation of adverse health outcomes associated with vertebral fractures. Osteoporosis Int 1:134–140

33.

Cantarelli FB, Simões MFJ, Oliveira LM, Ferraz MB, Szejnfeld VL (1999) Qualidade de vida em pacientes com fraturas por osteoporose: adaptação cultural, reprodutibilidade e validação do "Osteoporosis assessment questionnaire-OPAQ." Rev Bras Reumatol 39:9–18

34.

Lydick E, Martin A, Yawn B (1996) Impact of fears on quality of life in patients with a silent disease: osteoporosis. Clin Ther 18:1307–1315
About this article
Cite this article
Lombardi, I., Oliveira, L.M., Mayer, A.F. et al. Evaluation of pulmonary function and quality of life in women with osteoporosis. Osteoporos Int 16, 1247–1253 (2005). https://doi.org/10.1007/s00198-005-1834-3
Received:

Accepted:

Published:

Issue Date:
Keywords
Kyphosis

Osteoporosis

Pulmonary function

Quality of life

Women