Abstract
This study tested whether moderate resistance training would improve femoral bone mineral density (BMD) in long-term users of hormone therapy with low BMD. The study was a 2-year randomized, controlled, trial (RCT) of moderate resistance training of either the lower extremity or the upper extremity. Eighty-five women participated in a 6-month observation period. The setting was center-based and home-based training. The participants were 189 women aged 59–78 years, with total femur T-scores from −0.8 to −2.8 and on hormone therapy (HT) for a minimum of 2 years (mean 11.8 years); 153 completed the trial. Lower extremity training used weight belts (mean 7.8 kg) in step-ups and chair rises; upper extremity training used elastic bands and dumbbells. Measurements were BMD and body composition [dual-energy X-ray absorptiometry (DXA)], bone turnover markers. Total femoral BMD showed a downward trend during the observation period: 0.35%±0.18% (P=0.14). The response to training was similar in the upper and lower groups in the primary outcomes. At 2 years, total femoral BMD increased 1.5% (95% CI 0.8%–2.2%) in the lower group and 1.8% (95% CI 1.1%–2.5%) in the upper group. Trochanter BMD increased 2.4% (95% CI 1.3%–3.5%) in the lower group and 2.5% (95% CI 1.4%–3.6%) in the upper group (for both analyses time effect P<0.001). At 1 year, a bone resorption marker (C-telopeptide) decreased 9% (P=0.04). Bone formation markers, bone-specific alkaline phosphatase, decreased 5% (P<0.001), and N-terminal type I procollagen peptide decreased 7% (P=0.01). Body composition (percent lean and percent body fat) was maintained in both groups. We concluded that long-term moderate resistance training reversed bone loss, decreased bone turnover, increased femur BMD, and maintained body composition. The similarity of response in upper and lower groups supports a systemic response rather than a site-specific response to moderate resistance training.
Access options
Buy single article
Instant access to the full article PDF.
US$ 39.95
Tax calculation will be finalised during checkout.
Subscribe to journal
Immediate online access to all issues from 2019. Subscription will auto renew annually.
US$ 119
Tax calculation will be finalised during checkout.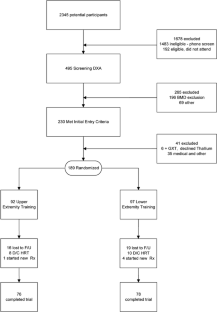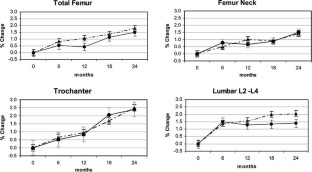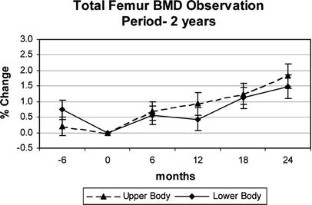 References
1.

Rossouw JE, Anderson GL, Prentice RL, et al (2002) Risks and benefits of estrogen plus progestin in healthy postmenopausal women: principal results from the Women's Health Initiative randomized controlled trial. JAMA 288:321–333

2.

Feskanich D, Willett W, Colditz G (2002) Walking and leisure-time activity and risk of hip fracture in postmenopausal women. JAMA 288:2300–2306

3.

Hoidrup S, Gronbaek M, Pedersen AT, Lauritzen, JB Gottschau A, Schroll M (1999) Hormone replacement therapy and hip fracture risk. Am J Epidemiol 150:1085–1093

4.

Cummings SR, Nevitt MC, Browner WS, et al (1995) Risk factors for hip fracture in white women. N Engl J Med 332:767–773

5.

Nelson ME, Fiatarone MA, Morganti CM, Trice I, Greenberg RA, Evans WJ (1994) Effects of high-intensity strength training on multiple risk factors for osteoporotic fractures. A randomized controlled trial. JAMA 272:1909–1914

6.

Kerr D, Morton A, Dick I, Prince R (1996) Exercise effects on bone mass in postmenopausal women are site-specific and load-dependent. J Bone Miner Res 11:218–225

7.

Kerr D, Ackland T, Maslen B, Morton A, Prince R (2001) Resistance training over 2 years increases bone mass in calcium-replete postmenopausal women. J Bone Miner Res 16:175–181

8.

Going ST, Lohman L, Houtkooper L, Metcalfe H, Flint-Wagner R, Blew V, Stanford E, Cussler J, Martin P, Teixeira M, Harris L, Milliken A, Figueroa-Galvez A, Weber J (2003) Effects of exercise on bone mineral density in calcium-replete postmenopausal women with and without hormone replacement therapy. Osteoporos Int 14:637–643

9.

Kelley GA, Kelley KS, Tran ZV (2001) Resistance training and bone mineral density in women: a meta-analysis of controlled trials. Am J Phys Med Rehabil 80:65–77

10.

Bonaiuti D, Shea B, Iovine R, et al (2002) Exercise for preventing and treating osteoporosis in postmenopausal women. Cochrane Database Syst Rev CD000333

11.

Wolff I, van Croonenborg JJ, Kemper HC, Kostense PJ, Twisk JW (1999) The effect of exercise training programs on bone mass: a meta-analysis of published controlled trials in pre- and postmenopausal women. Osteoporos Int 9:1–12

12.

Kohrt WM, Ehsani AA, Birge SJ (1997) Effects of exercise involving predominantly either joint-reaction or ground-reaction forces on bone mineral density in older women. J Bone Miner Res 12:1253–1261

13.

Campbell AJ, Robertson MC, Gardner MM, Norton RN, Buchner DM (1999) Falls prevention over 2 years: a randomized controlled trial in women 80 years and older. Age Ageing 28:513–518

14.

Kohrt WM, Snead DB, Slatopolsky E, Birge SJ (1995) Additive effects of weight-bearing exercise and estrogen on bone mineral density in older women. J Bone Miner Res 10:1303–1311

15.

Cauley JA, Zmuda JM, Ensrud KE, et al (2001) Timing of estrogen replacement therapy for optimal osteoporosis prevention. J Clin Endocrinol Metab 86:5700–5705

16.

Nelson HD, Rizzo J, Harris E, et al for the Study of Osteoporotic Fractures Research Group (2002) Osteoporosis and fractures in postmenopausal women using estrogen. Arch Intern Med 162:2278–2284

17.

Fang Z, Smith J, Kleppinger A, Emerson D, Reisine S, Kulldorff M (2002) Retrospective evaluation and calibration of dual energy X-ray absorptiometry (DXA) measurements for bone mineral density research studies. J Clin Densitom 5: 421–433

18.

US Department of Health and Human Services (1996) Physical activity and health: a report of the Surgeon General. US Department of Health and Human Services, Centers for Disease Control and Prevention, National Center for Chronic Disease Prevention and Health Promotion, President's Council on Physical Fitness and Sports, Washington, DC

19.

Washburn RA, Smith KW, Jette AM, Janney CA (1993) The Physical Activity Scale for the Elderly (PASE): development and evaluation. J Clin Epidemiol 46:153–162

20.

Litt MD, Kleppinger A, Judge JO (2002) Initiation and maintenance of exercise behavior in older women: predictors from the social learning model. J Behav Med 25:83–97

21.

Gallagher JC, Fowler SE, Detter JR, Sherman SS (2001) Combination treatment with estrogen and calcitriol in the prevention of age-related bone loss. J Clin Endocrinol Metab 86:3618–3628

22.

Ravn P, Bidstrup M, Wasnich RD, Davis JW, McClung MR, Balske A (1999) Alendronate and estrogen–progestin in the long-term prevention of bone loss; four-year results from the Early Post-menopausal Intervention Cohort Study. Ann Intern Med 131:935–942

23.

Ebeling PR, Atley LM, Guthrie JR, Burger HG, Dennerstein L, Hopper JL, Wark JD (1996) Bone turnover markers and bone density across the menopausal transition. J Clin Endocrinol Metab 81:3366–3371

24.

Garnero P, Hausherr E, Chapuy MC, Marcelli C, Grandjean H, Muller C, Cormier C, Breart G, Meunier PJ, Delmas PD (1996) Markers of bone resorption predict hip fracture in elderly women: the EPIDOS Prospective Study. J Bone Miner Res 11:1531–1538

25.

Garnero P, Sornay-Rendu E, Chapuy MC, Delmas PD (1996) Increased bone turnover in late postmenopausal women is a major determinant of osteoporosis. J Bone Miner Res 11:337–349

26.

Prestwood KM, Kenny AM, Unson C, Kulldorff M (2000) The effect of low dose micronized 17ss-estradiol on bone turnover, sex hormone levels, and side effects in older women: a randomized, double blind, placebo-controlled study. J Clin Endocrinol Metab 85:4462–4469

27.

Rockwell JC, Sorensen AM, Baker S, Leahey D, Stock JL, Michaels J, et al (1990) Weight training decreases vertebral bone density in premenopausal women: a prospective study. J Clin Endocrinol Metab 71:988–993

28.

Pruitt LA, Jackson RD, Bartels RL, Lehnhard HJ (1992) Weight-training effects on bone mineral density in early postmenopausal women. J Bone Miner Res 7:179–185

29.

Ryan AS, Treuth MS, Hunter GR, Elahi D (1998) Resistive training maintains bone mineral density in postmenopausal women. Calcif Tissue Int 62:295–299

30.

Greendale GA, Salem GJ, Young JT, et al (2000) A randomized trial of weighted vest use in ambulatory older adults: strength, performance, and quality of life outcomes. J Am Geriatr Soc 48:305–311

31.

Bemben DA, Fetters NL, Bemben MG, Nabavi N, Koh ET (2000) Musculoskeletal responses to high- and low-intensity resistance training in early postmenopausal women. Med Sci Sports Exerc 32:1949–1957

32.

Vincent KR, Braith RW (2002) Resistance exercise and bone turnover in elderly men and women. Med Sci Sports Exerc 34:17–23

33.

Bassey EJ, Rothwell MC, Littlewood JJ, Pye DW (1998) Pre- and postmenopausal women have different bone mineral density responses to the same high-impact exercise. JBone Miner Res 13:1805–1813

34.

Kirkwood RN, Culham EG, Costigan P (1999) Hip moments during level walking, stair climbing, and exercise in individuals aged 55 years or older. Phys Ther 79:360–370

35.

Lanyon LE (1996) Using functional loading to influence bone mass and architecture. Bone 18 [Suppl]:37S–43S

36.

Janssen I, Heymsfield SB, Wang ZM, Ross R (2000) Skeletal muscle mass and distribution in 468 men and women aged 18–88 yr. J Appl Physiol 89:81–88

37.

Melton LJ 3rd, Khosla S, Crowson CS, O'Connor MK, O'Fallon WM, Riggs BL (2000) Epidemiology of sarcopenia. J Am Geriatr Soc 48:625–630

38.

Gallagher D, Visser M, De Meersman RE, Sepulveda D, Baumgartner RN, Pierson RN, Harris T, Heymsfield SB (1997) Appendicular skeletal muscle mass: effects of age, gender, and ethnicity. J Appl Physiol 83:229–239

39.

Gallagher D, Kovera AJ, Clay-Williams G, Agin D, Leone P, Albu J, Matthews DE, Heymsfield SB (2000) Weight loss in postmenopausal obesity: no adverse alterations in body composition and protein metabolism. Am J Physiol Endocrinol Metab 279: E124–131

40.

Evans EM, Van Pelt RE, Binder EF, Williams DB, Ehsani AA, Kohrt WM (2001) Effects of HRT and exercise training on insulin action, glucose tolerance, and body composition in older women. J Appl Physiol 90:2033–2040

41.

Brown M, Birge SJ, Kohrt WM (1997) Hormone replacement therapy does not augment gains in muscle strength or fat-free mass in response to weight-bearing exercise. J Gerontol A Biol Sci Med Sci 52:B166–170

42.

Figueroa A, Going SB, Milliken LA, Blew RM, Sharp S, Teixeira, PJ, Lohman TG (2003) Effects of exercise training and hormone replacement therapy on lean and fat mass in postmenopausal women. J Gerontol A Biol Sci Med Sci 58:266–270

43.

Parkhouse WS, Coupland DC, Li C, Vanderhoek KJ (2000) IGF-1 bioavailability is increased by resistance training in older women with low bone mineral density. Mech Ageing Dev 113:75–83

44.

Hameed M, Lange KHW, Andersen JL, Schjerling P, Kjaer M, Harridge SDR, Goldspink G (2004) The effect of recombinant human growth hormone and resistance training on IGF-I mRNA expression in the muscles of elderly men. J Physiol Lond 555:231–240

45.

Borst SE, Vincent KR, Lowenthal DT, Braith RW (2002) Effects of resistance training on insulin-like growth factor and its binding proteins in men and women aged 60 to 85. J Am Geriatr Soc 50:884–888

46.

Maddalozzo GF, Snow CM (2000) High intensity resistance training: effects on bone in older men and women. Calcif Tissue Int 66: 399–404

47.

Fiatarone Singh MA, Ding W, Manfredi TJ, Solares GS, O'Neill EF, Clements KM, Ryan ND, Kehayias JJ, Fielding RA, Evans WJ (1999) Insulin-like growth factor I in skeletal muscle after weight-lifting exercise in frail elders. Am J Physiol Endocrinol Metab 277:E135–E143

48.

Johnson LG, Kraemer RR, Ginger RH, Kraemer R, Gaines HE, Castracane DV (1997) Effects of estrogen replacement therapy on dehydroepiandrosterone, dehydroepiandrosterone sulfate, and cortisol responses to exercise in postmenopausal women. Fertil Steril 68:836–843
Acknowledgments
Our work was supported by NIH grant no. 5P60-AG13631. We acknowledge Dr. Gail Dalsky for developing the study design. We thank Women's Health Connecticut for help in recruitment of participants and Masonic Healthcare Center in Wallingford, Connecticut, for providing exercise space. We acknowledge Dr. Larry Raisz for his support and advice on bone turnover issues. None of the authors has a financial interest in the products that are discussed in this manuscript.
About this article
Cite this article
Judge, J.O., Kleppinger, A., Kenny, A. et al. Home-based resistance training improves femoral bone mineral density in women on hormone therapy. Osteoporos Int 16, 1096–1108 (2005). https://doi.org/10.1007/s00198-004-1816-x
Received:

Accepted:

Published:

Issue Date:
Keywords
Body composition

Bone turnover

Hormone therapy

Osteoporosis

Resistance exercise