Abstract
We have evaluated the association between trunk deformities of the sagittal plane and functional impairment of daily living in community-dwelling elderly subjects. The analysis involved a detailed assessment of indoor and outdoor activities of daily living, satisfaction with life, and mental status. The participants in this study were 236 community-dwelling older adults, aged 65 years and older, living in Kahoku district of Kochi in Japan. The participants were classified based on their posture, which was assessed using photographs of the subjects, and interviewed to assess their basic activities of daily living (BADL), instrumental ADL (IADL), and cognitive well-being in the cross-sectional study. The statistical analysis was performed using the Mann-Whitney U-test. The lumbar kyphosis group received significantly lower BADL and IADL scores than the normal group. The trunk deformity group which were defined as kyphosis, flat back, and lumbar lordosis groups exhibited decreases in activities that included going out, shopping, depositing and withdrawing money, and visiting friends in the hospital. These activities require going outdoors; thus, this study showed that the trunk deformity group had limitations in outdoor activities. There was no significant difference between the geriatric depression score (GDS) and the pattern of posture. The abnormal trunk deformity groups tended to score lower than the normal group with regard to subjective healthiness and life satisfaction measures, including subjective health condition, everyday feeling, satisfaction with human relationships, satisfaction with economic condition, and satisfaction with present life.
This is a preview of subscription content, log in to check access.
Access options
Buy single article
Instant access to the full article PDF.
US$ 39.95
Price includes VAT for USA
Subscribe to journal
Immediate online access to all issues from 2019. Subscription will auto renew annually.
US$ 199
This is the net price. Taxes to be calculated in checkout.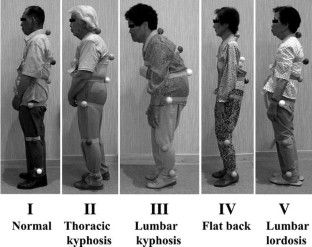 References
1.

Takemitsu Y, Harada Y, Iwahara T, Miyamoto M, Miyatake Y (1988) Lumbar degenerative kyphosis: clinical, radiological and epidemiological studies. Spine 13:1317–1326

2.

Lee CS, Lee CK, Kim YT, Hong YM, Yoo JH (2001) Dynamic sagittal imbalance of the spine in degenerative flat back. Significance of pelvic tilt in surgical treatment. Spine 26:2029–2035

3.

Tinetti ME, Speechley M, Ginter SF (1988) Risk factors for falls among elderly persons living in the community. N Engl J Med 319:1701–1706

4.

Maki B, Holliday P, Topper A (1994) A prospective study of postural balance and risk of falling in an ambulatory and independent elderly population. J Gerontol 49: M72–84

5.

Gelb DE, Lenke LG, Bridwell KH, Blanke K, McEnery KW (1995) An analysis of sagittal spinal alignment in 100 asymptomatic middle and older aged volunteers. Spine 20:1351–1358

6.

Krebs DE, Wong D, Jevsevar D, Riley PO, Hodge WA (1992) Trunk kinematics during locomotor activities. Phys Ther 72:505–514

7.

Ettinger B, Black DM, Palermo L, Nevitt MC, Melnikoff S, Cummings SR (1994) Kyphosis in older women and its relation to back pain, disability and osteopenia: the study of osteoporotic fractures. Osteoporos Int 4:55–60

8.

Cook DJ, Guyatt GH, Adachi JD, Clifton J, Griffith LE, Epstein RS, Juniper EF (1993) Quality of life issues in women with vertebral fractures due to osteoporosis. Arthr Rheum 36:750–756

9.

Ensrud KE, Black DM, Harris F, Ettinger B, Cummings SR (1997) Correlates of kyphosis in older women. The Fracture Intervention Trial Research Group. J Am Geriatr Soc 45:682–687

10.

Ryan PJ, Blake G, Herd R, Fogelman I (1994) A clinical profile of back pain and disability in patients with spinal osteoporosis. Bone 15:27–30

11.

Hall SE, Criddle RA, Comito TL, Prince RL (1999) A case-control study of quality of life and functional impairment in women with long-standing vertebral osteoporotic fracture. Osteoporos Int 9:508–515

12.

Lyles KW, Gold DT, Shipp KM, Pieper CF, Martinez S, Mulhausen PL (1993) Association of osteoporotic vertebral compression fractures with impaired functional status. Am J Med 94: 595–601

13.

Oleksik A, Lips P, Dawson A, Minshall ME, Shen W, Cooper C, Kanis J (2000) Health-related quality of life in postmenopausal women with low BMD with or without prevalent vertebral fractures. J Bone Miner Res 15:1384–1392

14.

Miyakoshi N, Abe E, Shimada Y, Okuyama K, Suzuki T, Sato K (2000) Outcome of one-level posterior lumbar interbody fusion for spondylolisthesis and postoperative intervertebral disc degeneration adjacent to the fusion. Spine 25:1837–1842

15.

Takahashi T, Wada Y, Tanaka M, Iwakawa M, Ikeuchi M, Hirose D, Yamamoto H (2000) Dome-shaped proximal tibial osteotomy using percutaneous drilling for osteoarthritis of the knee. Arch Orthop Trauma Surg 120:32–37

16.

Ando M, Yamamoto H, Nakatani K, Otani M (1986) Low back pain and trunk posture of elder people in a rural district. Seikeigeka bessatu 12:14–17 (in Japanese)

17.

Hirose D, Ishida K, Nagano Y, Takahashi T, Yamamoto H (2004) Posture of the trunk in the sagittal plane is associated with gait in community-dwelling elderly population. Clin Biomech 19:57–63

18.

Staffel F (1989) Die menschlichen haltungs typen. J.F. Bergman, Wiesbaden

19.

Matsubayashi K, Okumiya K, Osaki Y, Fujisawa M, Doi Y (1999) Frailty in elderly Japanese. Lancet 353:1445

20.

Gerety C (1982) Medical evaluation of the geriatric patient. In: Katz MS (ed) Geriatric medicine. Churchill Livingstone, New York

21.

Norris JT, Gallagher D, Wilson A, Winograd CH (1987) Assessment of depression in geriatric medical outpatients: the validity of two screening measures. J Am Geriatr Soc 35:989–995

22.

Morrison DP (1983) The Crichton Visual Analogue Scale for the assessment of behaviour in the elderly. Acta Psychiatr Scand 68:408–413

23.

Matsubayashi K, Okumiya K, Osaki Y, Fujisawa M, Doi Y (1997) Quality of life of old people living in the community. Lancet 350:1521–1522

24.

Liu-Ambrose T, Eng JJ, Khan KM, Mallinson A, Carter ND, McKay HA (2002) The influence of back pain on balance and functional mobility in 65- to 75-year-old women with osteoporosis. Osteoporos Int 13: 868–873

25.

Huang C, Ross PD, Wasnich RD (1996) Vertebral fracture and other predictors of physical impairment and health care utilization. Arch Int Med 156: 2469–2475

26.

Jinbayashi H, Aoyagi K, Ross PD, Ito M, Shindo H, Takemoto T (2002) Prevalence of vertebral deformity and its associations with physical impairment among Japanese women: the Hizen-Oshima Study. Osteoporos Int 13:723–730

27.

Ryan SD, Fried LP (1997) The impact of kyphosis on daily functioning. J Am Geriatr Soc 45:1479–1486

28.

Lau EMC, Woo J, Chan H, Chan MKF, Griffith J, Chan YH, Leung PC (1998) The health consequences of vertebral deformity in elderly Chinese men and women. Calcif Tissue Int 63:1–4

29.

Schreiner AS, Hayakawa H, Morimoto T, Kakuma T (2003) Screening for late life depression: cut-off scores for the Geriatric Depression Scale and the Cornell Scale for depression in dementia among Japanese subjects. Int J Geriatr Psychiatr 18:498–505

30.

Robbins J, Hirsch C, Whitmer R, Cauley J, Harris T (2001) The association of bone mineral density and depression in an older population. J Am Geriatr Soc 49:732–736
About this article
Cite this article
Takahashi, T., Ishida, K., Hirose, D. et al. Trunk deformity is associated with a reduction in outdoor activities of daily living and life satisfaction in community-dwelling older people. Osteoporos Int 16, 273–279 (2005). https://doi.org/10.1007/s00198-004-1669-3
Received:

Accepted:

Published:

Issue Date:
Keywords
Activities of daily living

Kyphosis

Life satisfaction

Trunk deformity