Abstract
An excess mortality is well described after vertebral fracture. Deaths are in part related to co-morbidity, but could also be due to the fracture event itself, either directly or indirectly. The aim of this study was to examine the quantum and pattern of mortality following vertebral fracture. We identified 16,051 men and women aged 50 years or more with a vertebral fracture that required hospitalization in 28.8 million person years from the patient register of Sweden. Mortality after vertebral fracture was examined using Poisson models applied to fracture patients and compared to that of the general population. At all ages, the risk of death was markedly increased immediately after the event. After a short period of declining risk, the risk increased with age at a rate that was higher than that of the general population and comparable to that 1 year after hip fracture. The latter function was assumed to be due to deaths related to co-morbidity and the residuum assumed to be due to the vertebral fracture. Causally related deaths comprised 28% of all deaths associated with vertebral fracture (depending on age). We conclude that a minority of deaths following hospitalization for vertebral fracture are attributable to the fracture itself under the assumptions we used.
Access options
Buy single article
Instant access to the full article PDF.
US$ 39.95
Tax calculation will be finalised during checkout.
Subscribe to journal
Immediate online access to all issues from 2019. Subscription will auto renew annually.
US$ 119
Tax calculation will be finalised during checkout.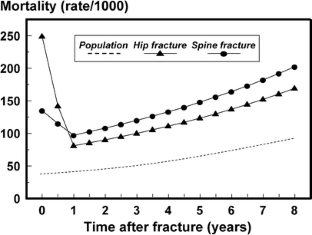 References
1.

Browner WS, Seeley DG, Vogt TM, Cummings SR (1991) Non-traumatic mortality in elderly women with low bone mineral density. Lancet 338:355–358

2.

Gardsell P, Johnell O (1993) Bone mass—a marker of biologic age? Clin Orthop 287:90–93

3.

Johansson C, Black D, Johnell O, Oden A, Mellstrom D (1998) Bone mineral density is a predictor of survival. Calcif Tissue Int 63:190–196

4.

Van der Klift M, Pols HAP, Geleijnse JM, van der Kuip DAM, Hofman A, De Laet CEDH (2002) Bone mineral density and mortality in elderly men and women: the Rotterdam study. Bone 30:643–648

5.

Kanis JA, Pitt FA (1992) Epidemiology of osteoporosis. Bone 13:S7–S15

6.

Center JR, Nguyen TV, Schneider D, Sambrook PN, Eisman JA (1999) Mortality after all major types of osteoporotic fracture in men and women: an observational study. Lancet 353:878–882

7.

Cooper C, Atkinson EJ, Jacobsen SJ, O'Fallon WM, Melton LJ (1993) Population-based study of survival after osteoporotic fractures. Am J Epidemiol 137:1001–1005

8.

Cauley JA, Thompson DE, Ensrud KC, Scott JC, Black D (2000) Risk of mortality following clinical fractures. Osteoporos Int 11:556–561

9.

Kado DM, Browner WS, Palermo L, Nevitt MC, Genant HK, Cummings SR (1999) Vertebral fractures and mortality in older women. Arch Int Med 159:1215–1220

10.

Sernbo I, Johnell O (1993) Consequences of a hip fracture: a prospective study over 1 year. Osteoporos Int 3:148–153

11.

Browner WS, Pressman AR, Nevitt MC, Cummings SR for the study of Osteoporotic Fractures Research Group (1996) Mortality following fractures in older women. Arch Int Med 156:1521–1525

12.

Forsen L, Sogaard AJ, Meyer HE, Edna T-H, Kopjar B (1999) Survival after hip fracture: short- and long-term excess mortality according to age and gender. Osteoporos Int 10:73–78

13.

Ismail AA, O'Neill TW, Cooper C, Finn JD, Bhalla AK, Cannata JB, Delmas P, Falch JA, Felsch B, Hoszowski K, Johnell O, Diaz-Lopez JB, Lopez Vaz A, Marchand F, Raspe H, Reid DM, Todd C, Weber K, Woolf A, Reeve J, Silman AJ on behalf of the EPOS study group (1998) Mortality associated with vertebral deformity in men and women: results from the European Prospective Osteoporosis study (EPOS). Osteoporos Int 8:291–297

14.

Melton LJ, Therneau TM, Larsen DR (1998) Long-term trends in hip fracture prevalence: the influence of hip fracture incidence and survival. Osteoporos Int 8:68–74

15.

Jalava JA, Sarina S, Pylkkanen L, Mawer B, Kanis JA, Selby P, Davis M, Adams J, Francis RM, Robinson J, McCloskey EV (2003) Association between vertebral fracture and increased mortality in osteoporotic patients. J Bone Miner Res 18:1254–1260

16.

Todd C, Freeman C, Camilleri-Ferrante C, Palmer CR, Hyder A, Laxton CE, Parker M, Payne BV, Rushton N (1995) Differences in mortality after fracture of the hip. BMJ 310:904–908

17.

Kanis JA, Oden A, Johnell O, De Laet C, Jonsson B, Oglesby AK (2003) The components of excess mortality after hip fracture. Bone (in press)

18.

Kanis JA, Johnell O, Oden A, Sernbo I, Redlund-Johnell I, Dawson A, De Laet C, Jonsson B (2001) Long-term risk of osteoporotic fracture in Malmo. Osteoporos Int 11:669–674

19.

Felsenberg D, Silman AJ, Lunt M, Armbrecht G, Ismail AA, Finn JC, et al (2002) Incidence of vertebral fracture in Europe: results from the European Prospective Osteoporosis Study (EPOS). J Bone Miner Res 17:716–724

20.

Nevitt MC, Thompson DE, Black DM, Rubin SR, Ensrud K, Yates AJ, Cummings SR, for the fracture intervention trial research group (2000) Effect of alendronate on limited-activity days and bed-disability days caused by back pain in postmenopausal women with existing vertebral fractures. Arch Int Med 160:77–85
Acknowledgements
We are grateful to the National Board of Health and Social Welfare, EPC, Sweden for access to the patient records of Sweden. We acknowledge the unrestricted support of the International Osteoporosis Foundation, the International Society for Clinical Densitometry, the Alliance for Better Bone Health, G-E Lunar, Lilly, Hologic, Pfizer, Roche, Novartis and Wyeth.
About this article
Cite this article
Kanis, J.A., Oden, A., Johnell, O. et al. Excess mortality after hospitalisation for vertebral fracture. Osteoporos Int 15, 108–112 (2004). https://doi.org/10.1007/s00198-003-1516-y
Received:

Accepted:

Published:

Issue Date:
Keywords
Mortality

Vertebral fracture