Abstract
Synthesis of vitamin D takes place in the skin under the effect of sunlight. The Indian subcontinent is situated between 8.4° N and 37.6° N latitudes and has adequate sunshine throughout the year. Thus, it has been presumed that Indians are vitamin D sufficient. We measured serum 25-hydroxy vitamin D [25(OH)D] (n=92) and 1,25-dihydroxy vitamin D [1, 25(OH)2D] (n=65) levels in healthy hospital staff, using 125I radioimmunoassay. Serum intact parathyroid hormone (PTH) concentration was estimated by immunoradiometric assay. Bone mineral density was estimated using a dual energy X-ray absorptiometer (HologicR QDR 4500A). Using a serum 25(OH)D level of 15 ng/ml as a cutoff, 66.3% (61/92) of the subjects were found to be vitamin D deficient. Of these, 20.6% (19/92) subjects had severe vitamin D deficiency (<5 ng/ml), 27.2% (25/92) had moderate vitamin D deficiency (5–9.9 ng/ml), while 18.5% (17/92) had mild vitamin D deficiency (10–14.9 ng/ml). When a serum 25(OH)D level of 20 ng/ml was used as a cutoff, 78.3% subjects were diagnosed to be vitamin D deficient/insufficient. The serum 1,25(OH)2D level was within the normal range (40.6±20.1 pg/ml; mean ± SD). Mean (±SD) serum intact PTH, estimated in a limited number of subjects (n=15), was 72.3 (±21.0) pg/ml (range 36–100 pg/ml). There was a significant correlation between daily sun exposure and 25(OH)D levels (r=0.731, P<0.001). The serum 25(OH)D level correlated with BMD at the femoral neck and Ward's triangle (r=0.50, P=0.020 and r=0.46, P=0.037, respectively). Our findings show that vitamin D deficiency is common in urban north Indian hospital staff. The possible reasons include inadequate sunlight exposure and skin pigmentation in Indians. The serum 1,25(OH)2D level is not a good indicator of vitamin D deficiency. A low serum 25(OH)D level is possibly one of the reasons for lower bone mineral density among Indians.
Access options
Buy single article
Instant access to the full article PDF.
USD 39.95
Price excludes VAT (USA)
Tax calculation will be finalised during checkout.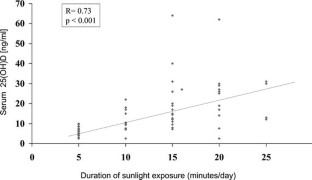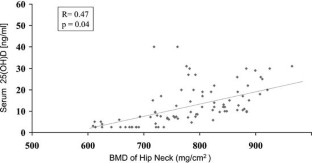 References
Webb AR, Kine L, Holick MF (1988) Influence of season and latitude on the cutaneous synthesis of vitamin D3: exposure to winter sunlight in Boston and Edmonton will not promote vitamin D3 synthesis in human skin. J Clin Endocrinol Metab 67:373–378

Goswami R, Gupta N, Goswami D, Marwaha RK, Tandon N, Kochupillai N (2000) Prevalence and significance of low 25(OH)D concentration in healthy subjects in Delhi. Am J Clin Nutr 72:472–475

Alekel DL, Mortillaro E, Hussain, et al (1999) Lifestyle and biologic contributors to proximal femur bone mineral density and hip axis length in two distinct ethnic groups of premenopausal women. Osteoporos Int 9:327–338

Sheran E, Newton O, Ali HA, Walford S, Singh BM (1999) Prevalence of hypovitaminosis D in Indo-Asian patients attending a rheumatology clinic. Bone 25:609–611

Fuleihan GE, Deeb M (2000) Hypovitaminosis D in a sunny country. N Eng J Med 340:1840–1841

Lips P (2001) Vitamin D deficiency and secondary hyperparathyroidism in the elderly: Consequences for bone loss and fractures and therapeutic implications. Endocr Rev 22:477–501

Holick MF (1994) McCollum Award Lecture: vitamin D: new horizons for the 21st century. Am J Clin Nutr 60:619–630

Mithal A, Nangia S, Arya V, Verma BR, Gujral RB (1998) Spinal bone mineral density in normal Indian females. J Bone Miner Res [Suppl]:S591

Webb AR, Pilbeam C, Hanafin N, Holick MF (1990) An evaluation of the relative contributions of exposure to sunlight and to diet to the circulating concentration of 25 hydroxyvitamin D in an elderly nursing home population of Boston. Am J Clin Nutr 51:1075–1081

McKenna MJ (1992) Differences in Vitamin D status between countries in young adults and the elderly. Am J Med 93:69–77

Lips P, Duong T, Oleksik A, et al (2001) A global study of vitamin D status and parathyroid function in postmenopausal women with osteoporosis: baseline data from the Multiple Outcomes of Raloxifene Evaluation clinical trial. J Clin Endocrinol Metab 86:1212–1221

Chapuy MC, Preziosi P, Maamer M, et al (1997) Prevalence of vitamin D insufficiency in an adult normal population. Osteoporos Int 7:439–443

Thomas MK, Lloyd-Jones DM, Thadhani RI, et al (1998) Hypovitaminosis in medical in patients. N Engl J Med 338:777–783

Tangpricha V, Peerce EN, Chen TC, Holick MF (2002) Vitamin D insufficiency among free-living healthy young adults. Am J Med 112:659–662

Preece MA, Ford JA, McIntosh WB, Dunnigan MG, Tomlinson S, O'Riordan JLH (1973) Vitamin D deficiency among Asian immigrants to Britain. Lancet 1:907–910

Malabanan A, Veronikis IE, Holick MF (1998) Redifining vitamin D insufficiency. Lancet 351:805–806

Lo CW, Paris PW, Holick MF (1986) Indian and Pakistani immigrants have the same capacity as Caucasians to produce vitamin D in response to ultraviolet irradiation. Am J Clin Nutr 44:683–685

Chel VG, Ooms ME, Popp-Snijders C, et al (1998) Ultraviolet irradiation corrects vitamin D deficiency and suppresses secondary hyperparathyroidism in the elderly. J Bone Miner Res 3:1238–1242

Haddad JG Jr, Hahn TJ (1973) Natural and synthetic sources of circulating 25-hydroxy-vitamin D in man. Nature 244:515–517

Reinhold JC, Lahimgarzadeh A, Nasr K, Hedyati H (1973) Effect of purified phytates and phytate-rich bread upon metabolism of zinc, calcium, phosphorus and nitrogen in man. Lancet 1:283–287

Awumey EMK, Mitra DA, Hollis BW, Kumar R, Bell NH (1998) Vitamin D metabolism is altered in Asian Indians in the southern United States: A clinical research centre study. J Clin Endocrinol Metab 83:169–173

Bouillon RA, Auwerx JH, Lissens WD, Pelemans WK (1987) Vitamin D status in the elderly: seasonal substrate deficiency causes 1,25-dihydroxycholecalciferol deficiency. Am J Clin Nutr 45:755–763

Villareal DT, Civitelli R, Chines A, Avioli LV (1991) Subclinical vitamin D deficiency in postmenopausal women with low vertebral bone mass. J Clin Endocrinol Metab 72:628–634

Scharla SH, Scheidt-Nave C, Leidig G, et al (1996) Lower serum 25-hydroxyvitamin D is associated with increased bone resorption markers and lower bone density at the proximal femur in normal females: a population-based study. Exp Clin Endocrinol Diabetes 104:289–292

Gupta A (1996) Osteoporosis in India. The nutritional hypothesis. Nat Med J India 9:268–274

Harju E, Sotaniemi E, Puranen J, Lahti R (1985) High incidence of low serum vitamin D concentration in patients with hip fracture. Arch Orthop Trauma Surg 103:408–416

Ng K, St John A, Bruce DG (1994) Secondary hyperparathyroidism, vitamin D deficiency and hip fracture: importance of sampling times after fracture. Bone Miner 25:103–109

Chapuy MC, Arlot ME, Duboeuf F, et al (1992) Vitamin D3 and calcium to prevent hip fractures in the elderly women. N Engl J Med 327:1637–1642
Acknowledgements
We sincerely thank all hospital volunteers who cooperated by giving blood samples and undergoing BMD estimation. We acknowledge that without their support the above study would not have been possible. We thank Mr. P. K. Awasthi for help in carrying out assays and Mr. B. R. Verma for helping in BMD estimation. We also thank Miss Jaya Dhaka for secretarial assistance.
About this article
Cite this article
Arya, V., Bhambri, R., Godbole, M.M. et al. Vitamin D status and its relationship with bone mineral density in healthy Asian Indians. Osteoporos Int 15, 56–61 (2004). https://doi.org/10.1007/s00198-003-1491-3
Received:

Accepted:

Published:

Issue Date:

DOI: https://doi.org/10.1007/s00198-003-1491-3
Keywords
Bone mineral density

Hypovitaminosis D

Serum 1,25-dihydroxy vitamin D

Serum 25-hydroxy vitamin D

Vitamin D