Abstract
The aim of this study was to determine the risk and burden of vertebral fractures judged as those coming to clinical attention and as morphometric fractures. Incidence and utility loss were computed from data from Malmo, Sweden. Clinical fractures accounted for 23% of all vertebral deformities in women and for 42% in men. The average 10-year fracture probability for morphometric fractures increased with age in men from 2.9% at the age of 50 years (7.2% in women) to 8.4 at the age of 85 years (26.7% in women). As expected, probabilities increased with decreasing T-score for hip BMD. Cumulative utility loss from a clinical vertebral fracture was substantial and was 50–62% of that due to a hip fracture depending on age. When incidence of fractures in the population was weighted by disutility, all spine fractures accounted for more morbidity than hip fracture up to the age of 75 years. We conclude that vertebral fractures have a major personal and societal impact that needs to be recognised in algorithms for assessment of risk and in health economic strategies for osteoporosis.
Access options
Buy single article
Instant access to the full article PDF.
US$ 39.95
Tax calculation will be finalised during checkout.
Subscribe to journal
Immediate online access to all issues from 2019. Subscription will auto renew annually.
US$ 119
Tax calculation will be finalised during checkout.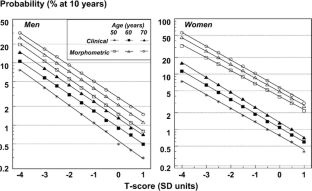 References
1.

Kanis JA, Oden A, Johnell O, Jonsson B, De Laet C, Dawson A (2002) The burden of osteoporotic fractures: a method for setting intervention thresholds. Osteoporos Int 12:417–427

2.

Nevitt MC, Ettinger B, Black DM, Stone K, Jamal SA, Ensrud K, Segal M, Genant HK, Cummings SR (1998) The association of radiographically detected vertebral fractures with back pain and function. A prospective study. Ann Intern Med 128:793–800

3.

Nevitt MC, Thompson DE, Black DM, Rubin SR, Ensrud K, Yates AJ, Cummings SR (2000) Effect of alendronate on limited-activity days and bed-disability days caused by back pain in postmenopausal women with existing vertebral fractures. Arch Intern Med 160:77–85

4.

Lindsay RL, Silverman SL, Cooper C, Hanley DA, Barton I, Broy SB, Licata A, Benhamou L, Geusens P, Flowers K, Stracke H, Seeman E (2001) Risk for new vertebral fracture in the year following a fracture. JAMA 285:320–323

5.

Merlino LA, Bagchi I, Taylor TN, Utrie P, Chrischilles E, Sumner W, Mudano A, Saag KG (2001) Preferences for fractures and other glucocorticoid-associated adverse events among rheumatoid arthritis patients. Med Decis Making 21:122–132

6.

Gabriel SE, Kneeland T, Melton LJ, et al (1999) Health-related quality of life in economic evaluations for osteoporosis: whose values should we use? Med Decis Making 19:141–148

7.

Zethraeus N, Borgstrom F, Johnell O, Kanis JA, Jonsson B (2002) Costs and quality of life associated with osteoporosis-related fractures: results of a Swedish Survey. Working paper series in economics and finance. Report 512. School of Health Economics, Stockholm

8.

Tosteson ANA, Gabriel SE, Grove MR, Moncur MM, Kneeland TS, Melton LJ (2001) Impact of hip and vertebral fractures on quality adjusted life years. Osteoporos Int 12:1042–1049

9.

Johnell O, Kanis JA, De Laet C, Jonsson B, Zethraeus N, Oden A (2002) Sequential changes in quality of life after osteoporotic fractures. Osteoporos Int 13 [Suppl 1]:S70

10.

Kanis JA, Johnell O, Oden A, Sernbo I, Redlund-Johnell I, Dawson A, De Laet C, Jonsson B (2000) Long-term risk of osteoporotic fracture in Malmo. Osteoporos Int 11:669–674

11.

Felsenberg D, Silman AJ, Lunt M, Armbrecht G, Ismail AA, Finn JC, et al (2002) Incidence of vertebral fracture in Europe: results from the European Prospective Osteoporosis Study (EPOS). J Bone Miner Res 17:716–724

12.

Van der Klift M, De Laet CEDH, McCloskey EV, Hofman A, Pols HAP (2002) The incidence of vertebral fractures in men and women: The Rotterdam Study. J Bone Miner Res 17:1051–1056

13.

McCloskey EV, Spector T, Eyres KS, Fern DE, O'Rourke N, Vasikaran S, Kanis JA (1993) Definition of vertebral deformity—a semi-automated method for use in population studies and clinical trials. Osteoporos Int 3:138–147

14.

Kanis JA, Johnell O, Oden A, Dawson A, DeLaet C, Jonsson B (2001) Ten year probabilities of osteoporotic fractures according to BMD and diagnostic thresholds. Osteoporos Int 12:989–995

15.

Kanis JA, Johnell O, Oden A, De Laet C, Jonsson B, Dawson A (2002) Ten year risk of osteoporotic fracture and the effect of risk factors on screening strategies. Bone 30:251–258

16.

Looker AC, Orwoll ES, Johnston CC, Lindsay RL, Wahner HW, Dunn WL, Calvo MS, Narris TB, Neyse SP (1997) Prevalence of low femoral bone density in older US adults from NHANES III. J Bone Miner Res 12:1761–1768

17.

World Health Organisation (1994) Assessment of fracture risk and its application to screening for postmenopausal osteoporosis. WHO Technical Report Series 843. WHO, Geneva

18.

Lunt M, Felsenberg D, Reeve J, Benevolenskaya L, Cannata J, Dequeker J (1997) Bone density variation and its effect on risk of vertebral deformity in men and women studied in 13 European centres: the EVOS study. J Bone Miner Res 12:1883–1894

19.

Kanis JA, Glüer C-C (2000) An update on the diagnosis and assessment of osteoporosis. Osteoporos Int 11:192–202

20.

De Laet CEDH, Van Hout BA, Burger H, Hofman A, Pols HAP (1997) Bone density and risk of hip fracture in men and women: cross sectional analysis. Br Med J 315:221–225

21.

De Laet CEDH, Van Hout BA, Burger H, Hofman A, Weel AEAM, Pols HAP (1998) Hip fracture prediction in elderly men and women: validation of the Rotterdam study. J Bone Miner Res 13:1587–1593

22.

Wasnich RD, Ross PD, Heilbrun LK, Vogel JM (1985) Prediction of postmenopausal fracture risk with use of bone mineral measurements. Am J Obst Gynaec 153:745–751

23.

Marshall D, Johnell O, Weder H (1996) Meta-analysis of how well measures of bone mineral density predict occurrence of osteoporosis fractures. Br Med J 312:1254–1259

24.

Lundberg L, Johannesson M, Isacson DGL, Borgquist L (1999) Health-state utilities in a general population in relation to age, gender and socio-economic factors. Europ J Public Health 9 211–217

25.

Oleksik A, Lips P, Dawson A, et al (2000) Health-related quality of life in postmenopausal women with low BMD with or without prevalent vertebral fracture. J Bone Min Res 15:1384–1392

26.

National Osteoporosis Foundation (1998) Osteoporosis: review of the evidence for prevention, diagnosis and treatment and cost-effectiveness analysis. Status report. Osteoporos Int 8:1–88

27.

Jonsson B, Christiansen C, Johnell O, Hedbrandt J, Karlsson R (1996) Cost effectiveness of fracture prevention in established osteoporosis. Scand J Rheumatol [Suppl] 103:30–38

28.

Jonsson B, Kanis JA, Dawson A, Oden A, Johnell O (1999) Effect and offset of effect of treatments for hip fracture on health outcomes. Osteoporos Int 10:193–199

29.

Johnell O, Oden A, Caulin F, Kanis JA (2001) Acute and long-term increase in fracture risk after hospitalisation for vertebral fracture. Osteoporos Int 12:207–214

30.

Bengner U, Johnell O (1985) Increasing incidence of forearm fractures. A comparison of epidemiological patterns 25 years apart. Acta Orthop Scand 56:158–160

31.

Kanis JA, Brazier J, Stevenson M, Calvert N, Lloyd-Jones M (2002) Treatment of established osteoporosis. A systematic review and cost-utility analysis. Health Technol Assess 6:29

32.

Dolan P, Torgerson D, Kakarlapudi TK (1999) Health-related quality of life of Colles' fracture patients. Osteoporos Int 9:196–199

33.

Brazier JE, Green C, Kanis JA (2002) On behalf of the Committee of Scientific Advisors, International Osteoporosis Foundation. A systematic review of health state utility values for osteoporosis-related conditions. Osteoporos Int 13:768–777
Acknowledgements
We are grateful to the International Osteoporosis Foundation, the International Society for Clinical Densitometry, the Alliance for Better Bone Health, Hologic, IGEA, Lilly, Lunar, Novartis, Pfizer, Roche and Wyeth for their unrestricted support of these studies.
About this article
Cite this article
Kanis, J.A., Johnell, O., Oden, A. et al. The risk and burden of vertebral fractures in Sweden. Osteoporos Int 15, 20–26 (2004). https://doi.org/10.1007/s00198-003-1463-7
Received:

Accepted:

Published:

Issue Date:
Keywords
Burden of fracture

Osteoporotic fracture

Utility

Vertebral fracture