Abstract
In order to evaluate the prevalence, risk factors, and clinical consequences of hypovitaminosis D in elderly Italian women a multicenter study of 43 osteoporosis centers from all regions of Italy was carried out. Study population included 700 women aged 60–80 years in whom blood was taken for 25-hydroxyvitamin D (25OHD) and parathyroid hormone (PTH) measurements. All subjects were also questioned to assess the prevalence of several risk factors for hypovitaminosis D, osteoporotic fractures and activities of daily living (ADL). Values of 25OHD lower than 5 ng/ml were found in 27% of the women and lower than 12 ng/ml in 76%. 25OHD and PTH levels were negatively correlated (r=−0.38, after logarithmic transformation of both variables). 25OHD levels significantly declined with advancing age and number of pregnancies and were positively correlated with educational level (years spent at school), dairy calcium intake, and days spent on holiday by the sea. In a multivariate model including all these variables, the only one that remained significant was the level of education. The lowest age-adjusted 25OH D levels were found in smokers or in women living in central Italy as compared with those living in northern or southern Italy. The mean (±SD) age-adjusted 25OH D values were significantly lower in women who sustained a hip fracture (7.1±2.2 versus 11.0±9.9). Women with low 25OHD levels (<12 ng/ml) had worse scores for ADL and mobility ADL (move outdoors, use stairs, walk at least 400 m, carry a heavy object). Vitamin D deficiency is extremely common among elderly Italian women. Women with lower educational level, living in central Italy, smokers or with lower intake of dairy products are at greater risk. Hypovitaminosis D is associated with worsening of the ability to perform activities of daily living and higher hip fracture prevalence. This finding should lead to an urgent population-based strategy to remedy this condition.
Access options
Buy single article
Instant access to the full article PDF.
USD 39.95
Price includes VAT (USA)
Tax calculation will be finalised during checkout.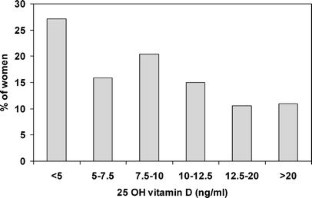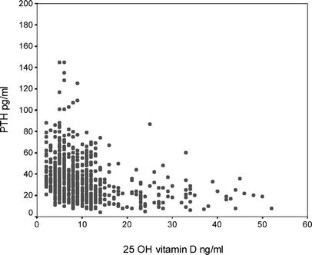 References
1.

Parfitt AM, Gallagher JC, Heaney RP, Johnston CC, Neer R, Whedon GD (1982) Vitamin D and bone health in the elderly. Am J Clin Nutr 36:805–806

2.

Lips P, Netelenbos JC, Jongen MJM et al. (1982) Histomorphometric profile and vitamin D status in patients with hip fracture. Metab Bone Dis Relat Res 4:85–93

3.

Oomms ME, Lips P, Roos JC, Vijght van der WJF, Popo-Snijders C, Bezemer PD, Bouter LM (1995) Vitamin D status and sex hormone binding globulin: determinants of bone turnover and bone mineral density in elderly women. J Bone Miner Res 10:1177–1184

4.

Parfitt AM (1988) Osteomalacia and related disorders. In: Avioli LV, Krane SM (eds) Metabolic bone diseases, 3rd edn. Academic Press, San Diego, pp 327–386

5.

Dawson-Hughes B, Dallal GE, Krall EA, Harris S, Sokoll LJ, Falconer G (1991) The effect of vitamin D supplementation on wintertime and overall bone loss in healthy postmenopausal women. Ann Int Med 115:505–512

6.

Chapuy MC, Arlot ME, Duboeuf F et al. (1992) Vitamin D and calcium to prevent hip fractures in elderly women. N Engl J Med 327:1637–1642

7.

Dawson-Hughes B, Harris SS, Krall EA, Dallal GE (1997) Effect of calcium and vitamin D supplementation on bone density in men and women 65 years of age or older. N Engl J Med 337:670–676

8.

Thomas KK, Lloyd-Jones MD, Thadhani RI, Shaw AC, Deraska DJ, Kitch BT, Vamvakas EC, Dick IM, Prince RL, Finkelstein JS (1998) Hypovitaminosis D in medical inpatients. N Engl J Med 338:777–783

9.

Lips P, Duong T, Oleksik A, Black D, Cummings S, Cox D, Nickelsen T (2001) A global study of vitamin D status and parathyroid function in postmenopausal women with osteoporosis: baseline data from the Multiple Outcomes of Raloxifene Evaluation clinical trial. J Clin Endocrinol Metab 86:1212–1221

10.

Wielen van der RPJ, Lowik MRH, Berg van den H, Groot de LCPGM, Haller J, Moreiras O, Staveren van WA (1995) Serum vitamin D concentrations among elderly people in Europe. Lancet 346:207–210

11.

Euronut SENECA investigators. Life-style: physical activities and activities of daily living. Eur J Clin Nutr 45:139–151

12.

van't Hof MA, Hautvast JGAJ, Schroll M, Vlachikolis IG (1991) Euronut SENECA study on nutrition and the elderly. Design methods and participation. Eur J Clin Nutr 45:5–22

13.

Gunter EW, Lewis BL, Kocokovski SSM (1996) Laboratory methods used for the Third National Health and Nutrition Examination Survey (NHANES III), 1988–1994. Centers for Disease Control and Prevention, Hyattsville, Md.

14.

Looker AC, Dawson-Hughes B, Calvo MS, Gunter EW, Sahyoun NR (2002) Serum 25-hydroxyvitamin D status of adolescents and adults in two seasonal subpopulation from NHANES III. Bone 30:771–777

15.

Souberville JC, Cormier C, Kindermans C, Gao P, Cantor T, Forette F, Baulieu EE (2001) Vitamin D status and redefining serum parathyroid hormone reference range in the elderly. J Clin Endocrinol Metab 86:3086–3090

16.

Rossini M, Perbellini S, Lazzarin M, Adami S, Bertoldo F, Lo Cascio V (1990) Incidenza di ipovitaminosi D nel nord Italia. It J Miner Electrolyte Metab 4:13–7

17.

Bettica P, Bevilacqua M, Vago T, Norbiato G (1999) High prevalence of hypovitaminosis D among free-living postmenopausal women referred to an osteoporosis outpatient clinic in Northern Italy for initial screening. Osteoporosis Int 9:226–229

18.

Carnevale V, Modoni S, Pileri M, Di Giorgio A, Chiodini I, Minisola S, Vieth R, Scillitani A (2001) Longitudinal evaluation of vitamin D status in healthy subjects from southern Italy: seasonal and gender differences. Osteoporosis Int 12:1026–1030

19.

McKenna MJ (1992) Differences in vitamin D status between countries in young adults and the elderly. Am J Med 93:69–77

20.

Ringe JD (1988) Vitamin D deficiency and osteopathies. Osteoporosis Int 8:S35–S39

21.

Gannagé-Yared MH, Chemali R, Yaacoub N, Halaby G (2000) Hypovitaminosis D in a sunny country: relation to lifestyle and bone markers. J Bone Miner Res 15:1856–1862

22.

Sczucs T, Adami S (1997) Clinical and health economic benefit of calcium and vitamin D supplementation in the prevention of osteoporotic fractures. Br J Med Econ 11:37–44

23.

Vieth R (1999) Vitamin D supplementation. 25-hydroxyvitamin D concentrations, and safety. Am J Clin Nutr 69:842–856
Additional information
Local participants in the study (name and Italian town of study site): S. Adami, Verona; M. Bevilacqua, Milano; E.M. Bibolotti, Piombino; F. Cantini, Prato; S. Coaccioli, Terni; R. Conca, Milano; D. Costi, Parma; G. D'Avola, Catania; O. Di Munno, Pisa; M. Ferraris, Vercelli; P. Filipponi, Perugia; C.M. Francucci, Ancona; G. Gandolini, Milano; S. Gatto, Napoli; P. Gigliotti, Cosenza; T. Gismondi, Bari; S. Gnudi, Bologna; E. Grimaldi, Trieste; G. Isaia, Torino; G. La Montagna, Napoli; G. Lojacono, Bari; R.V. Lovato; F. Luparelli, Taranto; U. Martorana, Palermo; A. Mathieu, Cagliari; D. Maugeri, Catania; S. Minisola, Roma; S. Miozzi, Roma; G. Occhipinti, Livorno; R. Pellerito, Torino; D. Policicchio, Avellino; M. Portigliatti Barbos, Torino; G.B. Rini, Palermo; G. Rosa, Napoli; D. Schinella, Pordenone; M. Sfrappini, Tronto; P. Simonetta, Reggio Calabria; L. Sinigaglia, Milano; S. Stisi, Benevento; A. Tarroni, Rimini; F. Trotta, Ferrara; F. Versace, Savona
About this article
Cite this article
Isaia, G., Giorgino, R., Rini, G.B. et al. Prevalence of hypovitaminosis D in elderly women in Italy: clinical consequences and risk factors. Osteoporos Int 14, 577–582 (2003). https://doi.org/10.1007/s00198-003-1390-7
Received:

Accepted:

Published:

Issue Date:
Keywords
Hip fracture

Osteoporosis

Secondary hyperparathyroidism

Vitamin D