Zusammenfassung
Eine 40-jährige Schwangere (21 + 1 SSW, Z. n. 2‑facher Sectio) wurde kreislaufinstabil in ein Krankenhaus eingeliefert. Bei einer Notfalllaparotomie fanden sich blutende Perforationsstellen der Uterusvorderwand, die eine sofortige Schnittentbindung des noch lebenden Fetus sowie eine Hysterektomie nötig machten. Das unreife Kind starb direkt post partum.
Ermittlungen ergaben eine Vorgeschichte mit wiederholten Polizeieinsätzen aufgrund häuslicher Gewalt durch den Ehemann. Rechtsmedizinische Untersuchungen der Kindsmutter, der Leibesfrucht und der Gebärmutter erbrachten keine Hinweise auf eine traumatische Einwirkung. Die weiterführenden Untersuchungen zeigten hingegen eine Placenta praevia und percreta.
Die Uterusruptur ist ein seltenes, mit hoher Mortalität verbundenes und meist während der Geburt vonstattengehendes Ereignis. Rupturen am wehenlosen Uterus lassen vordergründig an ein traumatisches Ereignis denken. Im vorliegenden Fall ließ die von häuslicher Gewalt geprägte Vorgeschichte zunächst an eine traumatisch bedingte Uterusruptur denken, deren tatsächliche krankhafte Ursache letztlich durch die feingewebliche Untersuchung des Uterus geklärt werden konnte.
Abstract
A 40-year-old pregnant woman (21 + 1 weeks of gestation; status after 2 cesarean sections) was admitted to hospital with hemorrhagic shock. During an emergency laparotomy two perforations with active bleeding on the ventral uterine wall were found. To save the mother's life the still vital fetus had to be delivered by cesarean section and a hysterectomy was performed. The immature child died immediately after delivery.
The police investigation revealed a history of repeated police interventions due to domestic violence involving the woman's husband. Forensic examinations of the woman, the fetus and the uterus showed no evidence of trauma. The advanced medicolegal and histopathological investigations revealed placenta praevia and percreta.
Uterine rupture is a rare event with a high mortality rate that mostly occurs during birth. Ruptures of a non-contracting uterus could suggest that a traumatic event provoked the damage. In this case with the history of domestic violence, there was reason to suspect a traumatic origin of the uterine rupture. The actual medical genesis of the uterine rupture was revealed by the histopathological diagnosis.
Access options
Buy single article
Instant access to the full article PDF.
US$ 39.95
Tax calculation will be finalised during checkout.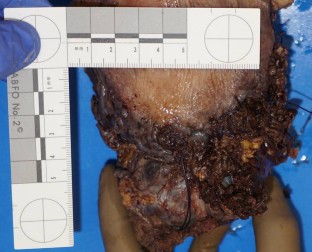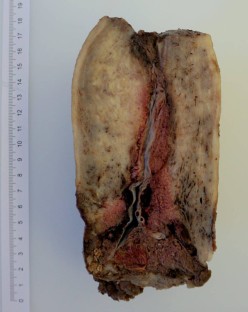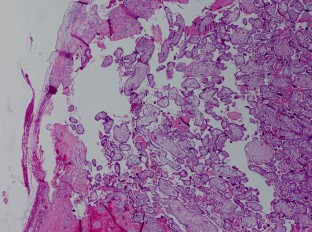 Literatur
1.

Esmans A, Gerris J, Corthout E, Verdonk P, Declercq S (2004) Placenta percreta causing rupture of an unscarred uterus at the end of the first trimester of pregnancy: case report. Hum Reprod 19(10):2401–2403

2.

Fleisch MC, Lux J, Schoppe M, Grieshaber K, Hampl M (2007) Placenta percreta leading to spontaneous complete uterine rupture in the second trimester. Gynecol Obstet Invest 65:81–83

3.

Gerstner GJ, Gschwendtner A (2014) Trauma und Schwangerschaft. Frauenheilkd Up2date 8:41–60

4.

Islam A, Shah AA, Jadoon H, Fawad A, Javed M, Abbasi AN (2018) A two-year analysis of uterine rupture in pregnancy. J Ayub Med Coll Abbottabad 30(4 Suppl 1):639–641

5.

Sorokina Y, Strauss A, Schulze A, Flemmer AW, Kümper C (2007) Repeated uterine rupture at the beginning of the 3rd trimester with placenta percreta. Geburtshilfe Frauenheilkd 67:1018–1022
Ethics declarations
Interessenkonflikt
H. Gauselmann, H. Martin und L. Oesterhelweg geben an, dass kein Interessenkonflikt besteht.
Dieser Beitrag beinhaltet keine von den Autoren durchgeführten Studien an Menschen oder Tieren. Die Untersuchungen erfolgten unter Einhaltung der Vorgaben der Zentralen Ethikkommission der Bundesärztekammer.
About this article
Cite this article
Gauselmann, H., Martin, H. & Oesterhelweg, L. Häusliche Gewalt oder spontanes Ereignis? Fruchttod nach Gebärmutterriss in der 22. Schwangerschaftswoche. Rechtsmedizin (2020). https://doi.org/10.1007/s00194-020-00446-5
Schlüsselwörter
Uterusruptur

Placenta percreta

Trauma in der Schwangerschaft

Partnerschaftsgewalt

Placenta praevia
Keywords
Uterine rupture

Placenta percreta

Trauma during pregnancy

Partnership violence

Placenta praevia