Zusammenfassung
In der vorliegenden Kasuistik wird der plötzlich und unerwartet eingetretene Tod eines jungen, zuvor gesunden Mannes vorgestellt, bei welchem sich während der Legalinspektion Hinweise auf eine gastrointestinale Blutung mit Hämatemesis und Meläna ergaben und die nachfolgende rechtsmedizinische Obduktion eine Dieulafoy-Läsion im distalen Ösophagus als Blutungsquelle erbrachte. Die Dieulafoy-Läsion stellt eine seltene Ursache oberer gastrointestinaler Blutungen dar, bei welcher ein großkalibriger arterieller Gefäßast durch einen umschriebenen Mukosadefekt ins Lumen protrudiert, und welche überwiegend im Magen und seltener im Ösophagus lokalisiert ist.
Abstract
This case report presents the sudden and unexpected death of a previously healthy young male, where investigations at the scene showed signs of upper gastrointestinal bleeding with hematemesis and melaena. The forensic autopsy revealed a Dieulafoy lesion in the esophagus as the source of bleeding. The Dieulafoy lesion is a rare cause of upper gastrointestinal bleeding with a large-caliber submucosal artery protruding into the lumen through a small mucosal defect, predominantly located in the stomach and less commonly in the esophagus.
Access options
Buy single article
Instant access to the full article PDF.
US$ 39.95
Tax calculation will be finalised during checkout.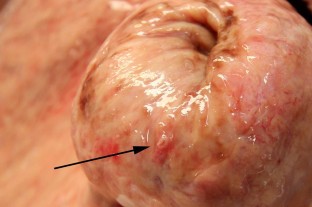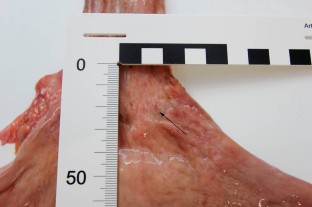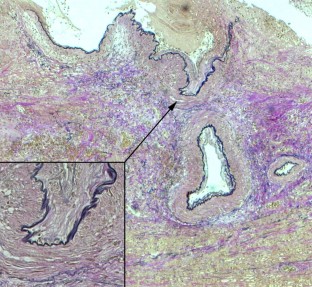 Literatur
1.

Baxter M, Aly EH (2010) Dieulafoy's lesion: current trends in diagnosis and management. Ann R Coll Surg Engl 92:548–554

2.

Chaer RA, Helton WS (2003) Dieulafoy's disease. J Am Coll Surg 196(2):290–296

3.

Christoffersen R, Nielsen T, Versterby A (2012) Dieulafoy lesion of the esophagus causing massive upper gastrointestinal bleeding and death: a case report. Am J Forensic Med Pathol 33:186–187

4.

Ma C, Hundal R, Chang EJ (2014) Colonic Dieulafoy's lesion: a rare cause of lower gestrointestinal hemorrhage and review of endoscopic management. Case Rep Gastrointest Med. https://doi.org/10.1155/2014/436293

5.

Gershon A, Little D, Ball CG, Williams AS (2020) Fatal secondary aortoduodenal fistula diagnosed with postmortem computed tomography. Forensic Sci Med Pathol. https://doi.org/10.1007/s12024-020-00256-x

6.

Lanas A et al (2009) Time trend and impact of upper and lower gastrointestinal bleeding and perforation in clinical practice. Am J Gastroenterol 104:1633–1641

7.

Menezes RG et al (2018) Gastrointestinal causes of sudden unexpected death: a review. Med Sci Law 58:5–15

8.

Moeller K, Tsokos M (2018) Black esophagus. Rechtsmedizin 28:19–24

9.

Nguyen DC, Jackson CS (2015) The Dieulafoy's lesion: an update on evaluation, diagnosis, and management. J Clin Gastroenterol 49:541–549

10.

Saada M et al (2019) Massive gastrointestinal bleeding from a jejunal Dieulafoy lesion: an extraordinary presentation. Case Rep Gastroenterol 13:508–513

11.

Yadav N, Sharma L, Gaba K, Giri S (2020) Case report on sudden death due to ruptured esophageal varices—an autopsy based diagnosis. Int J Med Rev Case Rep. https://doi.org/10.5455/IJMRCR.esophageal-varices
Ethics declarations
Interessenkonflikt
C. Süss und R. Hausmann geben an, dass kein Interessenkonflikt besteht.
Für diesen Beitrag wurden von den Autoren keine Studien an Menschen oder Tieren durchgeführt. Für die aufgeführten Studien gelten die jeweils dort angegebenen ethischen Richtlinien. Die Untersuchungen erfolgten unter Einhaltung der Vorgaben der Zentralen Ethikkommission der Bundesärztekammer.
About this article
Cite this article
Süss, C., Hausmann, R. Plötzlicher und unerwarteter Tod infolge einer akuten oberen gastrointestinalen Blutung bei ösophagealer Dieulafoy-Läsion. Rechtsmedizin 30, 458–461 (2020). https://doi.org/10.1007/s00194-020-00405-0
Schlüsselwörter
Plötzlicher Tod

Forensische Autopsie

Obere Gastrointestinalblutung

Dieulafoy

Läsion

Natürlicher Tod
Keywords
Sudden death

Forensic autopsy

Upper gastrointestinal bleeding

Dieulafoy

Lesion

Natural cause of death