Abstract
A dramatic rise in the rate of fatal button battery injuries (BBI) among children under the age of 4 years has been described over the past decade. In the present case a 22-month-old child died after sudden onset of blood vomiting of unknown origin. A forensic autopsy revealed a button battery lodged in the esophagus with fatal fistulation into the thoracic aorta. Given all these findings, the cause of death was a massive hemorrhage due to ingestion of a button battery resulting in ulceration of the esophagus and penetration of the aortic wall. With respect to the clinical history and unspecific clinical symptoms, malpractice in terms of a missed diagnosis could not be proven.
Zusammenfassung
In den letzten 10 Jahren ist es zu einem dramatischen Anstieg an dokumentierten Fällen über verschluckte Knopfbatterien mit letalen Verläufen gekommen, wie auch im vorliegendem Fall: Ein 22 Monate altes Kind verstarb kurz nach Einlieferung in die Notaufnahme, nachdem es zuvor während des Abendessens plötzlich Blut erbrochen habe. Eine am Folgetag durchgeführte Obduktion erbrachte den Nachweis einer Knopfbatterie, die im unteren Drittel des Ösophagus steckte und zu einer aortoösophagealen Fistel mit konsekutivem Verbluten nach innen geführt hat. Aufgrund unspezifischer Symptome nach Verschlucken einer Knopfbatterie ist die Diagnosestellung oftmals erschwert. Im vorliegenden Fall konnte ein ärztliches Fehlverhalten nicht bewiesen werden.
This is a preview of subscription content, log in to check access.
Access options
Buy single article
Instant access to the full article PDF.
US$ 39.95
Price includes VAT for USA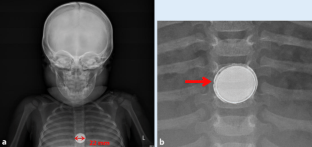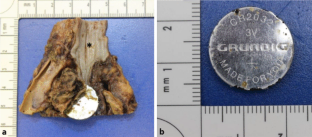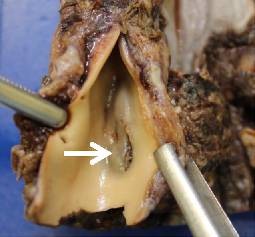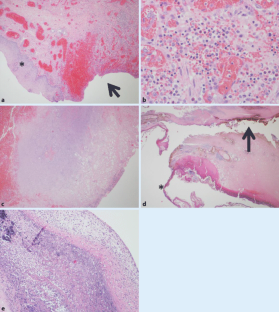 References
1.

Jayachandra S, Eslick GD (2013) A systematic review of paediatric foreign body ingestion: presentation, complications, and management. Int J Pediatr Otorhinolaryngol 77(3):311–317. https://doi.org/10.1016/j.ijporl.2012.11.025

2.

Guinet T, Gaulier JM, Moesch C, Bagur J, Malicier D, Maujean G (2016) Sudden death following accidental ingestion of a button battery by a 17-month-old child: a case study. Int J Legal Med 130(5):1291–1297. https://doi.org/10.1007/s00414-016-1329-0

3.

Jatana KR, Litovitz T, Reilly JS, Koltai PJ, Rider G, Jacobs IN (2013) Pediatric button battery injuries: 2013 task force update. Int J Pediatr Otorhinolaryngol 77(9):1392–1399. https://doi.org/10.1016/j.ijporl.2013.06.006

4.

Buttazzoni E, Gregori D, Paoli B, Soriani N, Baldas S, Rodriguez H et al (2015) Symptoms associated with button batteries injuries in children: an epidemiological review. Int J Pediatr Otorhinolaryngol 79(12):2200–2207. https://doi.org/10.1016/j.ijporl.2015.10.003

5.

Litovitz T, Whitaker N, Clark L, White NC, Marsolek M (2010) Emerging battery-ingestion hazard: clinical implications. Pediatrics 125(6):1168–1177. https://doi.org/10.1542/peds.2009-3037

6.

Litovitz T, Whitaker N, Clark L (2010) Preventing battery ingestions: an analysis of 8648 cases. Pediatrics 125(6):1178–1183. https://doi.org/10.1542/peds.2009-3038

7.

LaFrance DR, Traylor JG Jr., Jin L (2011) Aspiration pneumonia and esophagotracheal fistula secondary to button battery ingestion. Forensic Sci Med Pathol 7(3):283–286. https://doi.org/10.1007/s12024-010-9214-5

8.

Sharpe SJ, Rochette LM, Smith GA (2012) Pediatric battery-related emergency department visits in the United States, 1990–2009. Pediatrics 129(6):1111–1117. https://doi.org/10.1542/peds.2011-0012

9.

Yardeni D, Yardeni H, Coran AG, Golladay ES (2004) Severe esophageal damage due to button battery ingestion: can it be prevented? Pediatr Surg Int 20(7):496–501. https://doi.org/10.1007/s00383-004-1223-6

10.

Ventura F, Candosin S, Barranco R, Bonsignore A, Andrello L, Tajana L et al (2017) A fatal case of coin battery ingestion in an 18-month-old child: case report and literature review. Am J Forensic Med Pathol 38(1):43–46. https://doi.org/10.1097/PAF.0000000000000297

11.

Soerdjbalie-Maikoe V, van Rijn RR (2010) A case of fatal coin battery ingestion in a 2-year-old child. Forensic Sci Int 198(1–3):e19–e22. https://doi.org/10.1016/j.forsciint.2010.02.001

12.

Kromeyer-Hauschild K, Zellner K (2007) Trends in overweight and obesity and changes in the distribution of body mass index in schoolchildren of Jena, East Germany. Eur J Clin Nutr 61(3):404–411. https://doi.org/10.1038/sj.ejcn.1602533

13.

Heitland P, Koster HD (2006) Biomonitoring of 30 trace elements in urine of children and adults by ICP-MS. Clin Chim Acta 365(1):310–318. https://doi.org/10.1016/j.cca.2005.09.013

14.

Mortensen A, Hansen NF, Schiodt OM (2010) Fatal aortoesophageal fistula caused by button battery ingestion in a 1-year-old child. Am J Emerg Med 28(8):984.e5–984.e6. https://doi.org/10.1016/j.ajem.2010.01.007

15.

Barabino AV, Gandullia P, Vignola S, Arrigo S, Zannini L, Di Pietro P (2015) Lithium battery lodged in the oesophagus: a report of three paediatric cases. Dig Liver Dis 47(11):984–986. https://doi.org/10.1016/j.dld.2015.07.014

16.

Hamilton JM, Schraff SA, Notrica DM (2009) Severe injuries from coin cell battery ingestions: 2 case reports. J Pediatr Surg 44(3):644–647. https://doi.org/10.1016/j.jpedsurg.2008.10.110

17.

Mohammad M, Saleem M, Mahseeri M, Alabdallat I, Alomari A, Za'atreh A et al (2017) Foreign body aspiration in children: a study of children who lived or died following aspiration. Int J Pediatr Otorhinolaryngol 98:29–31. https://doi.org/10.1016/j.ijporl.2017.04.029

18.

Mallon PTWJ, Thompson RLE (2004) Systemic absorption of lithium following ingestion of a lithium button battery. Hum Exp Toxicol 23(4):193–195

19.

Brumbaugh DE, Colson SB, Sandoval JA, Karrer FM, Bealer JF, Litovitz T et al (2011) Management of button battery-induced hemorrhage in children. J Pediatr Gastroenterol Nutr 52(5):585–589. https://doi.org/10.1097/MPG.0b013e3181f98916

20.

Poison Control, National Capital Poison Center (2012–2017) www.poison.org/battery. Accessed 07/05/2017.

21.

Poison Control NCPC (2012–2017) Fatal Button Battery Ingestions: 55 Reported Cases. http://www.poison.org/battery/fatalcases. Accessed 07/05/2017.

22.

Rebhandl W, Steffan I, Schramel P, Puig S, Paya K, Schwanzer E et al (2002) Release of toxic metals from button batteries retained in the stomach: an in vitro study. J Pediatr Surg 37(1):87–92. https://doi.org/10.1053/jpsu.2002.29435

23.

Cesbron A, Saussereau E, Mahieu L, Couland I, Guerbet M, Goulle JP (2013) Metallic profile of whole blood and plasma in a series of 106 healthy volunteers. J Anal Toxicol 37(7):401–405. https://doi.org/10.1093/jat/bkt046

24.

Goulle JP, Mahieu L, Castermant J, Neveu N, Bonneau L, Laine G et al (2005) Metal and metalloid multi-elementary ICP-MS validation in whole blood, plasma, urine and hair. Reference values. Forensic Sci Int 153(1):39–44. https://doi.org/10.1016/j.forsciint.2005.04.020

25.

Institut für Arbeitsschutz der Deutschen Gesetzlichen Unfallversicherung. IFA Gestis Stoffdatenbank (2017) http://gestis.itrust.de/nxt/gateway.dll/gestis_de/000000.xml?f=templates&fn=default.htm&vid=gestisdeu:sdbdeu
Ethics declarations
Conflict of interests
A.-K. Kröll, N. Schaefer, A. Kiefer and P. Schmidt declare that they have no competing interests.
The investigations were carried out according to the specifications of the Central Ethics Committee of the Federal Medical Council.
About this article
Cite this article
Kröll, A., Schaefer, N., Kiefer, A. et al. Sudden death of a 2-year-old child after ingestion of a button battery. Rechtsmedizin 28, 301–306 (2018). https://doi.org/10.1007/s00194-017-0224-4
Keywords
Childhood

Foreign body

Aorta

Esophageal fistula

Exsanguination
Schlüsselwörter
Kindesalter

Fremdkörper

Aorta

Aortoösophageale Fistel

Verbluten