Abstract
After allogeneic bone marrow or blood stem cell transplantation, STR profiling is often used for monitoring chimerisms. For the evaluation reference samples taken from the patient before the transplantation and/or taken from the donor are needed. In the case described here, no reference samples were available. Reporting the chimerism based on posttransplantation samples did not yield conclusive results; therefore, white blood cells and epithelial cells obtained from a buccal swab taken from the patient were separated using DEPArrayTM technology and STR profiling was carried out resulting in distinct reference profiles.
Zusammenfassung
Die Untersuchung von STR-Polymorphismen ist eine weit verbreitete Methode zur Bestimmung des chimären Status eines Patienten nach einer allogenen Knochenmark- oder Blutstammzelltransplantation. Für die Beurteilung werden Referenzproben vom Patienten vor Transplantation und/oder vom Spender benötigt. Diese lagen im hier geschilderten Fall nicht vor. Eine Chimärismusbestimmung an nach Transplantation entnommenen Proben brachte keine eindeutigen Ergebnisse. Erst mithilfe der DEPArrayTM-Technologie konnten aus einem Mundschleimhautabstrich des Patienten Leukozyten und Epithelzellen separiert, einzeln typisiert und somit eindeutige Referenzprofile erhalten werden.
Access options
Buy single article
Instant access to the full article PDF.
US$ 39.95
Tax calculation will be finalised during checkout.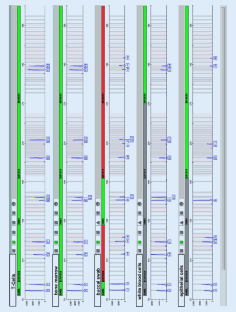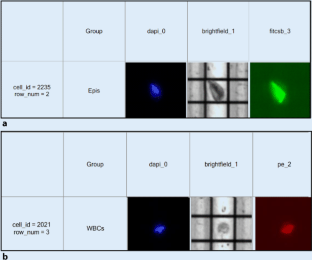 References
1.

Fontana F, Rapone C, Bregola G, Aversa R, de Meo A, Signorini G, Sergio M, Ferrarini A, Lanzellotto R, Medoro G, Giorgini G, Manaresi N, Berti A (2017) Isolation and genetic analysis of pure cells from forensic biological mixtures: The precision of a digital approach. Forensic Sci Int Genet 29:225–241

2.

Li YT, Xie MK, Wu J (2014) DNA profiling in peripheral blood, buccal swabs, hair follicles and semen from a patient following allogeneic hematopoietic stem cells transplantation. Biomed Rep 2:804–808

3.

von Máriássy D, Bayer B, Anslinger K (2017) Irritierende Ergebnisse einer DNA-Analyse aus Mischspuren. Rechtsmedizin 27:196–200

4.

Murphy KM (2013) Chimerism analysis following hematopoietic stem cell transplantation. Methods Mol Biol 999:137–149

5.

Palka G, Lawler M, Morizio E, Gardiner N, Stuppia L, De Arce MA, Di Bartolomeo PD, Capodiferro F, Sabatino G, Gatta V, Calabrese G, Cann SR (1998) Comparative Study of FISH, PCR and Cytogenetics on 25 Patients Submitted to Bone Marrow Transplantation (BMT) for Chronic Myelogenous Leukemia (CML). Which Tests can we Use in Routine Analysis Post BMT? Hematology 3:193–203
Acknowledgements
We thank the company Menarini Silicon Biosystems (Italy) for the provision of the DEPArrayTM system, as well as for the valuable support.
Ethics declarations
Conflict of interest
K. Anslinger, B. Bayer and D. von Máriássy declare that they have no competing interests.
This article does not contain any studies with human participants or animals performed by any of the authors.
About this article
Cite this article
Anslinger, K., Bayer, B. & von Máriássy, D. Application of DEPArrayTM technology for the isolation of white blood cells from cell mixtures in chimerism analysis. Rechtsmedizin 28, 134–137 (2018). https://doi.org/10.1007/s00194-017-0221-7
Keywords
Allogeneic stem cell transplantation

Chimerism monitoring

STR profiling

Fluorescent labeling

DEPArrayTM
Schlüsselwörter
Allogene Stammzelltransplantation

Chimärismusbestimmung

STR-Typisierung

Fluoreszenzmarkierung

DEPArrayTM