Zusammenfassung
Um die Geschossenergie zu errechnen, ist die Messung der Geschossgeschwindigkeit erforderlich. Untersucht wurde, ob eine Hochgeschwindigkeitskamera hierfür grundsätzlich geeignet ist. Mit einer SA-X2 (Photron) wurden Aufnahmen mit 50.000 Bildern/s und 0,29 µs Belichtungszeit vor bzw. an der Waffenmündung in einer Breite von ca. 15–23 cm gemacht. 209 Schüsse mit Munition in den Kalibern von .22 Long Rifle bis .45 Auto (228–388 m/s) wurden videografisch dokumentiert und die bildanalytischen Messwerte mit den Messergebnissen einer Lichtschranke BMC21 (Mehl) verglichen. Die Abweichungen betrugen maximal ± 2,5 %. Das Bestimmtheitsmaß R2 für die lineare Abhängigkeit betrug im Median 0,987. Die Reproduzierbarkeit der bildanalytischen Messwerte lag bei ±1 m/s. Als wichtigster Faktor für die Zuverlässigkeit der Messungen wurde die Fokussierung der Flugbahn des Geschosses identifiziert. Unter Voraussetzung einer scharfen Abbildung des Geschosses war die Länge der Messstrecke von untergeordneter Bedeutung für die Messgenauigkeit.
Abstract
For calculating a projectile's energy, measurement of its velocity is necessary. The study was performed to evaluate if the use of a high-speed camera is principally feasible for this purpose. Filming was done using a SA-X2 (Photron) positioned about 15 to 23 cm in front of or at the muzzle with 50,000 frames per second and a 0.29 µs exposure time. Video was used to document 209 shots using ammunition from 22 long rifle to 45 auto (228 to 388 m/s). The velocity calculated by image analysis was compared with the measurements obtained by a light barrier speed measurement device BMC21 (Mehl). The deviation was at most ± 2.5%. The coefficient of determination R 2 for linear correlation was in the median 0.987. The reproducibility of the results obtained by image analysis was about ±1 m/s. Focusing the bullet's trajectory could be identified as the most important factor for the reliability of measurements. When the bullet was sharply imaged, the length of the measured distance played a secondary role for measurement accuracy.
Access options
Buy single article
Instant access to the full article PDF.
USD 39.95
Price excludes VAT (USA)
Tax calculation will be finalised during checkout.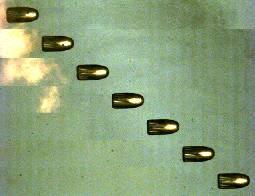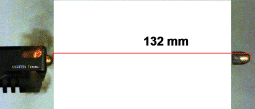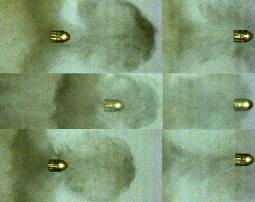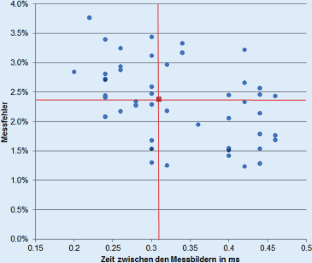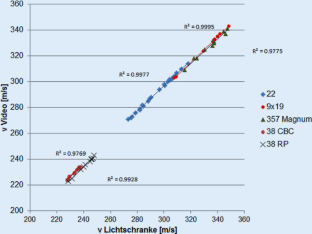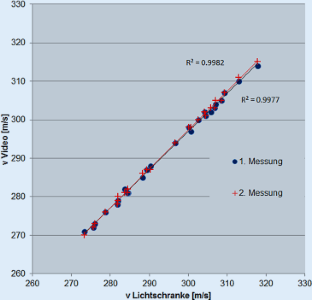 Literatur
Carr D, Lindstrom AC, Jareborg A, Champion S, Waddell N, Miller D, Teagle M, Horsfall I, Kieser J (2015) Development of a skull/brain model for military wound ballistics studies. Int J Legal Med 129(3):505–510

Ditrich H (2012) Distribution of gunshot residues – the influence of weapon type. Forensic Sci Int 220(1–3):85–90

Kneubuehl B (2013) Geschosse. Ballistik, Wirksamkeit, Messtechnik, Treffsicherheit. Stocker-Schmid, Dietikon, S 305–314

Kneubuehl B, Coupland RM, Rothschild MA, Thali M (2008) Wundballistik: Grundlagen und Anwendungen, 3. Aufl. Springer, Berlin Heidelberg

Kramer L, Nadjem H, Glardon M, Kneubuehl BP, Pollak S, Große Perdekamp M, Pircher R (2016) A patterned abrasion caused by the impact of a cartridge case may simulate an atypical muzzle imprint mark. Int J Legal Med 130(3):751–757. doi:10.1007/s00414-015-1281-4

Lazarjan MS, Geoghegan PH, Taylor MC, Jermy MC (2015) Visualization of the air ejected from the temporary cavity in brain and tissue simulants during gunshot wounding. Forensic Sci Int 246:104–109

Radford GE, Taylor MC, Kieser JA, Waddell JN, Walsh KA, Schofield JC, Das R, Chakravorty E (2016) Simulating backspatter of blood from cranial gunshot wounds using pig models. Int J Legal Med 130(4):985–994

Riva F, Kerkhoff W, Bolck A, Mattijssen EJ (2017) Possible influences on bullet trajectory deflection in ballistic gelatine. Forensic Sci Int 271:107–112. doi:10.1016/j.forsciint.2016.12.030

Sachs L (1984) Angewandte Statistik. Anwendung statistischer Methoden, 6. Aufl. Springer, Berlin, S 298–314

Schyma C, Bauer K, Brünig J, Schwendener N, Müller R (2017) Visualization of the powder pocket and its influence on staining in firearm barrels in experimental contact shots. Int J Legal Med 131(1):167–172. doi:10.1007/s00414-016-1419-z

Sterzik V, Kneubuehl BP, Bohnert M, Riva F, Glardon M (2017) Bullet fragmentation preceding a contour shot: case study and experimental simulation. Int J Legal Med 131(1):173–177. doi:10.1007/s00414-016-1462-9

Taylor MC, Laber TL, Epstein BP, Zamzow DS, Baldwin DP (2011) The effect of firearm muzzle gases on the backspatter of blood. Int J Legal Med 125(5):617–628

Wasserburger L, Eichner S, Kunz S, Peschel O (2011) Verletzungspotenzial von Gas-Alarm-Waffen. Ausgeschleuderte Ladungsteilchen bei Schüssen im Nahbereich. Rechtsmedizin 21:527–534
Danksagung
Die Untersuchungen wurden durch den Schweizer Nationalfond (SNF) im Rahmen des Projektes "Absoluter Nahschuss: Vom Schuss zur Spur" (310030E-147628/1) gefördert. Wir danken Andreas Mangold (VKT, Pfullingen, Deutschland) für seine technische Unterstützung.
Ethics declarations
Interessenkonflikt
C. Schyma, J. Brünig, C. Jackowski und R. Müller geben an, dass kein Interessenkonflikt besteht.
Dieser Beitrag beinhaltet keine von den Autoren durchgeführten Studien an Menschen oder Tieren.
About this article
Cite this article
Schyma, C., Brünig, J., Jackowski, C. et al. Messung der Geschossgeschwindigkeit mittels Hochgeschwindigkeitskamera. Rechtsmedizin 27, 273–277 (2017). https://doi.org/10.1007/s00194-017-0180-z
Published:

Issue Date:

DOI: https://doi.org/10.1007/s00194-017-0180-z
Schlüsselwörter
Hochgeschwindigkeitsvideo

Geschossgeschwindigkeit

Bildanalyse

Ballistik

Schusswaffe
Keywords
High-speed video

Bullet velocity

Image analysis

Ballistics

Firearm